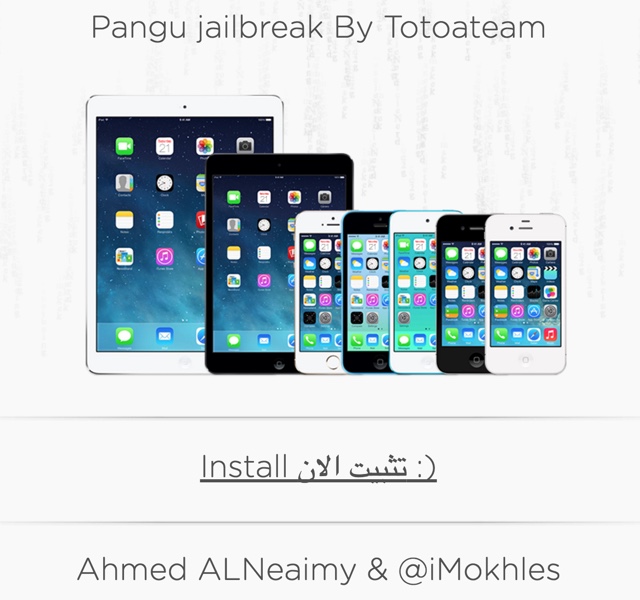 PanGu's jailbreak tool for iOS 9.2 – iOS 9.3.3 has been released, however for now it is only available for Windows. This means you need to have a PC in order to jailbreak your device. This is a major problem for Mac users and also those who don't have access to a computer at all. Thankfully a new online tool developed by Ahmed ALNeaimy and iMokhles enables users to jailbreak their devices using PanGu, without even connecting to a computer. This is a 'JailbreakMe' like tool that totally works in Safari. An added benefit of this method is that unlike Pangu's desktop tool you don't have to enter your Apple ID during the jailbreak process. You can find the detailed instructions on how to use this tool below.
Jailbreak iOS 9.3.3 without PC or Mac
On your iOS 9.2 – iOS 9.3.3 powered device launch Safari and then open this link (alternative link, link 2).
Now simply click on the 'Install' link on the website. You will get a pop up confirming the installation, simply tap on the Install button.
Now Cydia and PP app icons will appear on your homescreen but they won't be functional. After a few minutes another Jailbreak tool app will appear on the screen. When it does tap on it.
You will get an 'Untrusted Enterprise Developer' error. Dismiss it and then open Settings > General > Device Management.
From Device Management tap on the Enterprise app and then hit the 'Trust' button from the next screen.
Now return to the homescreen and launch the third jailbreak app that appeared on your device. Now it should launch.
Once you have launched it it will ask if you want to allow notifications, tap yes and then tap inside the large circle. After doing so some Chinese language text will appear on your screen, at this point lock your device and leave it until you get a notification from the same app or the device resprings.
After that you should be able to run Cydia like normal and your device would be fully jailbroken.
This method works with all models of iPhone, iPad and iPod touch that are supported by this jailbreak.
Also read