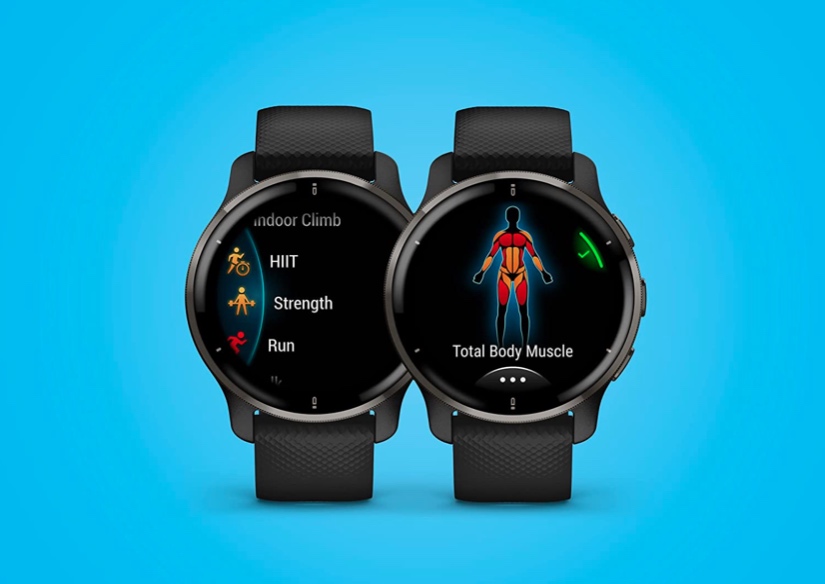 Just like with other products, both men and women expect their smartwatches to appeal to them on a personal and emotional level. Generally, men tend to prefer understated style, durability, classiness, and functionality in their smartwatches. Sportiness and health-monitoring capabilities are also high on the priority list. Amidst all the other options available, only a select few models tick all those boxes in an overcrowded smartwatch market.
For most iPhone users the Apple Watch is their default smartwatch, and for the right reasons. Its features and deep integration with the iPhone are enough to consider it the best smartwatch for any iPhone user. However there are people who either don't like the style and design of the Apple Watch or they want features that are not found on it.
If you are one of those people, then we have the perfect list for you. In this post we take a look at the best Apple Watch alternatives. These are 7 best smartwatches for men that are not Apple Watch. So without any further ado, let's take a look at the options.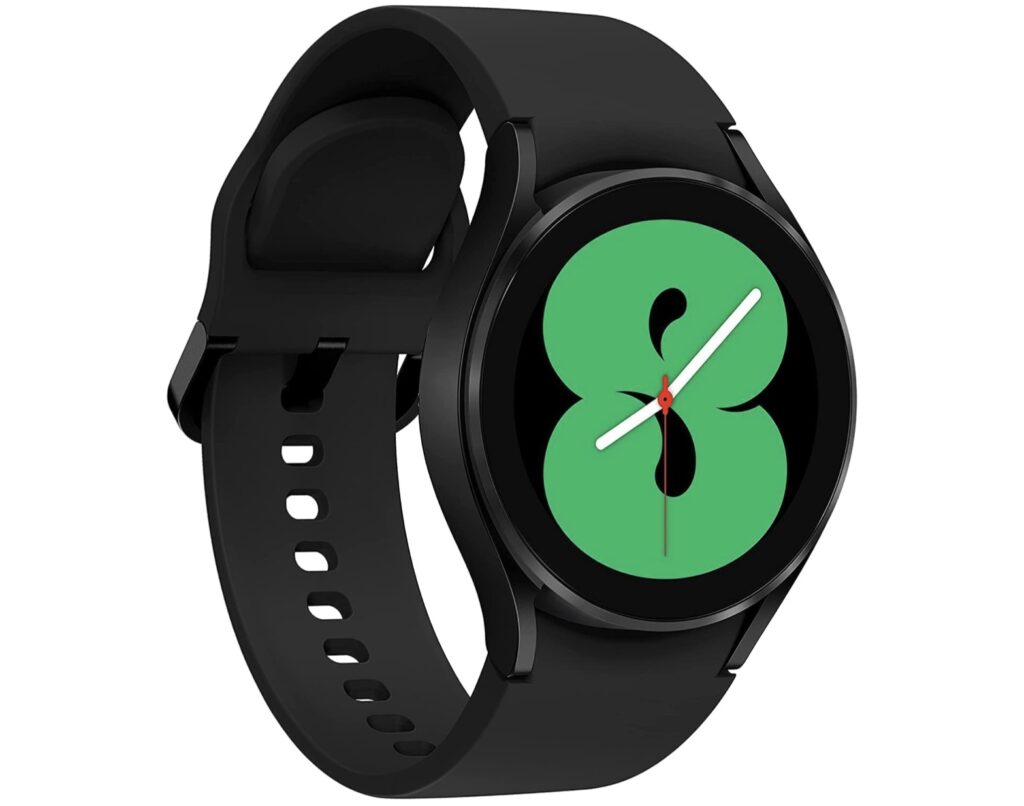 Specifications:
Display size — 40mm/44mm (Watch 4 variants); 42mm/46mm (Watch 4 Classic variants)
OS — Wear OS 3.0 with One UI Watch 3
Internal Storage — 16 GB
Select Features — Talking mode with natural language commands, ECG, body composition metrics, optical heart rate sensor, sleep monitoring and sleep coaching, Spotify integration, interval training commands, SPO2 blood oxygen monitor, heart rate monitor
Battery Life — up to 40 hours 
Connectivity — Bluetooth, Wi-Fi, LTE (optional), NFC
Platform Compatibility — smartphones with Android 5.0 and higher (with RAM of more than 1.5 GB) and iPhones with iOS 9.0 and newer
The Galaxy Watch is the best companion device for Android gadgets. This makes it appealing to millions of users outside of Apple's ecosystem. The entire range of the Galaxy Watch 4 and Watch 4 Classic, its premium version, smartwatches have a touch of sportiness in their design and possess superlative build quality, in line with the best premium Samsung smartphones.
Additionally, you can download and install a plethora of apps and games on your device. The Watch 4 offers solid health tracking functionality, with features such as stress monitoring, active sleep phase tracking, body fat percentage tracking, and several others.
Pros
AMOLED screen offers solid visuals
The wide app support makes it a good time-killer
A large number of health tracking features
Cons:
Sleep tracking functionality is relatively weak compared to some smartwatches
Limited software updates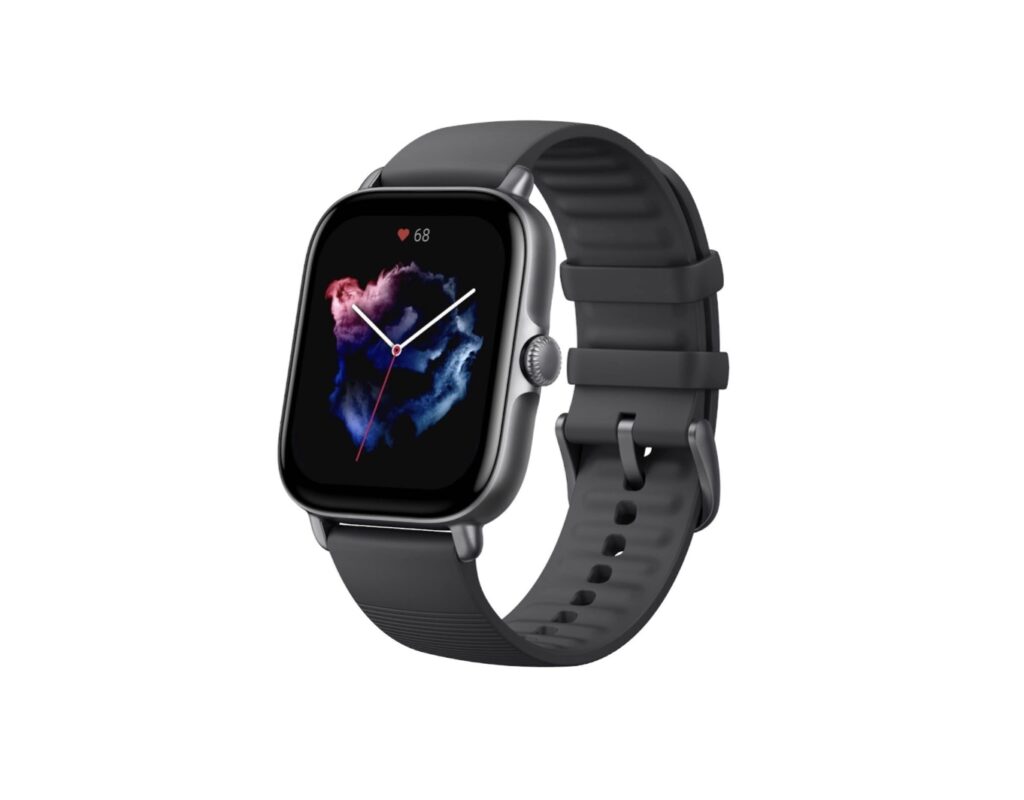 Specifications:
Display size — 44 mm
OS — ZeppOS
Internal Storage — None
Select Features — Active stress monitor, female cycle monitoring, more than 150 in-built sports, sleep tracking, optical heart-rate sensing, blood pressure detecting, POMODORO timer, phone camera control
Battery Life — up to 12 days
Connectivity — Bluetooth 5.1, GPS, Wi-Fi, NFC
Platform Compatibility — Devices having Android 5.0 and newer, and iOS 10.0 and newer
The GTS 3 is one of the more wallet-friendly wearables available in the market. The device improves on its predecessor's already-brilliant health monitoring accuracy and functionality, with features such as heart-rate monitoring, blood oxygen tracking, and vital tracking while you are cycling, running, or open-water swimming.
Its best features? The super-responsive Alexa voice assistant makes using voice commands easy. Additionally, its large 1.75-inches AMOLED display is fingerprint-proof, which means that your prints won't stay on it even after lots of swiping and tapping.
This device combines some of Fitbit Sense's health monitoring capabilities with some of the sportiness of the Galaxy Watch.
Pros
Top-quality fitness tracking functionality
The Alexa-based voice assistant works smoothly
Solid build quality and design
Cons
No in-built storage
Slow updates
Battery life on the lower side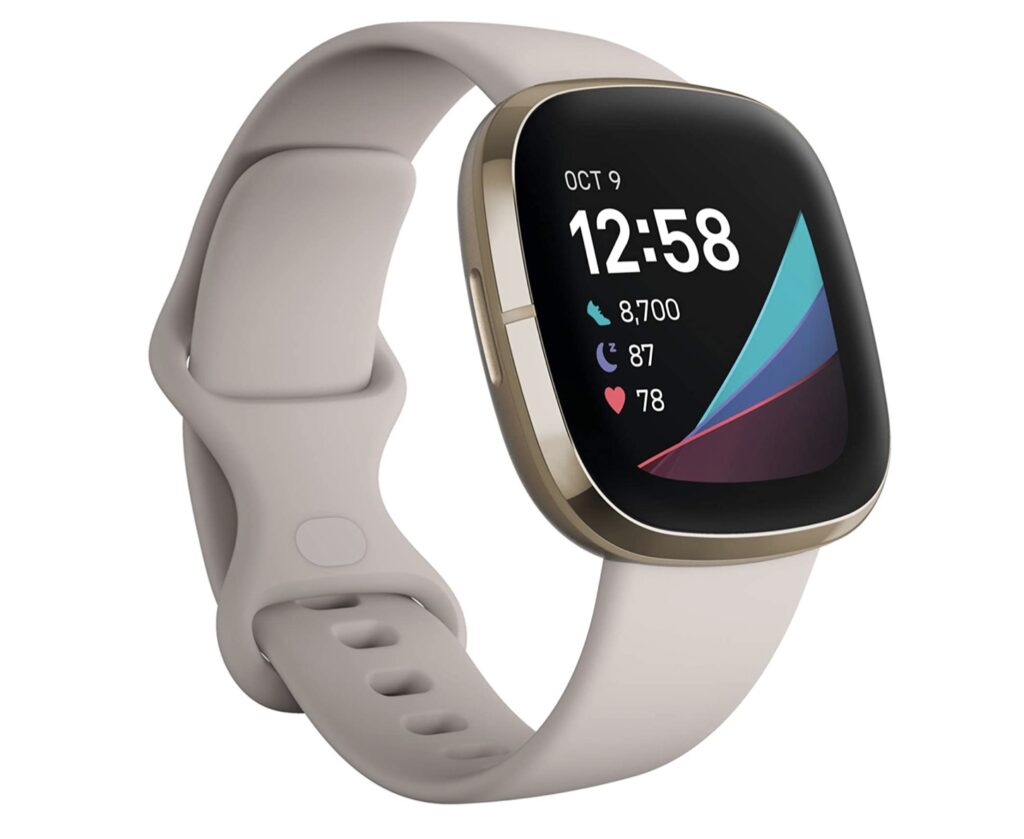 Specifications:
Display size — 40mm
OS — Fitbit OS 5.3
Internal Storage — 4 GB
Select Features — ECG, sleep tracking, workout tracking, smartphone notifications, EDA scanning, heart rate monitoring, active temperature monitoring
Battery Life — up to 6 days
Connectivity — Bluetooth 5, Wi-Fi, NFC
Platform Compatibility — Devices with iOS 13.4 or higher or Android 10.0 or higher
Fitbit's costliest and most sophisticated smartwatch is also its best. The Sense is renowned for its health monitoring capabilities, such as the built-in electrocardiogram (ECG) for heart-rate monitoring, Electrodermal data tracking for stress assessment, and real-time temperature checker. The device also offers sleep tracking for all four sleep stages (awake, light sleep, deep sleep, and REM). All your vital health data is collected through the watch's intuitive sensors.
The Sense has a simple, classy design with a smartphone-like touchscreen operation. A haptic sensor on its side can be used to wake the screen and use app shortcuts. Its build quality is solid and uncluttered.
Pros
A large number of health and fitness monitoring functions
Its Smart Wake feature sounds alarms on the basis of optimal user waking times
The automatic silencing feature which mutes bluetooth-connected phone notifications and calls when you're asleep with the watch
Cons
The haptic sensor is complicated to use
Bluetooth connectivity is occasionally delayed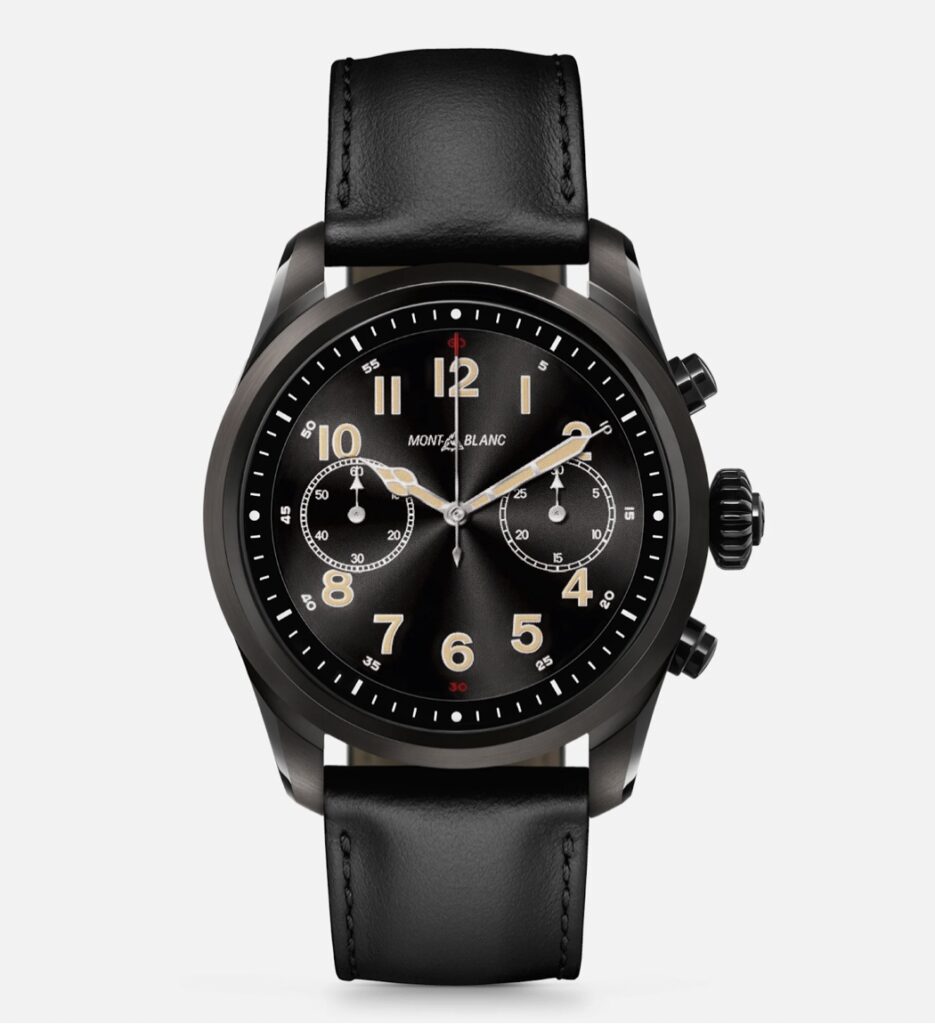 Specifications:
Display size — 30.48mm
OS — Wear OS
Internal Storage — 8 GB
Select Features — Stress tracking, cardio coaching commands, sleep tracking
Battery Life — five days
Connectivity — GPS, Bluetooth, LTE
Platform Compatibility —Compatibility with devices with iOS 10 and newer, and Android 6.0 and newer
Unsurprisingly, the Summit 2+ is one of the priciest smartwatches available today. This device marries high-tech features with classic Swiss aesthetic mastery. The Summit 2+ is powered by a powerful Qualcomm Snapdragon 2100 processor and contains features such as music downloading, LTE compatibility (for Android devices only), built-in GPS and heart-rate tracker, and IPx8 water protection.
This is a beautifully-built smartwatch with a stunning AMOLED display that offers incredible colors and contrast in its visuals. Characteristically for a Mont Blanc, the device can be bought in several leather and silicone strip options to give it a sporty or classy feel, depending on your preference.
Pros
The beautiful display somewhat justifies its exorbitant price
LTE functionality works well
Cons
Obscenely Pricey
Not very different, specs-wise, from its predecessor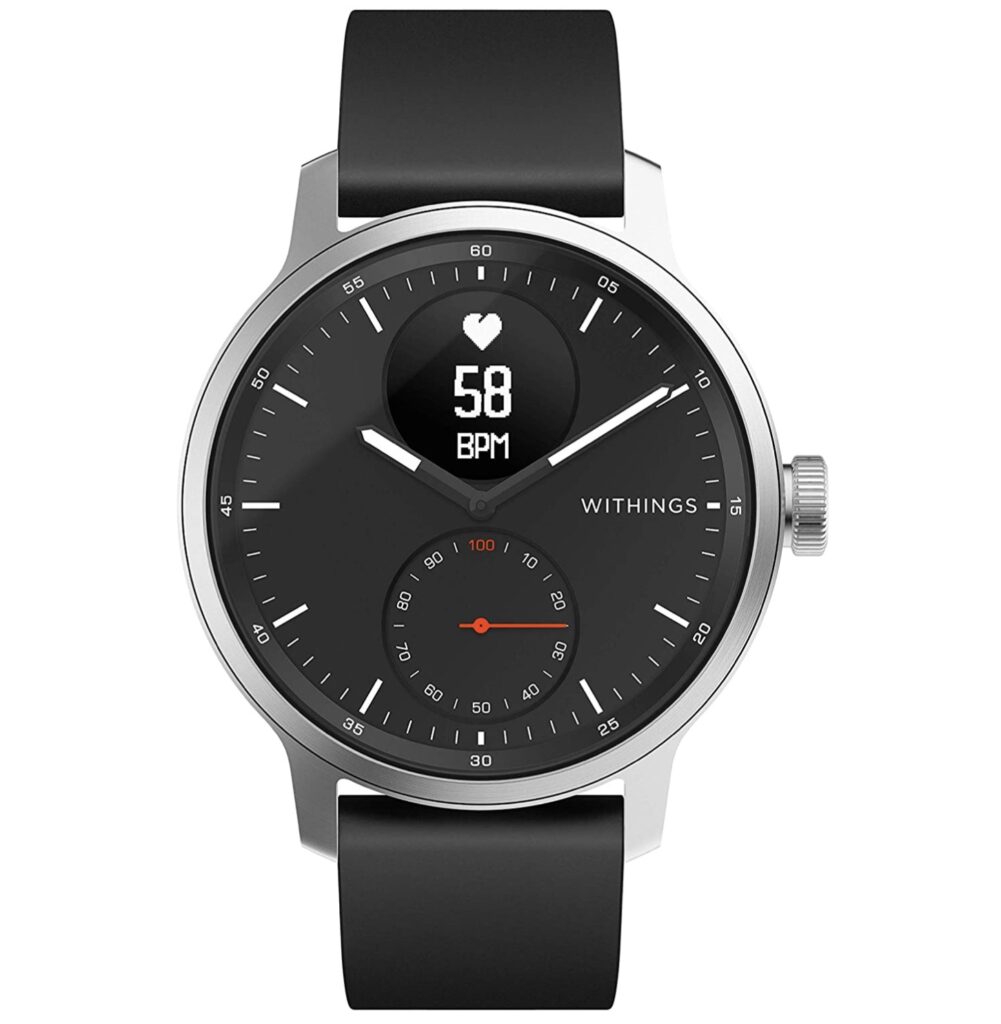 Specifications:
Display size — 38mm and 42mm
OS — NA
Internal Storage — Free unlimited online storage if you have a Withings account, 5 days of local storage between online syncs
Select Features — Optical heart rate monitoring, ECG, menstruation tracking, fall detection, sleep phase tracking, REM monitoring, skin temperature sensing, Stress monitoring through EDA sensing
Battery Life — up to 30 days
Connectivity — Bluetooth LE, GPS
Platform Compatibility — devices with Android 8 or later and iOS 12 or later
Along with the Sense, the ScanWatch is the best sleep monitoring watch for men. This device contains features such as medical-grade ECG, atrial fibrillation, heart rate monitoring, and sleep apnea tracking for high-quality sleep analysis. Naturally, the ScanWatch can monitor breathing patterns and all four phases of your sleep.
Design-wise, the ScanWatch is the only device on this list to feature an old-school analog design with a digital slot for sleep-tracking information display. Its build quality is solid and durable.
Pros
Long-lasting battery
Sleep monitoring functionality puts more expensive watches to shame
Cons
Analog design limits how much information can be displayed at any given moment
Lacking in 'fun' features compared to, say, the Galaxy Watch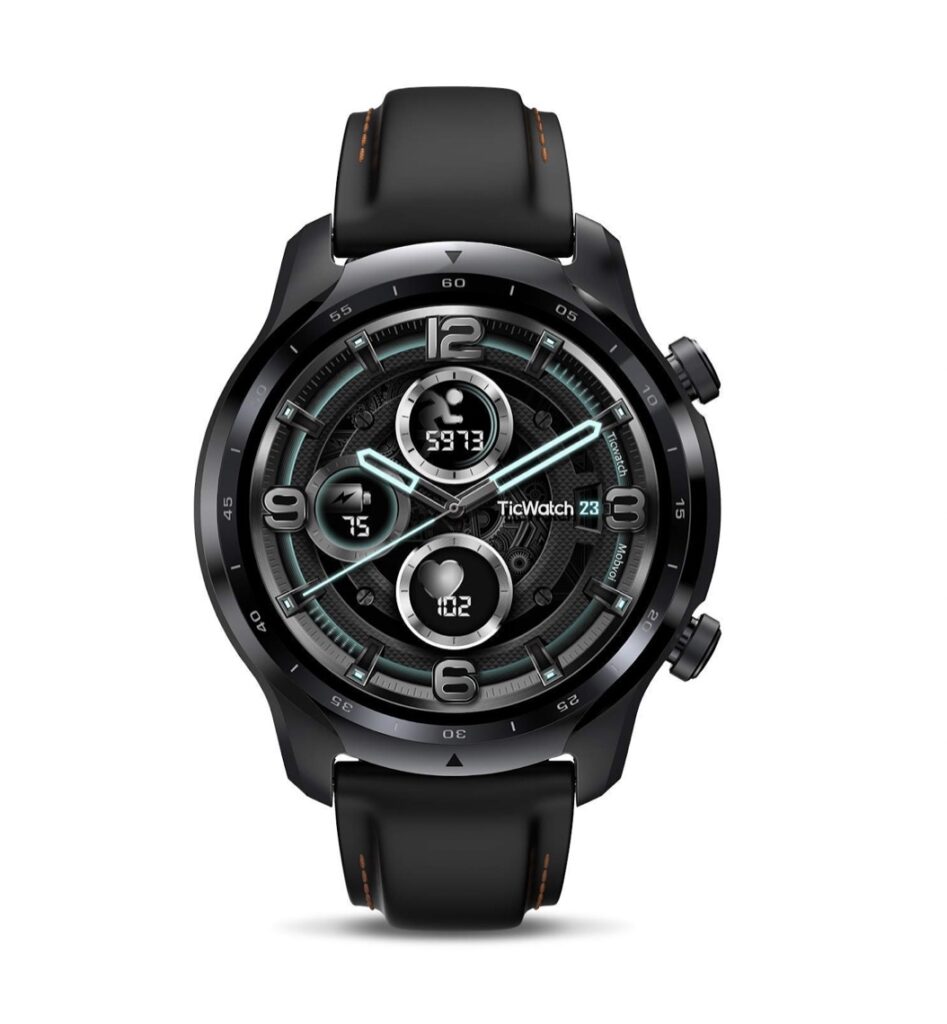 Specifications:
Display size — 35.3 mm
OS — Wear OS
Internal Storage —  8 GB
Select Features — Stress tracking (with TicZen), sleep monitoring (TicSleep), pulse oximeter, active and passive heart-rate tracking, SPO2 blood oxygen monitoring, AI-powered activity monitoring
Battery Life — up to 45 days
Connectivity — Bluetooth 4.2 LE, NFC, GPS
Platform Compatibility — Android, iOS 
The Pro3 is an attractive option for men who want their smartwatches to be a jack-of-all-trades kind of device that performs all tasks decently. This device's big USPs are its massive battery, its powerful Snapdragon 4100 chipset which offers fast performance, its macho, chunky display which houses a clean and easy-to-use UI, and its solid, rugged build quality.
The Pro3 also contains decent health monitoring features such as a workout assistant that tracks your vitals while you walk, run, cycle, or swim (in a pool), carry out yoga, or trail running.
Pros
The 3-day lasting battery makes charging a relative rarity
The 1.4-inch display is fluid with a neat, alluring UI
Cons
Poor sleep tracking functionality
Does not excel in any aspect despite overall competence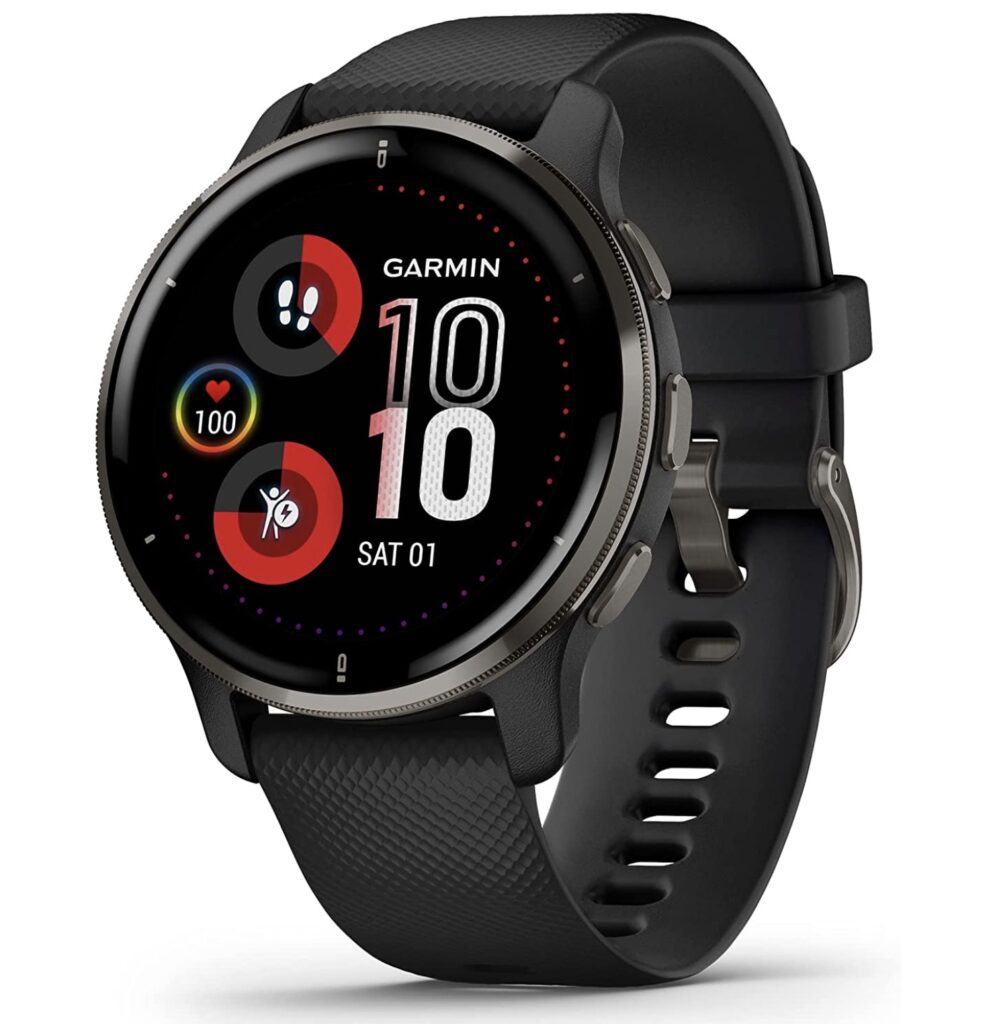 Specifications:
Display size — 33 mm
OS — Garmin OS
Internal Storage — 4 GB
Select Features — Menstrual cycle tracking, hydration monitoring, respiration tracking with mindful breathing commands, multi-phase sleep tracking, tracking of calories, stress monitoring
Battery Life — up to 9 days
Connectivity —  USB, Bluetooth, Smart, ANT+, Wi-Fi
Platform Compatibility — Smartphones with Android 6.0 and newer iOS 13.0 and newer
Arguably, the Venu 2 Plus is the best smartwatch if you're looking for a wearable that covers most workout modes (the device has over 25 different workout modes, making it your ideal workout assistant). It also has some cool features, such as Garmin Pay and the ability to store music on the device. Respectively, these features make payments and listening to music with your phone away much more convenient for you.
Pros
Amazing workout assistant availability
Its Rapid Charging feature works well
This is the most rounded Garmin smartwatch with solid design and build quality
Cons
Battery life could be better
Heart-rate monitoring data accuracy is questionable
Final verdict
Each device listed here is loaded to the gills with diverse features. However, each wearable in this list (and most smartwatches in general) has specific strong areas, and neatly slots into certain niches. For example, the ScanWatch is the best for sleep monitoring, the Venu 2 Plus is useful for tracking vitals during workouts, and the Sense offers the most in-depth health evaluation features.
The Samsung Galaxy Watch 4 and the Apple Watch Series 7, quite simply, rise above the typecasting. Both these devices offer so much more in terms of utility and reliability, that they can be genuine replacements for your smartphone.
So, if you are looking for the best smartwatch on the market that marries style and substance, the Apple and Samsung devices are the ones you should consider.
Frequently Asked Questions (FAQs)
Does Fitbit Sense have LTE?
The Sense does not offer LTE. The future variants of the device and future smartwatches from Fitbit are expected to have the feature.
Do these smartwatches have water-resistance capabilities?
Yes, all these smartwatches are water-resistant. Apart from the TicWatch Pro 3, the other devices are water-resistant up to 50 meters-deep water. The Pro 3 is resistant up to 30 minutes for 1.5 meters deep underwater.
Which smartwatch here supports the largest number of apps and games?
Out of the devices listed here, the Series 7 and Galaxy Watch 4 support the widest array of games, health trackers and other apps