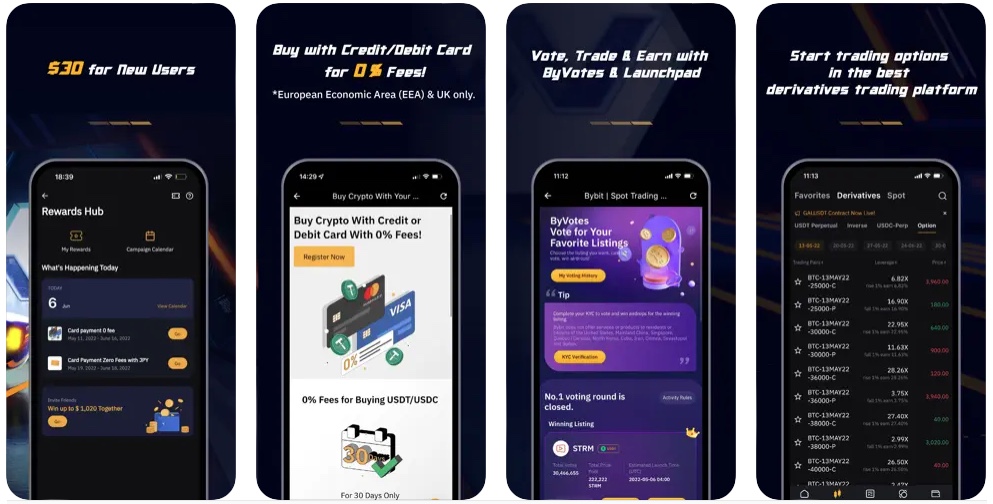 In this post we will talk about the Bybit: Buy & Trade Crypto app for iPhone. This app is available in the iOS App Store as a free download and allows users to buy and trade crypto through its spot and futures exchange.
We will also tell you about Bybit Trading Bot. The Bybit trading bot that helps you trade on the Bybit exchange. It is a web-based application that makes it easy to trade and offers various features that make it an essential tool for any Bybit trader.
The bot allows you to set up your own trading rules and strategies and automatically execute trades based on those rules. The Bybit trading bots can also backtest your strategies to see how they would have performed in the past.
How Does Bybit Work?
Bybit is a cryptocurrency derivatives trading platform that allows users to trade Bitcoin and Ethereum perpetual contracts with leverage. The service as a dedicated app for iPhone users that allows users to buy and sell crypto right on their iOS device.
Users can download the Bybit app from the App Store for free. Once you have downloaded the app you can sign up for an account.
To trade on Bybit, you must create an account and deposit Bitcoin or Ethereum into your account. Once your account is funded, you can choose which contract you want to trade and select your desired leverage. For example, if you are trading the BTC/USD pair with 5x leverage, for every $1 you have in your account, you can trade $5 worth of BTC.
Once you have selected your contract and leverage, you can place a buy or sell order. Your order will match another user's order, and the trade will be executed at the current market price.
Things You Can Do With Bybit iPhone App
Bybit's iPhone app is a powerful application that makes it possible for iPhone users to buy and trade cryptocurrency on Bybit's trading platform. With this app users can do the following.
Buy and sell crypto like BTC, ETH and more quickly while on the go.
Get alerts on price changes and trading.
Deposit, send and receive various cryptocurrencies in their wallet.
Earn annual percentage yield (APY) on their assets.
Contact customer support, which is available 24/7.
What Are the Benefits of Using Bybit?
If you're looking for a cryptocurrency derivatives exchange, you may have come across Bybit. It is a Singapore-based cryptocurrency derivatives exchange that launched in March 2018.
The platform allows users to trade with leverage of up to 100x on Bitcoin, Ethereum, Litecoin, and Ripple pairs.
One of the benefits of using Bybit is that it has low fees. The platform charges a taker fee and the lowest maker fee. There is also no deposit fee, withdrawal fee, or trading commission.
The total transaction fee is only 0.05%, the lowest fee in the market.
Another benefit of using Bybit is that it offers 24/7 customer support. The customer support team is available via live chat and email to help you with any issues.
How to Use Bybit?
If you're looking for a user-friendly cryptocurrency trading platform with various features, Bybit is a good option as you can use it on the web as well as through its iPhone app. Here's a guide on how to use the platform.
Creating an account on Bybit is a simple process. First, visit their website and click the "Sign Up" button in the top right corner. Then, enter your email address and create a password.
Now click "Create Account."
After creating an account, you'll need to deposit funds. Click on the "Deposit" button and select your payment method. You can deposit using Bitcoin, Ethereum, Litecoin, or PayPal.
Once your funds are deposited, you're all set to start trading! To do this, click the "Trade" button and select the currency pair you want to trade.
You can signup for Bybit on its website in Safari or use the ByBit iOS app to use the service.
What Are the Features of a Bybit Trading Bot?
The Bybit bot has several features that make it an attractive option for traders looking for a trading automation tool.
Firstly, the bot is designed to trade multiple assets simultaneously across different exchanges, which gives users a diversified portfolio and exposure to different markets.
Secondly, the bot is equipped with advanced risk management features such as stop-loss and take-profit orders, which help users limit their losses and maximize profits.
Lastly, It is easy to use and comes with detailed documentation and support, making it an ideal tool for experienced and novice traders.
The Risks of Using Bybit Trading Bot
Informed traders can benefit from using Bybit trading bots, but they should be aware of the risks involved:
The first risk is losing money due to bot programming errors. For example, the bot relies on algorithms to make trades; if these algorithms are not well-designed, the bot may make trades that lose money.
Another risk is that of getting hacked. For example, if the bot is connected to your Bybit account, a hacker could potentially gain access to your account and steal your funds.
If you are considering using the Bybit Trading Bot, it is important to be aware of these risks and take steps to mitigate them.
How to Protect Yourself From Risks While Using Bybit Trading Bot?
Here are a few tips on protecting yourself from risks while using Bybit Trading Bot.
First and foremost, always use a strong password for your account and never reuse passwords from other accounts.
Make sure to enable two-factor authentication (2FA). It adds an extra layer of security to your account by requiring you to enter a code from your mobile device and your password when logging in.
Another way to protect yourself is by carefully monitoring your trades on Trading Bot.
Conclusion
In conclusion, Bybit app and Bybit Trading Bot are great tools for those who want to enter the cryptocurrency market. It is user-friendly and can be used by anyone, regardless of their experience level. With its numerous features and capabilities, Bybit Trading Bot is a must-have for anyone serious about making money in the cryptocurrency market.
Also read: 6 Best Bitcoin Wallet Apps For iPhone For 2022