Wondering how you can seamlessly transfer MP3 Audiobooks to your new iPhone without using iTunes? Well, here we've got you covered with a great alternative.
Using iTunes is one of the most common methods to put music or audio files on iOS devices. However, many users don't like the application as it's sort of bloated with complex procedures. Fortunately, some third-party apps on the App Store can achieve the same thing with easy.
In this article, I will show you how to use a file management app called Documents to sync audiobooks to your iPhone. You can use this app to transfer audio files from your computer, receive the files via emails, or even download audiobooks directly from the Web. Let's get started.
How to put audiobooks on iPhone without using iTunes
First, you need to download and install Documents from the App Store. It's free.
A. Transfer files from your computer to your iPhone
We're going to use Documents to send files wirelessly via Wi-Fi Direct. Both of your devices need to be connected to the same Wi-Fi network. If there is no Wi-Fi network available, you can create one your own by turning on Cellular Data and Personal Hotspot on your iPhone, then connecting your computer to this Wi-Fi hotspot.
Don't worry, The app only utilizes the Wi-Fi connection to transfer data between nearby devices. It won't consume any of your data plan allocation.
Launch the Documents app, then tap on the gear icon on the top left corner to access app's settings. Select "WebDAV". For the first time, you need to set up a username and a password. When you're done, tap "Start WebDAV".
Documents will show you an IP address URL. On your computer, open a web browser, in the address bar type this IP address, and press "Enter". You will need to enter a 4-digit code, which will instantly show up on your iPhone to verify the connection.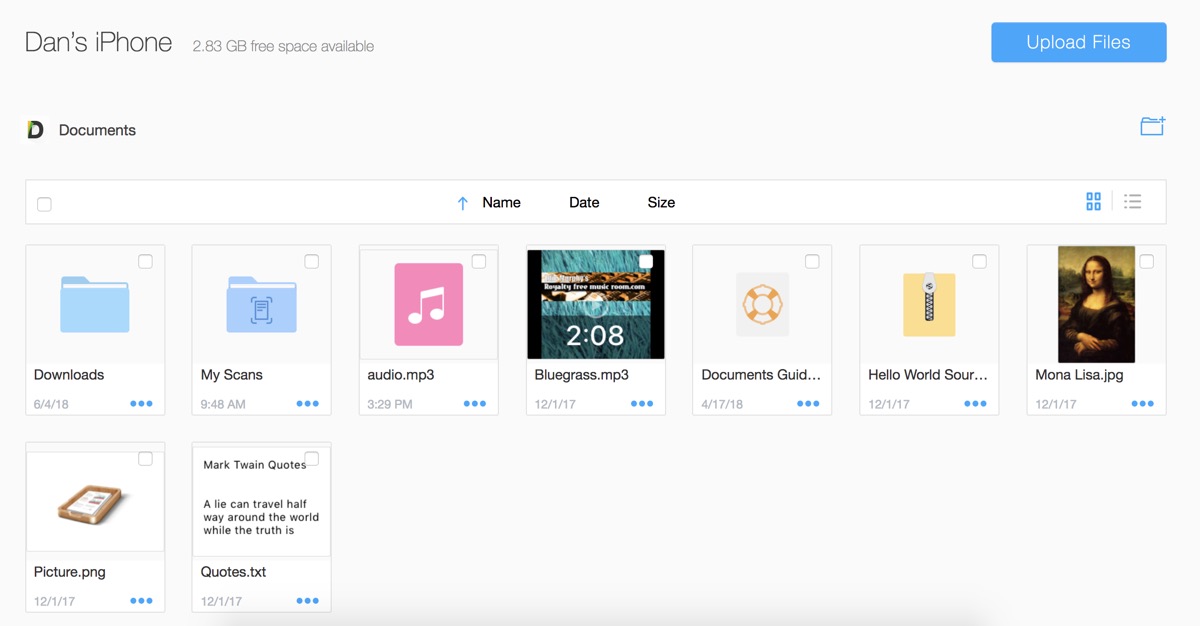 Once done, you have access to the Documents app's folder and files via a web interface. To upload your audiobooks, simply click the "Upload files" button, then select your files. Files uploaded will show up in the Documents app immediately.
When you're done transferring, tap "Stop WebDAV". You can then go find your audiobooks in the directory and play them.
B. Download audiobooks from email attachments
If you want to download audiobooks from email attachments, simply open the audio file in your email app. Then tap on the Share button (looks like a box with an arrow pointing upwards), you will find the option to copy the file to the Documents app in the Share sheet.
When you tap on the option, you will be taken to the Documents with the audiobook playing. You can then create a new directory and move all your audiobooks to it, so that everything is in one place.
C. Download audiobooks or files from the Web
Apart from being a file manager, Documents also has a built-in browser that allows users to download files from the Internet. You can use this browser to download public files from a website, or even a file that is stored on a password-protected site.
1. Launch Documents and open the app's browser.
2. Login to whatever website you need to use to download the audiobook. Locate the file and tap on some download button.
3. Now Documents will let you change the name of the file and select its destination. By default, the app will save it to the Downloads folder, but by tapping on Documents/Downloads, you can also select to download the file to iCloud.
4. Tap Done to start downloading the file.
There are a couple of other apps that have the ability to transfer files like Documents, but the best part about this app when it comes to media files like audiobooks is its media player. The smart and beautiful media player can organize folders into playlists with the ability to shuffle and loop your favorite tracks that no other app can provide.
Disclosure: iOSHacker may receive a commission if you purchase products through our affiliate links. For more visit our privacy policy page.