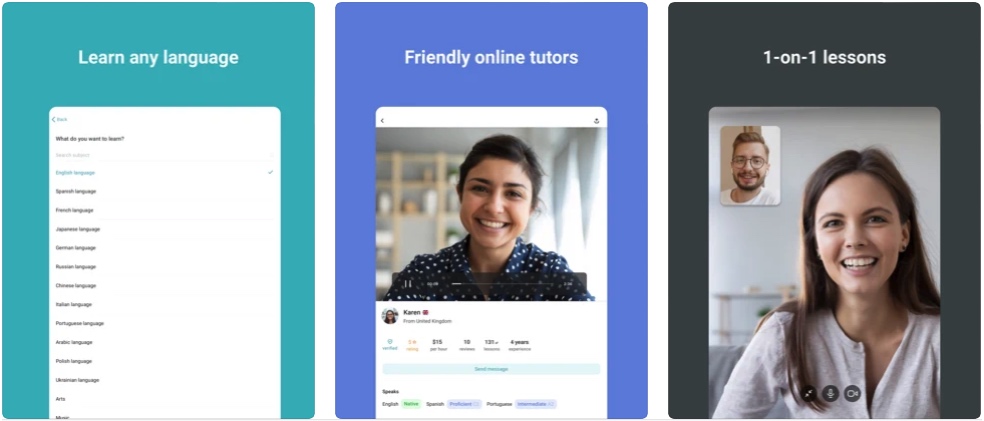 Learning English as a second language does not necessarily have to be a difficult task if you know what to look for in a reliable iPad app that can help you in the learning process.
There are many app and web based services such as Preply, which offers online English classes for beginners in which you can speak with a live tutor while learning English online. Preply not only offers web based learning experience but the Preply's iPhone and iPad app also allows users to take classes on the go.
Thanks to the app these lessons can be adjusted based around the needs of the student who can learn without being limited to a computer. There are nonetheless some additional factors to consider if you hope to leverage all that these modern packages have to offer. Let us examine some important metrics.
Take a Look at the User Interface
There are several reasons why you should choose an application which provides an intuitive user interface (abbreviated as "UX"). A streamlined user interface offers these bespoke benefits:
You can easily navigate between different sections.
It is simple to speak with a customer support specialist.
The learning process itself will be vastly improved.
It is therefore wise to read what others have had to say about their interactive experiences. If you come across an app associated with primarily negative reviews, look elsewhere.
More Than Lessons Alone
Learning English (and indeed any language) should not involve mental drudgery alone. Some of the most effective iOS applications imbue the process itself with a degree of fun. Playing games is an excellent way to hone your skills without becoming mentally fatigued.
Hidden object platforms, crossword puzzles, word-related bingo, and basic English trivia are a handful of examples of how games can represent valuable tools. We can now see why the best apps will offer interactive games alongside traditional lesson plans.
Levels of Customer Support
Even the best iOS applications may encounter problems from time to time. In the event that you need to speak with a customer service representative, what options are available? You should be provided with a host of possibilities. Standard email addresses, a dedicated telephone number and a live chat widgets can offer valuable solutions. Simply stated, any app that does not offer contact details should be looked upon with a degree of suspicion.
Does the App Support 5G Streaming Speeds?
A growing number of language-based iOS apps are offering the possibility to interact with a live tutor. Therefore, connectivity is an important concern. 5G wireless is becoming commonplace and its market share grew by a staggering 193 per cent during the first half of 2021.
This is why it is prudent to download an application that is capable of supporting 5G. Most experts agree that this speed will become commonplace in the not-so-distant future. It therefore pays to think slightly ahead of the curve.
Finding an application that will enable you to improve your English skills is quite easy if you know what to look for. Performing research in advance is therefore crucial so that the right decision can be made in no time at all.
You can download the Preply app for iPhone or iPad from the App Store for free using the link below.
Disclosure: iOSHacker may receive a commission if you purchase products through our affiliate links. For more visit our privacy policy page.