The necessity of using third-party Mac cleaners has always been a sensible matter. Numerous threads on Apple Discussions alone have touched upon the subject of Mac cleaning software, its security, and relevancy. Evidently, there have been cases of threats disguising themselves as cleaning utilities, but not all maintenance software is there to jeopardize the security of your data. Indeed, finding a trustworthy application is often about trial and error.
One can discover an array of cleaning apps online with nearly identical functionality. It is through research, free trials, reviews, experiences of other users that you find a worthy application to trust your Mac with. Today we are taking a closer look at MacFly Pro cleaner — the up-and-coming application that lives up to the highest of expectations while being completely free to use.
MacFly Pro Features Overview.
Taking a brief look at apps features usually allows you to immediately decide whether it's something to meet your needs. While some applications try to push every gimmick to the forefront to overwhelm the user with the number of features, MacFly Pro takes a more refined approach organically grouping essentials and stripping down the app off redundant marketing sham.
Home Screen. When first launching the app, you are welcomed in by the MacFly Pro Smart Assistant home screen. Here you will always find the up-to-date information about the current condition of your system, how many precious gigabytes of free space you have on your main drive, what is taking up your RAM, and, of course, the files you can remove to take back free space. There is a number of reasons why Smart Assistant is an integral part of the MacFly Pro experience, which we will touch upon in more detail further down the review.
Interestingly, MacFly Pro does not jump right into scanning without your permission, instead, giving you the chance to look around and start your first scan when you feel like it. Besides Smart Assistant, all of MacFly Pro's features are grouped into two other sections — Cleanup and Tools.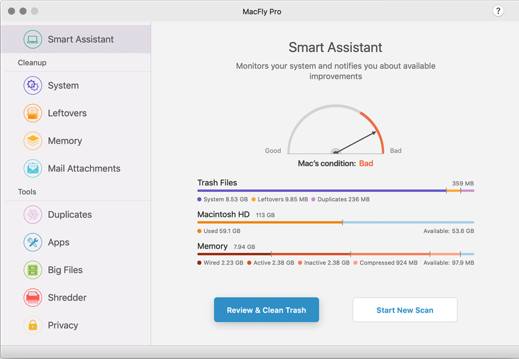 Cleanup. The Cleanup section contains tools you can most likely find in the majority of cleaning apps out there: System, Leftovers, Memory, etc.
The System module is responsible for removing system junk such as caches, log files, and unused localization data.
The Leftovers module is used to seek out and eliminate residual data left behind previously uninstalled apps.
The Memory module is used to optimize your Mac's RAM by quitting memory-intensive applications and idle processes.
The latest addition to the Cleanup section is the Mail Attachments module. This feature lets you locate and remove mail attachments from the Apple Mail Client saved locally to a dedicated folder on your Mac. And before you ask, MacFly Pro does not remove attachments from the mail server itself, only the automatically downloaded copy meant for offline use. Any attachments you open will automatically be saved to your Mac once again.
Tools. The Tools section is geared to help Mac users free up maximum storage space. It contains a selection of easy-to-use utilities which focus on cleaning specific system areas. Finding file Duplicates, uninstalling Apps or deleting Big Files – all of that is possible with the modules featured in the Tools. The Shredder module is among the newest additions to MacFly Pro's set of utilities. Mac owners can use Shredder to securely remove sensitive data with no concerns over someone recovering it. Right below Shredder, you will find another security oriented module used for sweeping sensitive data. Use Privacy to review and remove the information your browsers keep on you.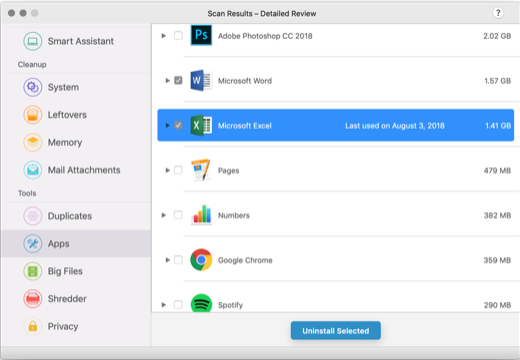 Smart Assistant. The main attraction of MacFly Pro is, undoubtedly, its Smart Assistant. The Smart Assistant performs background system checks without affecting the overall performance of your Mac. Moreover, it minimizes the effort needed for running mundane cleanup routines, which will appeal to both beginners, who are just getting started with Mac as well as seasoned users, who are unwilling to take the time to do it manually. When the reasonable amount of residual and temporary files is exceeded, Smart Assistant will notify you that the Mac should be cleaned.
What's the Catch?
The same question pops up every time a Mac cleaning application steals the spotlight: "Is this a scam?" It is only natural for people to be suspicious, especially if the app claims to be free of any charges or hidden fees. Nobody wants to bang the same drum downloading unverified applications risking the safety of their data.
After installing the app, running the initial scan, and extensively testing out its features, MacFly Pro help up like a champ knocking the bottom out of all suspicion. It precisely removed unwanted files, displayed no annoying alerts or flashy pop-up banners.
You can safely turn a blind eye to any scam-related questions about MacFly Pro. They stem from the fallacy that all Mac cleaners are harmful. Unlike any scam apps infiltrating into a Mac as bundled software, MacFly Pro has shown itself as a reliable stand-alone program that delivers on its promises.
Use for Free. Forever.
Despite being relatively new, MacFly Pro does not fall short of top cleaning utilities that have been setting industry standards for years. What makes MacFly Pro even more phenomenal is the fact that it is available for free! You are getting a full suite of expert grade Mac cleaning tools wrapped in the user-friendly package completely free of any charges or hidden fees. Frankly speaking, what MacFly Pro offers is hard to beat.
The Verdict.
MacFly Pro is the underdog that has proved to be a reliable free cleaner, in fact, probably the best one you can find right now. It ticks all the boxes when it comes to essential features, offers the Smart Assistant to minimize the number of user interactions, and does all of that without asking for a penny. MacFly Pro is a great contender to the industry-leading applications regarding its features and performance. And, well, being completely free, it does not get much better than that.