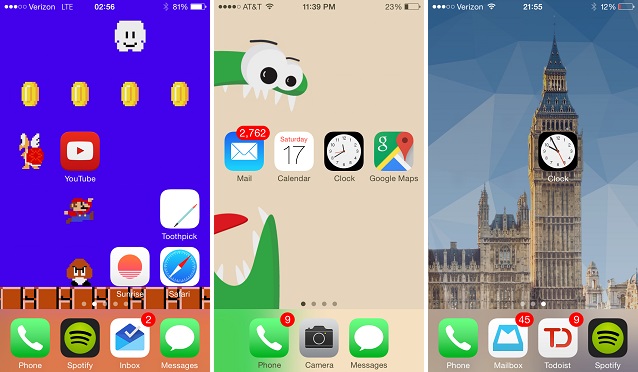 If you don't have a jailbroken iPhone then there's no simple way of arranging the homescreen icons in a custom layout of your choice. You can move icons around and change their positions, however the overall layout still remains the same. A new web app called Makeovr changes that by enabling users to create custom icon layouts and change the look of their homescreen according to their liking. Makeovr essentially provides a workaround that lets you place icons with gaps or empty spaces in between.
The app creates an illusion of empty spaces by putting icons that look exactly like the wallpaper behind it. Makeovr tells you exactly where to place the icon on the homescreen as it is designed for that particular location. Once you do so no one will be able to tell there's an icon in that spot instead of an icon. Due to the limitations that come with workarounds like this you can only use a few select wallpapers that are available on Makeovr's website for this trick to work. Another drawback is that the icons will be visible while you move from one page to another.
Despite all its limitations Makeovr is a brilliant idea and is simple to use as well. It supports iPhone 5/5s, iPhone 6 and iPhone 6 Plus. Simply open this webpage on iOS Safari and follow the instructions.