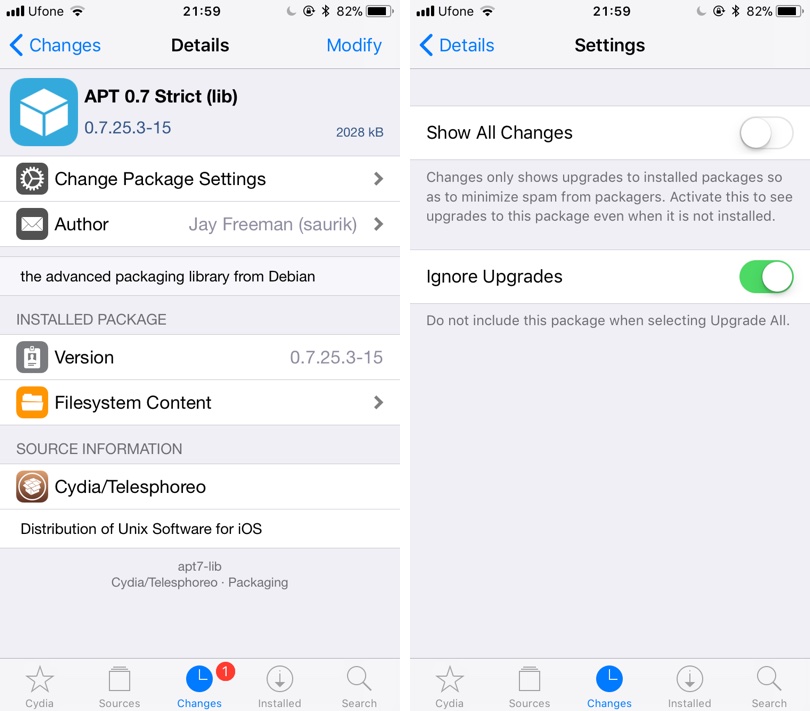 Electra jailbreak comes with a modified version of Cydia. The store has been modified to make it compatible with iOS 11. However the jailbreak store is not playing nice with the latest Electra release. While these modifications make Cydia compatible with iOS 11, installing official updates will break the jailbreak for you. One of the updates that is causing problems for users is the APT 0.7 Strict update. This update pops up the very first time you launch Cydia.
Electra users should avoid updating APT 0.7 at all costs, however if you have updated already and are not able to use the jailbreak, then there's a solution for you. Reddit user Notex has shared a a handy guide that allows users to fix the APT 7 Strict issue and get their device's jailbreak working again. You can find the whole tutorial below.
Download https://github.com/ElectraJailbreak/electratools/blob/gh-pages/debs/apt/apt7-lib_0.7.25.3-15_iphoneos-arm.deb?raw=true
Copy that file to your device via SSH/SFTP (You can use programs such as Cyberduck, WinSCP, etc).
SSH into your phone as root (Using a program like Putty or OpenSSH).
Go into the directory where you copied that deb file to.
Run dpkg -i apt7-lib_0.7.25.3-15_iphoneos-arm.deb
Fixed.
If the guide above helped you solve this issue, then make sure you don't update this particular package again until further notice. If you upgrade then jailbreak will break again, and you will have to perform these steps one more time.
You can avoid accidental updates by turning off updates for this package. To do so, tap on Changes and then on APT 0.7 Strict (lib). Then tap on 'Change Package Settings' and finally turn on the toggle for 'Ignore Updates'. (Source)
Saurik is expected to release his own jailbreak tool with official Cydia for iOS 11, if you can then it is worth it to wait for his release, which will bring a much more stable Cydia.