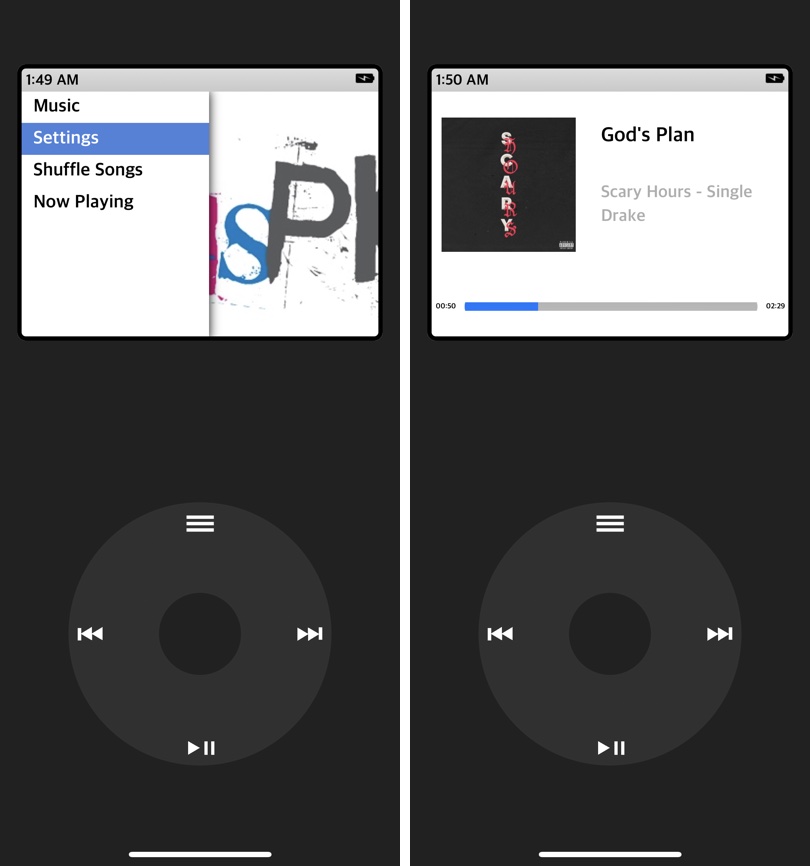 If you have been a long time Apple user who used to own the iconic iPods, then you would definitely remember the innovative and fun to use click wheel iPods. These iPods allowed users to scroll lists with easy by rotating their finger on the click wheel.
While today we live in the world of iPhones, I do sometimes miss the feel of using my iPod Classic to listen to my favorite songs and scrolling through long lists of music using the always fun click wheel.
If you want to relive the memories, then there is still a way to enjoy the iPod user-interface on any iPhone, complete with the software interface and hardware click wheel and buttons.
Made by developer Guillermo Morán ClassicPlayer is an iPhone app that adds an iPod inspired music player to your iOS device. The app has been available in Cydia for a while now, however now Moràn has made it free and available to users of non-jailbroken devices.
The ClassicPlayer is a full music player app and allows you to browse through your iPhone's music library and listen to your favorite songs. Features include a dark mode, sound effects, support for all iPhones including iPhone X, playlists and more.
Read on for a step by step guide on how to install ClassicPlayer on your non-jailbroken iPhone and enjoy the classic iPod interface on your modern device.
Note: Jailbreak users can simply download ClassicPlayer for free from Cydia's BigBoss repo.
How to Install ClassicPlayer on iPhone
Things You Need:
1 ) Once you have downloaded both ClassicPlayer IPA and Cydia Impactor, connect your iPhone to computer and launch Cydia Impactor.
2 ) See your iPhone showing up on Cydia Impactor? Now drag and drop the ClassicPlayer IPA on Cydia Impactor.
3 ) Enter your Apple ID details. Make sure the Apple ID you are using does not have two-factor authentication turned on in that case use app specific password.
4 ) Wait for the installation to complete. Once it finishes, you can unplug your iPhone.
5 ) You will now see ClassicPlayer icon on the homescreen, however you won't be able to launch it just yet. Open Settings.
6 ) Go to General > Profiles & Device Management > Your Apple ID.
7 ) Tap on Trust button and confirm.
8 ) Return to the homescreen and launch the app.
The app should now be running and you should be able to use the ClassicPlayer app to browse through your music library.