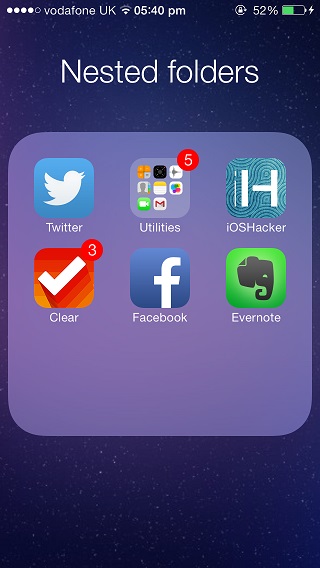 Despite the popular demand Apple still does not provide an option to put folders into folders on iOS. iOS 7.1 brought a complete new look for the folders but the limitation still exists. There are several tweaks available in Cydia that allow users to create nested folders on their devices however if you have not jailbroken your device you can't do anything about it. Unless you know of a glitch in iOS 7.1 or earlier versions that allow users to have folders into folders.
A Youtube user has discovered a workaround that can be used to achieve this feat. There are no lengthy steps or hacks to follow, all you need is quick drag and drop skills.
Here's how you can put folders into other folders on iOS 7.1 or earlier versions. We have tested this workaround on iOS 7.1 and iOS 7.0.6 and it works without a problem on both iPhone and iPad.
1. Create a folder that you want to put into another folder. This is the one that is going to go inside another one. You can put in as many apps into it as you want.
2. Once you have created the folder that will go inside create another folder using only two apps. Drag the first app onto another, before the screen zooms onto the new folder release the app, quickly tap and hold on the folder you previously created (the one that you want inside another folder).
3. Now you should be inside the first folder while holding the other folder.
4. Simply release the folder you are holding and it will now reside inside your second folder.
You can repeat this process as many times as you want and have multiple nested folders.