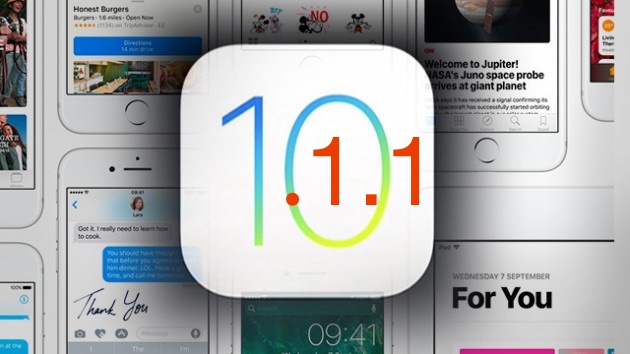 In case you don't know already, there is a good chance that we will have an iOS 10.1.1 jailbreak soon. How soon is anyone's guess, however with the recent discovery of the project zero exploit in iOS 10.1.1 well know iOS hacker Luca Todesco has announced that he will release a full jailbreak for iPhone 7 and other devices. As we detailed in our earlier post, the exploit found in iOS 10.1.1 has been closed in iOS 10.2, so if a jailbreak is released it will not support the latest publicly available version of iOS 10.
Thankfully there is still time to downgrade (or upgrade in case your are on iOS 9) to iOS 10.1.1. Once you have installed iOS 10.1.1, then you can rest assured that whenever the iOS 10.1.1 jailbreak is released you will be able to take advantage of it and jailbreak your device. In this post we will show you how you can downgrade to iOS 10.1.1 or upgrade to iOS 10.1.1 and prepare your iPhone, iPad or iPod touch for the possibly upcoming jailbreak.
Note: Apple's signing window for iOS 10.1.1 can close at any time, so it is a good idea to install it as soon as possible. Once Apple has stopped signing iOS 10.1.1 you will no longer be able to install this iOS version. We will update this post once signing window has closed for iOS 10.1.1.
Downgrade or Upgrade to iOS 10.1.1 and Prepare for Jailbreak
Step 1: First of all open this page and download iOS 10.1.1 for your iOS device. Make sure you download the current version.
Step 2: Once iOS 10.1.1 IPSW has been downloaded connect your iPhone to iTunes and create a fresh backup of your device.
Note: If you are downgrading from iOS 10.2 to iOS 10.1.1, then you will not be able to restore the latest backup as you will get an error stating your iOS version is too old. In this case restore the latest available backup on your computer or setup as a fresh device and download backup from iCloud (if you have created it earlier). Despite this it is a good idea to create a backup.
Step 3: Once the backup has been created open Settings app on the iPhone and go to iCloud settings. From the iCloud page turn off 'Find My iPhone'.
Step 4: Now hold down the 'Option' key on the Mac (Alt key on windows) and click on the 'Restore iPhone…' button. Now from the window select the iOS 10.1.1 IPSW file you downloaded earlier.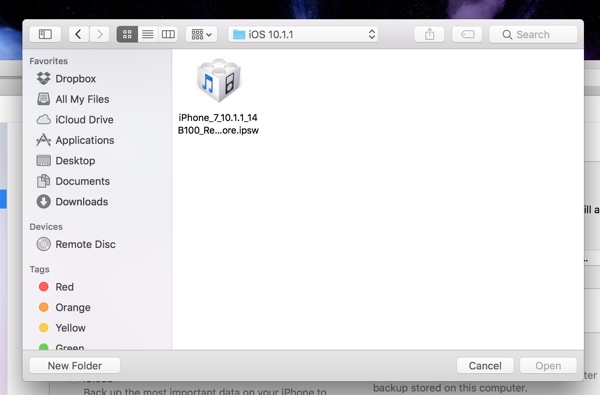 Step 5: iTunes will now warn you about your data. Simply click on the 'Restore button.

Once the iPhone or iPad is restored you will be able to restore the backup or set it up as a new device. That's it. Now your iPhone is ready for the upcoming iOS 10.1.1 jailbreak. We will update you when more information is available on its release and follow up with guides and tutorials once it is available.