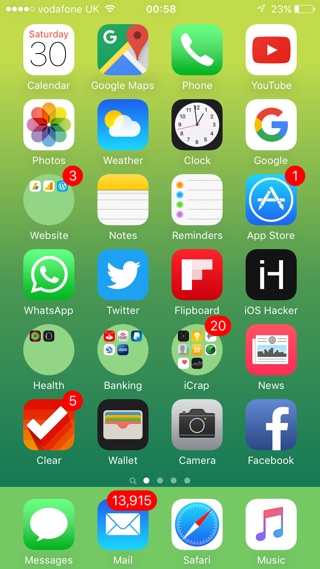 If your iPhone is not jailbroken, then sadly there's not much you can do to customize it. Despite Apple's best efforts to stop you from customizing the look of your device's homescreen, now and then the company leaves a glitch in iOS that lets us do some fun things. A new wallpaper glitch found in iOS 9.3.1 and versions released before it allows users to have circular folder icons on the homescreen. Any iPhone user can have these icons no matter if their device is jailbroken or not. Follow the instructions below to get circular folders.
Get circular folder icons on iOS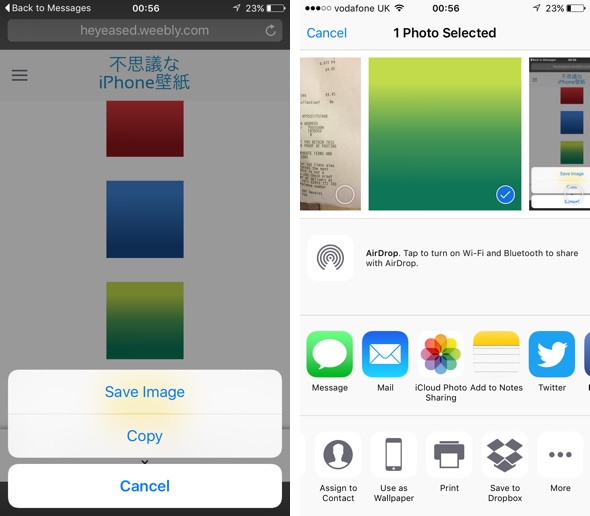 On your iPhone open this website and download any of the 3×3 images on your device. To save an image tap and hold on it and then hit the save button.
Once the image is downloaded to the library, launch the Photos app and open the image you just download.
Now tap on the sharesheet/menu button from button left side and then on the 'Use as Wallpaper' from the menu.
That's it. After you have applied the 3×3 image you downloaded as your website, you should notice that the icons have now become circular instead of having a square shape with rounded edges. Alternatively you can apply the wallpaper from Settings app. Please note that on iPhone 6s and iPhone 6 folders icons placed in the top row don't appear circular, so you will have to move them to second or third row in order to change their appearance.
If you don't get the perfect result, then you can try using a different 3×3 image as your wallpaper. You can also try changing from 'Perspective' to 'Still' setting when applying the wallpaper as it may produce better results on your device.
As this is not an official feature and is actually a glitch, Apple might fix it in the upcoming iOS releases.
What do you think of the circular folder icons? Do you like them better than the stock square icons? Share your thoughts in the comments section below.