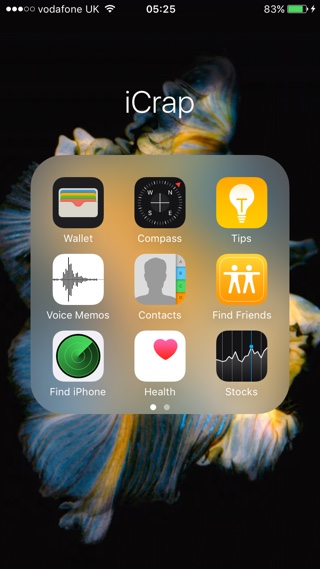 One thing that really annoys a lot of iOS users is the fact that you cannot hide the app icons from the home screen. The most you can do is put them in a folder or get rid of some of them using the restrictions feature of iOS. While Apple has yet to allow users the ability to hide stock app icons that include Compass, Tips, Health, Stocks and several others that most users don't use, a workaround discovered by Youtuber can do the trick for you, albeit temporarily. Follow the instructions below to hide stock app icons, without jailbreak.
How to hide app icons without jailbreak
Please note that with this trick you are not deleting the app or the icon permanently and you can still launch the app though the Spotlight. The app icon will return as soon as you restart your iPhone, iPad or iPod touch.
Look for an app you want to hide on the homescreen and long press on it to enter the wiggle mode. Now drag the icon of that app onto another app's icon to create a folder.
Now that you have more than one icons inside the folder, drag the icon you want to hide to the second page of the folder, and then to the third (without lifting your finger). Once you are on the third page, without lifting your finger from the icon press the home button.
This will make the disappear from your screen. Repeat this process to hide as many icons as you like.
Since this trick is taking advantage of a bug, Apple might fix it in the future iOS versions. It works perfectly fine on iOS 9.2.