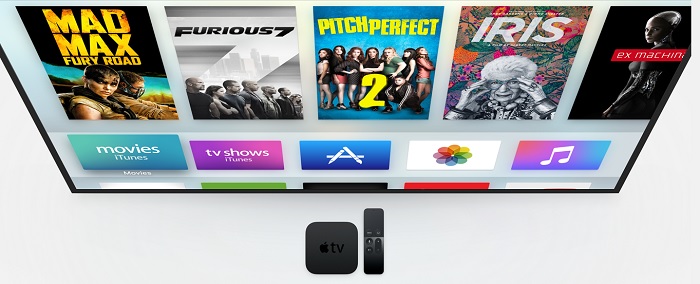 Apple TV differs from the competition in terms of the clarity, quality, and overall experience you get to enjoy. It is a cinematic viewing extravaganza, with 4K technology, allowing viewers to watch their favorite series, movies, and channels in 4K HDR. Now, Apple TV features Dolby Atmos – one of the most engaging audio accoutrements ever on TV. Among others, users get to watch a host of channels via apps such as ESPN, Amazon Prime Video content, Netflix, HBO Go, Hulu Plus and others. Apple TV 4K is designed for creating the most immersive audio-visuals imaginable.
The pixel saturation is such that it puts standard high-definition TV to shame. The detail is crisper, the colors are brighter, and the realism is lifelike. Thanks to Dolby Atmos, a virtual 3D sound bubble engulfs the room, and fills it with engaging sounds that perfectly mimic real life. It puts you in this thick of it, as if you were a participant to the experience. With so much available HD multimedia content available via this medium, why would you possibly need a VPN on Apple TV?
Apple TV and Virtual Private Networks – the Conundrum Solved
Apple TV runs TV channels off the Internet. The digital data streams from your ISP to your Apple TV and showcases it with amazing audio-visuals. However, the digital media that you're watching must come from somewhere, and often users don't want their IP addresses and personal information intercepted by the authorities, or third-party networks. A VPN is a workable solution to the dilemma.
By encrypting your digital data stream, no prying eyes can intercept your personal information. When you use Apple TV for the ultimate digital multimedia experience, you can couple it with a VPN for maximum network anonymity. It's also an effective way to avoid web filters that prevent you from accessing websites from certain countries, jurisdictions, or territories. VPNs provide the illusion of traffic coming from a certain locale. When you hook up to a VPN server, your Internet traffic is being rerouted from the new server, and not from your IP address. However, it's not that easy to establish a VPN connection with Apple TV since this feature is not supported by Apple.
Fortunately, there is an internal support structure in place for establishing a VPN. The steps that are required to get this up and running can be completed in 3 ways. One of them is by running a VPN through your laptop and connecting through a Wi-Fi hotspot. Another way is to use a wireless router which is currently using a virtual private network (VPN). The third option available to you is using your VPN as Ethernet through a PC or laptop. We will briefly explore these options in a little more detail to provide you with a guide on how to use a VPN on Apple TV.
How to Set up a VPN on Apple TV by Using a Wireless Router
The first order of business is to choose a reputable VPN service. The best way to approach this challenge is to conduct a little research regarding which Virtual Private Networks offer cost-effective, safe and secure services to customers. By evaluating these services on their merits, it's possible to select the most effective VPN for Apple TV. Next, get hold of a VPN router and set up the VPN on the router as your first order of business. Now, connect your Wireless Router to Apple TV. While Apple places a premium on privacy, it's evident that Apple must comply with government rules and regulations when necessary. As such, you will want to ensure that you are safe from any third-party interception or monitoring of your data on Apple TV. That's why VPN services are in high demand.
Setting up a VPN Connection on Apple TV with Ethernet Network Sharing
For Mac operating systems simply navigate to system preferences and then click on the sharing option.

Under Internet sharing, pick share your connection from airport mode

Use ethernet on your Apple TV to connect through your VPN.
If you are using a Windows operating system, follow these steps:
Navigate to the Control Panel.

Click on Network and Sharing Center and Change Adapter Settings.

Click on Connection Properties and allow other network users to connect through This Computer Connection.

Presto! You are now connected to the VPN with an LAN/Ethernet connection.
Connecting to a VPN through a Laptop with Wi-Fi on Your Apple TV
This is one of the easiest ways to get connected to a VPN service. What you're going to need to do is setup your laptop with an Ethernet/LAN connection and then use your VPN account software for the OS of your laptop. Once you have set up your laptop in Wi-Fi hotspot mode you'll be able to run Apple TV direct through your VPN.