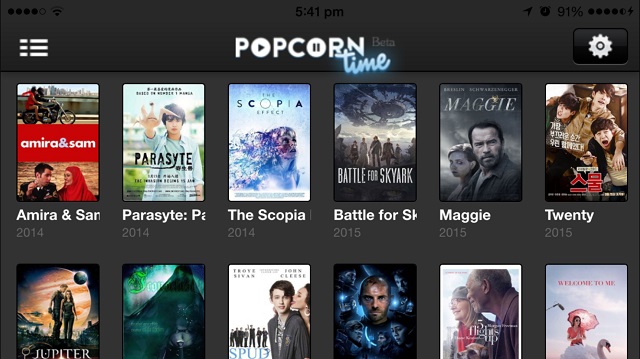 When it comes to enjoying online content such as movies and TV shows iOS has a long way to go. Due to Apple's limitations you cannot directly download content from your favorite online sources and enjoy them on your iPhone, iPad or iPod touch. However the Popcorn Time app makes the process much easier by letting you browse and watch your favorite movies and TV shows right on your mobile device. Using the application you can stream videos without having to download and sync them to your device. The app serves up content using torrent sources and somewhat works like the official Netflix app, however it is totally free to use.
Perhaps the best thing about the Popcorn Time app is that it does not require users to have a jailbroken iOS device. It can be downloaded from both Cydia as well as a dedicated Mac or Windows tool. To install the app on your device all you have to do is download the installer on your computer and connect your iOS device to it, and follow the instructions. In this article we will show you how you can install Popcorn Time app on your iPhone or iPad and start watching online movies and TV shows. The tutorials is for both jailbroken and non-jailbroken devices.
Installing Popcorn Time app on non-jailbroken iPhone, iPad or iPod touch
If your device is not jailbroken then you will have to download the installer on your computer using the links below.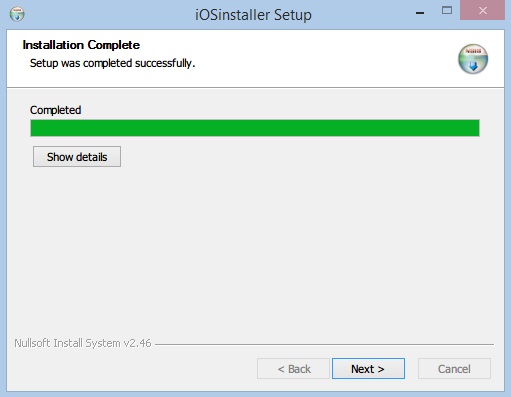 After downloading the installer from the links give above open it and install the tool on your computer.
Connect your device to the computer. If it was already connected but is not recognized by the tool then disconnect it and then connect again.
Once the iPhone is detected it will show a pop up alert. Simply tap on the 'Trust' button to continue.
Now put your device in Airplane mode. Once you have done so the app will start installing on the device.
Next without turning the Airplane mode off launch the Popcorn Time app on your iPhone. Again, you will get a pop up, simply hit 'Trust'.
Installing Popcorn Time on a jailbroken iOS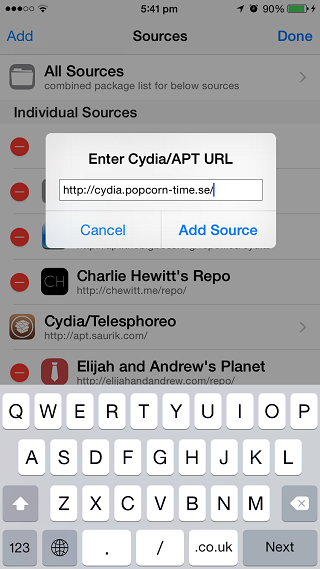 The process of installing Popcorn Time app on a jailbroken device is much simpler. All you have to do is add the right repo to Cydia and install the app from there. Follow the steps below to do so.
Launch Cydia and tap on 'Sources'. Hit the 'Edit' button from the top and then the 'Add' button.
Type in the repo URL i.e. 'http://cydia.popcorn-time.se/' and hit Add Source button.
Once repo is added refresh your sources and you should be able to find the app in 'Changes' section.
That's it! Now you can start streaming movies and TV shows on your device.