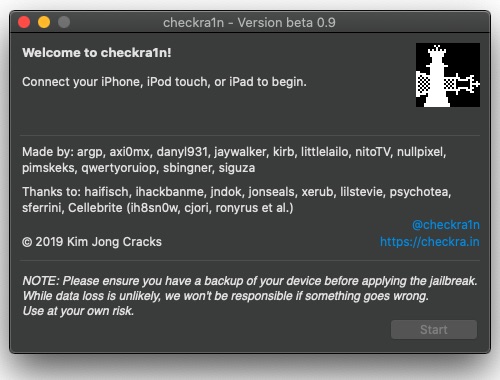 Following the release of checkra1n jailbreak the very first thing that comes to every jailbreak user's mind is whether checkra1n jailbreak is safe. If you're one of these users and are wondering whether you should go ahead and use the iOS 13 jailbreak on your device, then read this first.
Is checkra1n jailbreak trustworthy?
checkra1n is a legitimate jailbreak tool that has been released by well known iOS hacker Luca Todesco and his team. Some of the other hackers that have been credited for this jailbreak include axi0mx, pimpskeks,Sam Bingner, nitoTV, Adam Demasi and more. If you have been following the jailbreak scene for a long time, then you would definitely recognize these names due to their contributions towards the development of past jailbreaks.
Is checkra1n iOS 13 jailbreak safe?
Now that we have established checkra1n tool to be a legitimate tool for iOS 13 users, the next question is whether it is safe to use. Well the answer is complicated. While the checkra1n tool is 100 percent trustworthy, whether it is safe to use right now is another matter.
Todesco and his team has launched checkra1n as a public beta, which means anyone with the beta 1 supported device (list of supported devices here) can download and use it to jailbreak. However everyone using it should be aware that the tool isn't final yet, so bugs should be expected. This includes your device getting into a boot loop, getting stuck and requiring a restore and more. This is why we have recommended that you create your iPhone's backup before using it in our checkra1n jailbreak guide.
Even if you end up succeeding in jailbreaking your iPhone or iPad, it is very likely that the tweaks you would want to install are not ready for iOS 13 yet. While tweak developers will be rushing ot add iOS 13 support to their tweaks, the releases may take some time. This means you will not be able to install your favorite tweaks in the first few days or even weeks of jailbreaking your device.
Should you use checkra1n jailbreak right now?
So to answer our second question of whether you should use checkra1n right now, the answer is no. You should avoid using checkra1n beta 1 and either wait for more beta releases so most of the early bugs are ironed out, or if you're patient wait for the final release so all bugs are eliminated and you can have a seamless jailbreaking experience.
You should only use checkra1n right now if 1) you're not interested in helping the developers in finding out bugs 2) you are not a tweak developer who needs to use iOS 13 jailbreak to add iOS 13 compatible to the tweak.
When will we get a stable version of checkra1n?
We don't know yet. However the amount of work checkra1n's developers have put in its development already, we expect that they will be working fast to fix all of its bugs too and releas a final and stable version of checkra1n iOS 13 jailbreak as soon as possible.
When will checkra1n for Windows get released?
As you may already know checkra1n only works with macOS for now. However that does not mean a Windows version is not on the cards. The developers have said that they have ran into troubles with Windows and they need more time before they can release a checkra1n for Windows beta.