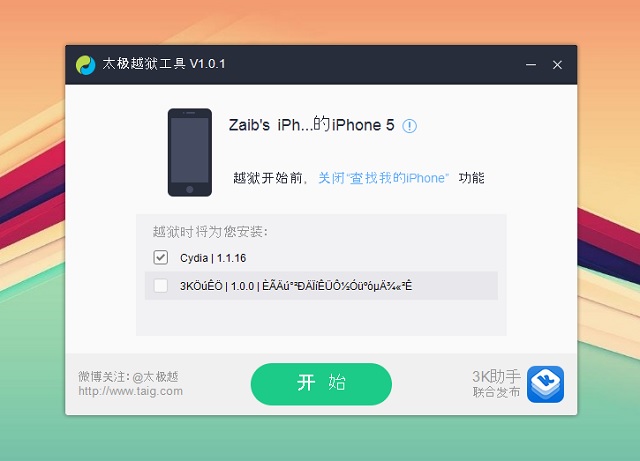 As we reported earlier the new TaiG jailbreak for iOS 8.1.1 has been released. If you are running iOS 8.1.1 and want to try this new jailbreak on your device at your own risk (of course) then read on our step by step guide to learn how to use TaiG to untethered jailbreak iPhone, iPad or iPod touch. Please note that the tool is only available for Windows and in Chinese language so be careful if you don't know the language. As always our comment section is open for discussion.
How to untethered jailbreak iOS 8.1.1
First and foremost create a fresh backup of your device by connecting it to iTunes.
Then download the TaiG tool:
1. Once TaiG is downloaded on your PC unzip it.
2. On your iOS device head to Settings and turn off Find My iPhone. Settings > iCloud > Find My iPhone. You also need to disable the passcode so do that as well. Settings > Touch ID and Passcode.
3. After turning off both Find My iPhone and Passcode put your device in Airplane mode using Control Center or by going to Settings.
4. Now right click on the TaiG's icon and run it as administrator. Hit Yes if you receive a notice from Windows.
5. As soon as TaiG runs make sure it detects your device and its iOS version. If it does then simply uncheck the second tick box while keeping the first one checked. This is to get rid of the sketchy TaiG store. FYI, the first box installs Cydia.
6. Afterwards hit the big green button that we assume says 'Jailbreak' in Chinese. Let the tool do its job. Your iPhone or iPad will reboot after which Cydia will appear on the homescreen. Launch Cydia and start downloading your favorite tweaks.
Enjoy!