Anyone who is following the jailbreak scene knows that right now Taig is the most up to date tool that allows users to jailbreak all versions of iOS 8 including iOS 8.1.2. However the only problem with Taig is that it is limited to Windows, so Mac users have no choice apart from using a different machine or run Windows virtually on their computer to use it. If you are a Mac user then I have a good news for you. A new jailbreak tool called PP Jailbreak has appeared out of nowhere with capability of jailbreaking iOS 8.1.2 or below on Mac.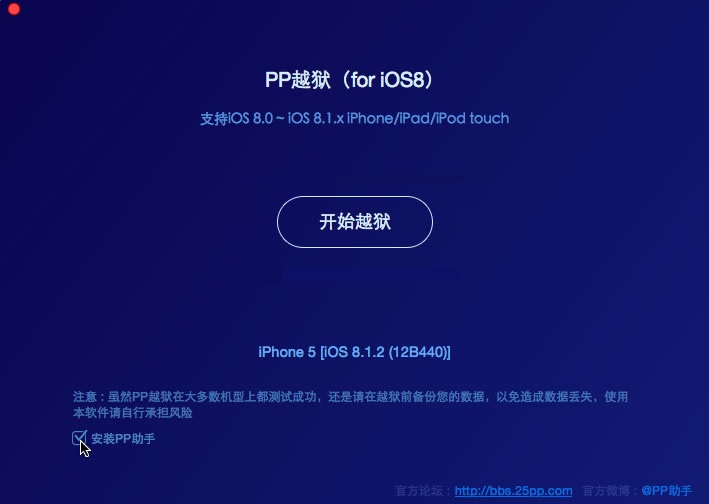 It seems like the PP Jailbreak tool has been released by or in cooperation with PPSync, which has also sponsored other jailbreak tools in the past. While this tool has been confirmed to be working we advice you to proceed at your own risk. iOSHacker is in no way responsible for any damage you may cause to your device while using this guide.
1. First of all upgrade your device to iOS 8.1.2 if it isn't already. You can download it from here. Then download the PP Jailbreak tool for Mac here.
2. Turn off Find My iPhone by going to Settings > iCloud > Find My iPhone. You also need to turn off Passcode if it is enabled and then place your device into Airplane mode.
3. Connect your iPhone, iPad or iPod touch to your Mac using a standard USB cable.
4. Next run the PP Jailbreak .dmg you just downloaded and drag the tool to 'Applications' folder. Next open the tool from Applications folder.
Note: If you get the security error saying the app cannot be opened then head to Mac's Settings app > Security and Privacy and then click on 'Open Anyway' button. Once the tool is running it should recognize your iOS device.
5. Next un-check the 'PP' checkmark box from the bottom. This is important if you don't want to install the Chinese piracy app store.
6. Afterwards simply hit the blue 'Jailbreak' button located on the center. On the next screen you will need to click on the button located on bottom right side of the screen.
7. Now the jailbreak process will start on your iOS device. Wait until it completes, the tool will indicate once it has completed the procedure and your device will reboot. After that you will see the 'Cydia' logo on you homescreen.
That's it! Now that your device is jailbroken don't forget to check out our list of best Cydia tweaks for iOS 8 here.