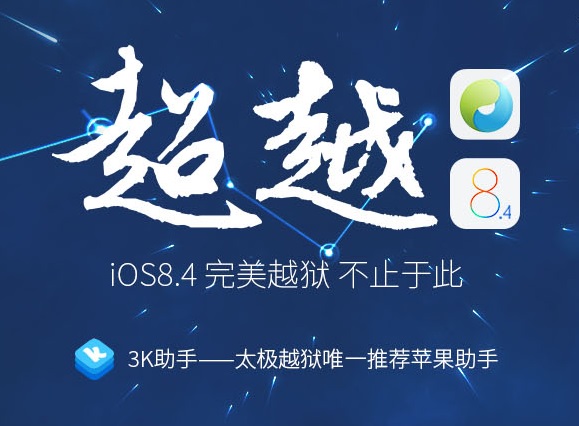 In just a few hours after the release of iOS 8.4, TaiG team have updated their tool that can now untethered jailbreak the new iOS version. The tool that is now availble for downlaod supports iOS 8.1.3 up to iOS 8.4 and works on all devices. Currently TaiG only supports Windows, however Mac users can still use the tool by running it in a virtual machine. If you want to jailbreak your iPhone, iPad or iPod touch running iOS 8.4 using TaiG then follow the instruction below.
Before you start the jailbreak process make sure you have created a recent backup of your device through iTunes or iCloud.
You will need to download the following.
The Jailbreak process
Step 1: Before you begin the process you need to disable the passcode/Touch ID lock on your device by going to Settings > Touch ID & Passcode. In addition to that you also need to disable Find My iPhone service, which you can do by going to Settings > iCloud  > Find My iPhone.
Step 2: Once you have disabled both settings connect your iPhone, iPad or iPod touch to the computer and launch the TaiG tool you just downloaded.
Step 3: While launching TaiG make sure you right click on its icon and then on 'Run as Administrator'. Also, make sure the tool is white-listed in any antivirus or firewall tools you are using on your machine.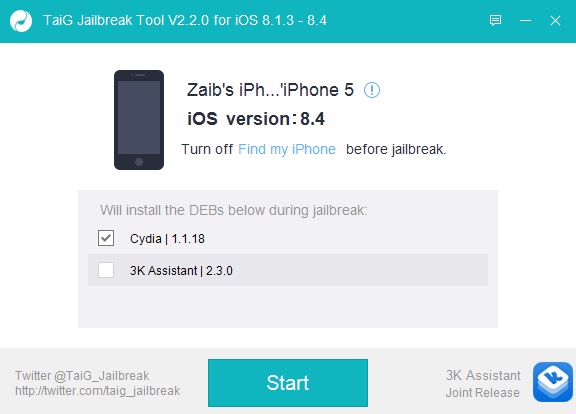 Step 4: Once TaiG is ready it will show you the model and firmware your device is running. Once it does so unselect the 3K Assistant 2.3.0 option, and hit the green button to start the jailbreak process.
TaiG will show circular progress bar during the whole process. Once it is completed your device will reboot, after which you will be able to see the Cydia icon on the homescreen. That't it.
If you encountered any errors during the jailbreak process then make sure to check out our TaiG solution guide here.