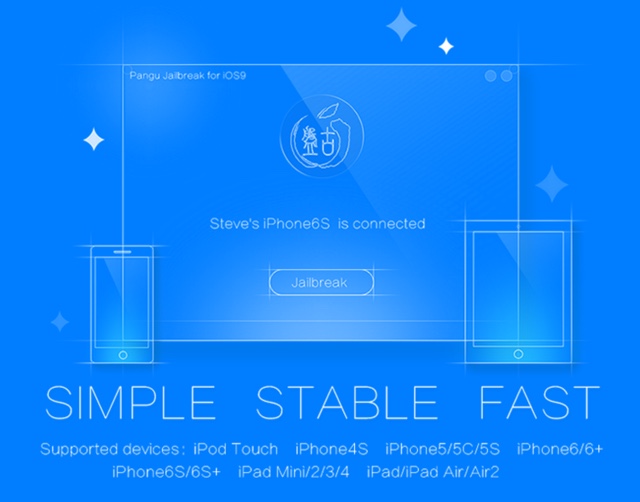 After less than a month of iOS 9's public release, Pangu has just released the iOS 9 jailbreak that allows iPhone, iPad and iPod touch users to untethered jailbreak their devices. The jailbreak supports all publicly released versions of iOS 9, including iOS 9.0 to iOS 9.0.2. This is not only the first ever public jailbreak for iOS 9 but also for the recently released iPhone 6s and iPhone 6s Plus, as it fully supports them as well in addition to older devices. In this post we will show you how you can untethered jailbreak iOS 9 using Pangu. Please note that the jailbreak is only available for Windows, a Mac version is expected to get released soon.
How to jailbreak iOS 9 on iPhone, iPad or iPod touch
First of all download the iOS 9.0.2 IPSW from this link, if you are not running the latest version already. If you are, then skip to next step. Also, make sure to create an iTunes backup of your device's data.
Now before you launch Pangu tool you have to disable Find My iPhone on your device, Go to Settings > iCloud > Find My iPhone and turn the toggle off. Similarly turn off the Passcode and Touch ID by opening Settings > Touch ID & Passcode. After this enable Airplane mode on your device using Control Center.
Now download the Pangu for iOS 9 tool from our downloads page and launch it in Administrator mode. You can do so by right clicking on it.
Next click on the 'Start' button and when prompted hit the 'Already Backup' button. Now your iPhone will reboot. Pay attention to your computer's screen as Pangu will now ask you to disable the Airplane mode once again.
Once it has jailbroken your device Pangu will ask you to launch the Pangu app on your iPhone. Once you have opened the app it will ask access to Photo Library. Accept to continue. Then hit the 'OK' button when you see the "Pangu Would Like to Access Your Photos" popup.
Now your iOS device will reboot, once it has booted disable the Airplane mode and launch Cydia.
That's it! Now your device is jailbroken. You can install any tweaks, themes or apps of your choice without any restrictions.