If you have an iOS 9 powered device running iOS 9.3.3 or below, then you can still use the PanGu iOS 9 jailbreak in order to jailbreak your device. With the latest jailbreak tool that is available on PP Assistant's website you can jailbreak your iOS device without a PC or a Mac. All you need to do is access the right website in Safari and add a certificate to your device (at your own risk). In this tutorial we will show you how you can use the PP Assistant tool to jailbreak iOS 9.3.3 or below without a PC or Mac.
Jailbreak iOS 9.2 – iOS 9.3.3 With PP Assistant and No PC
1 ) First of all create a backup of your iOS device using iTunes or iCloud so you don't lose any data in unlikely event of device becoming unstable. Then open this link using Safari browser.
2 ) Now click on the 'Online Install' green button from this webpage. You will receive a popup notification confirming your selection, just click on the yes button from the right side. The website and notification will be in Chinese language.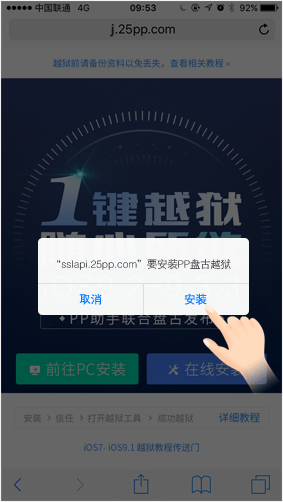 3 ) Now return to your homescreen, where you will now see the Pangu app icon. Once the icon changes from 'Downloading' to 'Installing' put your device into Airplane Mode through Control Center. Once the app has finished installing turn airplane mode off.
4 ) Next open the Settings > General > Device Management and trust the certificate that has been added to your device. 
5 ) Now open the Pangu app and tap on the circle to jailbreak.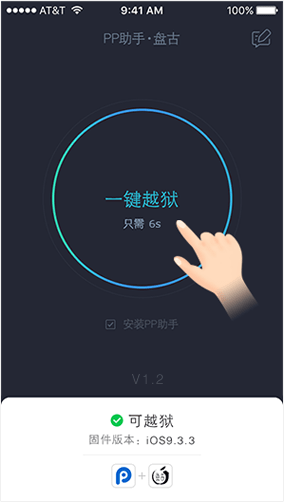 Done!