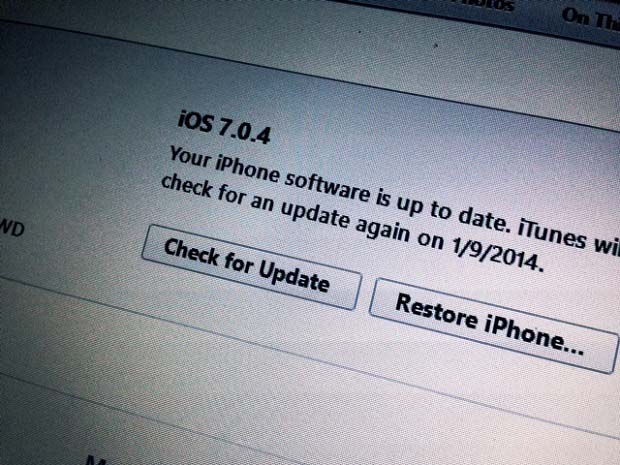 After a long wait the untethered jailbreak for iOS 7.0.4 and earlier versions was released by evad3rs. The tool is capable of jailbreaking all publicly available versions of iOS 7 and features support for all models of iPhone, iPad and iPod touch.
iOS 7.0.4 is the latest iOS version and it can be jailbroken using evasi0n 7 tool. However it won't be long before Apple releases iOS 7.1 as the company is already beta testing it with its community of registered developers. It has been rumored that the next major release of iOS may get released sometime in January. Once that happens Apple will eventually stop signing iOS 7.0.4 and thus forcing users to upgrade directly to iOS 7.1.
Now since evasi0n 7 is already available it is not confirmed that it will support final build of iOS 7.1 once it is released. If this tool is not able to jailbreak the next release of iOS then developers will have to update it and that could take a while especially if Apple fixes the vulnerability hackers have been using
So who should upgrade to iOS 7.0.4 before the release of iOS 7.1:
Someone who wants to jailbreak his or her iPhone, iPad or iPod touch
Someone who is running any version of iOS 7 prior to 7.0.4
Someone who is still running iOS 6 or older version of the operating system
How to upgrade to iOS 7.0.4 and jailbreak using Evasi0n 7
The logical step for jailbreak users right now is they should upgrade to iOS 7.0.4 and keep using it until the official jailbreak for iOS 7.1 is released. If you upgrade right now you can upgrade and jailbreak your device without any troubles.
1 . Download iOS 7.0.4 to manually update it on your device. If you want to upgrade automatically then simply connect it to iTunes.
*After you have downloaded the firmware connect your device to iTunes.
2. Now open its summary page by clicking on the 'iPhone' button located on top right side. Next click on the 'Check for update' button if you want to upgrade automatically or click on the 'Restore iPhone…' while holding the 'Shift key' on Windows or 'Option key' on the Mac.
3. If you are upgrading manually then select the iOS 7.0.4 IPSW file you just downloaded.
Let iTunes update your device. Once it is done you can jailbreak your device.
Use the guides below to jailbreak your device using Evasi0n 7.