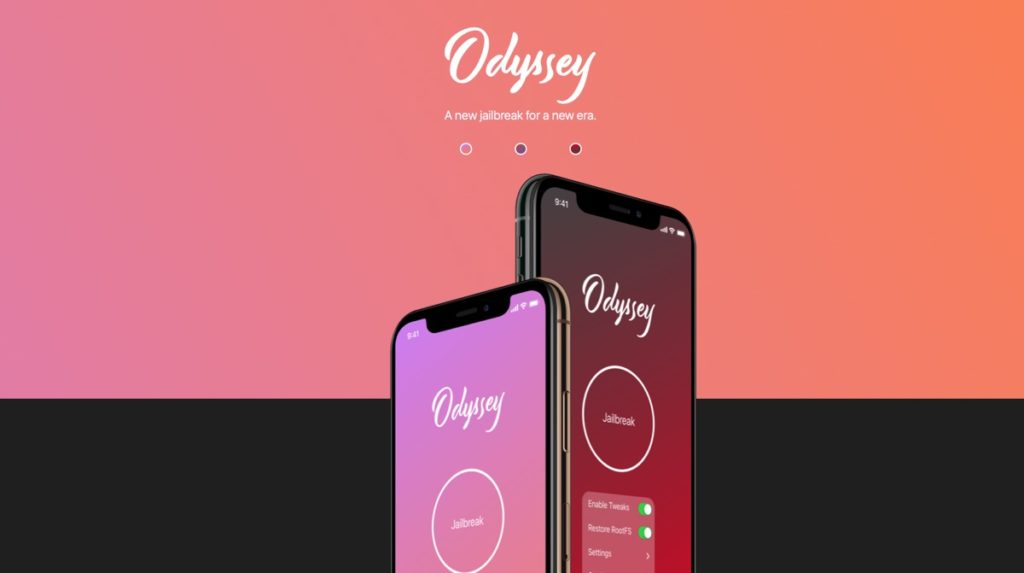 Odyssey jailbreak tool has received a major update that makes the jailbreak tool compatible with iOS 13 up to iOS 13.7. The update has been released thanks to the newly publized iOS 13.5.1 – iOS 13.7 exploit by FreeTheSandbox.
You can find the complete how to jailbreak iOS 13.7 with Odyssey by scrolling down on this page.
In addition to adding support for iOS 13.5.1 – iOS 13.7 versions of the operating system Odyssey 1.2 jailbreak now has improved exploit reliability on iOS 13.0 – iOS 13.5, which will make the jailbreak experience more reliable for the users.
With Odyssey version 1.2 users can jailbreak iOS 13.0 up to iOS 13.7 on all iOS devices. They will also get significantly better success rate if they are running iOS 13.3.1 or higher on their device. Users will also experience faster exploit on all versions of iOS 13 making the jailbreak process more convenient to use.
Odyssey 1.2 uses the FreeTheSandbox exploit by default and removes the time_waste exploit that it was using in older version. The tool also offers the tardy0n exploit as an option however the developers of the tool recommend using FreeTheSandbox's exploit as this "exploit is way better".
In addition to adding support for new iOS versions and better reliability, Odyssey 1.2 fixes issues that users faced with tweaks not injecting into certain processes. Users should also find the jailbreak more stable after the jailbreak process is complete, which is a welcome change.
For those using the Odyssey 1.2 to jailbreak their devices its developers recommend rebooting the device and waiting 15 seconds before running the jailbreak for best results.
How to jailbreak iOS 13.0 – iOS 13.7 With Odyssey
You can use Odyssey jailbreak to jailbreak iOS 13.0 – iOS 13.7 by following the steps below.
Step 1: First of all download the latest version of Odyssey jailbreak.
Step 2: Also download AltDeploy tool on your computer.
Step 3: Now unzip AltDeploy tool and run it. Click on 'No file selected' option and then click on the Browse option.
Step 4: Navigate to where you downloaded the Odyssey jailbreak IPA in step 1 and select it.
Step 5: Now plug your iPhone, iPad or iPod touch to the Mac with a USB cable and click on Start button.
Step 6: At this point AltDeploy will prompt you about a missing mail plugin, click on Install to proceed.
Step 7: If asked enter your Mac's login password to install the mail plugin.
Step 8: Next on the Mail Preferences window click on Manage Plug-ins and make sure AltPlugin.mailbundle is checked, and then click Apply and Restart Mail.
Step 9: Now make sure the Mail app is running and then click on Start button.
Step 10: When asked by AltDeploy enter your Apple ID and password. You might have to enter an app-specific password if you have two-factor authentication turn on.
Once AltDeploy has sideloaded the Odyssey jailbreak to your iOS device open the Odyssey app from your iOS device's home screen and tap on the Jailbreak button to proceed.
After your device is jailbroken, you might want to check out 90 FREE Jailbreak Tweaks For iOS 13.7 For Download In 2020