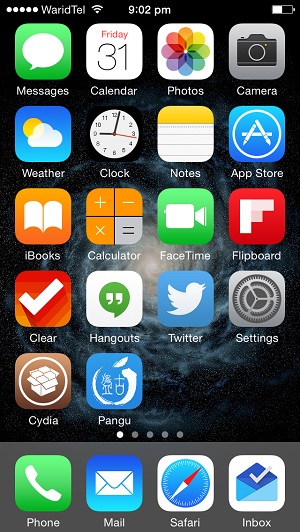 After you have successfully jailbroken your iOS device using the new Pangu tool for iOS 8 you can start using Cydia. While the new jailbreak now works flawlessly on all iOS devices there's one annoyance that many users would want to get rid of, and that is the Pangu app icon on the homescreen. The Pangu app on iOS allows users to perform some useful functions such as respring etc however if you don't want these functions and would like to have one less icon then we can help.
Here's how to remove Pangu app icon from homescreen after iOS 8 jailbreak
On your jailbroken iOS 8 powered iPhone, iPad or iPod touch open Cydia and tap on 'Installed' button from bottom bar.
Now from the list of installed packages look for 'Pangu loader for iOS' and tap on it.
On the next page hit the 'Modify' option and then from the menu tap on 'Remove'.
Although Cydia has removed the package the icon won't disappear from the homescreen just yet. You have to respring your device for this method to work. Once you do that the icon will no longer be present on the homescreen.
Please note that you cannot reinstall the 'Pangu loader for iOS' package from Cydia as it is not available in default repos. If you are not sure about whether you need the app or not then don't delete it.
Also, this guide works for those who have jailbroken their devices using Pangu 1.1.0 tool only. If you know of a way to delete Pangu app icon on older version then do let us know in the comments below.