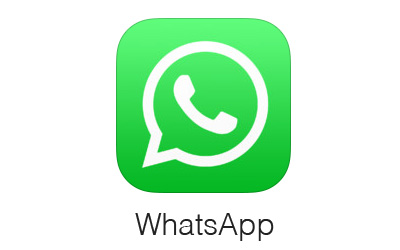 Message Scheduler for WhatsApp is a new Cydia tweak, and as the name suggests it simply allows you to schedule messages to send them at a specific time of a specific day. It is very useful if you want to remind someone of any event at a specific time, or if you want to wish someone his/her birthday. Just set the time and date, and once the time arrives WhatsApp will notify you to send this message.
The best thing about the tweak is that it will remind you even if the app is closed or the device is locked. However it will not send the message automatically. It will simply remind you to send the message. So later on if you see that there's no need to send the message anymore you can cancel it or if you want to make any changes you can do that too.
You can download Message Scheduler for WhatsApp from Cydia for $0.99.
Here's how to schedule a message for specific time:
1. Open the WhatsApp.
2. Select the recipient of the message.
3. Type the message you want to send on the specific time.
4. Now tap and hold the send button (in front of the text box) or tap the action menu you use to send images and videos.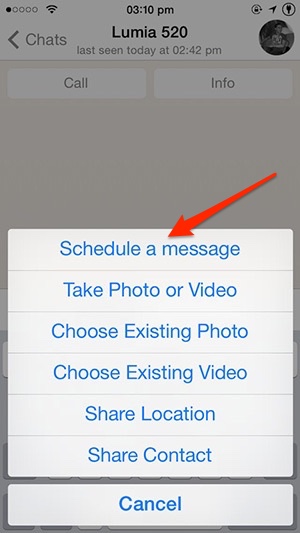 5. Tap the 'Schedule a message' from the menu.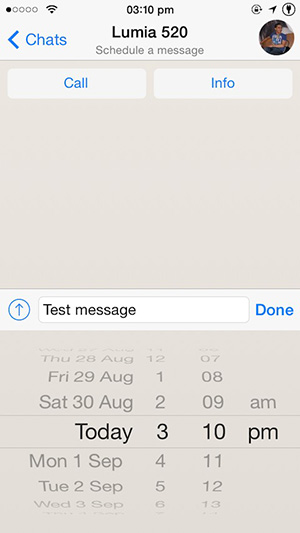 6. It will show you date picker. Select the day and time and tap 'Done'.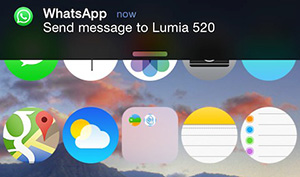 7. Now you will get a notification on the specified date.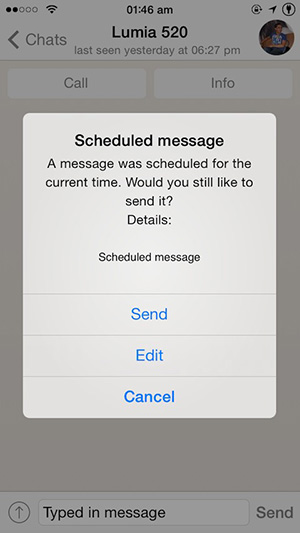 8. Tap the notification and it will ask whether you want to send/edit or cancel the message.
That's it.