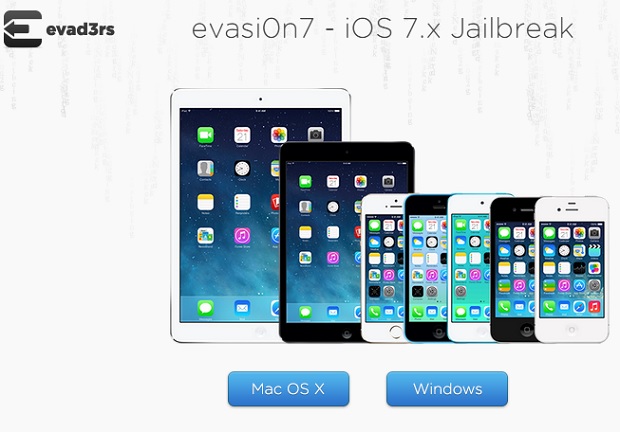 Thanks to the evasi0n tool the iOS 7.0.x jailbreak is now available to all iPad users. This means that they can now install Cydia on their devices and install tweaks on their device and mod it just as they like. The new iOS 7 jailbreak supports all models of iPad, which includes iPad Air, iPad 4, iPad 3, iPad 2, iPad mini with Retina Display and the original iPad mini.
The jailbreak supports all versions of iOS 7 that have been publicly released including iOS 7.0.4, iOS 7.0.3, iOS 7.0.2, iOS 7.0.1 and iOS 7.0. In this post we will show you how you can untethered jailbreak your iPad or iPad mini using evasi0n for iOS 7 or above.
First of all make sure your device's data is backed up in iTunes. You will need to download the Evasi0n tools for Windows or Mac using the links below.
The following steps are same on both Windows and OS X.
iPhone user? Use our iPhone guide to jailbreak your device
Let's jailbreak iOS 7 on your iPad
1 ) After you have downloaded evasi0n 7, extract the Evasi0n7 file. Now from the extracted folder run 'evasi0n7′.
Windows users will be warned. On Windows 8 click on 'More info' and then on 'Run Anyway' button. Same goes for Mac users.
2 ) Once Evasi0n 7 is running connect your iPad to the computer using the USB cable. Once it is detected click on the 'Jailbreak' button.
3 ) Afterwards evasi0n 7 will begin working on the jailbreak and show you the status on the screen. During this time your iPad will reboot several times.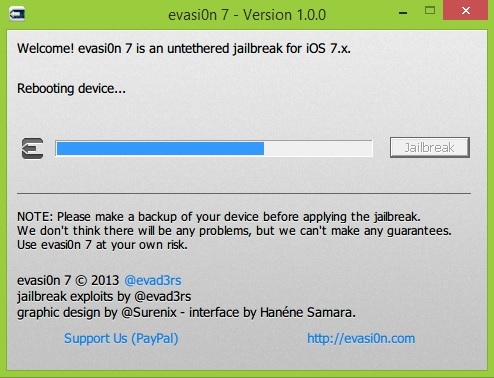 4 ) After a few minutes evasi0n 7 will ask you to unlock your device and tap on the Evasi0n icon from the homescreen.
5 ) After you have tapped on the evasi0n 7 icon on your iPad you will see the following screen.
6 ) Next evasi0n 7 will ask you to unlock your iPad once again, do it.
You will see Cydia installed on your iOS device. Launch it and enjoy!
Have any questions? Use the comments section below.