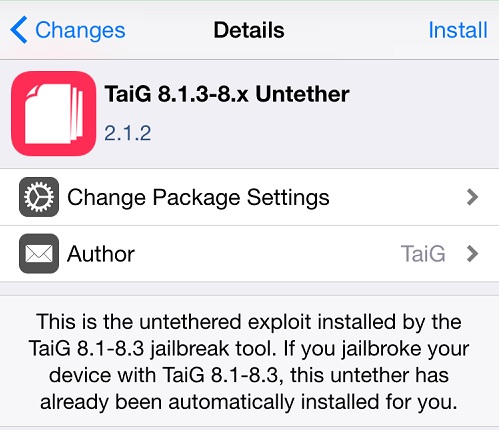 If you have been following the iOS 8.3 jailbreak news then you would know that the original release of TaiG 2.0 did not feature a Cydia Substrate compatible with iOS 8.1.2 – iOS 8.3. This means users who used the tool to jailbreak their iPhone, iPad or iPod touch could not install most Cydia tweaks that relied on this framework. Now Team TaiG has finally released the updated version of Cydia Substrate, which fully supports the new jailbreak.
If you are going to jailbreak your device now for the first time then use our iOS 8.3 jailbreak guide here. The guide links to TaiG 2.1.2, which already features the updated Cydia Substrate.
If you used the older version i.e TaiG 2.0 to jailbreak your iPhone or iPad and have the older version of Cydia Substrate then you can follow the steps below to install the newer version compatible with the latest jailbreak.
1. On your jailbroken device open Cydia and tap on the 'Changes' section.
2. Now hit the 'Refresh' button and let your sources download the new packages.
3. Next check in the 'Changes' section, you should find the 'TaiG 8.1.3-8.x Unteteher', download it. Alternatively, you can search for the same in Cydia's search section.
After you have installed the package, respring your device That's it. Now you should be able to install any iOS 8.3 compatible Cydia tweak on your device.