As we have reported earlier Saurik has released a remarkable new tool called Cydia Eraser that allows users to unjailbreak their iPhone, iPad or iPod touch and bring it back to the stock iOS. What's so great about this particular tool is that it removes the jailbreak and all traces of it without you having to lose your ability to jailbreak. Normally, when someone wants to remove the jailbreak from his or her device they have to restore it through iTunes. The problem with that method is that your device is updated to the latest available version of iOS, which may or may not be jailbreak-able.
With Cydia Eraser (formerly known as Cydia Impactor) you can unjailbreak your device and retain the ability to jailbreak as you will still be running the same iOS version. Another great thing about this tool is that it is completely wireless and runs right on the iOS device. All you need is an Internet connection and enough battery that could keep the device running for a few minutes. Currently it supports iOS 8.3 and iOS 8.4.
So why would you want to unjailbreak your iOS device using Cydia Eraser? Well below are some of the many scenarios this tool can be useful.
You are selling the device but don't want to restore and lose its jailbreak-ability.
You have an Apple Store appointment and want to temporarily remove the jailbreak.
You are having troubles with your jailbreak and want to start fresh without restoring it through iTunes.
How to unjailbreak iOS using Cydia Eraser
Before you begin with using the Cydia Eraser to unjailbreak your device, it is advisable to backup your device to iTunes or iCloud. Please note that Cydia Eraser not only removes jailbreak from the device but it also deletes all apps, photos and other data. After the process is complete you have to set up the device again just like you do after an iTunes restore.
1. After you have created a backup of your device, on your jailbroken iPhone, iPad or iPod touch launch Cydia and search for 'Cydia Eraser'.
2. Install Cydia Eraser, which is available for free on your device.
3. Once the tool has been installed tap on the 'Cydia Eraser' icon from the homescreen.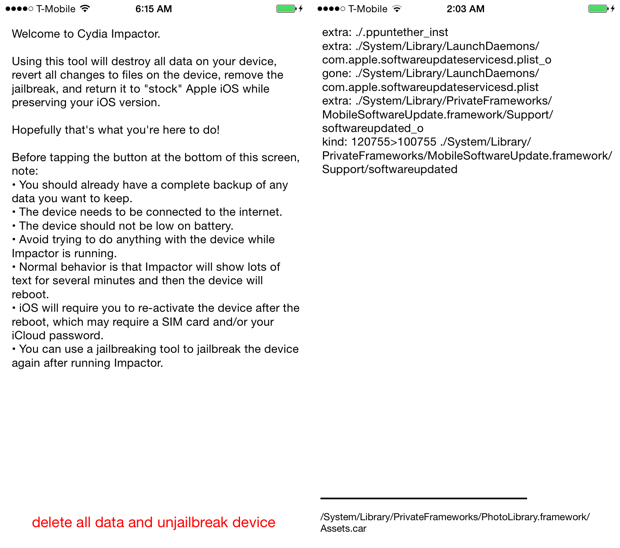 4. The tool will show you a few bullet points of useful information. Read the info and then tap on the 'Delete all data and unjailbreak device' button.
5. Now the process of unjailbreaking will be started. It could take a few minutes to complete. Make sure your device has enough battery life remaining. To be on the safe side we would advise you to plug it into a charger.
Once the unjailbreak process is complete your device will reboot and you will be taken to the set up screen. Here you can restore the iTunes or iCloud back or set up iPhone, iPad or iPod touch as a new device.
If you want to jailbreak your iPhone, iPad or iPod touch again after using this tool, then you can follow our jailbreak guide here.