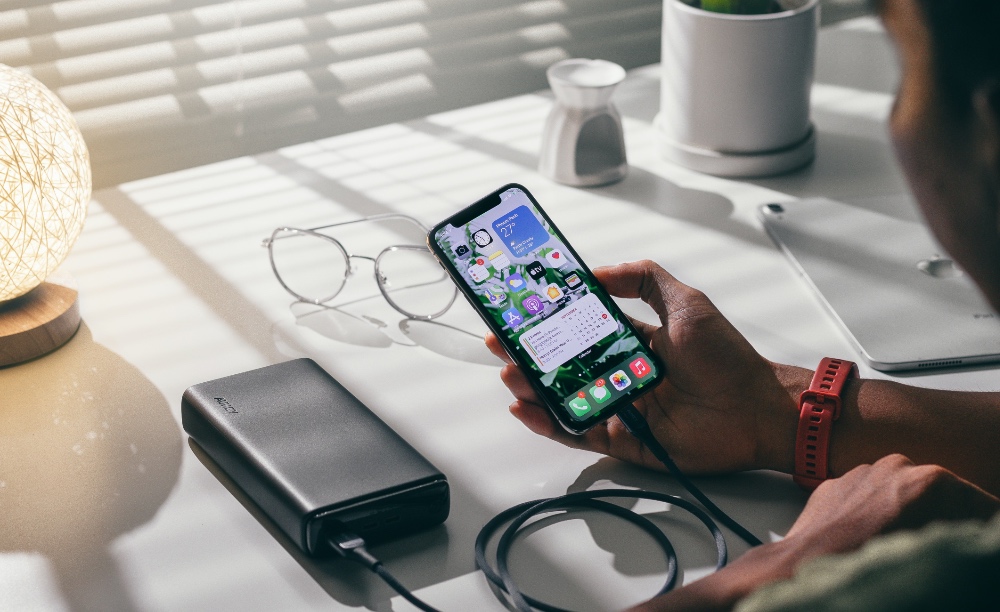 Working from home and need to get out of the house? Working in a cafe can be beneficial, therapeutic, and productive. At the very least, it's a good change of pace—as long as it doesn't hinder your work.
Read on to find out three ways to improve your workday at the local coffee shop using these iPhone hacks!
1. Forget Your Battery Concerns
One issue many on-the-go workers find with cafes is the inability to charge their iPhones. Yes, you can always ask the staff to charge your device behind the counter, but if you ask every day, it can quickly get tiresome for everyone involved.
Many cafes on the modern end implement solutions such as countertops with outlets or charging ports. These are excellent to take advantage of as long as you remember your charger. Still, it can get tricky working when you are wrapped up in many cords.
For those wanting to get the most out of their workspace with fewer wires, consider wireless charging. Newer iPhones offer wireless charging, which you can maximize using MagSafe compatible cases. These help you make the most of cutting-edge tech without exposing your phone.
2. Leave Your Laptop at Home
Are you working without a laptop? We are all accustomed to living through our laptops, especially in the last few years, but you could potentially work with your iOS alone with just a few tips and tricks!
File storage and synchronizing services such as Google Drive, Dropbox, and iCloud are better than ever at adapting to your needs. With the cloud on your side, you can get a day's work done entirely via the internet, and it may even be a safer method of file storage.
Unsure of typing on a small screen? It's not so tough with a bit of experience. Most of us spend most of the day typing and reading on our mobiles. It's not for everyone, but this tip could help you cut out the hassle and leave more space for your cup of coffee instead.
3. Wi-Fi Is Your Friend—If You're Cautious
When trying to maximize your cafe workday, a good Wi-Fi connection is the lifeblood of your success! Most of us are pretty comfortable knowing how to get onto free Wi-Fi, but there are still some crucial things to keep in mind when working out of the home.
If there is no secured Wi-Fi, you may be tempted to get online on the first unsecured Wi-Fi you can find, but beware! It may not be a good decision.
Getting online is easy enough, but when banking, working on private projects, or dealing with sensitive information, you should be careful about choosing Wi-Fi. Recent years have seen a surge in data theft, which we all need to be careful of when accessing public Wi-Fi.
Conclusion
With the rise of WFH, many people are enjoying greater productivity. At the same time, they are turning to cafes, parks, and other spaces to fulfill that desire for human interaction. Use the three hacks above to help you make the most of your productive hours so that you can thrive wherever you are.
Disclosure: iOSHacker may receive a commission if you purchase products through our affiliate links. For more visit our privacy policy page.