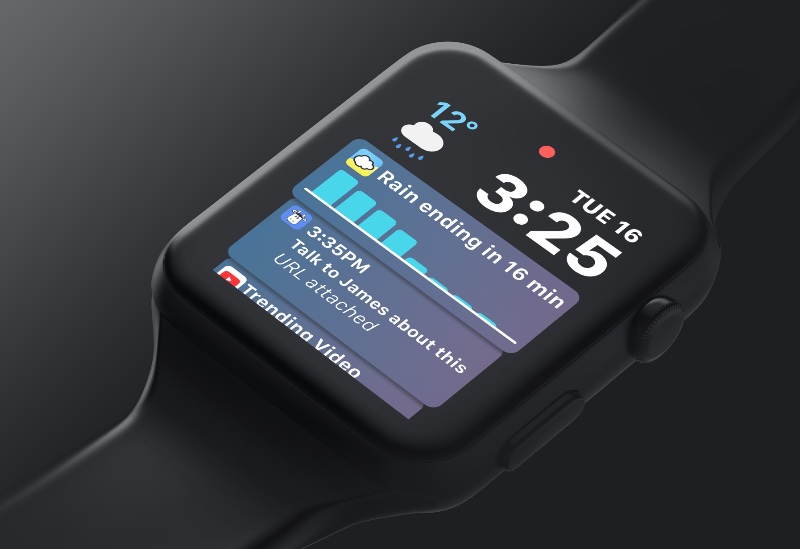 Despite the fabulous third series of the Apple Watch only being released in September last year, time moves incredibly quickly in the tech world and, perhaps unsurprisingly, the rumor mill has already begun churning with regards to what we can expect from the much-anticipated Apple Watch 4.
As it stands now, it's thought that Apple will aim for September 2018 as a release date, considering that September seems to be the month in which new Apple Watches and iPhones have been unveiled in the past. The biggest change that the 4th edition is expected to have is the design of the watch face, as there have been many whispers about a new rounded face – a huge departure from Apple's current square design. We know that Apple isn't afraid of changing its famous designs on a whim, so this one is very possible.
Furthermore, a modular strap (or smart band) is highly imaginable, as it's thought that this could have more health benefits for the wearer. Improved battery life and a front-facing camera are also two things which Apple Watch fans have been demanding for a considerable time.
Although there are many uncertainties until we actually see the Apple Watch 4, one thing we know for sure is that it will definitely be highly sought-after. The Apple Watch actually ranked fourth in a list of the best-selling tech in 2017 – behind the iPhone, Samsung Galaxy and Amazon Echo, but in front of the Nintendo Switch.
With the Apple Watch selling so incredibly well, it's worth considering just how many of these sales are first-time wearers, or those upgrading from a previous model. There are some who still love and enjoy the first model – so to upgrade simply for the sake of it seems unnecessary – but on the flipside, there are many who skip the trade-in option and instead attempt to sell on this type of open market, especially if they hold a rare or special model, such as the 'Hermès strap' edition or the 18-karat gold case version.
Funnily enough, there is one new function for the Apple Watch which nobody likely saw coming, and that's the option to remotely control ovens, washers, and dryers via the smartwatch. Apple is no stranger to partnerships, but joining forces with home appliance company Whirlpool is certainly not anything we predicted. Sometime in early 2018, a new Whirlpool app will arrive that will give Apple Watch users the ability to do things like turn up or down the heat on an oven and see how much time is remaining on a washer or dryer cycle, plus several more benefits.
Lastly, the Apple Watch was deemed safe from two huge computer chip weaknesses that were recently exposed. The Spectre and Meltdown vulnerabilities affected many Mac computers and iOS-powered devices, which led Apple and several other companies swiftly releasing software patches to prevent hackers taking advantage of the issue. This was due to the fact that the smartwatch has its own operating system, called WatchOS, that was immune to the vulnerabilities.
Disclosure: iOSHacker may receive a commission if you purchase products through our affiliate links. For more visit our privacy policy page.