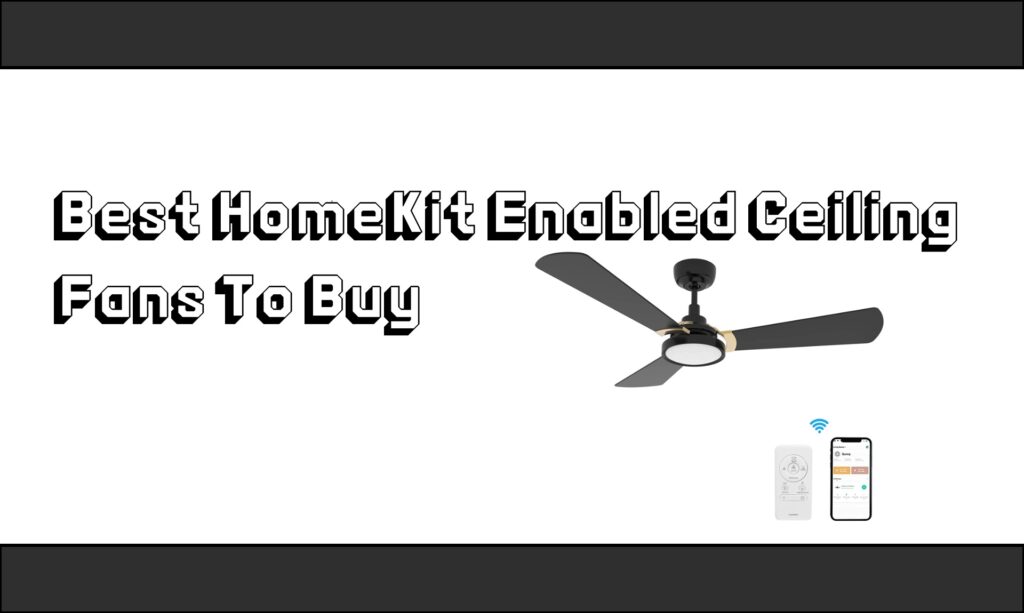 If you are turning your normal home into a Smart Home, then having the best HomeKit enabled ceiling fan, which you can control with your iPhone or Siri is a must have.
A ceiling fan enhances the decor of your home while making it more comfortable. The wide range of available features help you find the right balance of value, style, and functionality. A HomeKit fan is a great choice if you are using Apple Homekit.
Siri and Apple HomeKit let you adjust fan speed easily without moving from your place via your iPhone or Android set. Featuring Siri voice control, convenient apps, and an Apple HomePod, these HomeKit fans are hands-down the best addition to your home. 
Best HomeKit Enabled Ceiling Fans To Buy
In this article, we have put together a list of the Best HomeKit Ceiling Fans. Let's have a look.
1. Hunter Apache Indoor Wi-Fi Ceiling Fan with LED Light and Remote Control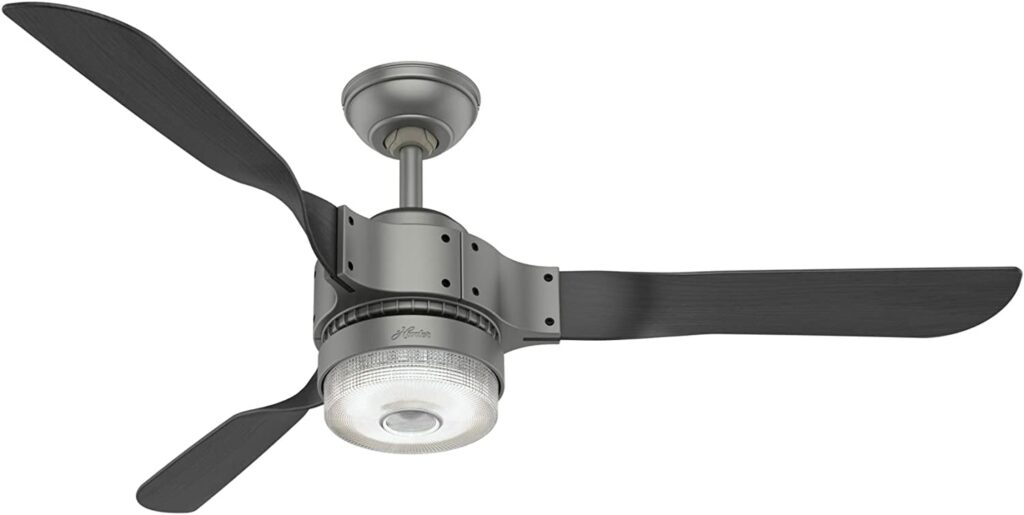 The rustic industrial Apache fan comes with LED light covered by twisted blades and clear glass that look appealing to the eyes.
This smart ceiling fan can be used in any weather. Because in summer, the Whisper Wind motor provides ultra-powerful airflow with quiet performance; in winter, it allows updraft airflow.
Dimmable LED lights offer energy-efficient lighting and ambiance; plus their long lifespans reduce frequent bulb replacements. Furthermore, the included 5″ down rod allows the fan to be adjusted in height to optimize air movement.
Adaptable to Alexa, Apple HomeKit, and Google Assistant, this matte silver ceiling fan features a premium audible remote control that allows you to adjust the brightness of light and speed from anywhere in the room. All these features make it an ideal fan for the living room, lounge, and bedrooms.
Click here to buy Hunter Apache Indoor Wi-Fi Ceiling Fan for $289.99
2. Hunter Advocate Indoor Low Profile Wi-Fi Ceiling Fan with LED Light and Remote Control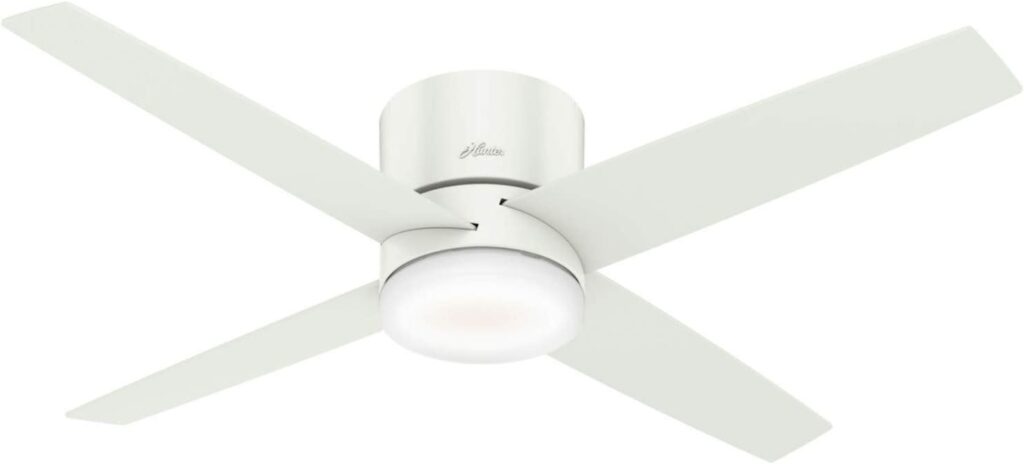 This Ceiling fan HomeKit has been exclusively designed to be used in houses with low ceilings. The Hunter Advocate Indoor Low Profile Ceiling Fan is our top recommendation as it looks aesthetic and offers plenty of extra features for a reasonable price. You can control the fan speed and dim the lights with remote control. Based on the season, the fan blades can reverse, allowing you to customize the direction of airflow.
The ability to control your ceiling fan from a smart home device adds a touch of elegance. So you shouldn't think twice about spending money on a fan that looks great, performs well, and promises durability. However, it is designed for indoor use, so it deteriorates faster in rooms that are particularly humid or exposed to the elements.
Click here to buy Hunter Advocate Indoor Low Profile Wi-Fi Ceiling Fan for $303
3. SMAAIR 52 Inch Smart Ceiling Fan with Lights and 10-speed DC Motor

In addition to being damp-rated, this Striver 52″ smart ceiling fan with lights is ideal for indoor or outdoor use; perfect for your living room, bedroom, bathroom, or even your patios. Elegant Plywood blades, Glass shade, and Gold Airfoil Brackets create a simple but sophisticated design with a black finish.
It is capable of working with Voice Devices like Siri or Alexa as well as being controlled directly by a phone app. Using the app, you can dim the ceiling fan light (white light – warm light – yellow light), set a sleep timer (1-8 hours) to shut down, and schedule changes in speed and brightness.
Featuring a 2700K-4000K color temperature, this low-profile ceiling fan is ideal for use in a variety of settings. It is equipped with a dimmable light that produces 2000 lumens of bright, super bright illumination. The yellow and white lights can be adjusted in order to suit your needs, such as working, playing games, and reading.
Click here to buy SMAAIR Smart Ceiling Fan for $219
4. SMAAIR 56 Inch 3 Blade Ceiling Fan with Light, 10-speed Smart Fan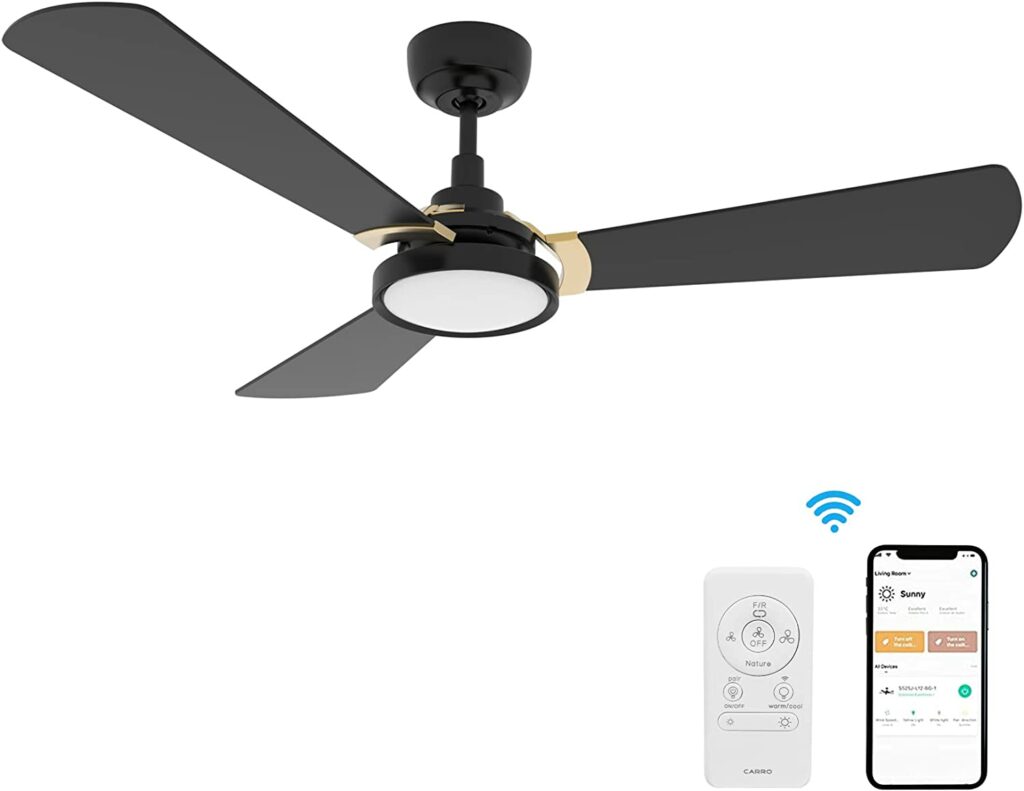 There are 3 color temperatures available in the black and gold ceiling fan; warm yellow light 2700K, neutral light 3500K, and bright white light 4000K making it perfect for different types of rooms, occasions, and atmospheres. From 0% to 100% of 2150 lumens, the light brightness can be adjusted.
This three-blade HomeKit ceiling fan with light provides the same powerful airflow up to 4493 CFM as traditional AC fans but consumes almost 75% less energy. Aside from that, there is no stroboscopic effect, which ensures good eye protection; The lamp bead has a lifespan of over 50,000 hours, so there is no need to worry about replacing it anytime soon.
You can buy the SMAAIR 56 inch 3 Blade Ceiling Fan for $279.99
5. Smafan Apex Smart Ceiling Fan 52" 5-Blade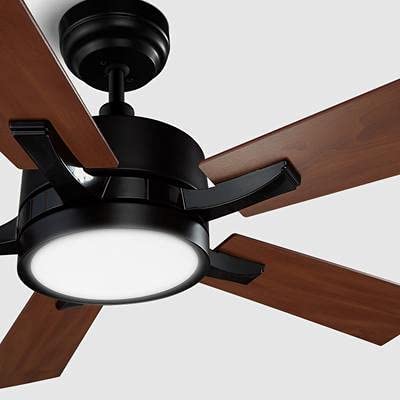 Apex Smart Ceiling Fan comes in 2 high-quality blade finish options, so it can fit into any style. Whether you choose the Dark Walnut Finish or the Light Oak Finish, your fan will blend seamlessly into any décor. This fan is constructed with high-quality plywood fan blades that are extra durable, extremely lightweight, and resistant to impacts and corrosion.
You can control the Apex smart ceiling fan directly from your smartphone through Alexa, Google Assistant, Siri Shortcut, and the Carrohome App. Simple voice commands let you set the fan speed, turn on/off the light, and set a schedule or timer for your fan from anywhere, at any time.
It has a 10-speed reversible DC motor that optimizes air movement and provides whisper-quiet performance to keep you cool without disturbing others. Additionally, the Smafan Apex Smart Ceiling Fan Series comes with all the mounting hardware you need for easy installation.
Click here to purchase Smafan Apex Smart Ceiling Fan 52" 5-Blade for $259
6. Hunter Fan Company Aerodyne Ceiling Fan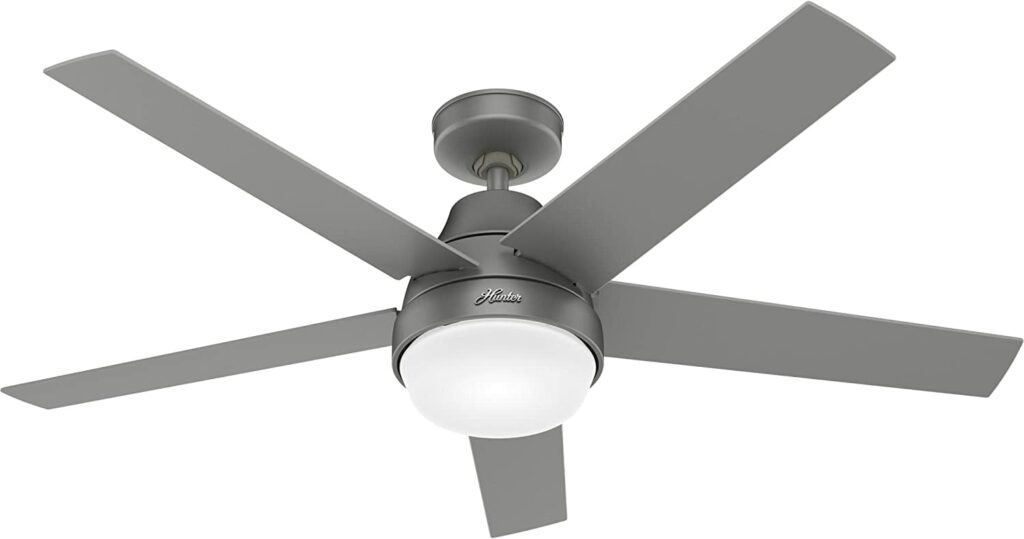 Modern Aerodyne fans come with LED lights covered in white-cased glass that makes a statement in any room.
It features an ultra-powerful Whisper Wind motor and exclusive SureSpeed to deliver high-speed cooling with quiet performance. Dimmable LED light bulbs provide energy-efficient lighting and a cozy atmosphere; they have a longer lifespan than traditional light bulbs.
A SIMPLEconnect Wifi ceiling fan allows you to control the brightness and speed of the light with remote control from anywhere in the room. The fan is also compatible with Alexa, Apple HomeKit, and Google Assistant.
The indoor ceiling fan is height-adjustable using the 3″ and 2″ down rods, ensuring optimal air movement in the living room, lounge, and bedroom.
Click here to buy Hunter Fan Company Aerodyne Ceiling Fan for $152
Conclusion
All the HomeKit ceiling fans in this list are popular options for many homeowners. Aside from offering quality, durability, and style, they are also affordable. Be sure to check out online reviews before making your purchase if you are looking for a new fan or thinking about upgrading your current one.
Feel free to leave a comment below if you have any questions.