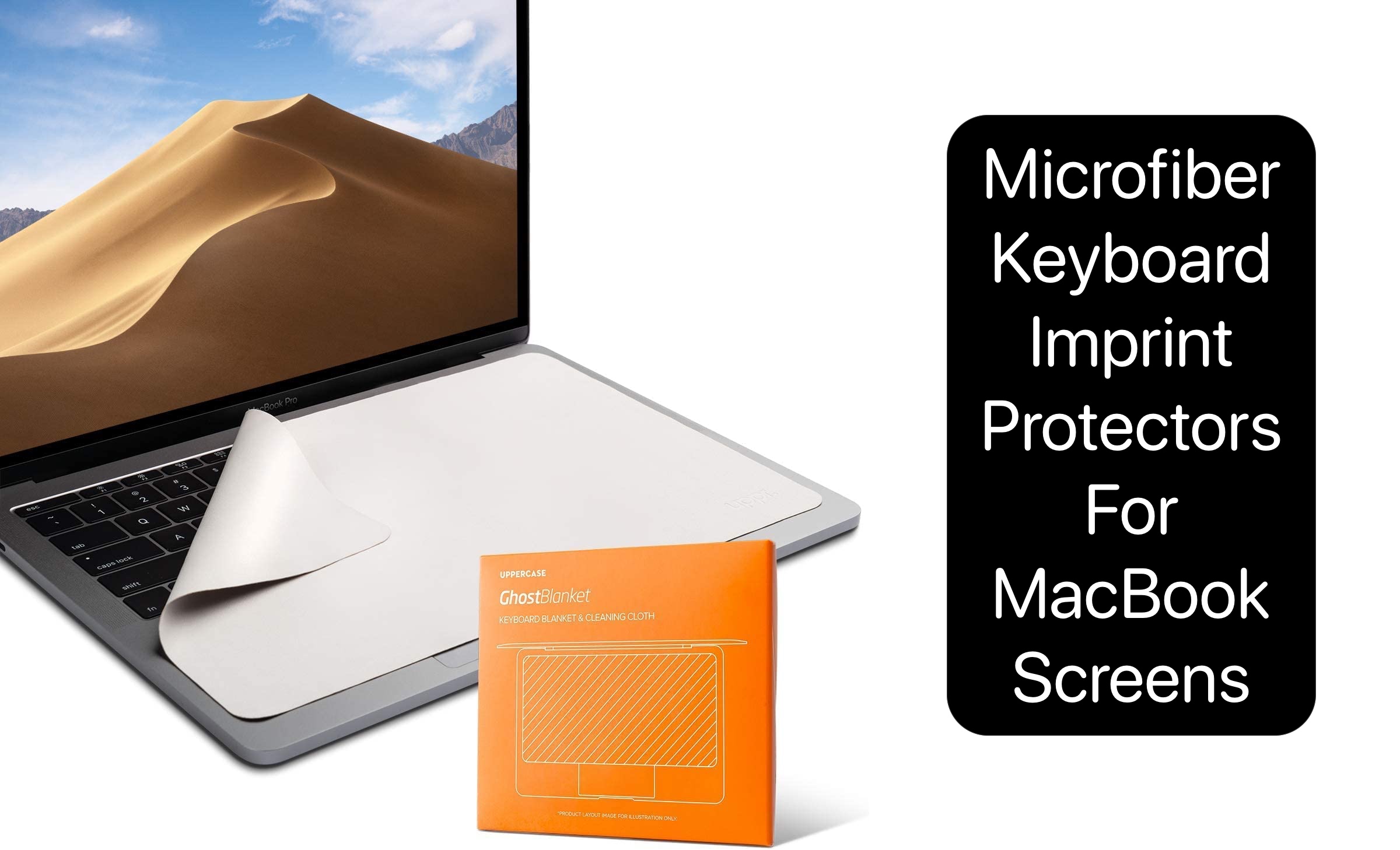 You need a keyboard imprint protector just as much as you need a case to protect your phone. In this article, we've listed the best keyboard cover cloths to protect your MacBook from keyboard imprints, oil transfers, and other contaminants.
MacBook is a powerhouse of productivity and creativity. From iconic features to intuitive design, MacBook has a strong fanbase for several reseasons. It brings durability, a longer shelf life, power, and portability to the table.
However, regardless of being loved for its longevity and value retention, the MacBook is no less prone to damage compared to other laptops.
In fact, even if you accidentally spill coffee or snacks on your MacBook just once, it can cause some serious long-term damage. And not just to the keyboard or internal organs of the system, but to the most important feature that adds all the value to this pricey device: the screen.
Even if the spill doesn't make its way downstairs, it can leave dirt particles hidden in the crevices. Let's not forget to factor in the naturally occurring oils from your fingertips that stick to the keys.
There's a lot to protect your screen from for it to maintain its allure and splendor for the longest time possible.
Best Keyboard Cover Cloth for MacBook Screens
Protect your MacBook's screen with the best keyboard cover cloths and keep your keyboard dirt and oil-free by investing in a keyboard cover. You can best prevent keyboard fingerprints on the screen with a cloth made from Microfiber material.
Below, we have listed some of our favorites. Let's discuss:
1. UPPERCASE GhostBlanket Screen Keyboard Imprint Protector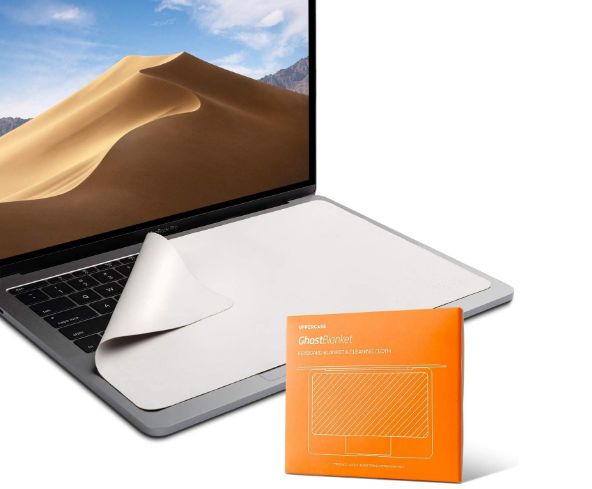 The Microfiber cloth protects the screen from oil, marks, and other contaminants and can also be used to clean and remove any fingerprints, smudges, dust, grime, oil, and dirt.
What makes it the best microfibre imprint protector is that it aims at creating a barrier between your screen and your keyboard. This means that you don't have to stick it over your keyboard to do the protection. Just place it over your keyboard before you close your MacBook for the day.
The cloth itself is durable and made from a high-density blend of microfiber with 0.4mm thickness. The precisely laser-trimmed and tear-resistant edge ensures the longevity of the cloth so you don't have to make repurchases anytime soon.
Rather than purchasing a keyboard cover that will take away a comfortable and error-free typing experience, get UPPERCASE's GhostBlanket instead.
Buy the UPPERCASE GhostBlanket Screen Keyboard Imprint Protector for $10.95 here.
2. Clean Screen Wizard Microfiber Liner Cleaning Cloth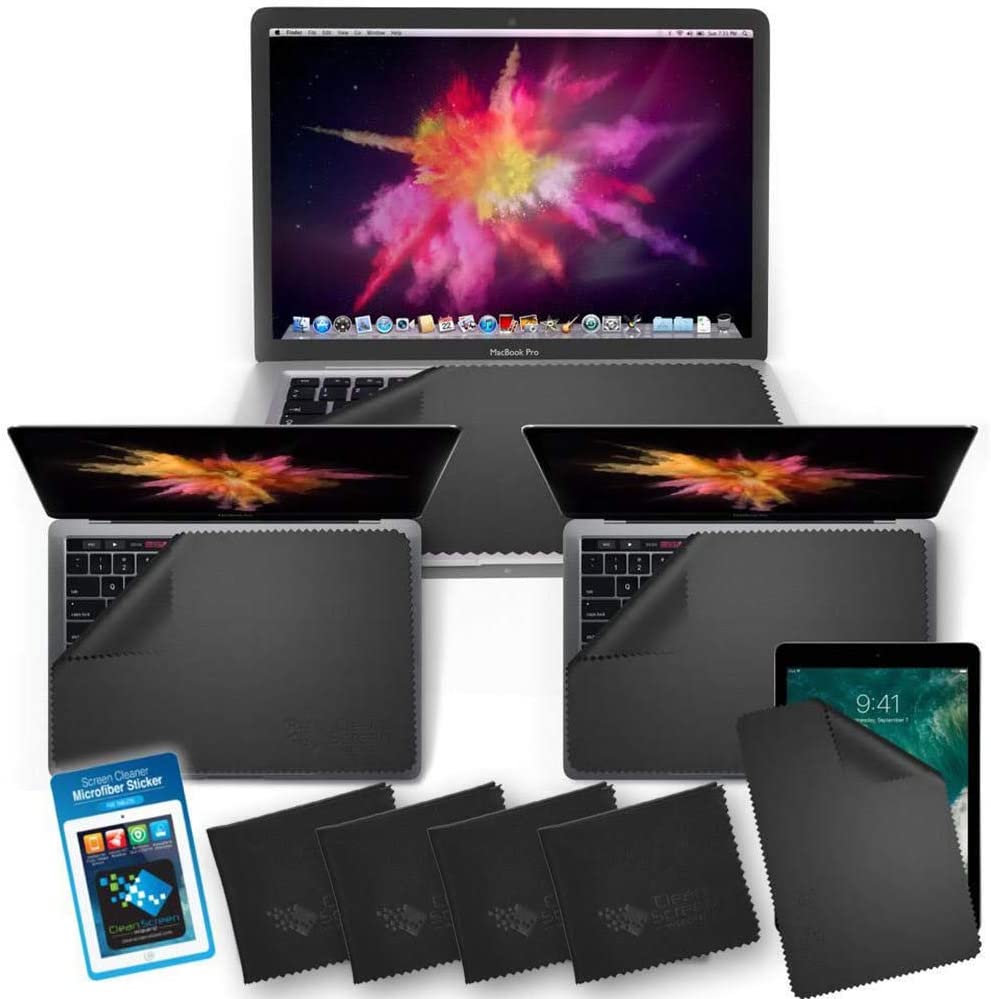 This lint-free microfiber liner cleaning cloth is the best keyboard cover cloth you'll find on Amazon.
Designed in Denmark, the cleaning cloth is your MacBook's protection and cleaning crew – all in one! It cleans and protects your keyboard and screen, while also functioning as a dust cover, keyboard cover, trackpad protector cover, and palm rest cover.
The keyboard cleaning kit comes in a pack of 4 multi-sized keyboard covers slash protectors. When you log off for the day, place the microfiber cloth over your keyboard to protect the screen from marks, scratches, and smudges.
It can cover the entire keyboard without leaving any corners including the touchpad area. But don't worry, it won't cause any hindrance to the Touch Bar or Touch ID operation.
The cloth is made from an antistatic microfibre that is non-scratching, non-abrasive, oil-free, streak-free, and fast drying. Just dampen it with water and it will clean up fingerprints, oils, keypad imprints, grime, dust, moisture, and sweat right away.
Buy the CLEAN SCREEN WIZARD Microfiber Liner Cleaning Cloth for $23.15 here.
3. SenseAGE 3-in-1 Multi-Functional Microfiber Cloth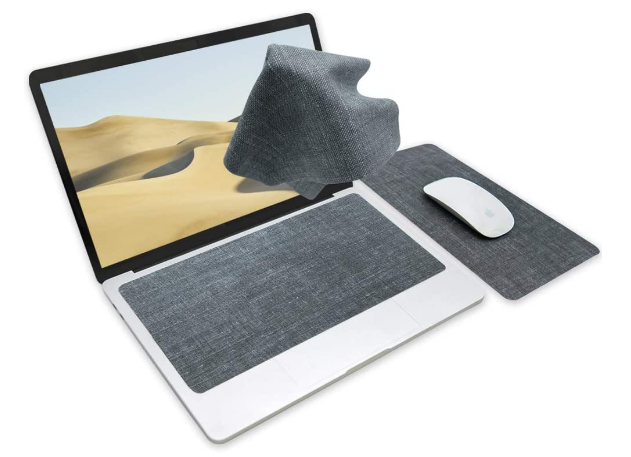 There's nothing better than a protective cloth to put between the keyboard and screen that can also be used as a mouse pad.
Recommended for office and gaming, this multi-functional microfiber cloth is for those who don't want to use boring accessories for their MacBooks. From graphic to simple styles, you can choose from 20+ unique and fun designs.
The non-slip, washable, rubber base mouse pad and screen protector combo is thin, reusable, and easy to carry on the go. You can use it as a mouse pad, keyboard mat, screen protector, and cleaner. It can and will remove dust, fingerprints, oil residues, and other impurities without any struggle.
Buy the SenseAGE 3-in-1 Multi-Functional Microfiber Cloth for $9.99 here.
4. F FORITO Microfiber Keyboard Imprint Protector
If you've been scammed by harsh materials then trust us when we tell you that this keyboard blanket will make up for it. It is made from premium quality soft fiber materials that are so soft to the touch that you won't be able to resist the delicate feel.
Just because it's soft, doesn't mean it will get torn off easily. One of the best keyboard cover cloths, it is ultra-thin, soft, and long-lasting. Plus, you don't need to go through any vigorous cleaning process to keep it tidied. Just rinse and repeat. It dries up super quickly so you don't have to worry about that part either.
Place it over your keyboard before shutting your MacBook and let it protect your screen like a pro. When it's time for cleaning, gently wipe the surface to remove dust, smudges, grime, oil, and dirt from screens and keyboards.
Buy the F FORITO Microfiber Imprint Protector for $9.99.
5. Clean Screen Wizard WizPadCover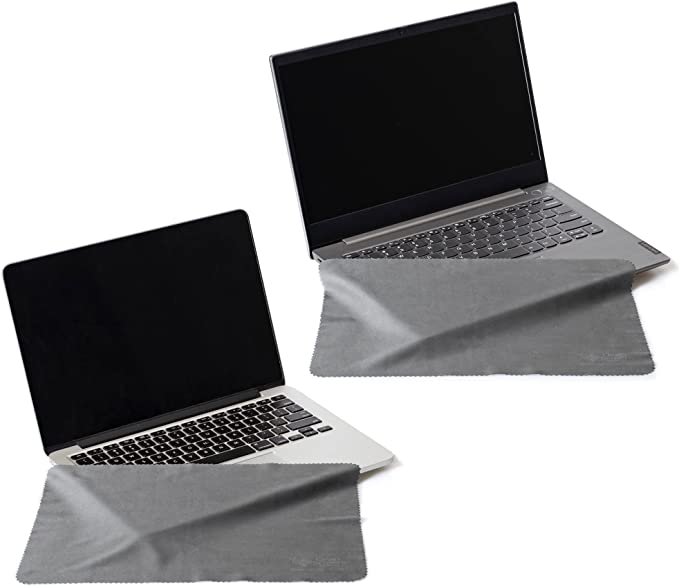 Another MacBook cloth to put between the screen and keyboard from Clean Screen Wizard, WizPadCover is just as amazing as the one mentioned above.
Its superior microfiber liner cloth protects the screen from all sorts of dirt and smudges while also serving as a cleaning cloth. The soft fiber cloth is specially made to clean your MacBook gently enough that it does not end up damaging the screen or lenses.
Simply dampen the cloth and gently wipe it on the surface. Once done, rinse the dirt off and it will dry off quickly. In this protection plus cleaning kit, you get 2 large grey cloths that are a perfect fit for your 13" MacBook Pro.
Buy the CLEAN SCREEN WIZARD WizPadCover for $23.15 here.
Bottom Line
Working with a dirty and oily keyboard is gross, simply put. Dust and grime can accumulate under the keys, making them stick when you press them. But, a dirty keyboard doesn't just break your workflow, negatively impacting your work life. It also can be very unhygienic.
To avoid this undesirable experience, get any of the best keyboard cover cloths mentioned above. You won't regret it.
Disclosure: iOSHacker may receive a commission if you purchase products through our affiliate links. For more visit our privacy policy page.