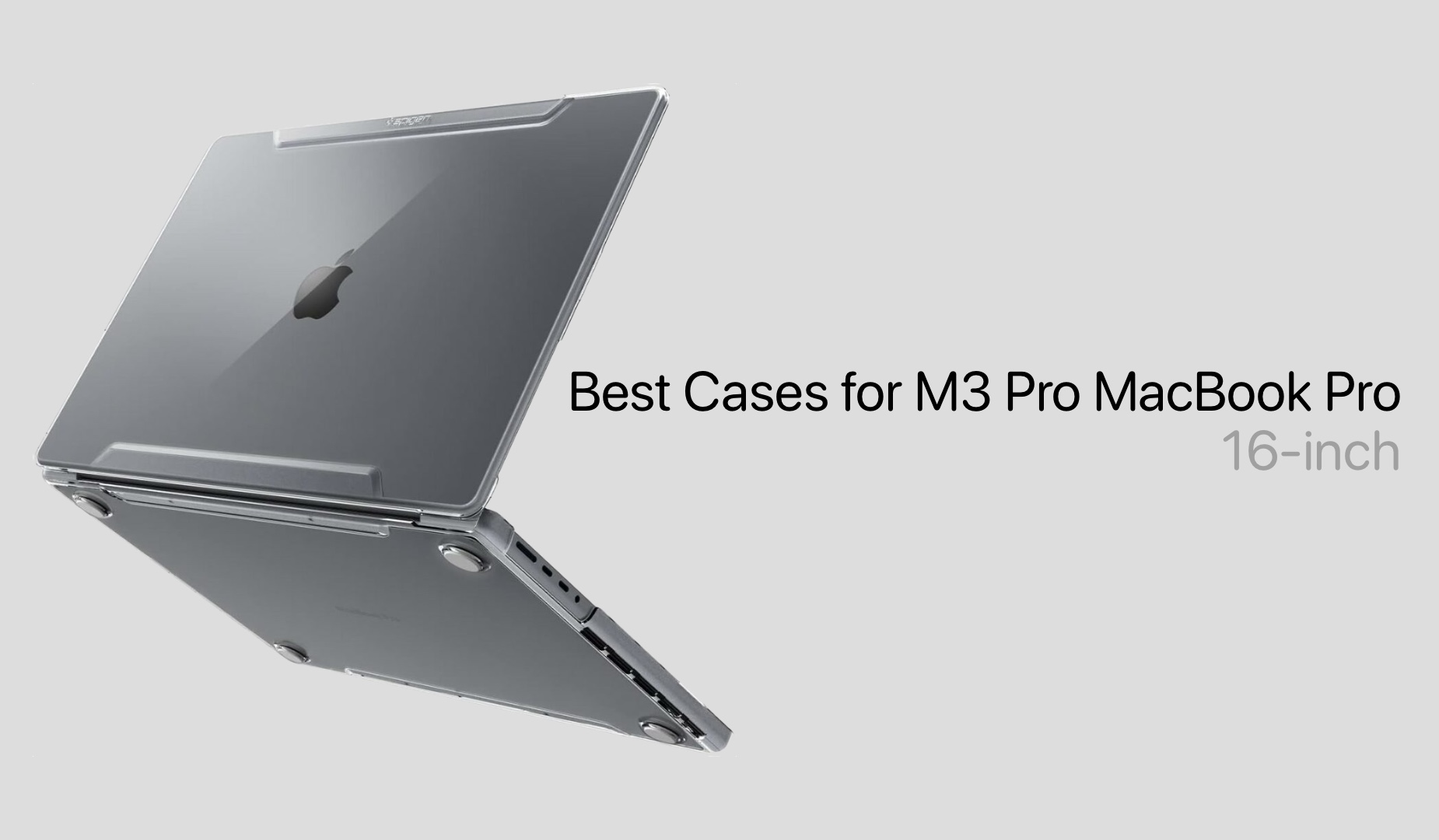 Are you tired of toting around your sleek and powerful MacBook Pro 16-inch without proper protection? Wondering how to shield your prized possession from the perils of everyday life, all while adding a dash of style to your workhorse? Look no further, because we've got you covered!
In this article, we'll dive headfirst into the world of best cases for M3 MacBook Pro 16-inch, showcasing the best options that combine durability, functionality, and a touch of aesthetic flair.
Whether you're a creative professional, a tech-savvy student, or just someone who wants to keep their MacBook looking as sharp as the day it arrived, we've scoured the market to find the perfect cases for you.
Let's embark on this stylish and protective journey for your beloved MacBook Pro!
Best Cases for M3 Pro MacBook Pro (16-inch)
Here are some of the best MacBook Pro 16-inch cases that you can buy for your laptop. These M3 Pro MacBook Pro cases provide an all-around protection to your MacBook Pro from scratches, drops, and other potential damages.
1. Spigen Thin Fit Designed for New MacBook Pro 16 Inch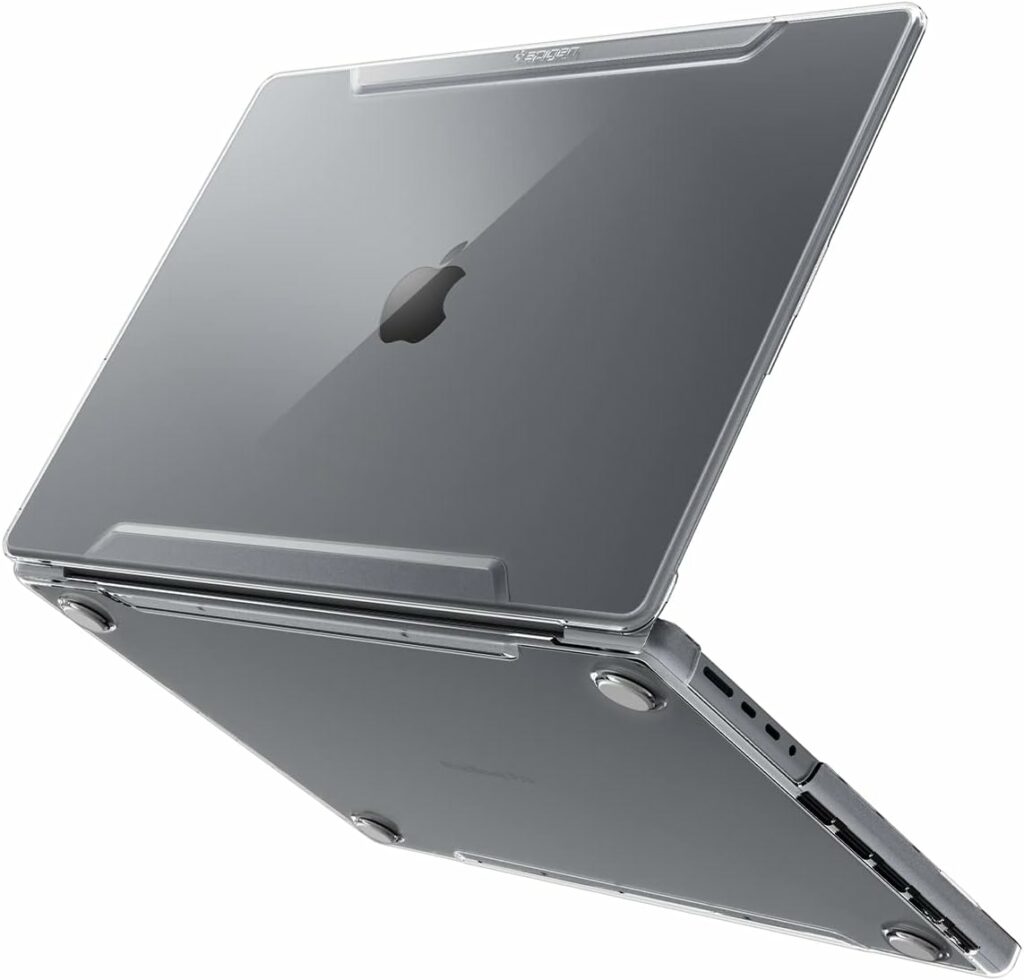 If you've just invested in this sleek powerhouse of a laptop, you'll want to keep it protected, and that's where the Spigen Thin Fit comes in. The outer shell of this transparent M3 Pro MacBook Pro case is constructed from PC (polycarbonate), which means it can take a beating and still keep your MacBook Pro looking as good as new.
One of the best things about this case is its non-slip grip, thanks to the TPU rubberized feet. It's like giving your MacBook Pro its own set of trusty sneakers – no accidental slips or sliding around your desk. The Spigen Thin Fit case is also a breeze to install. It features a snap-on design, which means you can have it on your laptop in seconds, with no tools or complicated instructions required.
This case is designed with precise cutouts for your charging port, USB-C ports, and ventilation. You can use all your essential ports without having to remove the case, and your MacBook Pro can keep its cool during those heavy work sessions.
Buy Spigen Thin Fit Designed for New MacBook Pro 16 Inch for $44.99 here.
2. SUPCASE Unicorn Beetle Pro Case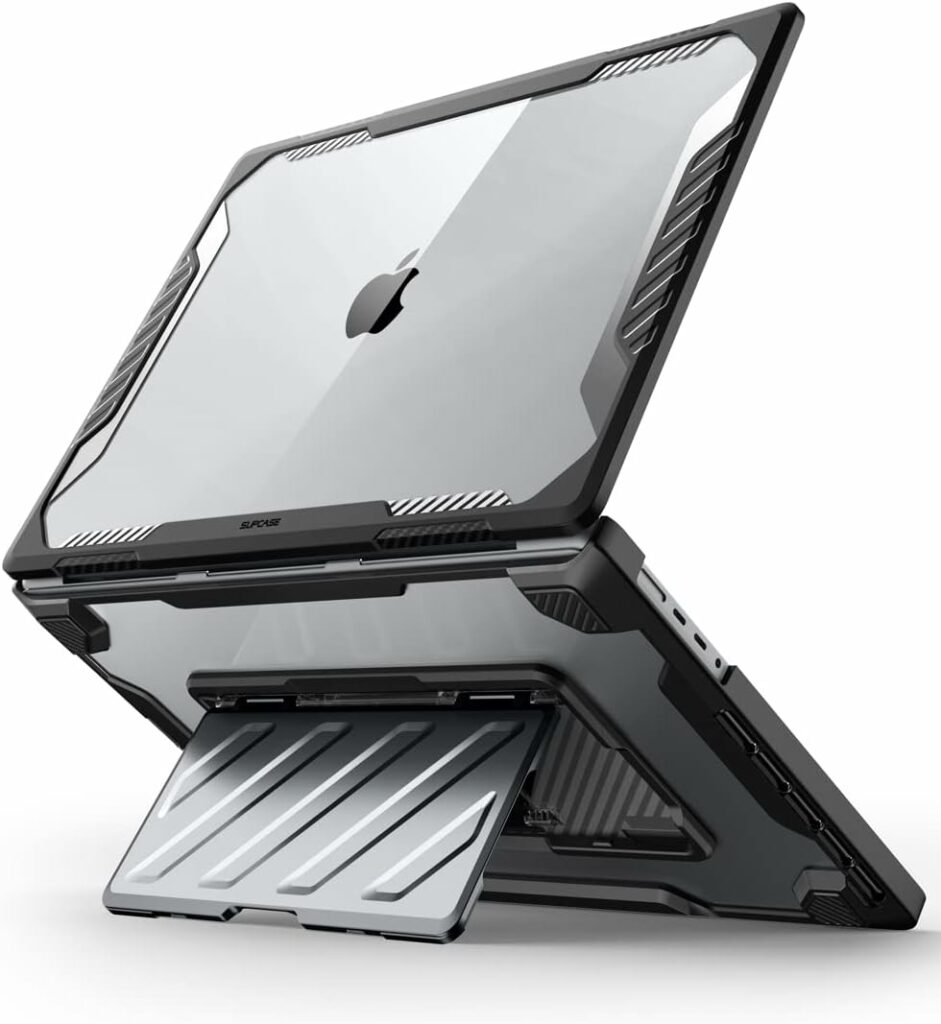 The SUPCASE Unicorn Beetle Pro Case is a must-have accessory for MacBook users who want the best of style, comfort, and protection. It's designed with your comfort in mind, offering ergonomic typing angles that make your work smoother and give you a better visual experience. Say goodbye to awkward angles and hello to productivity.
The transparent case cover lets your MacBook's Apple logo shine through, making it a fashion statement. It's like giving your MacBook its own red carpet moment. The bottom case corners have raised rubber feet, which means better heat disbursement. Your MacBook will thank you for it by running cooler, even during those long hours of binge-watching or work marathons.
Last but not least, the unique shock-absorbing wraparound bumper is like a guardian angel for your MacBook. It provides supreme protection during those inevitable drops and falls. Your MacBook will be safe and sound, no matter what life throws at it.
Buy SUPCASE Unicorn Beetle Pro Case for $59.95 here.
3. EooCoo Hard Case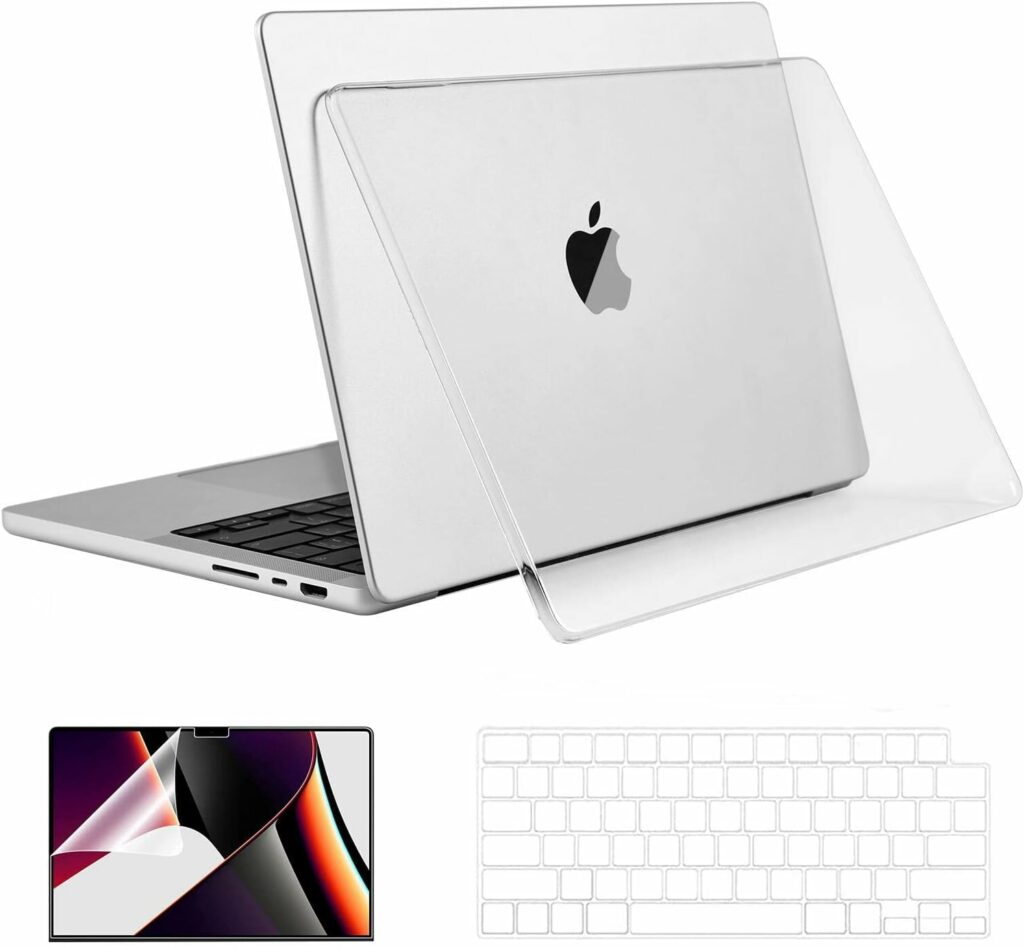 Crafted from high-quality PC plastic, EooCoo Hard Case means business. Not only does it offer incredible impact strength to keep your laptop safe and sound, but it also boasts a wide temperature range and exceptional dimensional stability. So, no need to stress about deformation when things heat up.
The two-piece design makes putting this case on a breeze. No rocket science required, just snap it together, and you're good to go. What's more, there are plenty of air vents on the bottom to ensure your laptop stays cool as a cucumber, even during those marathon work or gaming sessions.
But the awesomeness doesn't stop there. The case features a high-transparency, ultra-thin engineering-grade TPU material. At just 0.12mm thick, it won't hinder your typing or damage the screen. Plus, it allows your backlit keys to shine through brilliantly. Oh, and the keyboard cover? It's not only washable and reusable but also a breeze to apply and remove.
Buy EooCoo Hard Case for $15.98 here.
4. MOSISO Crystal Clear Case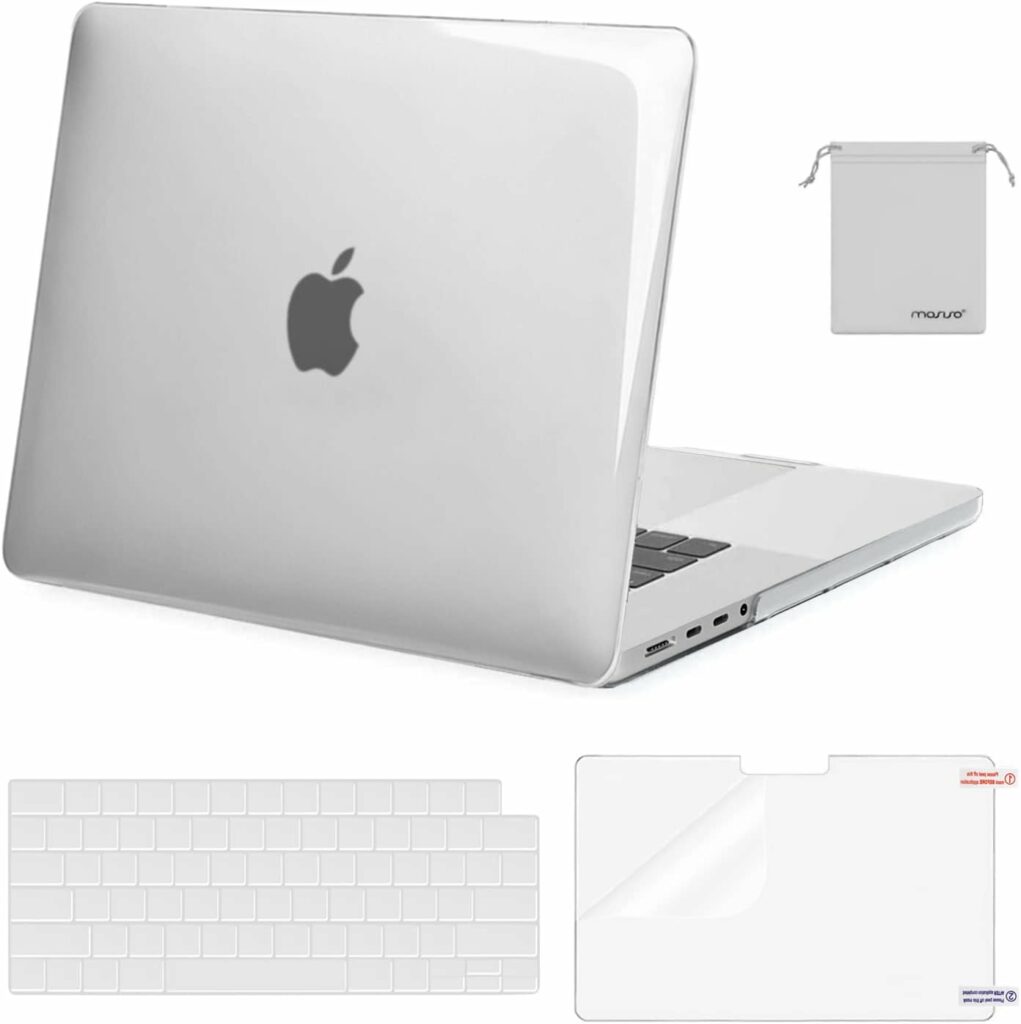 The MOSISO Crystal Clear Case is the stylish armor your laptop deserves. This sleek plastic hard shell case not only shields your laptop from scrapes and scratches but also adds a touch of elegance. With its exquisite finish, it's like a tailored suit for your laptop. And guess what? It's as light as a feather, so no extra bulk to lug around.
MOSISO has designed this case with two rows of bottom ventilation to keep your device cool and functioning at its best. You'll be able to enjoy all your laptop's features with ease, thanks to precise cutouts that provide full access to buttons and ports.
The non-slip silicone feet keep your laptop firmly in place, so no unexpected slides during your most crucial moments. Plus, this crystal clear case is not just protective; it's a fashion statement in itself. Your laptop will look sleek and polished, and you'll still have access to all the essentials.
Buy MOSISO Crystal Clear Case for $15.49 here.
5. ProCase MacBook Pro 16 Inch Case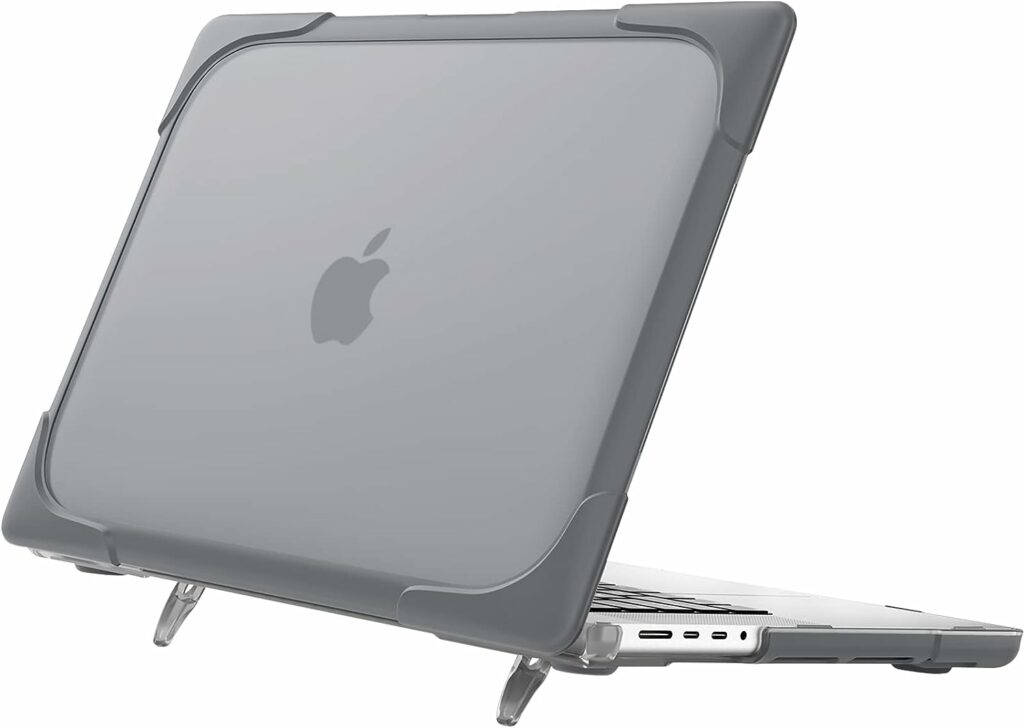 The ProCase MacBook Pro 16 Inch Case is the perfect combination of style and substance, giving you peace of mind and added comfort in your daily laptop use. This case doesn't mess around when it comes to protection, with its heavy-duty armor shell and shock-absorbent bumper that wrap around your MacBook, shielding it from accidental scuffs, drops, and scratches. You won't have to compromise on style either because it features a sleek, no-cutout design that lets your Apple logo shine through.
The built-in foldable stand not only offers an ergonomic typing angle but also enhances your visual experience, reducing neck strain during long work or binge-watching sessions. Plus, it's fully vented for heat disbursement, keeping your laptop cool even during intense tasks.
The ProCase also ensures that you have hassle-free access to all your laptop's ports and features. You can plug in your charger, cable, or headset without removing the case, saving you time and effort. Installing and removing the case is a breeze, thanks to the simple snap-on design.
Buy ProCase MacBook Pro 16-inch Case for $32.99 here.
6. Spigen Urban Fit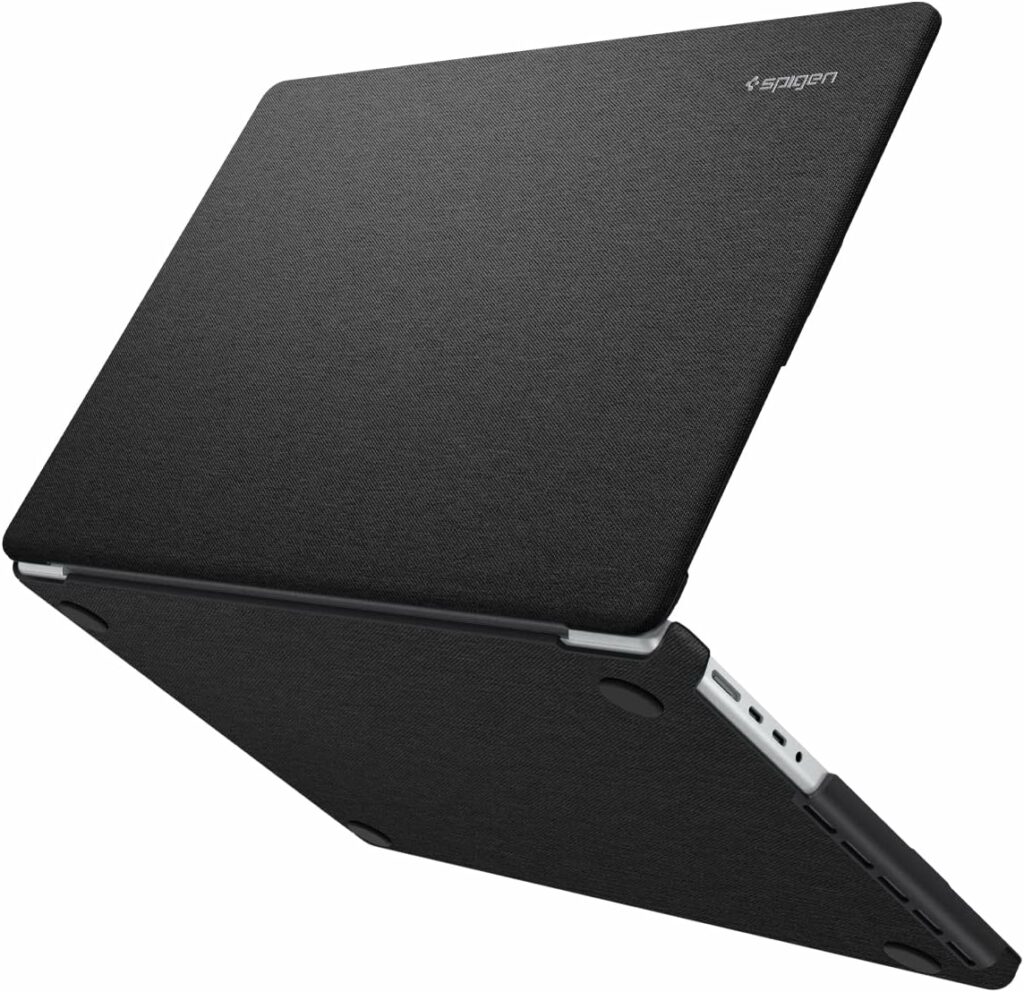 The Spigen Urban Fit is the perfect blend of style and protection for your daily tech companion. With its sleek and minimal design, it's not just a case, it's a fashion statement. The premium knit fabric not only looks great but also offers durability, ensuring your device stays safe without adding unnecessary bulk.
When it comes to functionality, Urban Fit has you covered. Those precise cutouts around the ports make it a breeze to connect your cables and accessories without ever removing the case. And speaking of accessories, this M3 Pro MacBook Pro 16-inch case comes with a clever feature to keep your device cool – an elevated bottom that helps prevent overheating during extended use.
So, if you're looking for a case that not only complements your style but also provides reliable protection and practicality, the Spigen Urban Fit is a no-brainer.
Buy Spigen Urban Fit for $69.99 here.
7. Fintie Heavy Duty Case for 16-inch M3 Pro MacBook Pro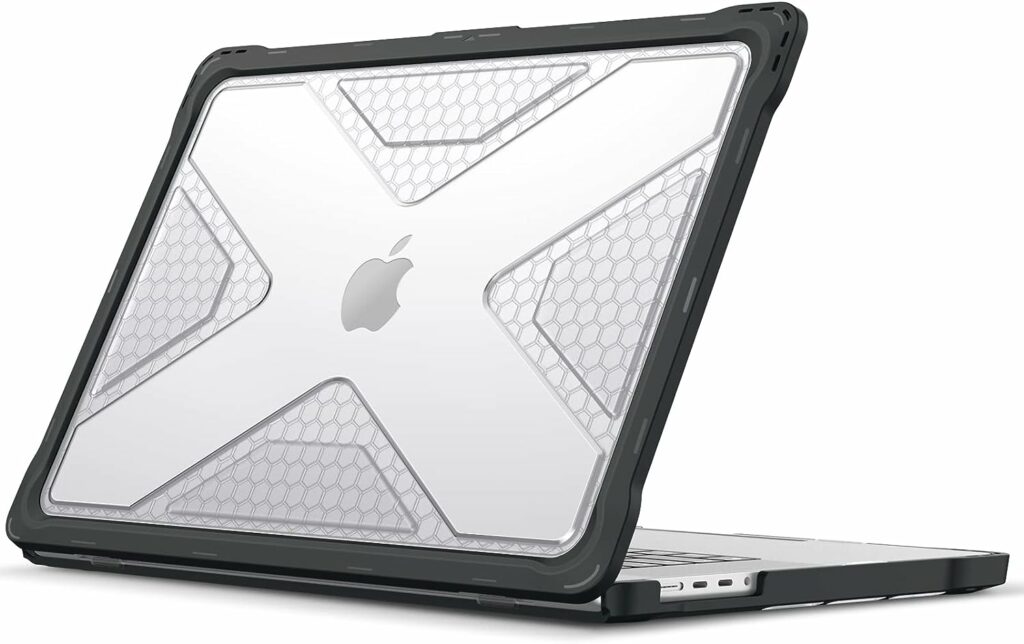 Fintie rugged, heavy-duty case is a real champion when it comes to protecting your precious machine. Crafted with a hard shell and a flexible TPU bumper, it wraps your MacBook in a cocoon of all-round protection, shielding it from accidental scuffs, drops, falls, scratches, and all those other day-to-day hazards.
One of the coolest features is its design, allowing you to open and close your MacBook all the way without any hassle. Plus, it gives you seamless access to all your ports, making your life even easier. And here's the best part: the transparent cover lets your MacBook's iconic logo shine through, so your style statement remains intact!
This protective hard shell case for MacBook Pro is all about keeping your MacBook cool under pressure. With a fully vented design, it ensures safe heat disbursement, so your laptop can work at its best. And when you want a change or need to clean up, it's totally removable, making it super easy to put on and take off.
Buy the Fintie Heavy Duty Case for $36.99 here.
8. BlueSwan MacBook Pro 16-inch Case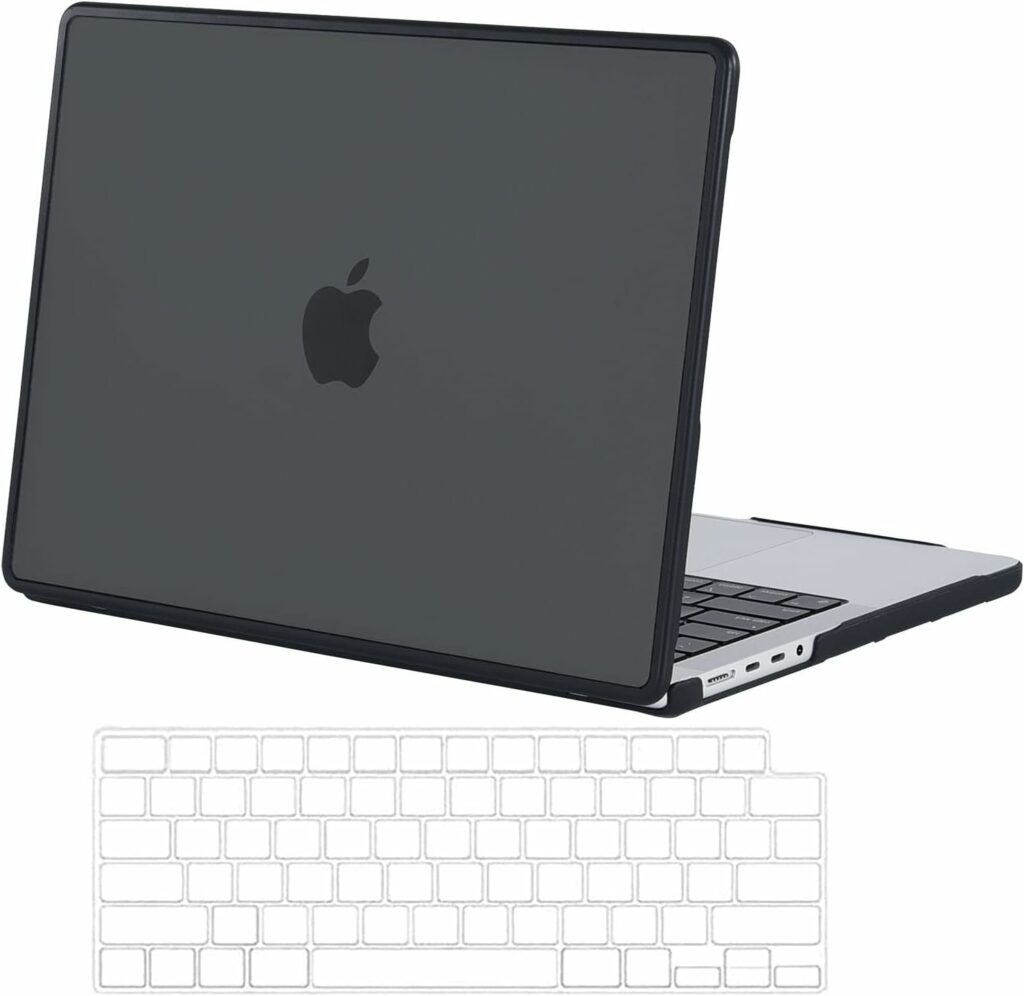 BlueSwan MacBook Pro 16-inch Case takes protection to the next level with its soft and hard TPU new material corners, ensuring your laptop stays safe without cracking. Plus, the frosted polish surface not only feels delicate but also doesn't attract fingerprints, so your laptop stays sleek.
Installing this 16-inch MacBook Pro M3 case is a breeze with its edging design for the four corners, giving you access to all the ports you need without any hassle.
What's more, the upper and lower covers can be opened and closed effortlessly, making your MacBook even more versatile. Keep your MacBook Pro 16-inch looking stylish and protected with the BlueSwan case.
Buy BlueSwan MacBook Pro 16-inch Case for $17.95 here.
The Bottom Line
When it comes to finding the perfect protective companion for your MacBook, cases for M3 Max MacBook Pro 16-inch are a blend of style, substance, and security. They not only embrace your device in a snug, elegant hug but also provide an extra layer of defense against the unpredictable trials of daily life. With a myriad of options for 16-inch MacBook Pro 2023 cases to choose from, you can match your personality, whether you're a minimalist or a bold trendsetter.
So, let your MacBook Pro wear its armor with pride, showcasing your unique style while ensuring its safety. Elevate your tech game and go for the M3 Pro – it's more than just a case; it's an expression of your individuality and a promise of lasting protection.
Disclosure: iOSHacker may receive a commission if you purchase products through our affiliate links. For more visit our privacy policy page.