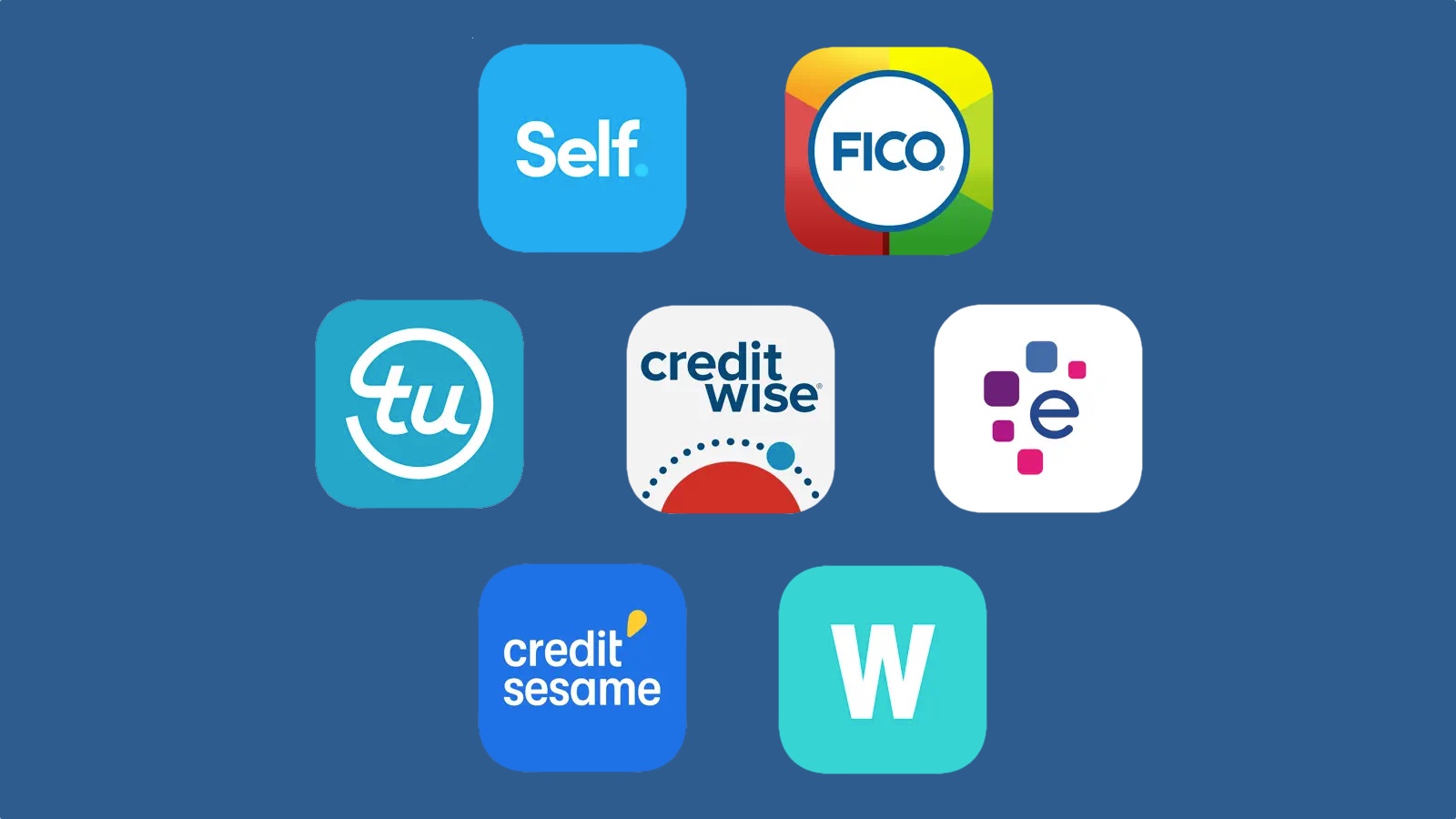 In this post, you will find the best US credit score apps for iPhone and iPad. These apps let you keep track of your credit scores and even help you in improving them.
A person's credit score determines the interest rate that lenders charge them for debt (and whether they can afford it at all). Your credit score dictates everything you buy, whether it's a car, a house, or an education.
You should not only track your credit score but also take measures to improve it. You can do both with the best credit score app in 2023.
Best Apps to Check Credit Score for Free In 2023
Every person has a credit score, and keeping track of it is important. We're highlighting free US credit score checker apps that will help you monitor your credit score, correct items when necessary, and receive alerts when something changes.
1. Experian®
You can access your FICO Score and credit report from anywhere with this app. No credit card is required, and it won't affect your credit score. You will receive automatic updates every 30 days if you sign up. Also, learn how your credit is changing over time, what factors affect it, and how you can take action to improve it.
Boost your FICO® Score by getting credit for bills you already pay, such as cell phones, utilities, video streaming services, and eligible rent.
Stay on top of your credit with credit monitoring and alerts. Receive push notifications whenever your FICO® Score changes, when new accounts are opened in your name, or when inquiries appear on your credit report.
Find the right credit card, loan, or auto insurance for you. Get personalized recommendations based on your FICO® Score and credit profile.
Experian credit file locks can help you protect yourself from identity theft. Whenever someone tries to apply for credit under your name while your file is locked, the app will send you an alert in real-time.
Install Experian® from the App Store now
2. myFICO – FICO Score Monitoring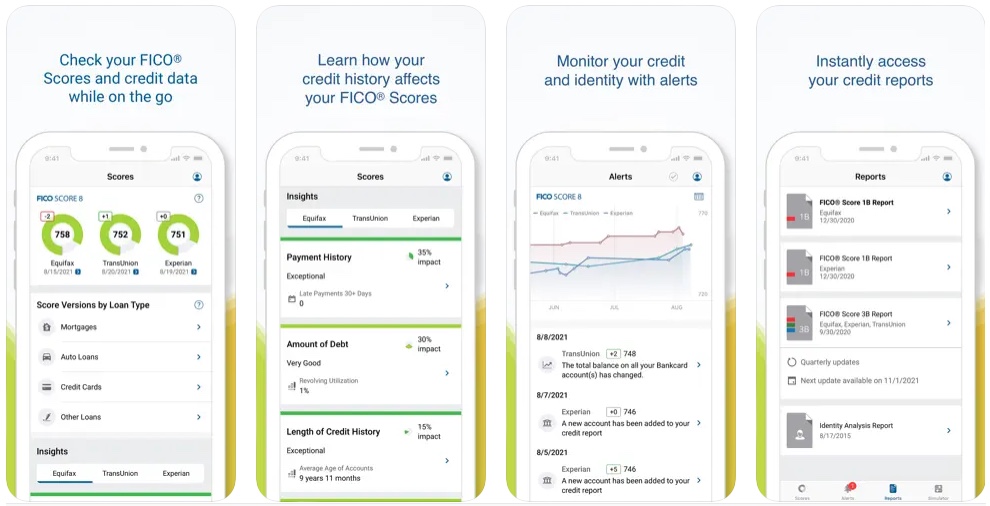 More than 90 percent of top lenders use FICO® scores- what do you know about yours? Find out what your FICO Score is, from FICO. Check your FICO scores and credit reports from each bureau – Experian, TransUnion, and Equifax – at the same time to find out what credit score is right for you. You won't lose points by checking your own credit.
It may look like they are the same, but other credit scores can vary by 100 points or more. Using myFICO, you can access your FICO Scores and credit reports anytime, anywhere. A notification will be sent to your iOS device when any changes are detected.
Install myFICO – FICO Score Monitoring from the App Store today
3. TransUnion: Credit Monitoring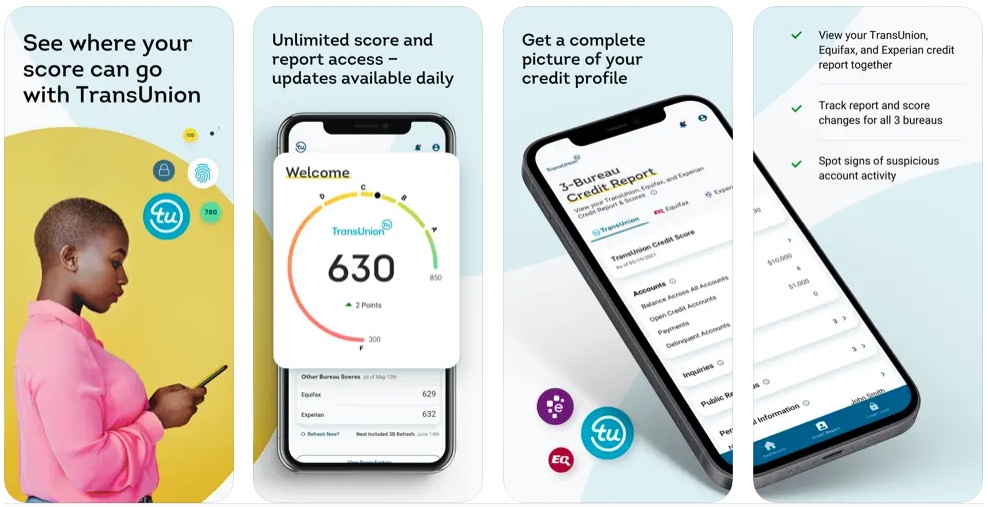 Check your credit report anywhere, anytime with TransUnion's Credit Monitoring App!
You don't need to worry about your credit score being affected by checking it; instead, you can get tips and learn best practices on how to achieve your desired score. Your phone makes it convenient to do all these things:
1. Check out your TransUnion, Equifax, and Experian VantageScore 3.0 to see what's helping or hurting.
2. Protect yourself from identity theft with an Equifax and TransUnion credit report lock.
3. Make sure you are covered with identity theft insurance of $1,000,000
4. Check out Credit Compass tool for tips on improving your credit score.
5. You can monitor your credit activity on the app with instant alerts.
6. Receive push notifications regarding score changes, stolen cards, collections, new authorized users, trades, and account activity that impacts your credit report directly on your smartphone.
7. Get your VantageScore 3.0 from TransUnion every day
Install TransUnion: Credit Monitoring from the App Store now
4. Credit Sesame: Build Credit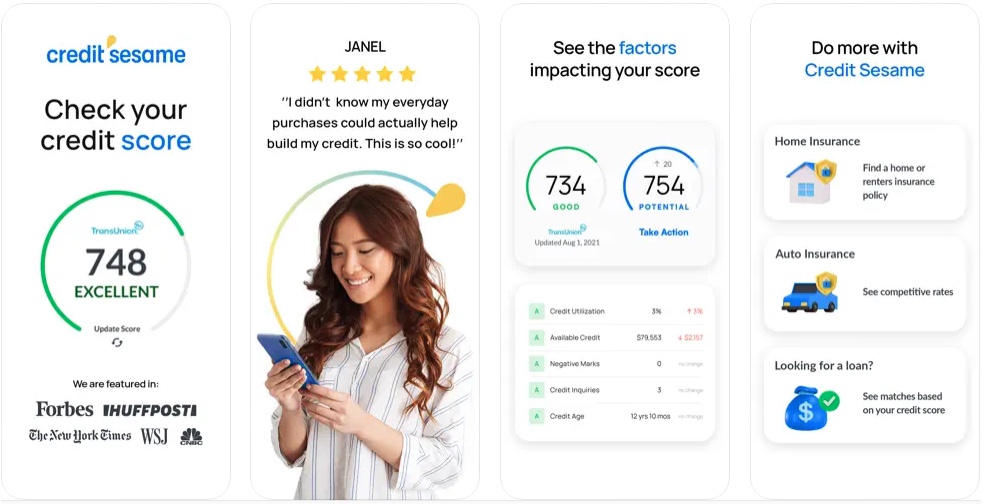 With Sesame Cash, you can get your tax refund faster. Find out how to manage your personal finances and keep an eye on your credit score.
Get a free credit report and score. Boost your credit score immediately with free credit tips and insights. See your personalized loan and credit card offers and know your chances of getting accepted for credit cards before you apply. Our credit builder account offers zero-fee banking to help you improve your financial situation and achieve a higher credit score.
You can use Credit Sesame for all your financial needs for free. Using a credit management app can help you get a better credit score, a secured credit card, a lower-interest-rate auto loan, or even a new house. Saving money and building your credit history has never been easier. With zero-fee banking and credit builder, you can start saving money right away.
Install Credit Sesame: Build Credit from the App Store now
5. Build Credit & Savings – Self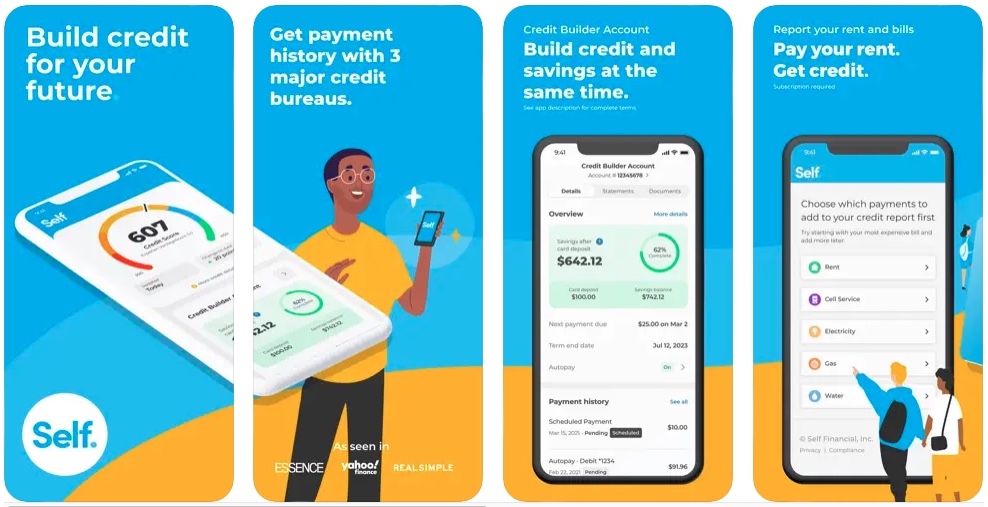 Are you looking for credit to pay for rent, cell phones, or utilities? Building credit is easy with the tools Self provides.
Self helps you build credit while saving money. With the Self app, you can manage your Credit Builder Account, check your credit score, and receive updates on your credit rating.
You will have everything you need to build credit with the Self credit app. You don't need a high credit score to get started. Regardless of your credit score, Self welcomes you.
Install Build Credit & Savings – Self from the App Store now
6. Capital One CreditWise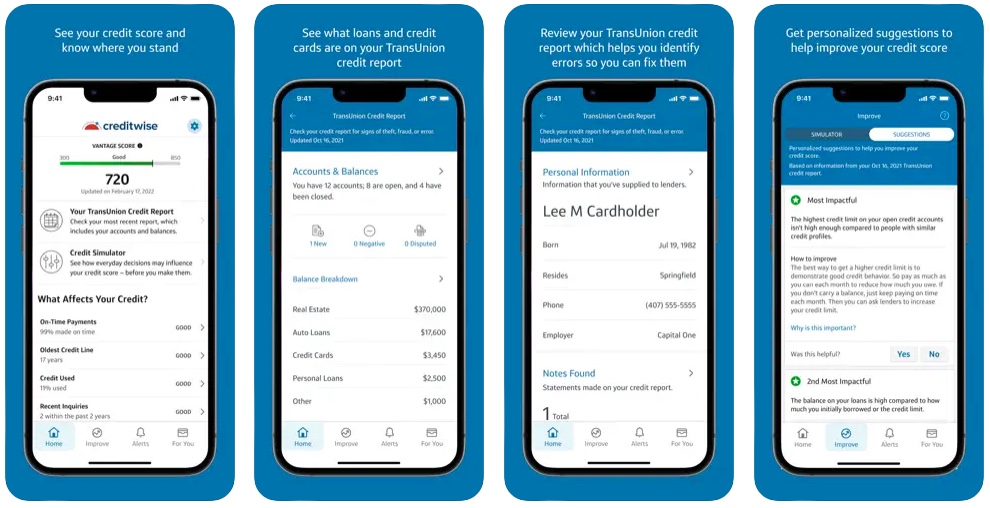 The Capital One CreditWise® tool checks and monitors your credit score for free and is available to everyone, not just Capital One® customers. You can take action to improve your credit score by using CreditWise to understand what makes it up. You can keep an eye on your TransUnion® or Experian® credit report if your score is where you want it to be by using CreditWise.
With millions of Capital One customers using CreditWise (formerly CreditTracker), anyone can find out, improve, or monitor their credit score. You will never be asked to enter a credit card number when you use CreditWise.
Install Capital One CreditWise from the App Store now
7. WalletHub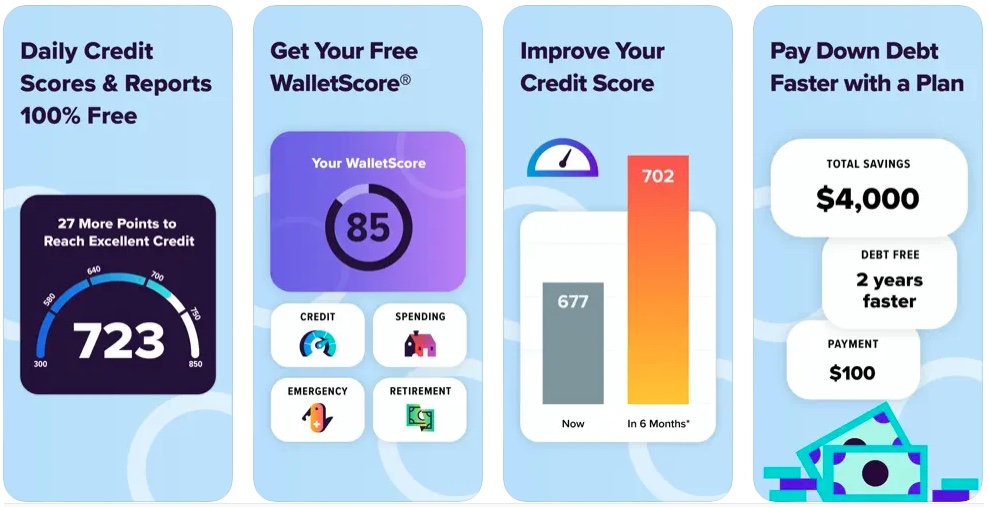 Although there are several free credit score sites and apps, WalletHub offers daily updates, a credit improvement plan, and your WalletScore all for free. In addition to looking at your credit, WalletScore provides you with insight into your overall financial performance. Moreover, the app tailors a debt payoff plan that maximizes your savings and helps you pay off your debt faster.
WalletScore is an innovative tool that tells you how financially healthy you are, based on your credit, spending, emergency preparedness, and retirement plans.
WalletHub automatically finds better deals whether you have excellent credit or bad credit, so you won't be taken advantage of. You could save thousands of dollars each year on your credit cards, mortgage, auto loan, student loan, car insurance, and more even if your credit isn't perfect. It will also be helpful to have a strong credit rating when applying for jobs and renting an apartment.
Install WalletHub from the App Store now
To Conclude
In case you're worried that checking your credit score will negatively affect your credit score, you can relax.
Tracking your credit score helps you set credit goals. Building an excellent credit score takes time, so you shouldn't wait until you're ready to apply for a mortgage before paying attention to it.
So If you haven't already, grab your phone and check US credit score for free. You can now monitor your credit goals more easily than ever before.
So which of the above-mentioned free credit check apps would you install? Let us know in the comments.