In this list you will find the best personal expense tracker apps for iPhone users that you should download in 2023. These apps let you keep track of your expenses, create budgets and more with ease.
Money management is not everyone's cup of tea. It is an art that few can master despite managing all their essential needs. The act of reducing extravagant spending and increasing savings may seem like a daunting task to some, but if you stick to your budget, it's a lot easier.
No matter if you're seeking to save more money in 2023, or looking to manage your finances wisely, using these expense tracker apps for iPhone can prove invaluable.
Best Personal Expense Tracker for iPhone
You can set up a budget with a clear goal regarding how much money you wish to save with the most expense-tracking apps. You can also create a custom budget for your spending, and the best apps give you a clear view of your total spending and warn you if you go overboard with your spending.
Additionally, these apps provide deep insight into your finances that will help you make sense of your financial mess and increase your savings. Let's get started with the top spending trackers for iOS now that we know their modus operandi!
1. Money Manager Expense & Budget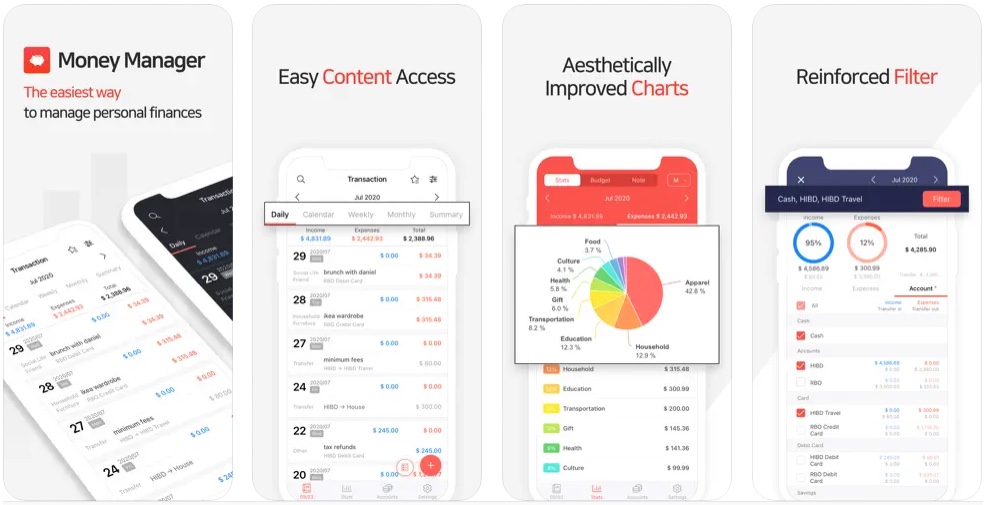 A household account can be a challenge to manage. However, Money Manager Expense & Budget simplifies complex things. Initially, the default settings will get you started, but once you're familiar with them, you can modify the settings according to your needs.
This money manager app comes with a handy calculator function to help you do your math quickly. Secondly, it offers the flexibility to create as many sub-categories as you need, so you can manage all of your accounts in one place.
In addition to supporting multiple currencies, the Money Manager provides a calendar view of all your set rules. The best part about this app is the ability to manage credit cards, which displays payment amounts, and outstanding balances.
Furthermore, Money Manager sorts expenses based on receipts so that you can view the information graphically.
Install Money Manager Expense & Budget from the App Store now
2. Wallet – Daily Budget & Profit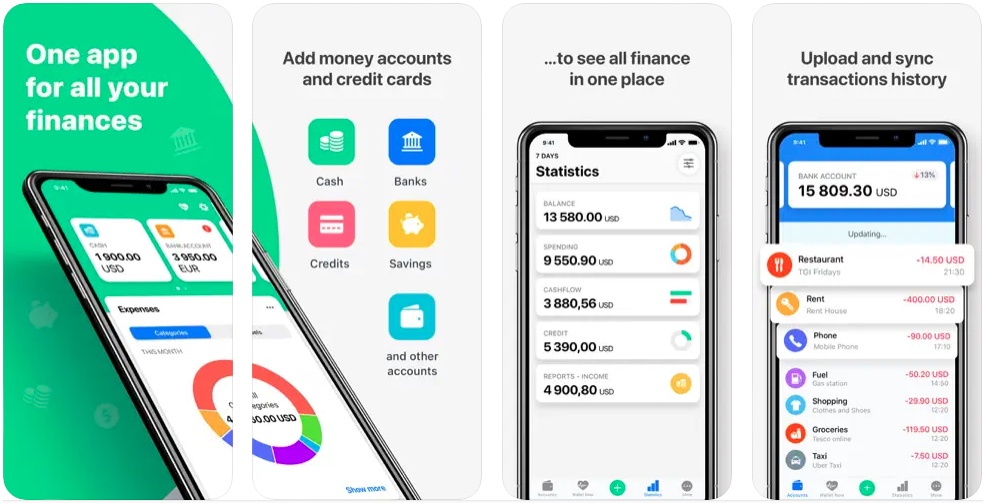 It's easy to plan your budget and keep track of your spending with Wallet, so you can stay ahead of your spending and accomplish your goals. You can manage your finances actively through the app, regardless of your currency, banks, or financial institutions.
Whether you want recurring or one-time budgets, you can set them using the app with a flexible budgeting system. Depending on your needs, you can combine several categories and monitor them. Aside from that, it automatically syncs transactions with your bank and communicates updates to you as they occur.
A dashboard of easy-to-use graphs and financial overviews is another feature that makes Wallet a great tool. This allows you to see your financial status, credit and debit card balances, cash, and more. The Wallet app also supports multiple currencies and allows seamless data synchronization across multiple devices so your data remains secure.
Install Wallet – Daily Budget & Profit from the App Store now
3. Monefy: Money Tracker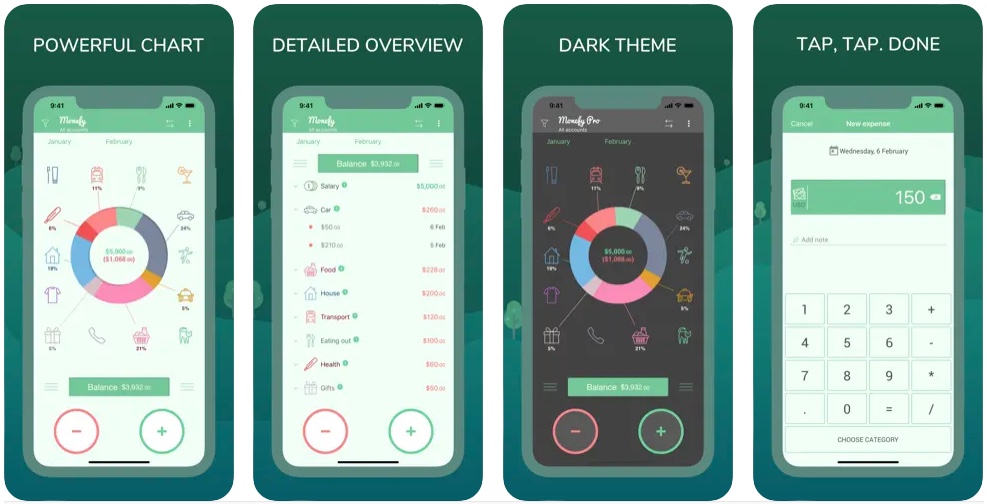 Moneyfy is an expense tracking tool that seems to cover most bases. To begin with, the app offers one of the most detailed charts that provide a thorough breakdown of your spending. To put it simply, you can count on it to get you back on track whether you want to increase your savings or cut down on your overspending.
Several features, including recurring records, multiple currencies, and a built-in calculator, have you covered. It also keeps you informed about your spending with detailed reports. Aside from that, you can also find pro tips to help you avoid overspending.
Moreover, Moneyfy supports Google Drive and Dropbox so you can synchronize your data across multiple devices. The app can be secured with a strong passcode if you don't want anyone to access it without your permission.
Install Monefy: Money Tracker from the App Store now
4. Mint: Budget & Expense Manager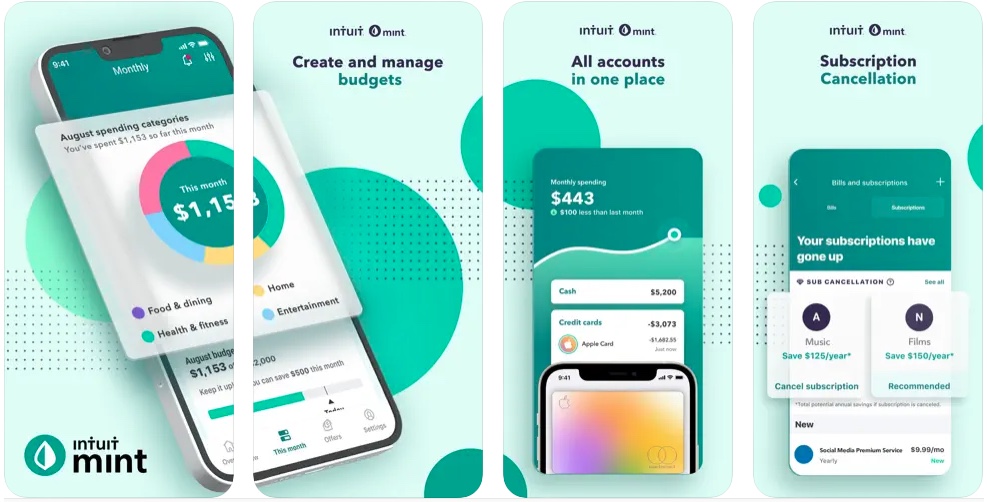 Mint is a money management app that makes it easy to stay on top of all your finances. Everything you need to know about your money, from balances and budgets to credit scores and financial goals, is all in one place.
Mint gives you a comprehensive picture of your financial health: balances, expenses, income, and net worth. You can connect your bank account, credit cards, loans, investments, and more.
With Mint, you can keep track of your transactions, budgets, expenses, and subscriptions. With the app, you can view your net worth and spending trends based on all your numbers. You will get notified when your budget is close to being exceeded or if you are about to overdraw an account.
Install Mint: Budget & Expense Manager from the App Store now
5. Spending Tracker – Budget App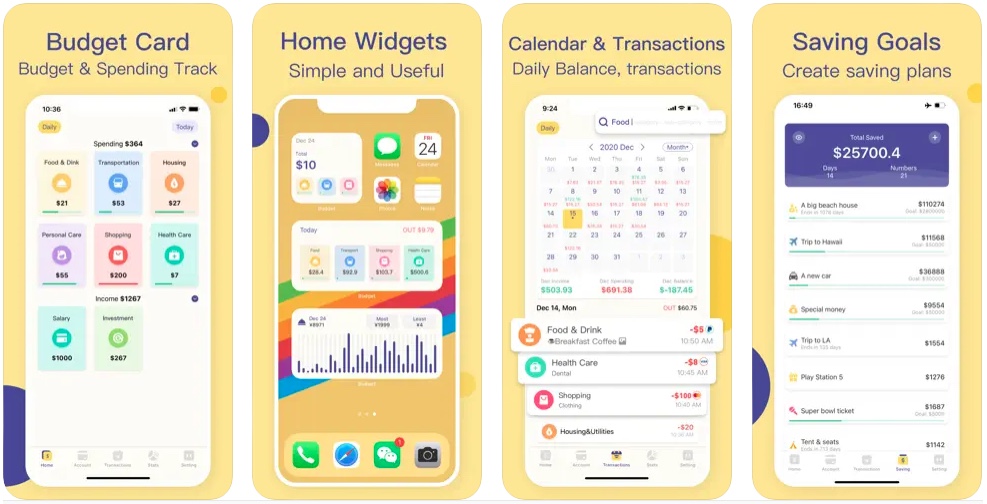 The Spending Tracker – Budget App makes tracking your spending and planning your budget a piece of cake. This app helps you track your finances without ads and intrusion into your privacy.
When it comes to tracking your expenses on the go, there is no better app than this one. Keeping track of every dollar you earn and spend each day will help you see a final cash flow report at the end of the week, month, or year.
Its intuitiveness and simplicity make it incredibly easy to understand. Finance doesn't have to be your forte to benefit from it. In addition, you can view your finances visually and group your spending by categories.
Install Spending Tracker – Budget App from the App Store now
6. Money Manager: Budget Planner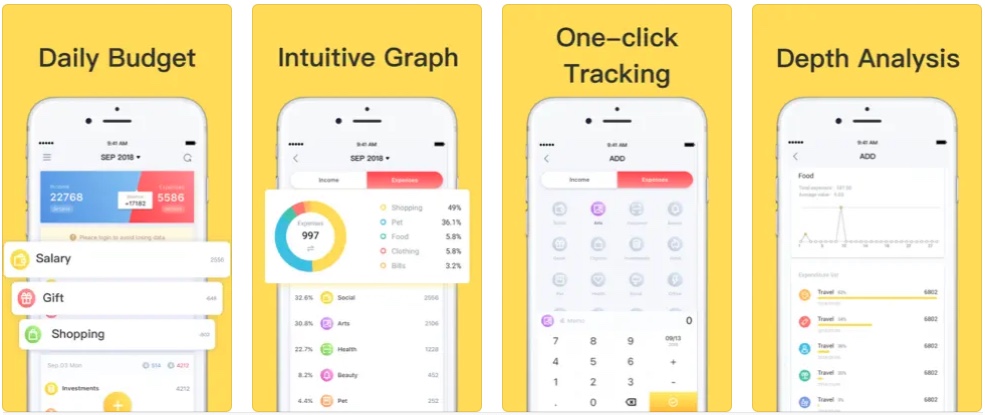 The Money Manager allows you to track your financial activity efficiently. Using it is quite straightforward due to its intuitive design, lightweight, and ease of use. One click is all it takes since you don't need to fill out anything except the amount. It only takes a few seconds per day to save the amount and each spending purpose. You can save money wherever you are with just a couple of taps.
The app provides you with detailed information about your finances. With visualized reports about your income and expenses by time and category, you can better understand where your money goes.
Using the app, you can find out how your spending is distributed in the informative chart or group your transactions based on their categories.
The bill organization can also be done by week, month, year, as well as by category. You can record each item with its category and amount in one transaction.
Install Money Manager: Budget Planner from the App Store now
7. Goodbudget Budget Planner
With Goodbudget, you can plan your budget, track your debts, and manage your money. The app makes it easy to share a budget with your partner, family, or friends.
The Goodbudget app lets users track their household spending by using the "envelope method." In this method, monthly income is allocated to categories (or digital "envelopes") for expenses such as groceries, rent, and debt repayment. You can plan and prioritize your spending this way.
If you are new to budgeting, this is a good way to figure out how and where to spend your money.
The Goodbudget app does not link to users' bank accounts or credit cards, unlike most budgeting and expense-tracking apps. Instead, you create envelopes manually and input transactions. Although the app categorizes your expenses for you, you can customize the envelope categories to suit your needs.
Install Goodbudget Budget Planner from the App Store now
In a Nutshell
It's high time for you to ditch your spreadsheets and set clear, measurable goals that you can track in real-time.
With the above-mentioned expense tracker apps for iPhone, you can keep track of all your finances in one place. These amazing apps can help you keep track of all your expenses, home economics, and even business money with ease and speed. Each has its pros and cons, so choose the one that suits you best.
So, which app would you download? Let us know in the comments section.