With WinterBoard getting updated for iOS 7 and latest devices it is now time for you to download and install some new themes from Cydia and give iOS a fresh new look. In this post we have featured some of the best themes that are available in Cydia right now for iOS 7.
In addition to the themes mentioned here you can also view our previous post in which we featured some of the iOS 7 themes we like.
If you are not familiar with how WinterBoard works then check our guide.
Signa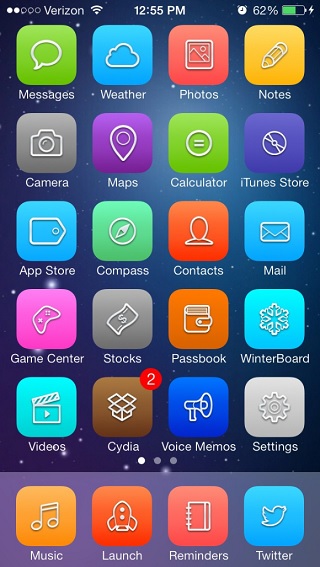 Named after the Latin word Signa that means symbol, the Signa theme features exclusively made icons that give iPhone's homescreen a simple yet colorful look. It consists of more than 100 custom made icons that replace the icons for stock as well as popular third party applications. Signa is a paid theme and is available for $0.99 in Cydia.
Redsgn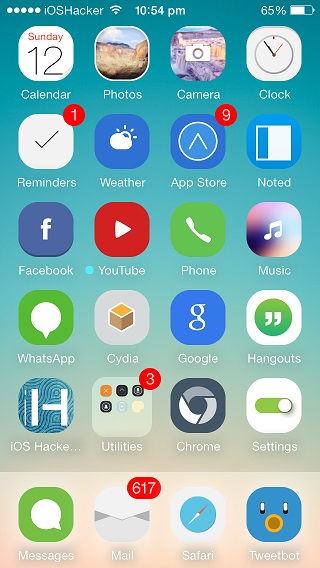 If you are a fan of themes that feature rounded icons then you will like Redsgn theme for iOS 7. It features over 110 custom made flat icons that are rounded from edges. This gives a nice minimalistic look to the homescreen. This WinterBoard theme is available in Cydia for free.
Anycon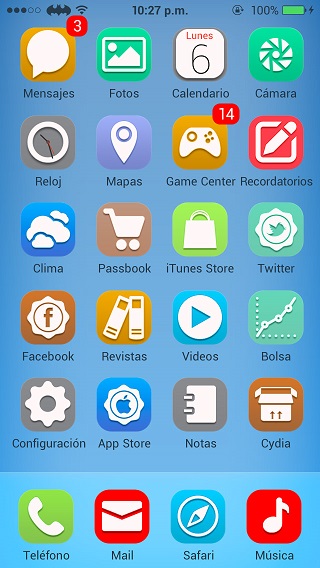 The Anycon is a premium theme for iOS devices that is compatible with iOS 7 and iOS 6 both. It features over 80 original that have a matte look. Its icons are smaller in size and less rounded than Redsgn theme. Anycon consists of two masks as well. The developer of this theme has promised more color mods and icons in future updates as well. Anycon theme is available for $2.99.
Translucent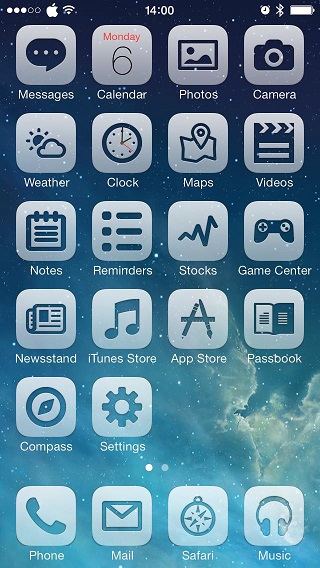 Translucent is a super cool theme that is great for users who like simple and minimalistic design. It takes away the colors of iOS 7's icons and gives them a beautiful looking white color along with a little bit of opacity. Translucent is a community theme, which means number of custom icons will grow by user submissions. This theme is available from Cydia for free.
0bscure 7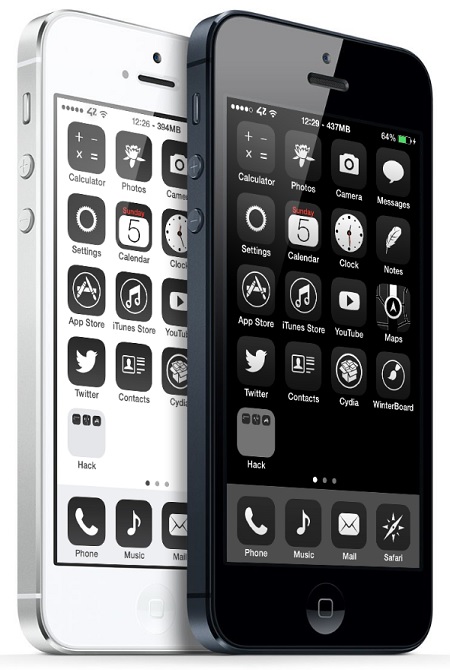 The 0bscure 7 theme for iOS 7 is a simple and elegant theme for iPhone and iPod touch. As you can see in the image above whether you have a white or black iPhone the theme would look good anyway. 0bscure 7 (with a zero) is available for $0.99 .