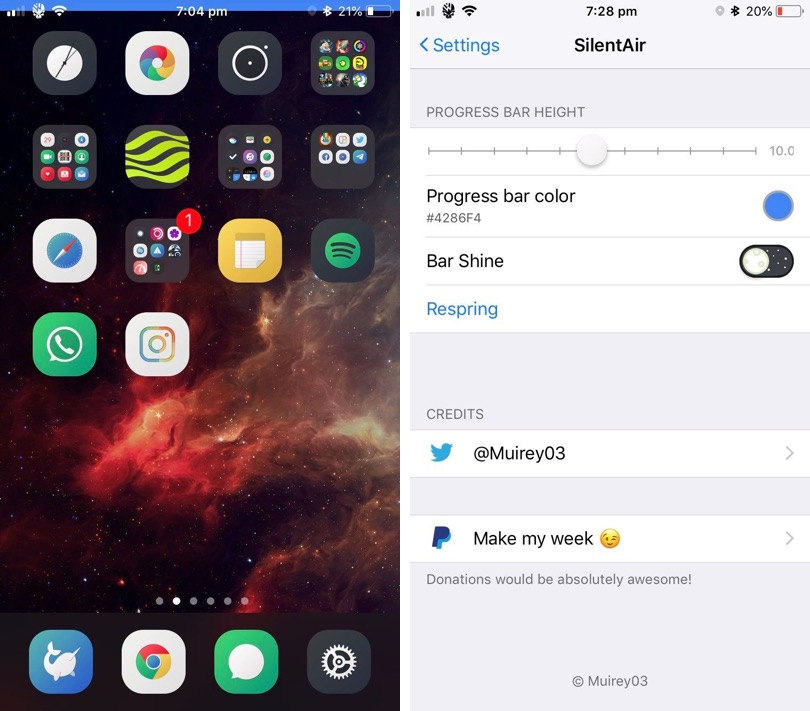 When it works AirDrop is one of my favorite features available on my Apple devices. This handy file transfer function makes it super quick and easy to transfer different types of files between iPhone, iPad and Mac. My only complaint with AirDrop feature is its intrusive user-interface. When you are receiving files on your iPhone a popup appears that shows you the progress of the transfer.
While the progress bar is useful it is also annoying since it stays on the screen until the whole transfer completes, preventing you from doing anything else on your iPhone. This can particularly be annoying while you are transferring large files.
A new Cydia tweak called SilentAir solves this problem by making the AirDrop progress indicator minimalistic and non-intrusive. With SilentAir tweak you can get rid of the usual AirDrop transfer interface and get a unobtrusive progress bar in the status bar. The best thing about the new progress indicator is that it shows you the progress of a transfer while still letting you use your iPhone like normal.
SilentAir is also very customizable. From its preferences, you can change the color of the bar, change the bar's height and configure it to shine.
You can download the SilentAir tweak for free from Cydia, where it is available through the Packix repository.
Disclosure: iOSHacker may receive a commission if you purchase products through our affiliate links. For more visit our privacy policy page.