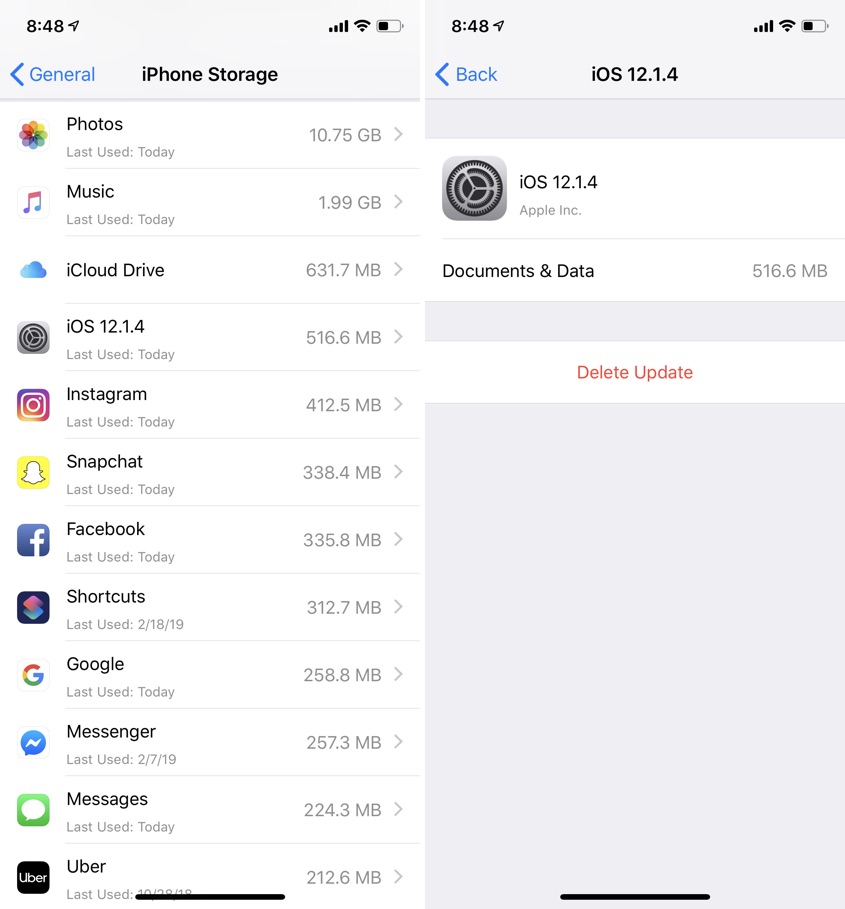 Many iOS users are not aware that their iPhone or iPad automatically downloads new software whenever it is released by Apple. It does so even when you have explicitly turned off the Automatic Updates toggle from the Software Update page. While the fact that iPhone downloads the software updates is convenient since you don't have to wait for the update to download when you want to update your iOS device, it can also be problematic for those users who don't want to upgrade their iPhone or iPad.
For example many iOS users are keeping their iPhone on iOS 12.1.2 or lower and waiting for a jailbreak to get released for iOS 12. If you are doing this too, and don't plan on updating to new iOS versions, then the space download iOS update is using on your device is wasted. As you can see in the screenshots above, iOS 12.1.4 update that was automatically downloaded by my iPhone is taking up 516MB of disk space, the disk space that can be used for other purposes.
Free up space used by software update
Thankfully though you can free up the space wasted by the software update by going to iPhone Settings. To do so, simply follow the steps below.
Open Settings and go to General > iPhone Storage.
On the iPhone Storage page look for iOS [version] and tap on it. The version will depend on the latest iOS version that is downloaded on your device.
From the next page tap on 'Delete Update' option, after which the download software update will be removed from your device and the disk space will be freed up for other uses.
Knowing this handy little tip can be useful, especially for those who are always running out of disk space on their iOS devices.