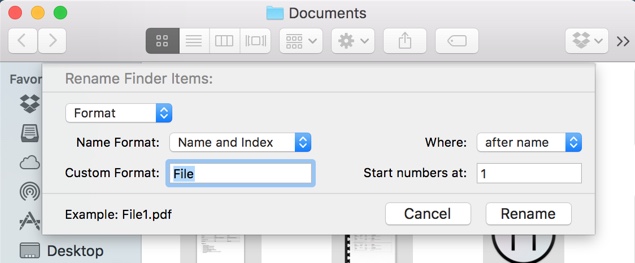 Have you ever tried to rename a large number of files on your Mac. Depending on the number of items you want to rename it can be a tedious task. Luckily OS X offers a handy feature that allows users to quickly rename a bunch of files. You can not only rename files in bulk but the feature also offers a number of naming options letting you format file names according to your needs. The bulk rename feature saves a lot of time and makes the task of renaming a bunch of files a lot more easier.
Renaming multiple files in bulk
To rename more than one file, first you need to select them. You can do so by clicking on the screen and dragging.
If the files are not listed together, then you can also hold the Command key from the keyboard and click on individual files you need to rename. Once all the files are selected simply right click and from the list click on 'Rename X items'. X of course replaces the number of items selected.
Now a small window will appear with a drop down menu on the top left. From the menu select from 'Replace Text', 'Add Text' or 'Format'. Depending on the option you selected you can either add characters before or after the current file names, replace a specific word with word(s) or your choice or enter a file name in the format of your choice.
Once you are done simply hit the 'Rename' button and your files will be renamed.
Disclosure: iOSHacker may receive a commission if you purchase products through our affiliate links. For more visit our privacy policy page.