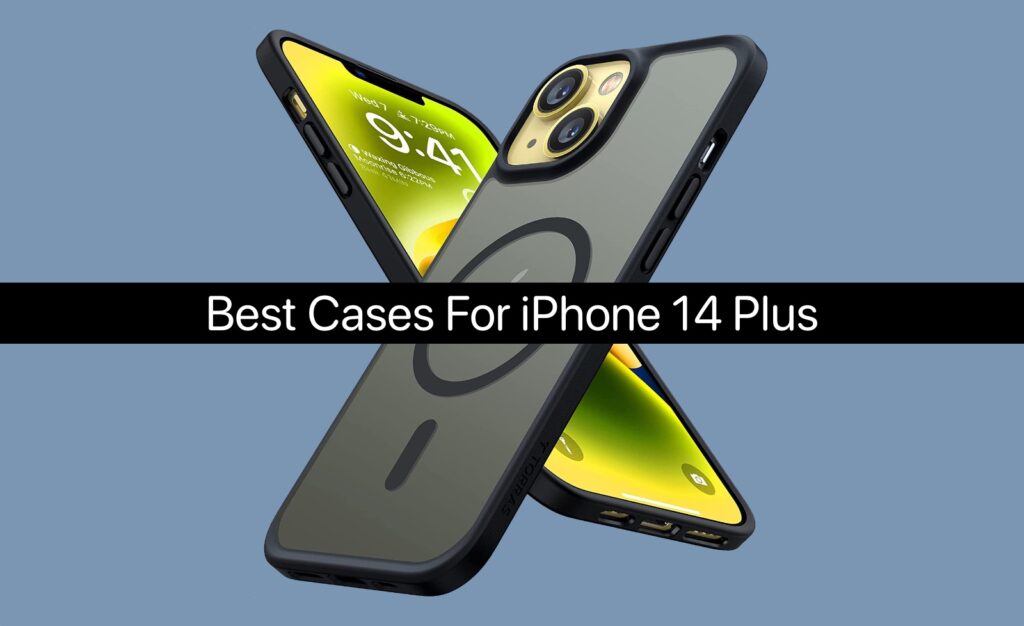 It's a given that only the best iPhone 14 Plus Cases can ensure the longevity of your precious iPhone and keep it in pristine condition for eternity (well, that's not the case but you got the idea, right?).
Adding a case to your iPhone is more than just a way to spruce it up. They are designed to protect your phone from accidental damage and everyday wear and tear. 
But from clear cases to aesthetic silicon ones, the choices are endless for the best iPhone 14 Plus cases 2023. But which one should you buy? That's definitely the question.
In light of that, let's take a look at some of the options available to you.
Best Cases for iPhone 14 Plus
Considering the numerous options on the market, each claiming to be the best, we have selected cases that fit every budget and requirement.
In addition, we picked cases that are functionally compatible with Apple's MagSafe for iPhone, which eliminates the need to remove the case while charging.
Listed below are the best 6.7-inch iPhone 14 Plus cases.
1. OtterBox COMMUTER SERIES for iPhone 14 Plus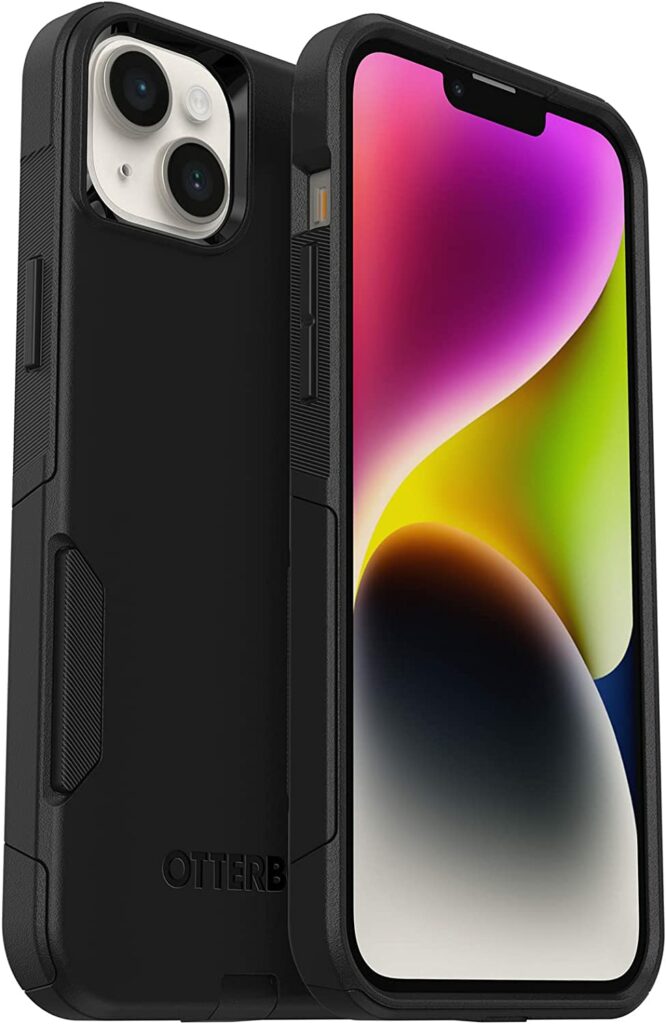 Commuter Series cases from OtterBox are perfect for iPhone 14 owners on the go. Despite its thinness, it is crammed with Drop+ 3X protection. According to this rating, this case can withstand three times more drops than military testing standards (MIL-STD-810G 516.6). For added protection, the case features hinged covers and grips on the rear to prevent dust from entering.
The case is designed to protect the display from damage with raised edges around the screen and camera mount. You will feel a slight heft on your device, but it is minimal and doesn't affect how you use it. Also, the slim design of the Commuter case allows it to be easily slipped into jeans or coat pockets.
Although the rear grip sections are stylish and sleek, they give the overall design an almost industrial look. However, you'll be grateful once you use the case on a crowded subway.
Buy OtterBox COMMUTER SERIES for iPhone 14 Plus for $37.55 here
2. Simtect Strong Magnetic for iPhone 14 Plus Case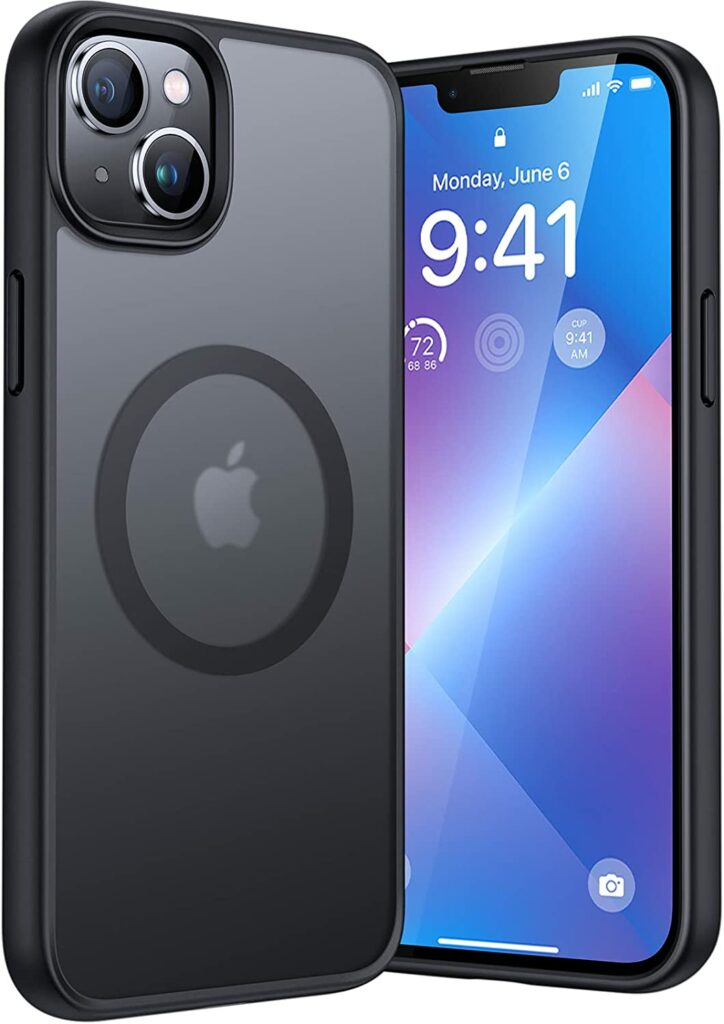 Simtect strives for accuracy and perfection, which is why the cutouts in this 14 Plus case align perfectly with the iPhone 14 Plus's buttons, mics, speakers, and charging ports. It is the ultimate Mag-Safe accessory because of its slim 0.04-inch design that allows you to take your phone in and out of your pocket easily without sacrificing protection.
The 14 Plus case is compatible with Magsafe wireless chargers as well as other Qi wireless chargers, ensuring that it charges effectively. A total of 38 powerful magnets are built into this iPhone Mag-Safe 14 Plus cover, giving it a 15N suction force, which is superior to the official adsorption force of 25%!
A 360-degree air bumper and an airbag are also included in this iPhone 14 Plus Mag-Safe case to absorb all shock. Whenever there is a shock, it will be absorbed within this system and will not penetrate through to the iPhone's body. The case has proven its durability in over 5000 12-foot drop tests, so you can be sure you will have maximum impact resistance for a long time.
Buy Simtect Strong Magnetic for iPhone 14 Plus Case for $25.59 here
3. TAURI [5 in 1] Designed for iPhone 14 Plus Case Clear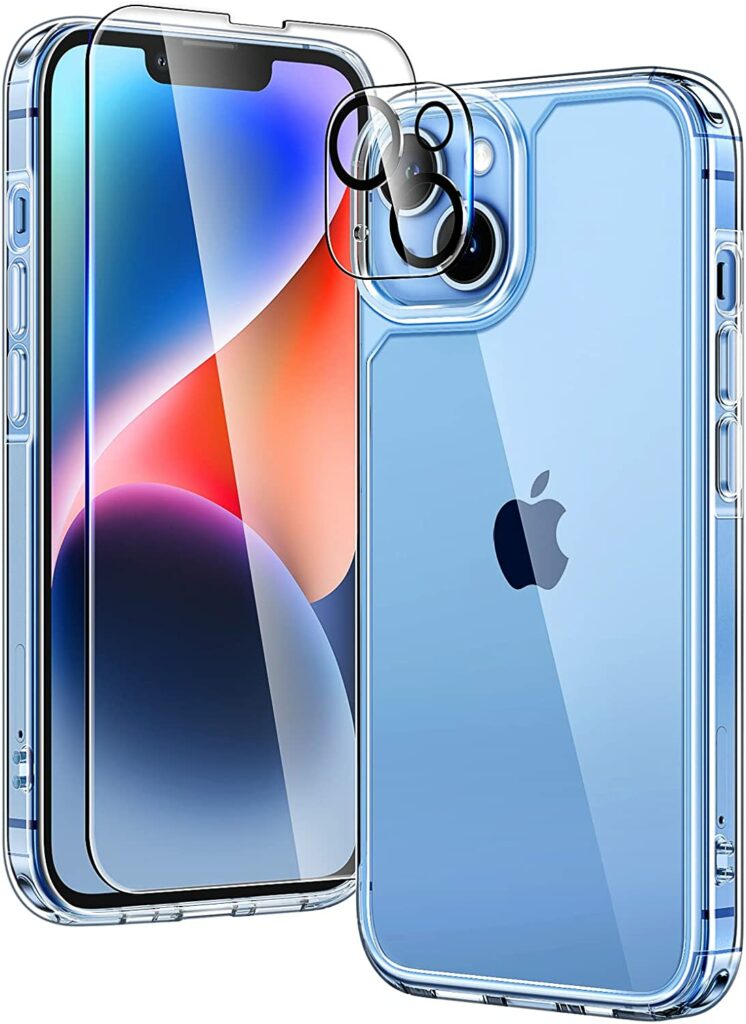 The TAURI phone case kit includes a protective case for the iPhone 14 Plus, two screen protectors, and two lens protectors for the camera. It features 2 pieces of high-quality 9H Tempered Glass that protects your 14 Plus 6.7-inch screen from scratches and breaks while being ultra-thin, comfortable, and sensitive to the touch.
With its built-in cellular drop-proof structure, the new cell phone is certified drop-tested to absorb impact. This new case provides multiple layers of shock protection for your 14 Plus, preventing accidental drops, bumps, and scratches even when dropped from 10 feet.
This case for iPhone 14 Plus uses high-quality German Bayer's ultra-clear TPU material, allowing you to admire your phone's original splendor. Antioxidant nanotechnology effectively resists stains and sweat, doesn't easily become greasy and yellow over time, and exhibits the original color of your phone perfectly.
A TAURI case fits easily into pockets for one-handed operation, while maintaining maximum protection for iPhone 14 Plus 6.7 Inch. The frame of this case is made of processed TPU and has a soft and non-slip feel.
Buy TAURI [5 in 1] Designed for iPhone 14 Plus Case Clear for $15.29 here
4. TORRAS Magnetic iPhone 14 Plus Case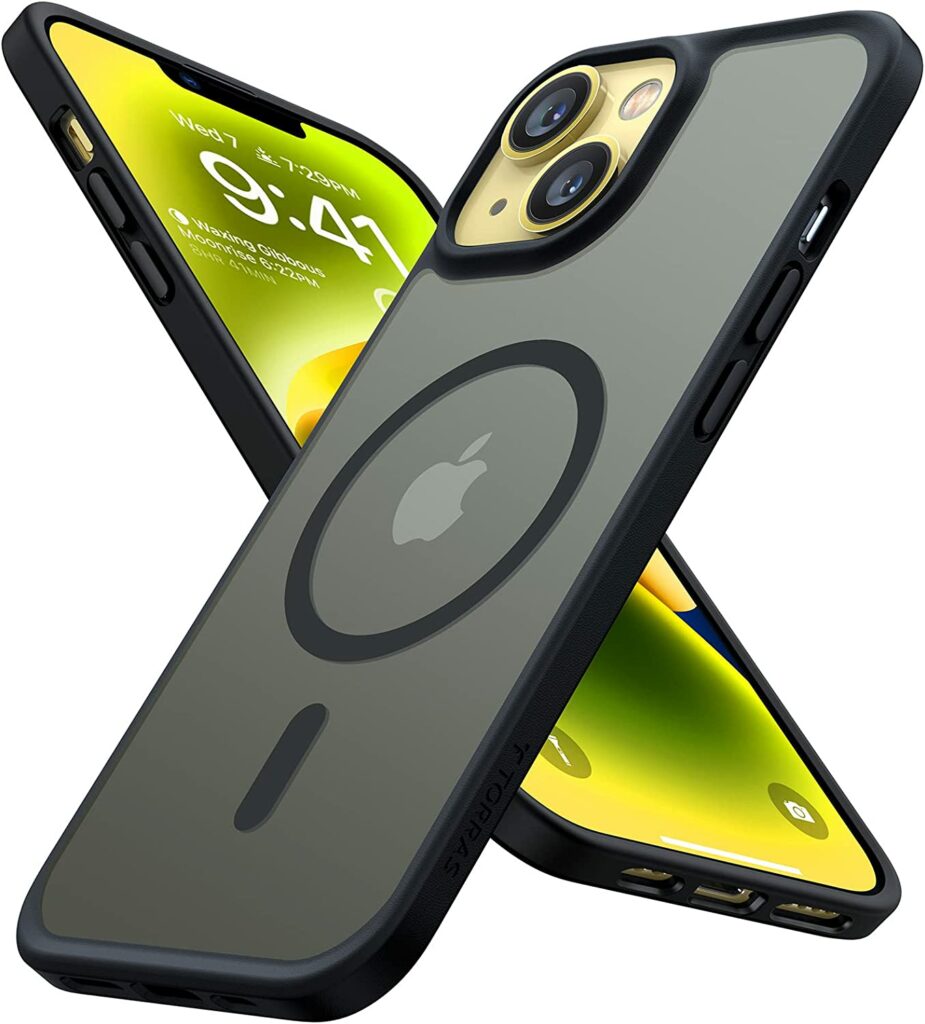 The iPhone 14 Plus case features an upgraded TORRAS-BACH magnetic array that is aligned with MagSafe & other Qi-certified chargers for a secure and fast wireless charging experience. The magnetic connection is four times stronger than an ordinary N52, and it can firmly connect to all MagSafe accessories, such as the MagSafe charger, wallet, battery pack, and car mount. Regardless of its rotation or sway, it won't fall off
With its 4-ply cushioning structure and tough polycarbonate (the same material used in riot shields), this protective iPhone 14 Plus phone case comes with 360°Shockproof Airbags, certified to withstand drops of up to 10 feet. This case also comes with exclusive X-Shock 3.0 Technology on all 4 corners. A camera airbag protects your expensive device from dirt, scratches, and drops with 1.5mm screen lips and 1.2mm camera bezels
Due to its patented Airbag Tech and ergonomic design, the iPhone 14 Plus case is minimally bulky and provides maximum protection. The upgraded Nano Oleophobic Coating prevents fingerprints and scratches, giving it a velvety smooth, silky feel. Moreover, the soft side bumper is constructed using advanced Sliproof materials to provide a comfortable grip for confident handling.
The iPhone 14 Plus case is innovatively designed with independent buttons that are lighter and easier to press than case-built designs, providing clicky touch feedback.
Buy TORRAS 𝟮𝟬𝟮𝟯 𝗡𝗘𝗪 Magnetic iPhone 14 Plus Case for $26.99 here
5. Meifigno Magic Mag Series Designed for iPhone 14 Plus Case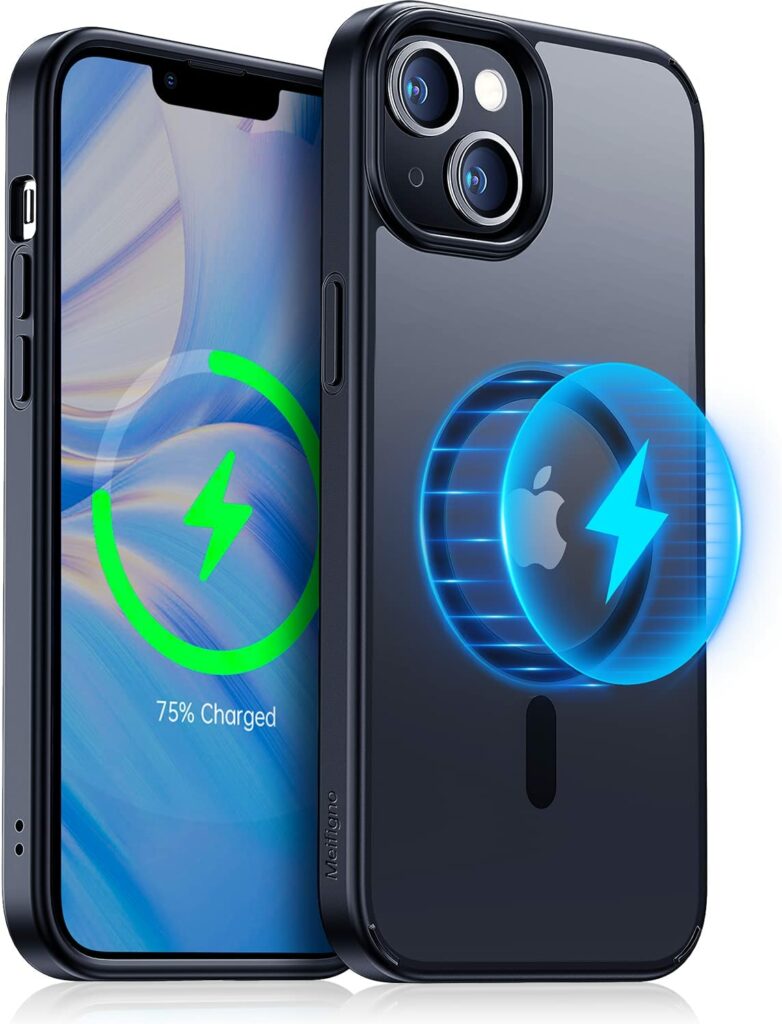 Not only does it provide high-quality protection for your iPhone 14 Plus, but it also enhances the charging speed experience. The magnetic alignment makes wireless charging faster and easier than ever, maintaining 15W high-speed charging and providing a magical attach-and-detach experience.
It comes with 38 magnets that allow it to be compatible with all MagSafe accessories. In addition, it works with third-party Qi-certified wireless chargers. Compared to the original Apple MagSafe case, the magnetism is 10 times stronger. If you want to charge your phone, just put it on the charger without removing the case.
Your iPhone 14 Plus case guarantees that it can survive more than 3000 falls from a height of 10 feet to hard ground when worn. With 2.5mm raised lips for the camera and 1.5mm raised lips for the screen, it can provide excellent protection for your smartphone.
With the skin-friendly Nano Oleophobic Coating, the back feels silky smooth and comfortable. A matte non-glossy material makes this 14 Plus case super anti-scratch and oil-resistant.
Buy Meifigno Magic Mag Series Designed for iPhone 14 Plus Case for $17.97 here
6. Mkeke Designed for iPhone 14 Plus Case Clear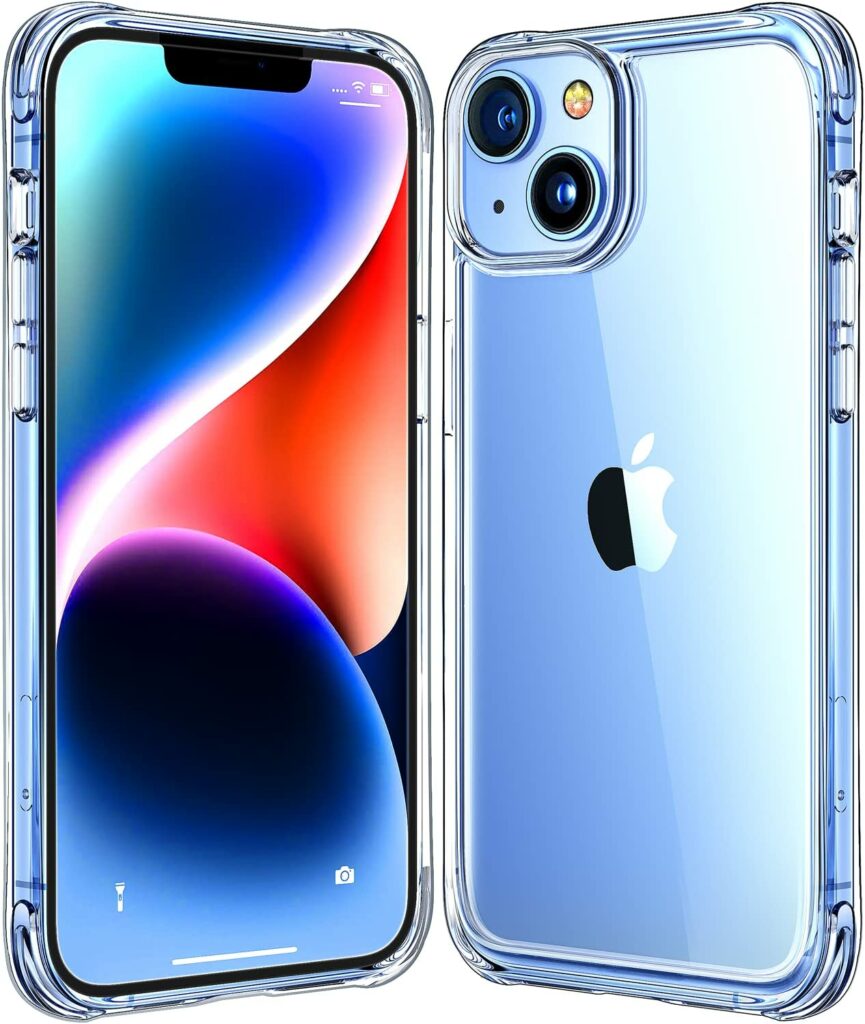 The case is made of high-definition polyurethane and polycarbonate material for iPhone 14 Plus. Interior and exterior surfaces are coated with a scratch-resistant coating. The coatings and materials are all designed to prevent yellowing over time.
The raised bezels prevent drops and scratches from damaging the screen and camera. There are three-millimeter lips over the camera and 1.92-millimeter bezels around the screen, which provide extra comprehensive protection.
The case acts as a bumper for the iPhone 14 Plus and measures 3.3mm thick. The iPhone 14 Plus case is equipped with airbags at the corners to provide solid protection.
It is made of polycarbonate and flexible materials and has a clear finish. As it is slim and slides easily into and out of pockets, the edges provide a firm grip. This is especially helpful when you are making calls, sending text messages, playing games, and taking selfies.
Buy Mkeke Designed for iPhone 14 Plus Case Clear for $16.99 here
7. JETech Case for iPhone 14 Plus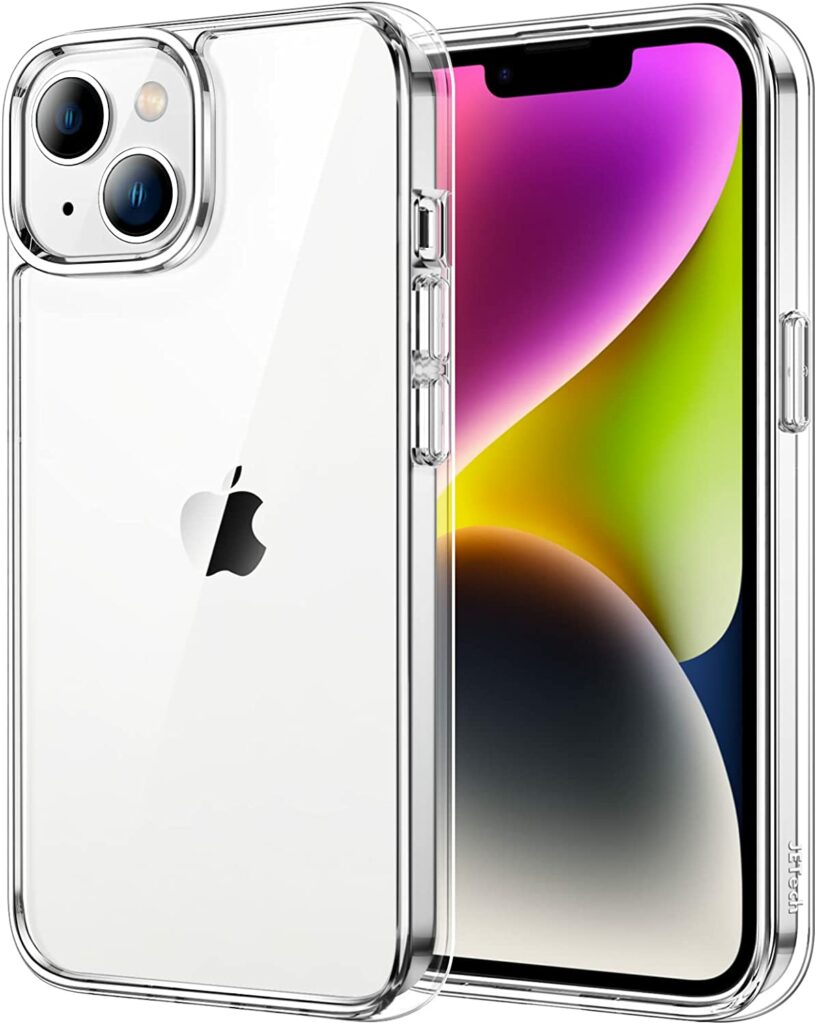 This case perfectly fits your iPhone 14 Plus 6.7-Inch and supports wireless charging.
A thin, lightweight design made of PC and TPU prevents ugly watermarks against the front and back of the phone.
A raised bezel provides extra protection for the screen and camera. A shock-absorbing design features four corners to effectively absorb shocks.
You can easily access all the controls and features because of the precise cutouts for speakers, cameras, and other ports.
It is easy to display your phone's beautiful design and logo with the ultra-transparent and scratch-resistant back of this case.
Buy JETech Case for iPhone 14 Plus for $6.99 here
That's All Folks
All the above-mentioned phone cases are affordable options, provide maximum protection, and support wireless charging.
But we suggest you choose the one that matches your aesthetics and fulfills your preferences.
Until next time.
Which case would you pick? Let us know in the comments section.