One of the worst things that can happen to a Mac user is the sudden loss of data. Most people use their Macs to store some of the most important data. This could include work documents, contact lists of clients, transaction details, or irreplaceable personal data like photos of children, wedding videos, and so on.
Even though data loss has devastating effects on users, the issue is fairly common. We see countless people panicking online looking for solutions that could help them recover their Mac data.
If you are also looking for a powerful data recovery tool for Mac in 2023, then you are in the right place.
In this post, we have featured the top 5 data recovery software for Mac, which enable users to recover their lost files. The best thing about these tools is that they can be used by anyone and do not require the user to have technical knowledge or skills. In fact, most of these tools offer one-click solutions to their users.
Best Data Recovery Software For Mac
So without any further ado let's take a look at the best data recovery software for Mac.
1. Stellar Data Recovery For Mac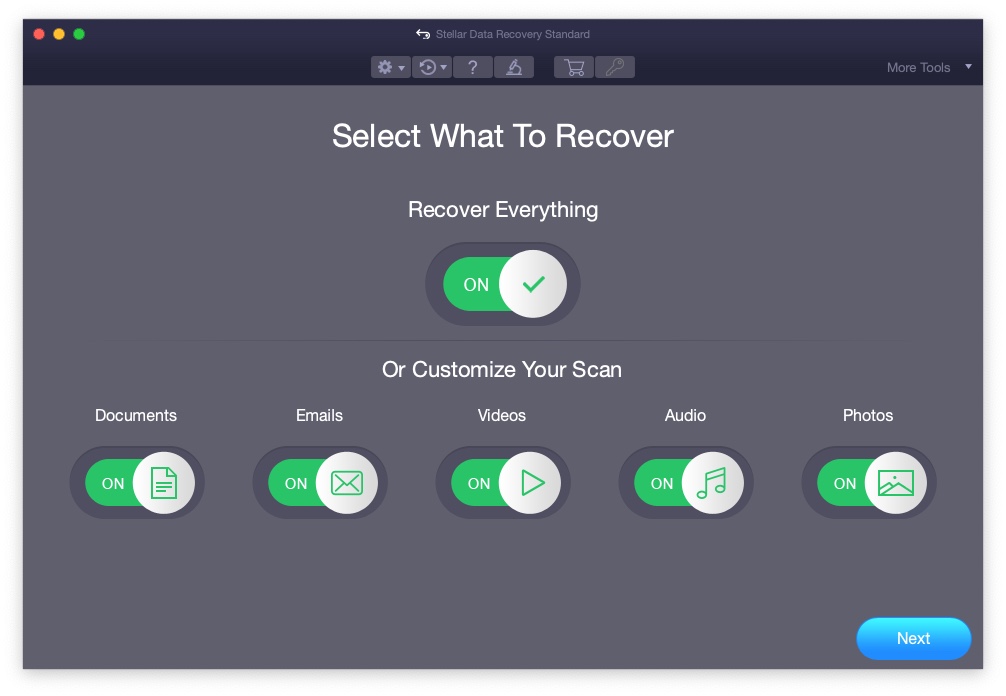 First on our list of best data recovery software is Stellar Data Recovery for Mac. This powerful tool helps users in recovering deleted documents, photos, videos, and more. With support for M1, M2, and T2 chip-equipped Macs it works with the latest macOS Ventura and older.
Stellar Data Recovery software can be used to recover lost data that has been lost due to drive failure, accidental deletion, viruses, etc. In addition to that you can use it to recover data from Fusion Drive, Time Machine, SSD, portable HDD, jump drives, SD cards, and more.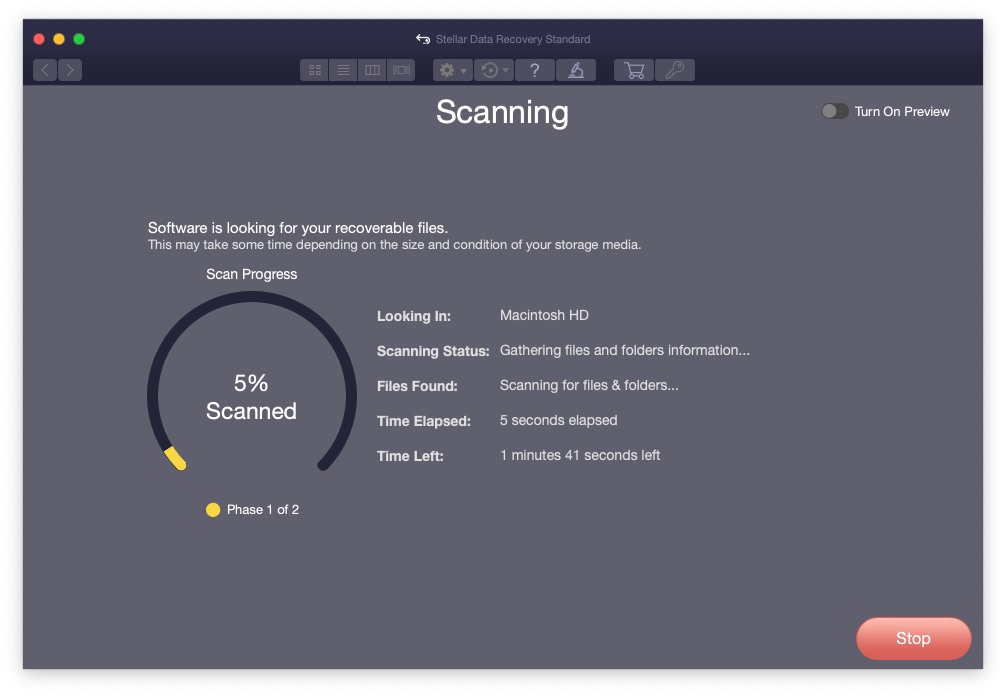 Ever emptied Mac's Trash folder only to realize that you accidentally deleted an important photo or document? Stellar Data Recovery has got you covered, as it lets you quickly get back files that have been deleted even from the Trash folder.
Similarly, you can use this software to recover data from formatted partitions, from a USB drive, and other sources.
A great feature of this software is that it lets you preview your files before recovering them. You can even repair corrupt photos and videos with this tool.
To summarize here are the key features of Stellar Data Recovery tool:
Ability to recover data from different types of hard drives and SSDs.
Data recovery from external memory sources including flash drives, memory cards, and more.
Support for Time Machine and other high-capacity storage devices.
Ability to recover data from format drives, encrypted drives, emptied trash, etc.
Support for a wide range of disk formats including APFS, HFS, HFS+, and more.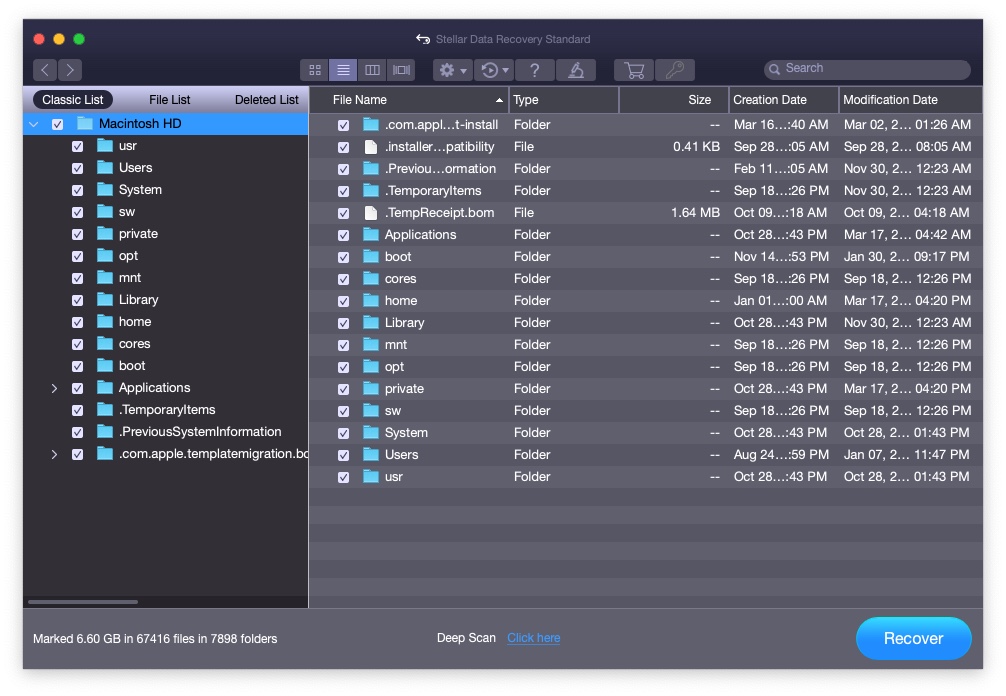 You can download Stellar Data Recovery tool for free from the official website here. The best thing about Stellar Data Recovery is that you can download it for absolutely free and use it to recover different types of files without buying a license. You can recover up to 1GB of data without activation.
You can buy the full license for the standard version of the tool for $69.99 while the Professional edition is available for $89.99. The tool also has Premium edition and Technician edition, which are available for $99.99 and $149.99 respectively.
2. Data Rescue 6 For Mac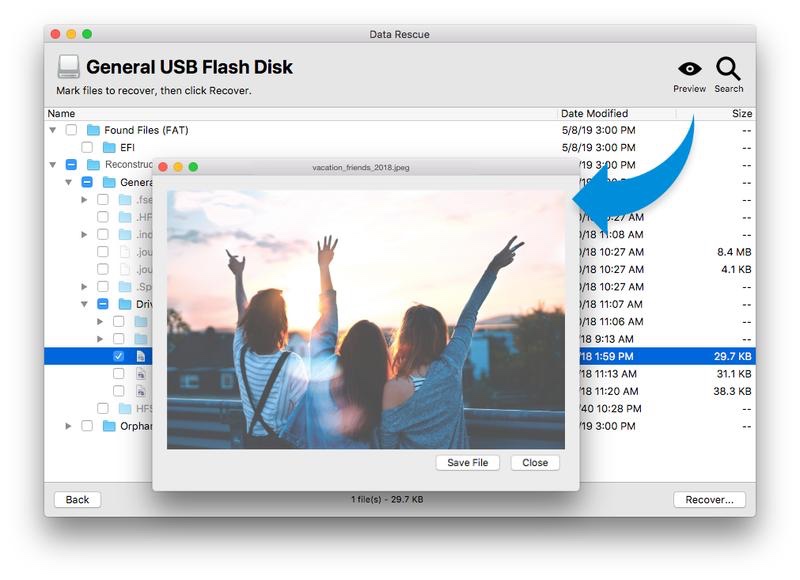 For someone going through a situation in which their important files have been deleted accidentally or lost, Data Rescue 6 for Mac can be of instant help. With Data Rescue 6 you can perform both quick and deep scans on your Mac's hard drives.
A quick scan will enable you to recover files that are stored on your drives but are not accessible for some reason. A deep scan is helpful for recovering data that has been accidentally deleted or lost as a result of a drive reformat.
A great thing about Data Rescue 6 is that it allows users to scan their drives and find recoverable data with only the demo version of the software. This helps users in previewing their recoverable files before even purchasing the tool. After purchasing a license users can start recovering files.
You can download Data Rescue 6 tool from the tool's official website. A full license of this software costs $19.
3. DM Disk Editor and Data Recovery
DM Disk Editor or DMDE is a powerful tool that can be used to search for lost data and recover it. The tool uses special algorithms in order to recover user data and can also be used as a partition manager.
DMDE supports a wide range of disk formats and can be used to search for all types of files. A great thing about it is it allows users to find data without performing a full disk scan in case the user is experiencing minor filesystem damage. This can help in saving user's time.
Other features of the DMDE include support for both Mac and Windows, RAID Constructor feature, Disk Editor, Disk Clone, NTFS Utilities, and more.
You can download DMDE from the tool's official website here. DMDE has a free version while the Pro version of the tool can be bought for as low as $20.
4. RecoverIt Data Recovery For Mac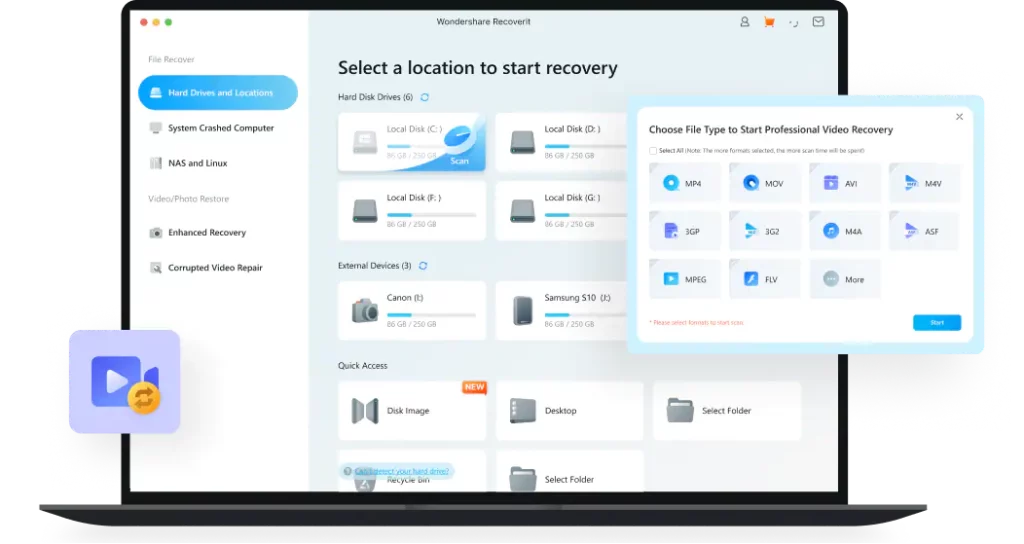 The RecoverIt Data Recovery tool for Mac prides itself on its ability to recover data deleted as a result of accidents, formatting, corruption, emptied trash bins, and more.
With RecoverIt Data Recovery software you can recover over 1000 types of files that include various formats of documents and office files, photos, videos, audio, and more. It is capable of recovering this data from internal and external hard drives, USB flash drives, SD cards, and more.
Using RecoverIt Data Recovery tool is very easy. Just launch the tool and select the drive you want to recover data from, and let the tool scan the drive. After the drive has been successfully scanned, you can preview data and selectively recover files that you want to recover.
You can download a free trial of this software on your Mac and try out its various features. A full license of this tool will cost you $79.99 and above depending on the feature set you want.
5. Disk Drill For Mac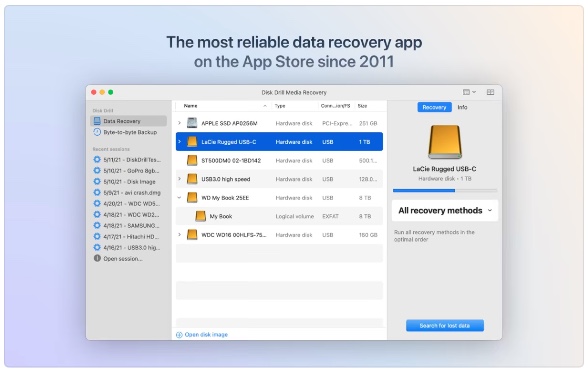 If you are looking for an easy-to-use Mac data recovery software in 2023, then Disk Drill for Mac is definitely a tool that you need to try. This tool gives users the ability to recover their lost data with ease thanks to its user-friendly interface.
Disk Drill For Mac lets you recover data from a variety of disks including internal Mac drives, external hard drives, SD cards, USB thumb drives, RAID arrays as well as Time Machine backups. The tool features support for all file systems you can think of including NTFS/NTFS5, HFS/HFS+, FAT16/FAT32, ReFS, APFS, and more. On top of all that you can also use this software to restore data from iOS and Android.
If you are a photographer or videographer, you can take advantage of Disk Drill's ability to recover RAW file format. You can also recover hundreds of other file formats with this tool.
You can download Disk Drill For Mac from the Mac App Store here for $39.99.
There you have it folks, these are some of the best data recovery software in 2023, which can enable you to recover lost data on your Mac.