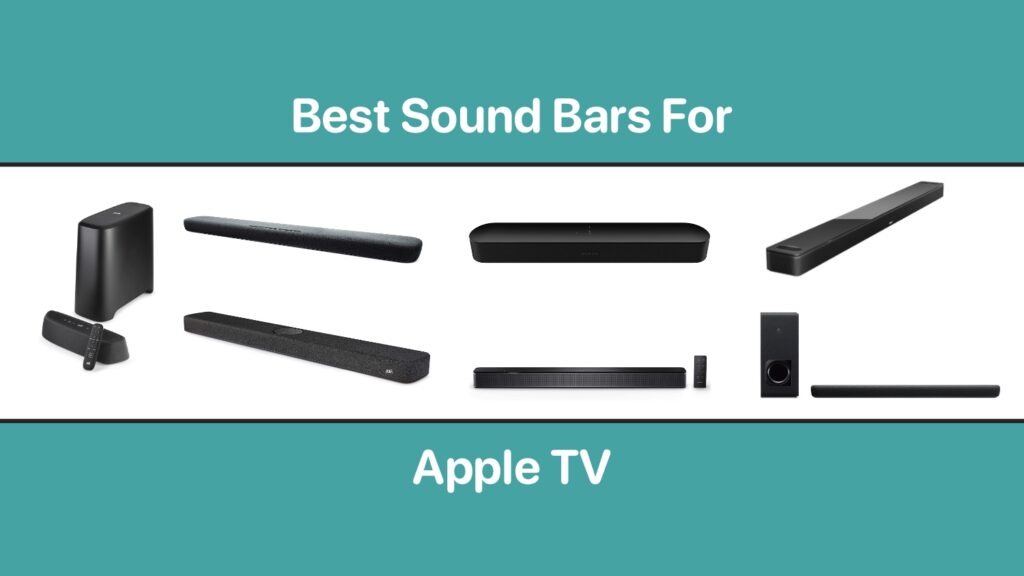 Looking for the best soundbar in 2022 for your home theater setup? Then look no further than the soundbar that we have featured in this article.
These amazing soundbars are great for any TV setup and are recommended for anyone looking to spice up his or her Apple TV setup at home or office.
This article features some great sound bars from the likes of Bose, Yamaha, Sonos, Polk and others.
So without any further delay, take a look at the best soundbars that you can buy in 2022.
Best Soundbars For 2022
Here's our list of best soundbars that you can buy in 2022. These soundbars are great and can be used with Apple TV.
1. Yamaha Audio YAS-209BL

Yamaha has one of the best soundbars for Apple TV that you wouldn't want to miss out on! Now you can get cinema sound for your movies, songs, and games in a compact setup.
Its built-in Alexa voice control allows you to manage your soundbar easily from distance. Its wireless woofer can turn your lounge into a home theatre. And if you want sound clarity, there is no comparison to it! 
You can also control your Fire TV via a soundbar. Simply, ask Alexa to play movies, songs, or your favorite TV show. 
You can buy the Yamaha Audio YAS-209BL Soundbar for $349.95 at the link below.
2. Bose Smart Soundbar 900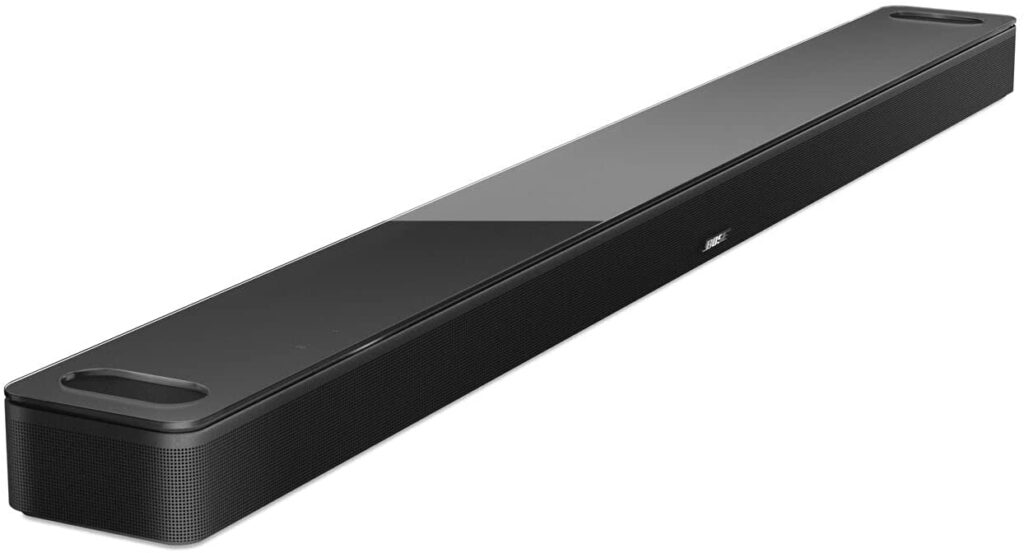 Bose has one of the best Dolby Atmos soundbars bringing a cinematic experience to your home! Its custom-engineered high-sound speakers fill your room with sound from all directions.
If your content lives in different places, this smart soundbar finds them using Wi-Fi, Apple AirPlay, Spotify Connect, Bluetooth, and more. Just stream your content on your device, and hear it through Bose soundbar. 
You can connect this smart Soundbar 900 to any TV through its single connection feature. You can also download the Bose Music App in order to set up a Bluetooth Soundbar speaker.
Moreover, use the Bose app to set up Voice4Video to browse all your music in one place.  If you have more Bose products, you can group them together and control them from a single app.
The Bose Smart Soundbar 900 is available for $899 at the link below.
3. Bose Soundbar 300

If you are looking for an everyday smart sound solution, grab Bose Soundbar 300. It gives chilling clarity with spacious sound and rich bass for your favorite songs, movies, and games.
Its sleek body with built-In voice assistant along with Voice4Video makes it one of the best soundbars in 2022. 
Its Vocie4Video feature works like saying it and watching it with no several steps to command it. Be it your private listening or a party, you can use it both ways.
Simply, pair Bose headphones or Bluetooth speakers and play them just according to your needs. In order to use it, just connect it to the TV, connect it to power and turn it on.
Using the Bose Music app, connect to your Wi-Fi, select the voice assistant, and get access to software updates. 
You can buy the Bose Smart Soundbar 300 for $449 at the link below.
4. Sonos Beam Sound Bar

 This smart soundbar by Sonos is compact, stylish, and practical. Its high-definition sound, rich bass, and sheer clarity make it the best soundbar for Apple TV.
You can do more than just listen to music. Play podcasts, listen to the radio, audiobooks, video games, and much more. 
You can control its functions with your voice, using the Sonos app. Unlike its other competitors, you can record videos along with listening to music. 
You can buy the Sonos Beam Soundbar for $522.81 at the link below.
5. Polk Audio React Sound Bar

This low-profile soundbar with detailed 3D surround sound is sleek yet powerful bringing tour the best sound out of your TV.
It's Alexa integration allows you to play the same music across your entire home or even different music on each device through complete voice-control compatibility.
It's calling and messaging feature, which makes it one of the best soundbars in 2022. 
Its voice adjust technology automatically adjusts the voice levels to make every word and dialogue clear and crispy.
You can control the sound for each content type such as movie, music, or even night mode. Moreover, in order to stream unlimited music, simply connect your device and enjoy the music.
You can buy the Polk Audio React Soundbar at the price of $249.99 at the link below.
6. Yamaha YAS-109 Soundbar

This Alexa-enabled soundbar by Yamaha is easy to set up using HDMI or optical connections. Its built-in subwoofers deliver theater-like sound with crystal clear dialogues.
This best soundbar for Apple TV enables you to listen to the news, and music, set alarms, ask questions, or even control other smart devices at home.
Moreover, you can also listen to podcasts, audiobooks, and much more using Wi-Fi or Bluetooth.
You can buy the Yamaha YAS-109 Soundbar for $219.95 at the link below.
7. Polk MagniFi Mini Sound Bar

Polk MagniFi Mini soundbar is the best Dolby Atmos soundbar that delivers powerful sound using SDA technology and an advanced five-speaker array.
This soundbar is Dolby Atmos-certified device that never disappoints when it comes to a cinematic sound for your home.
This wireless home entertainment works well on your smartphone, tablet, or computer via Wi-Fi, Bluetooth, Chromecast, AirPlay 2, and Spotify Connect. 
Its patented VoiceAdjust speech clarifying technology and MagniFi's integrated center channel speaker increases the voice levels without compromising the quality of a soundtrack.
Moreover, it keeps the dialogues balanced and clear giving you an unforgettable audio experience!
You can buy the Polk MagniFi Mini AX Soundbar for $499 at the link below.
Which of the above-mentioned best soundbars in 2022 do you like the most? Share with us in the comments below.
For more Apple-compatible devices and accessories stay tuned to iOSHacker.com. 
More Accessories To Check Out