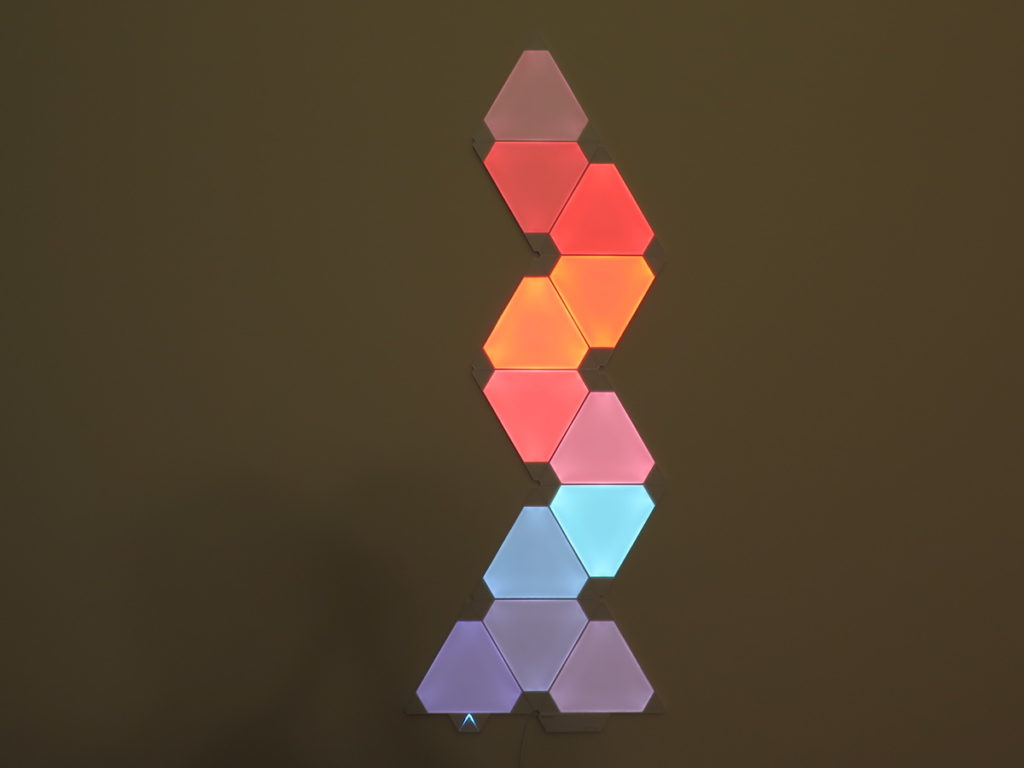 If you haven't already heard of them, Nanoleaf Light Panels are super cool modular triangles that you can arrange on your wall. You can then use your phone to control the color of them and play color animations. They're really amazing, giving off some pretty bright light, and immediately changing the ambiance of the room. More recently, Nanoleaf released an accessory for the Light Panels called the Rhythm Module. With this small attachment, your Nanoleaf Light Panels can respond to music and sound with dazzling light shows!
You can get the Rhythm Module in two ways, either by buying it in a starter kit with the Nanoleaf Light Panels or just as a standalone product if you already own the Light Panels. Physically, there isn't much to the Rhythm Module. It's a small attachment in the shape of half a hexagon, with a triangle on the front that lights up when in use.
On the side is an Auxiliary port if you want to plug in your music directly. The Rhythm has a built-in microphone to respond to music if you don't want to plug a cord into the Rhythm. At first, I thought that the lag would be too noticeable to rely solely on the microphone, but I was impressed with how quickly it responded via the microphone, that I haven't used the Auxiliary port once.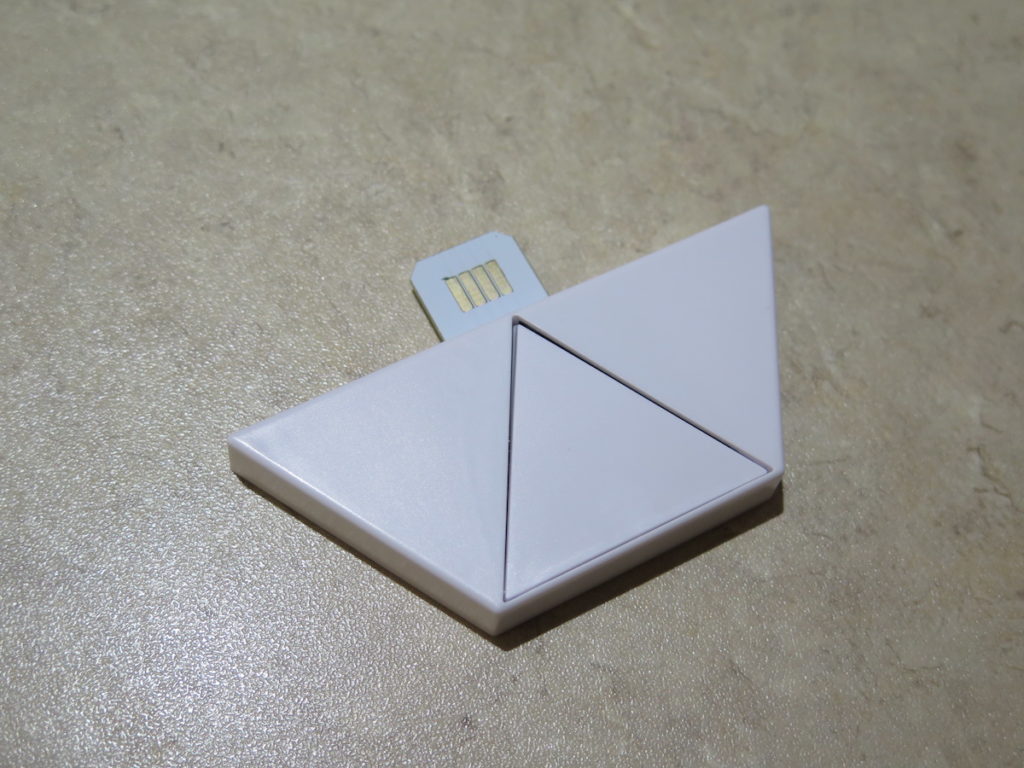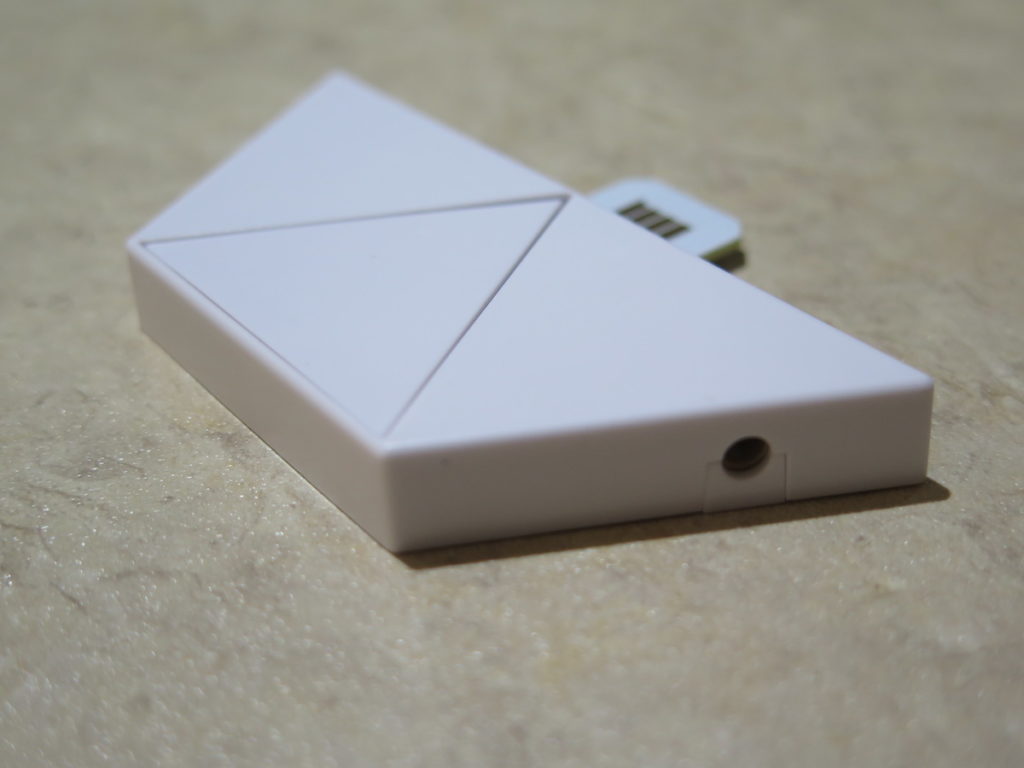 To set up the Rhythm, all you have to do is connect it into one of the many ports available on a Light Panel. Doing this automatically unlocks a new section in the Nanoleaf app. You can select from new Rhythm patterns that are designed specifically for the Rhythm and that respond to sound. There are a total of 9 different Rhythm patterns. Nanoleaf has a video demoing each one of them, which I've embedded below.
Here's my description of how each one works:
Fireworks: A few singular panels will light up, followed by many of the surrounding panels also lighting up, creating an explosion effect.
Meteor Shower: A small trail of color flows across the panels. More color trails are created to go along with the beat of the music.
Paint Splatter: The title of this one is a pretty accurate fit. Imagine flicking a gob of paint onto a canvas. A panel brightens up with color, with the surrounding panels lighting up with the same color, but at a dimmer level. The louder the sound, the larger the area it covers.
Pulse Pop Beats: The panels pulse through different colors, and some of them brighten up more than others, depending on the sound.
Rhythmic Northen Lights: Similar to the Meteor Shower effect, but more subtle. A bright streak of light flows through the panels and slowly fades away. More steaks of different color lights are created as the music plays.
Ripple: A random panel is the start of a ripple that goes through all the light panels in both directions. Some of the color is maintained, even if there is no music.
Sound Bar: This one is easy. There are two colors. One is the background, and the second color takes over the first as the sound gets louder. The colors can also change periodically.
Streaking Notes: Little streaks of colors come and go, generally from the center and the edges of the panels.
Lightning (Referred to as "Thunder" in the video): Kind of light paint splatter, but the colors around the main Light Panel are much dimmer, and it covers a lot more panels.
The effects are great, but what makes it really special is how you can customize your own colors to go with the effects and share them with others. You can select the palette of colors that you want to be used and the pattern, and you can also save your selection as a scene, so with a single tap or a request to Siri, your Light Panels will adjust to your personal scene. You can also share them with other Nanoleaf Light Panel owners, and download theirs, so if you aren't feeling too creative, you can just download a scene that someone else has made. You can even modify ones you download, so if you like certain colors of one custom scene, but don't like the Rhythm pattern they chose, you can change it!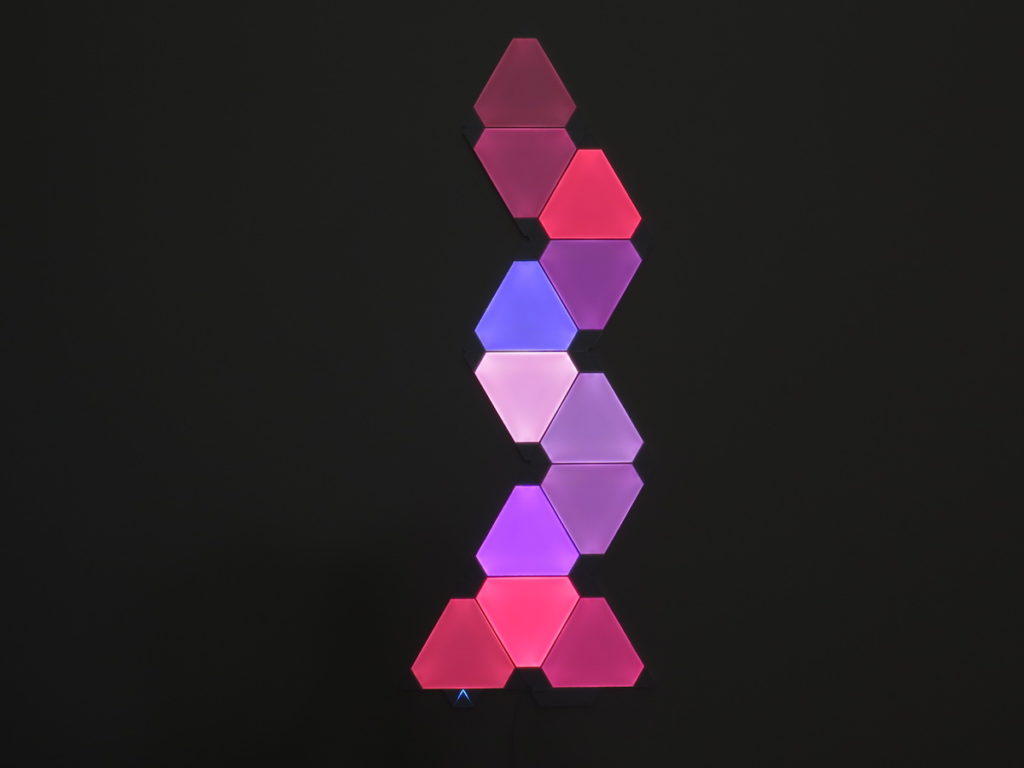 Overall, the Rhythm is a great addition to the Nanoleaf Light Panels. It makes the Light Panels more useful, and great for things like a party, music room, or just relaxing. It's great the amount of customization that it offers, and it's a must-have if you already own the Nanoleaf Light Panels and want to get some more use out of them. And the Rhythm module is only bound to get better in the future via software updates.
The Nanoleaf Aurora Rhythm Module retails for $49.99, while a Nanoleaf Light Panels Smarter Kit – Rhythm Edition for $229.99. If you're interested in buying one, we have a special link that'll allow you to save either $10 or 5% off your order! Click on the appropriate link down below according to where you link to have your special coupon code generated.
What do you think of the Nanoleaf Light Panels and Rhythm Module? Do you think you'll buy one? What's your favorite HomeKit product? Let us know in the comments down below!