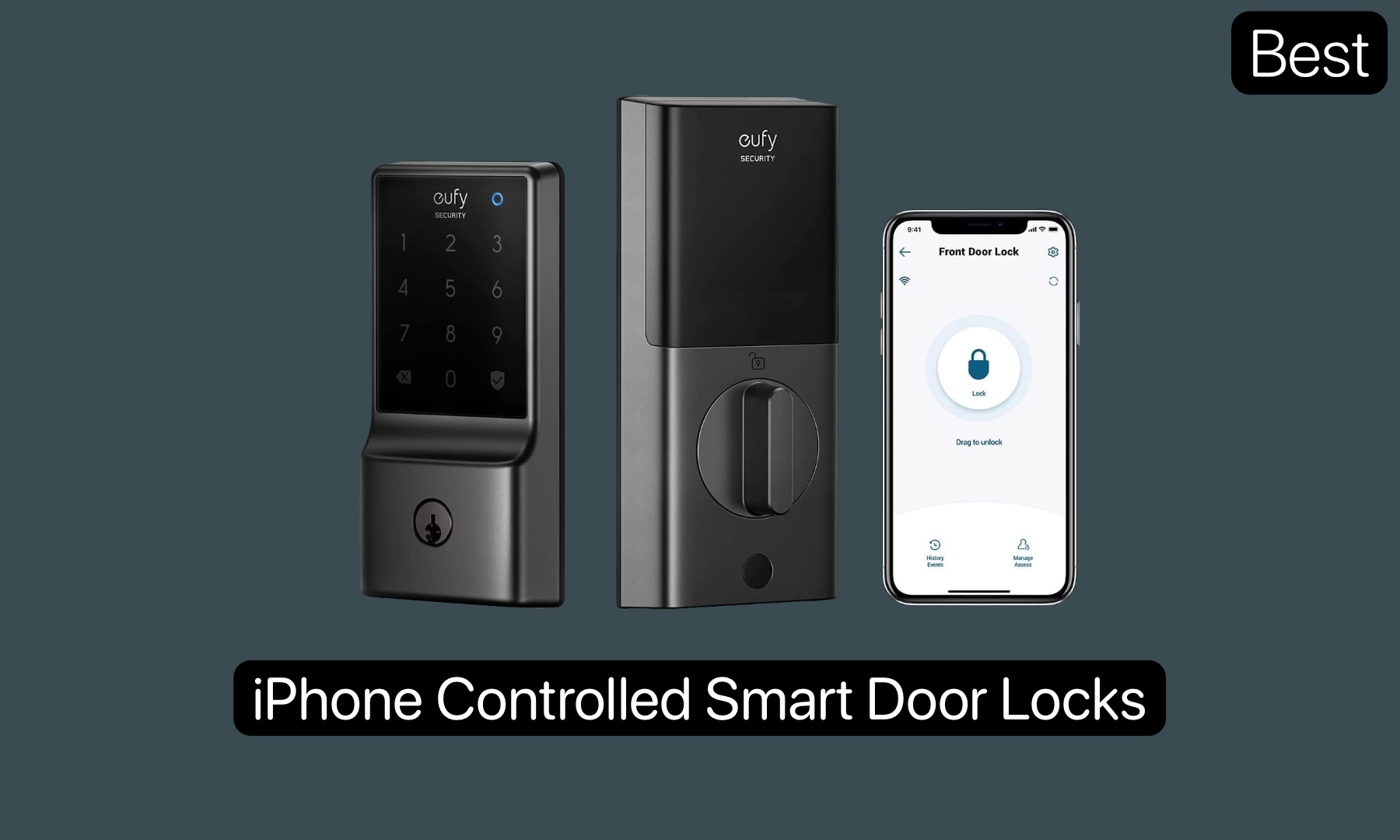 Here you will find a list of the best iPhone-controlled Smart Door Locks For iPhone. These locks enable users to easily unlock their doors with the help of their iPhone.
Welcome to the future of home security! In 2023, the integration of cutting-edge technology and home automation has reached new heights, transforming how we protect and access our living spaces. 
In this article, we present the "10 Best smart door locks for iPhone in 2023," a comprehensive guide to the most innovative and secure door-locking solutions available.
From seamless remote access to advanced biometric authentication, these smart door locks provide unparalleled convenience and elevate your home's security to a whole new level. Whether you are a tech enthusiast, a busy professional, or simply seeking peace of mind, these best door locks for iPhone are set to redefine how you interact with your home's entry points, all from the palm of your hand using your iPhone.
1. eufy Security Smart Lock C210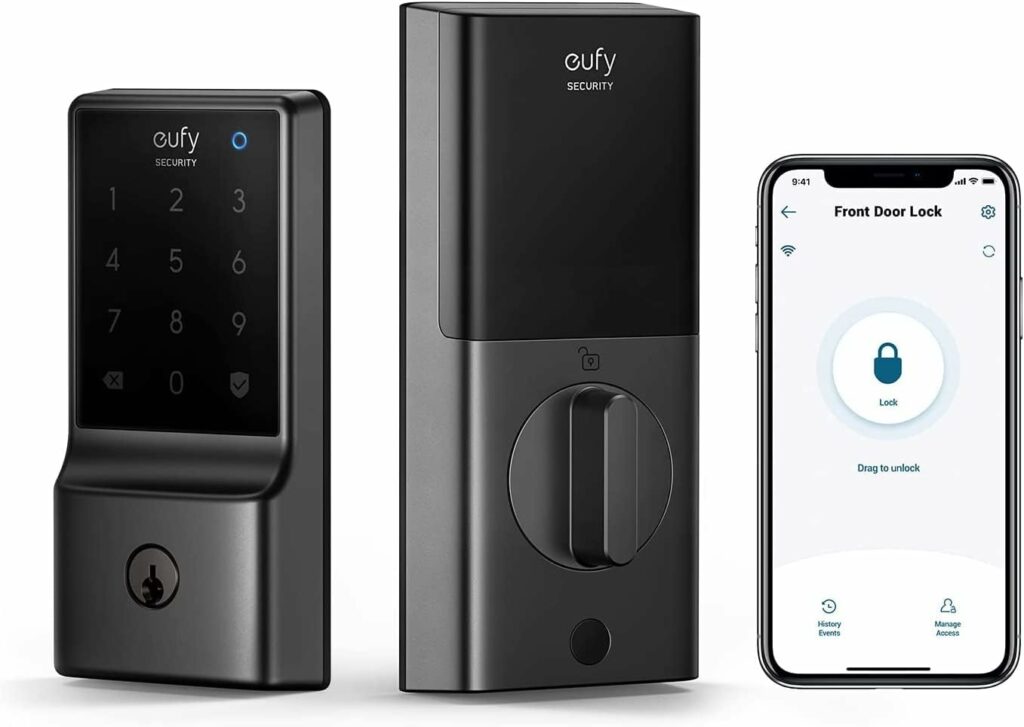 eufy Security Smart Lock C210 is your ultimate solution for seamless remote control and enhanced security. With its built-in Wi-Fi feature, there's no need for any bridge, allowing you to experience true convenience with remote management through the eufy Security app. From anywhere, you can effortlessly grant access, receive real-time notifications, and access a comprehensive event history, all thanks to its easy setup process.
Enjoy unparalleled flexibility when unlocking your door through the eufy Security app, the user-friendly keypad, or the traditional physical key. For added convenience, the smart lock seamlessly integrates with your Apple Watch and offers hands-free control through voice commands via Alexa or Google Voice Assistant.
You can rest easy knowing that the eufy Security Smart Lock C210 boasts the highest level of security with its BHMA Certification, attesting to its exceptional durability and reliability with over 100,000 successful lock and unlock cycles.
Buy eufy Security Smart Lock C210 for $99.99 here.
2. Yale Assure Lock 2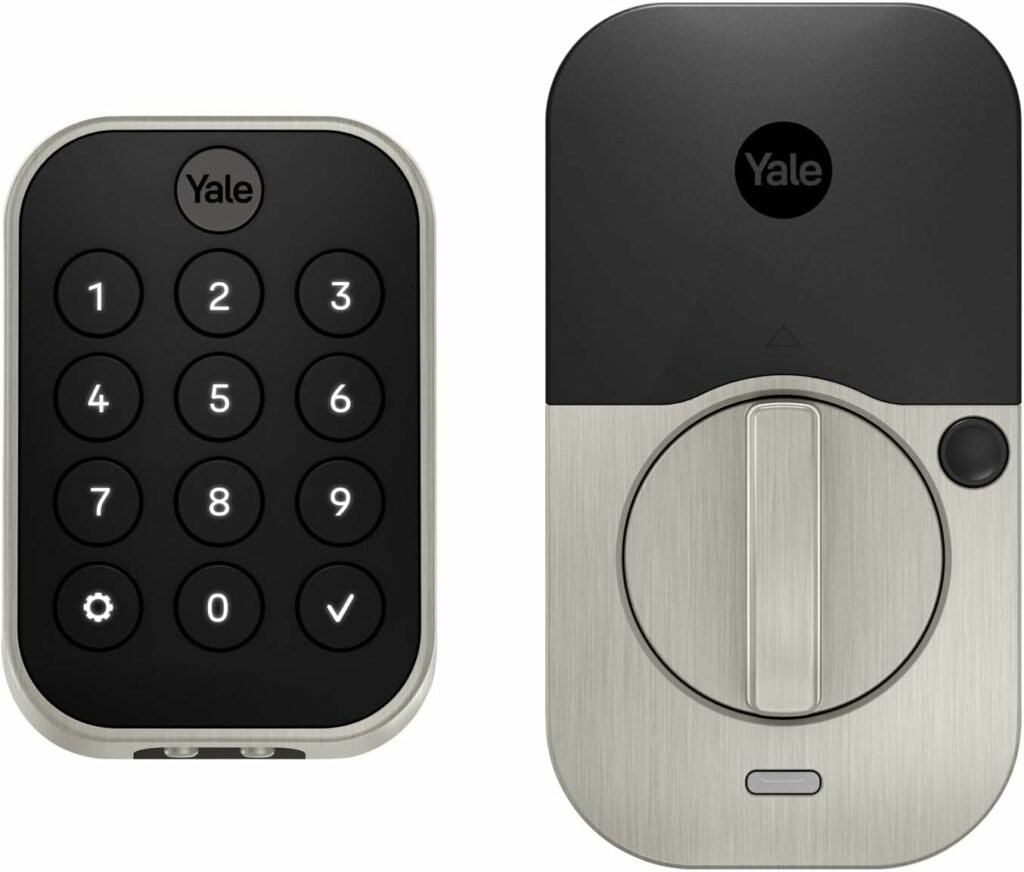 Embrace the future of smart home security with the Yale Assure Lock 2, simplifying your life while keeping your home safe and secure.
Let the Yale Assure Lock 2 take care of your door with the optional Auto-Unlock feature, ensuring swift access upon your return. No more fumbling for keys or worrying about locking the door, as the Auto-Lock functionality handles it all for you.
Share personalized entry codes with your loved ones and service providers, eliminating the need for hidden keys and enhancing security.
Buy Yale Assure Lock 2 for $129.99 here.
3. NICE DIGI Smart Door Lock with Handle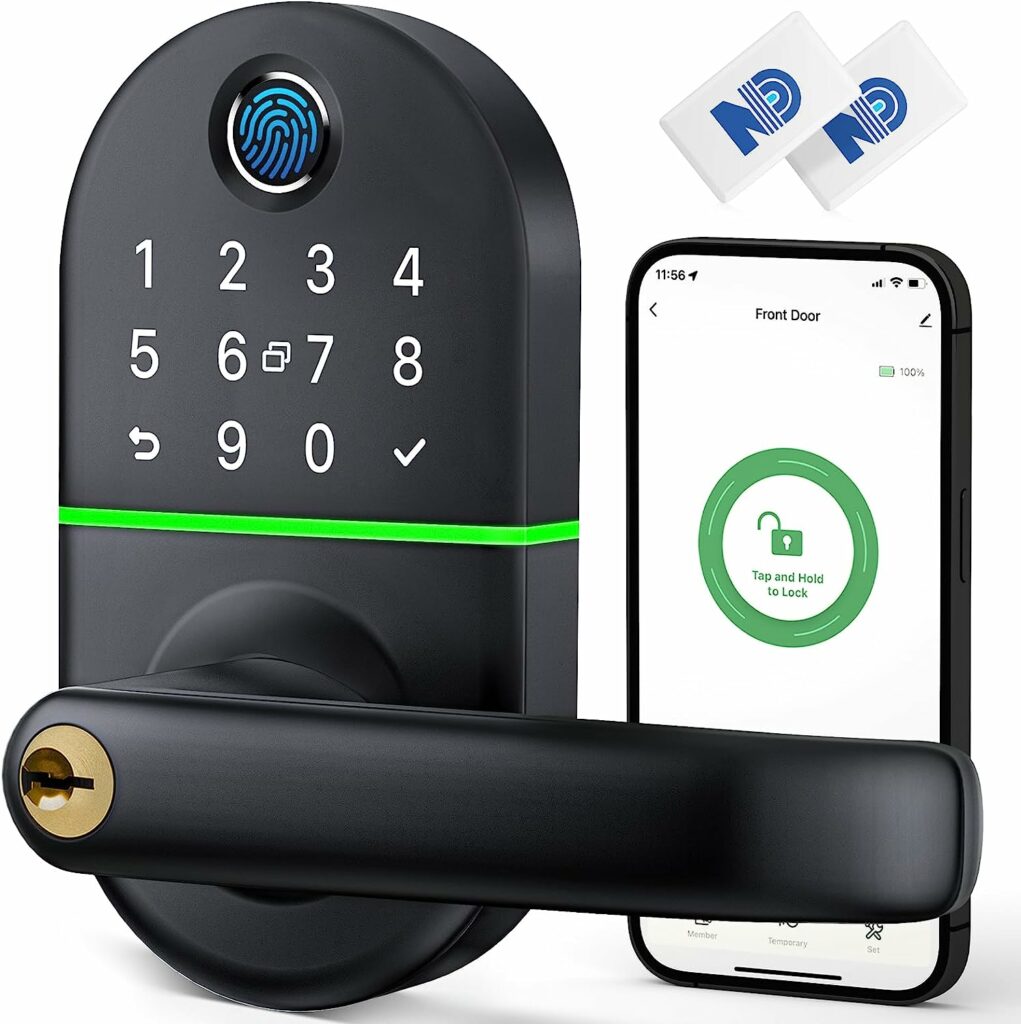 Unlock your door effortlessly using multiple methods: fingerprints, the intuitive mobile app, secure codes, key fobs, traditional mechanical keys, and even Alexa voice commands when paired with a Wi-Fi Gateway (required).
Installing this one of the best iPhone-controlled door locks is a breeze. It seamlessly fits most American home front wooden doors, and you can quickly replace the handle, knob, or deadbolt of your existing lock set using just a screwdriver. The reversible handle design caters to left- and right-handed doors, ensuring compatibility with any door configuration.
You can grant permanent or time-limited unlock access to your family members, providing peace of mind and convenience. For visitors, generate one-time passcodes remotely through the app while you're away. The app also serves as a centralized hub, allowing you to manage multiple smart locks from a single interface.
Buy NICE DIGI Smart Door Lock with Handle for $79.99 here.
4. Hornbill Smart Lock Keyless Entry Deadbolt Door Locks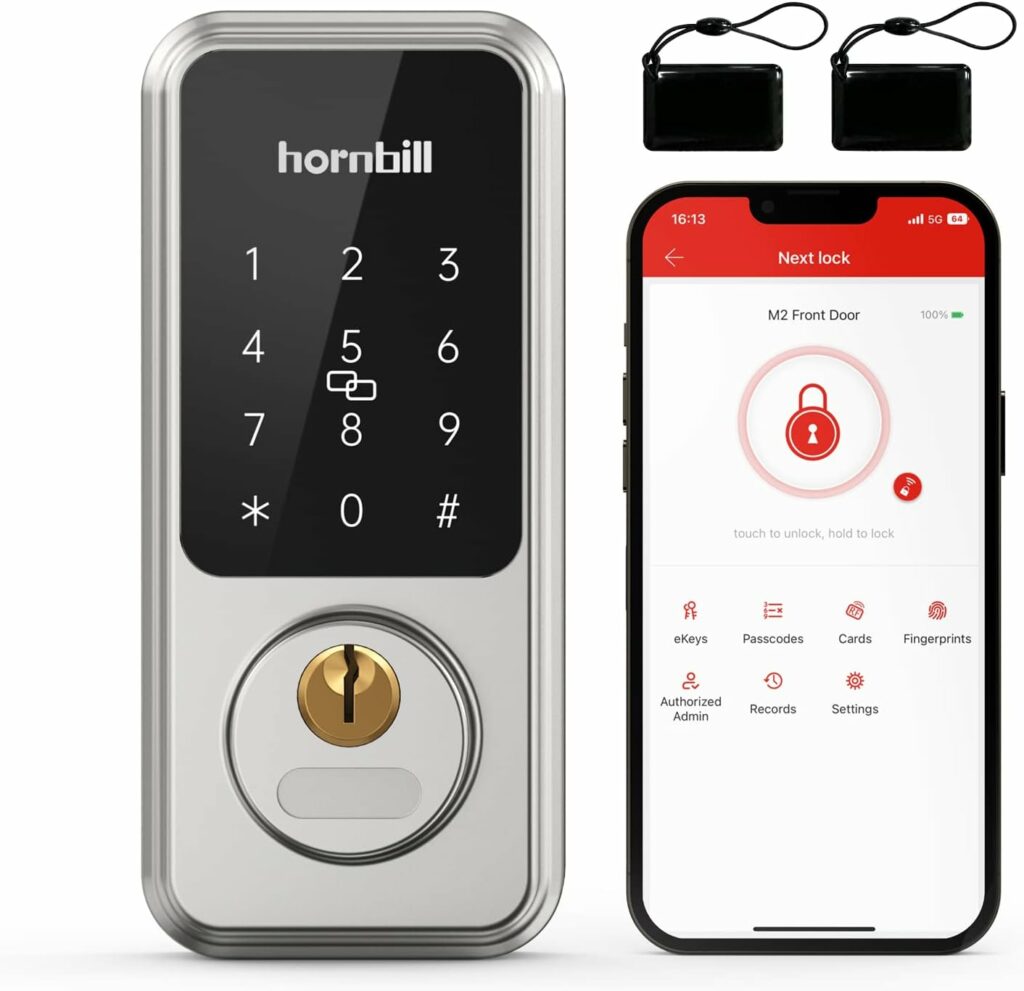 Feel empowered by the ability to monitor who enters and exits your home, giving you peace of mind. Grant access for specific periods – weeks, hours, or even minutes – and effortlessly revoke access when needed. Say goodbye to worries about lost or copied keys, as this smart lock system provides a secure alternative.
Convenience meets safety with the auto-lock feature that activates as you leave, ensuring your home remains protected. In case of multiple incorrect passcode attempts, the smart lock automatically triggers a temporary lockout for added security.
Stay informed about the status of your smart lock with timely battery replacement reminders, and rest assured knowing that the latest anti-peep technology safeguards your entries.
Buy Hornbill Smart Lock Keyless Entry Deadbolt Door Locks for $94.99 here.
5. Veise Smart Lock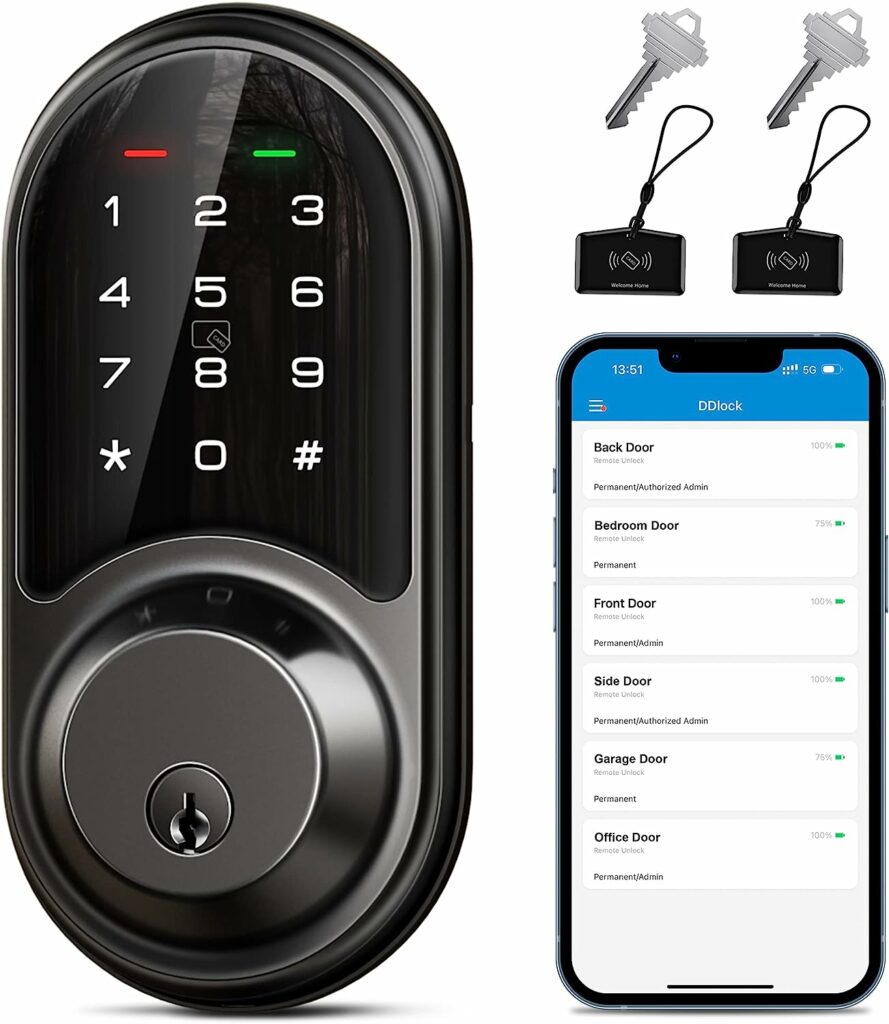 With the Veise Smart lock that can be opened with iPhone, you gain complete control through the user-friendly mobile app. Set and manage passwords, authorize family members, guests, or tenants with eKeys, and keep track of access logs – all at your fingertips.
You can remotely generate and share permanent, timed, one-time, or recurring passwords, ensuring hassle-free entry for your guests.
Connect your Veise Smart Lock to the Veise gateway G2, and you unlock a world of possibilities. Enjoy remote access, real-time access logs, and seamless integration with Alexa and Google Assistant. Checking the status of your door lock has never been easier.
Buy Veise Smart Lock for $79.99 here.
6. ELAMOR Keyless Entry Door Lock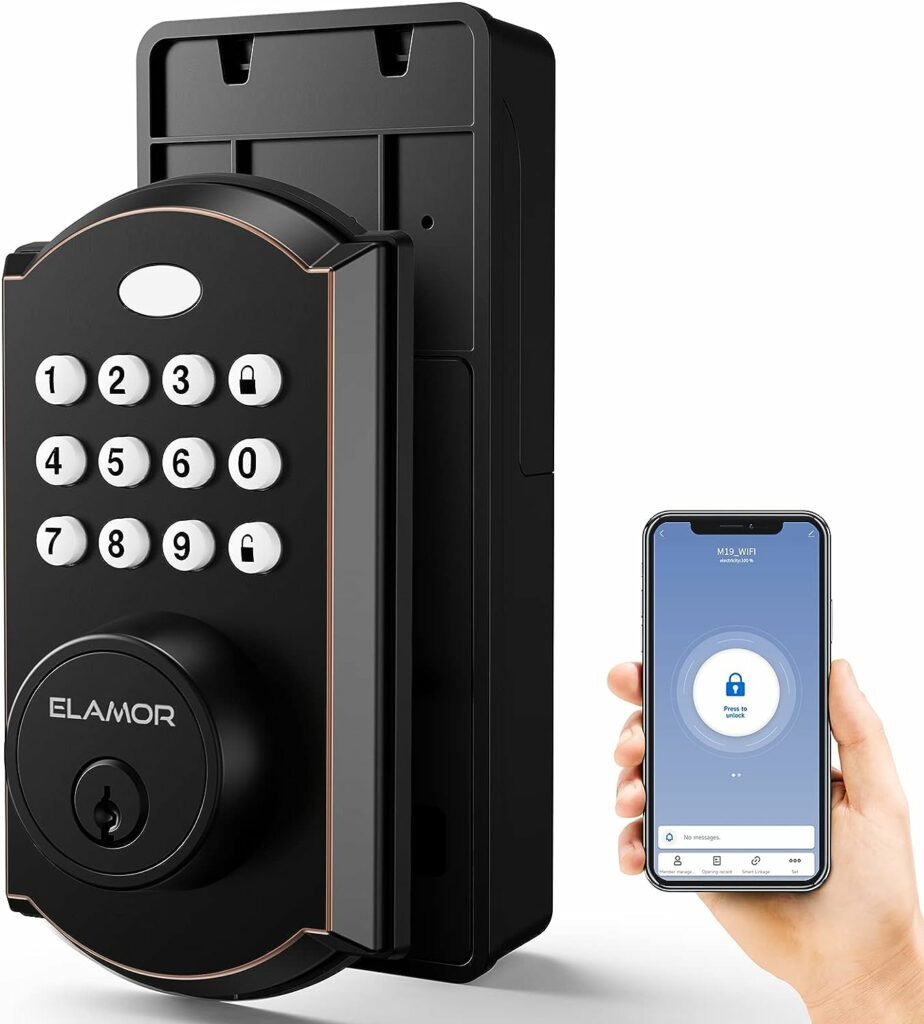 The ELAMOR keyless entry lock with app grants you complete control from anywhere, thanks to its built-in 2.4G Wi-Fi connect bridge, rendering an additional gateway unnecessary. Unlock your door, share Ekeys, review access logs, and manage users remotely. Share permanent, temporary, or scheduled access with friends and family without resorting to hiding keys under the doormat.
The keyless door lock has an integrated Wi-Fi bridge that seamlessly connects to your Voice Assistant without requiring an extra gateway. Connect your lock to your favorite voice assistant or smart home system and experience enhanced security.
Designed with durability in mind, the ELAMOR smart door lock boasts a sturdy zinc alloy and stainless steel frame, tested to endure the daily comings and goings of a bustling household for over three decades. Rest assured, with the secure lock cylinder and upgraded chip, guarding your home against potential hackers. Moreover, the IP54 rating ensures your front door remains protected come rain or shine.
Buy ELAMOR Keyless Entry Door Lock for $86.99 here.
7. ULTRALOQ U-Bolt 5-in-1 Keyless Entry Door Lock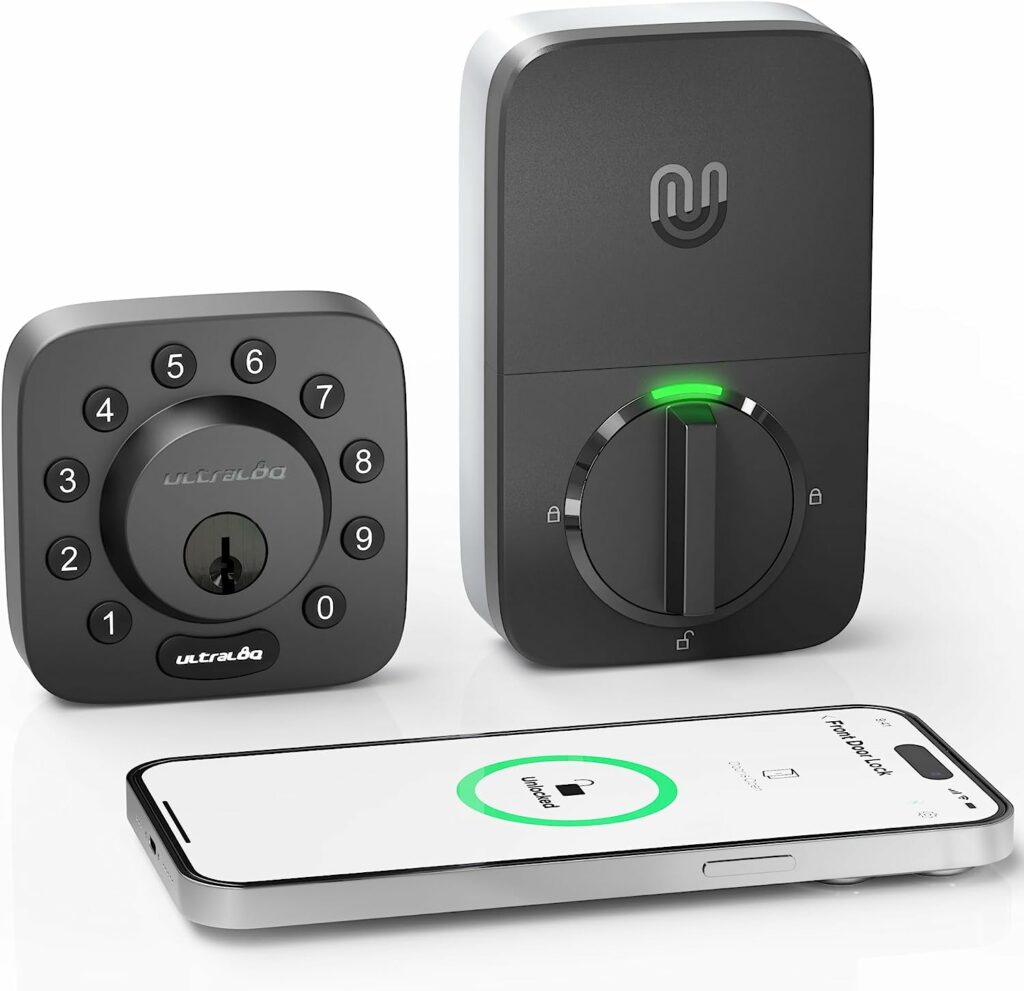 Granting access has never been easier; you can provide your family, guests, or service personnel with a code or an eKey, configuring for permanent access, specific dates, or designated time periods.
With an impressive capacity for up to 60 customizable 4-8 digit codes, you have the flexibility to manage access for various individuals and scenarios. Moreover, this smart lock boasts an ANSI Commercial Grade 1 certification, offering exceptional strength, 35 times that of standard residential locks, and a seven times longer lifespan.
Durability is further enhanced with its IP65 rating, making it dust and weatherproof, capable of withstanding extreme temperatures. Rest assured; the Ultraloq U-Bolt is built to handle various environmental challenges.
Buy ULTRALOQ U-Bolt 5-in-1 Keyless Entry Door Lock for $99 here.
8. ULTRALOQ U-Bolt Pro 6-in-1 Keyless Entry Door Lock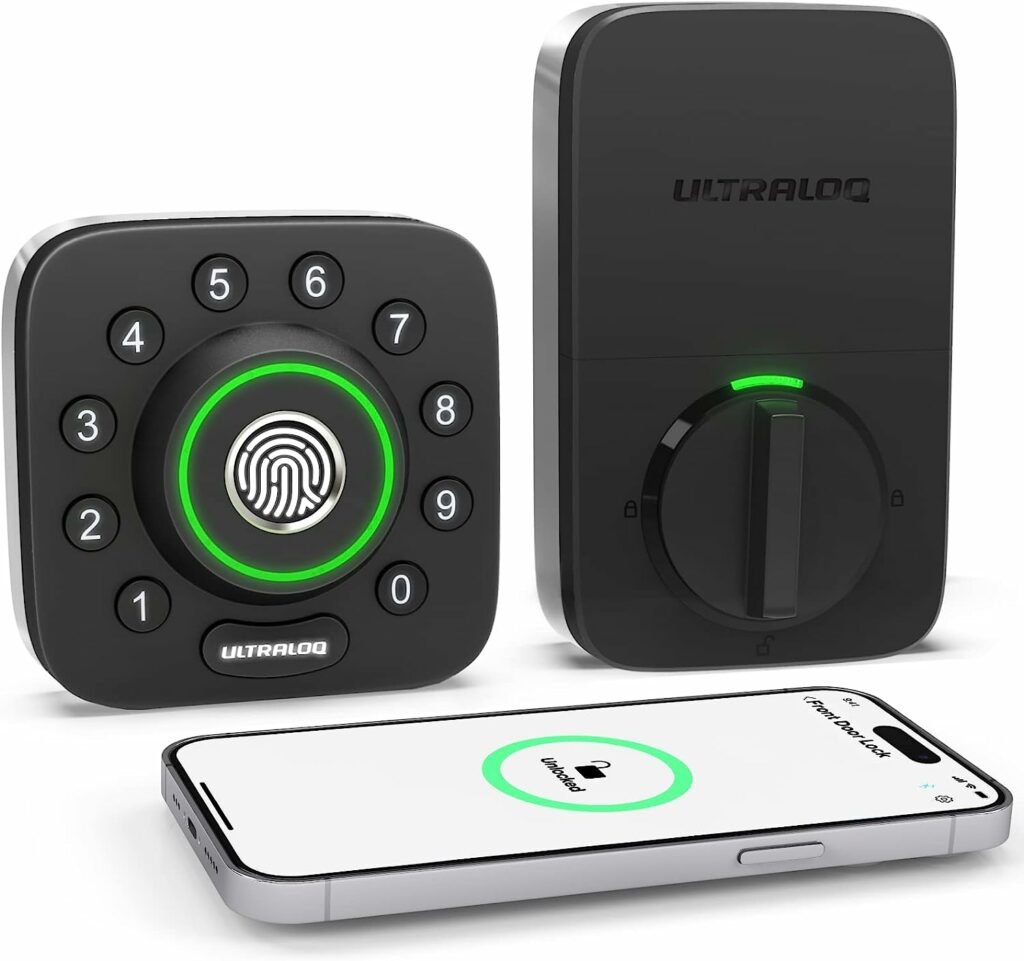 The Smart Lock's 360° Live Fingerprint ID allows quick and easy unlocking with just a touch. It can store up to 100 fingerprints, ensuring you, your family, and authorized individuals can gain access effortlessly.
Incorporating the highest security standards, this Smart Lock boasts ANSI Commercial Grade 1 certification, demonstrating its exceptional strength and durability, surpassing typical residential locks by 35 times and providing an impressive 7 times longer lifespan.
Furthermore, the Smart Lock is designed to withstand the elements with its IP65 dust and weatherproof rating, making it an ideal choice for harsh climates.
Buy ULTRALOQ U-Bolt Pro 6-in-1 Keyless Entry Door Lock for $149 here.
9. Level Lock+ Smart Lock with Apple Home Keys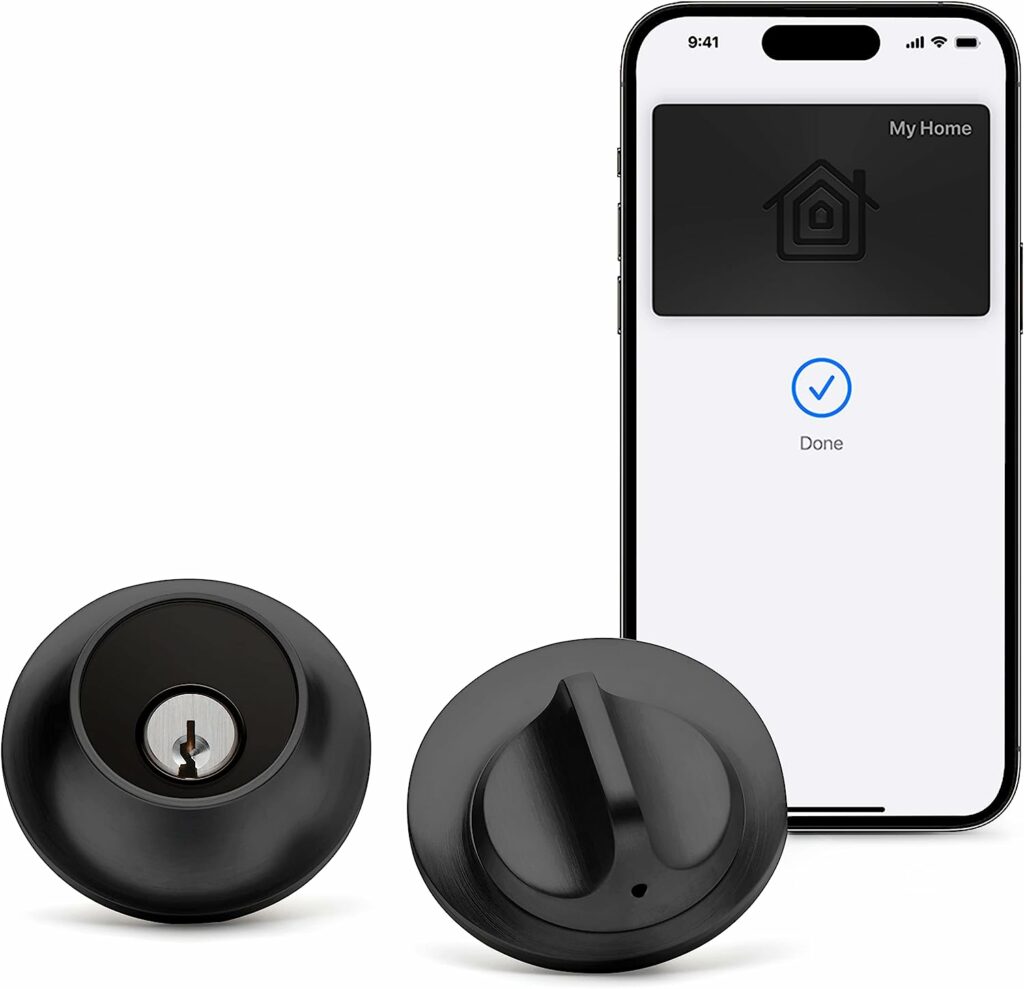 With Level Lock+, unlocking your door becomes a breeze, as a mere tap of your compatible iPhone or Apple Watch grants you access. Your digital key is securely stored in your Apple Wallet, functioning like making contactless payments for groceries or other transactions. The convenience and ease of use are unparalleled.
Seamlessly integrated with Apple HomeKit, this Bluetooth-enabled smart lock empowers you to control and monitor your door's status anywhere in the world. Utilize voice commands via Siri, set up automation, and create shortcuts to streamline your daily routines. For added functionalities, a HomeKit hub within 15 feet of Level Lock+ can enhance its capabilities further.
Crafted from a combination of premium 440C stainless steel and reinforced metal alloys, this Apple Home Key door lock undergoes rigorous testing by industry experts. As a result, it boasts the highest ratings in security, durability, and finish, earning a prestigious BHMA AAA rating.
Buy Level Home Inc Smart Lock with Apple Home Keys for $329 here.
10. TEEHO TE002W Fingerprint Door Lock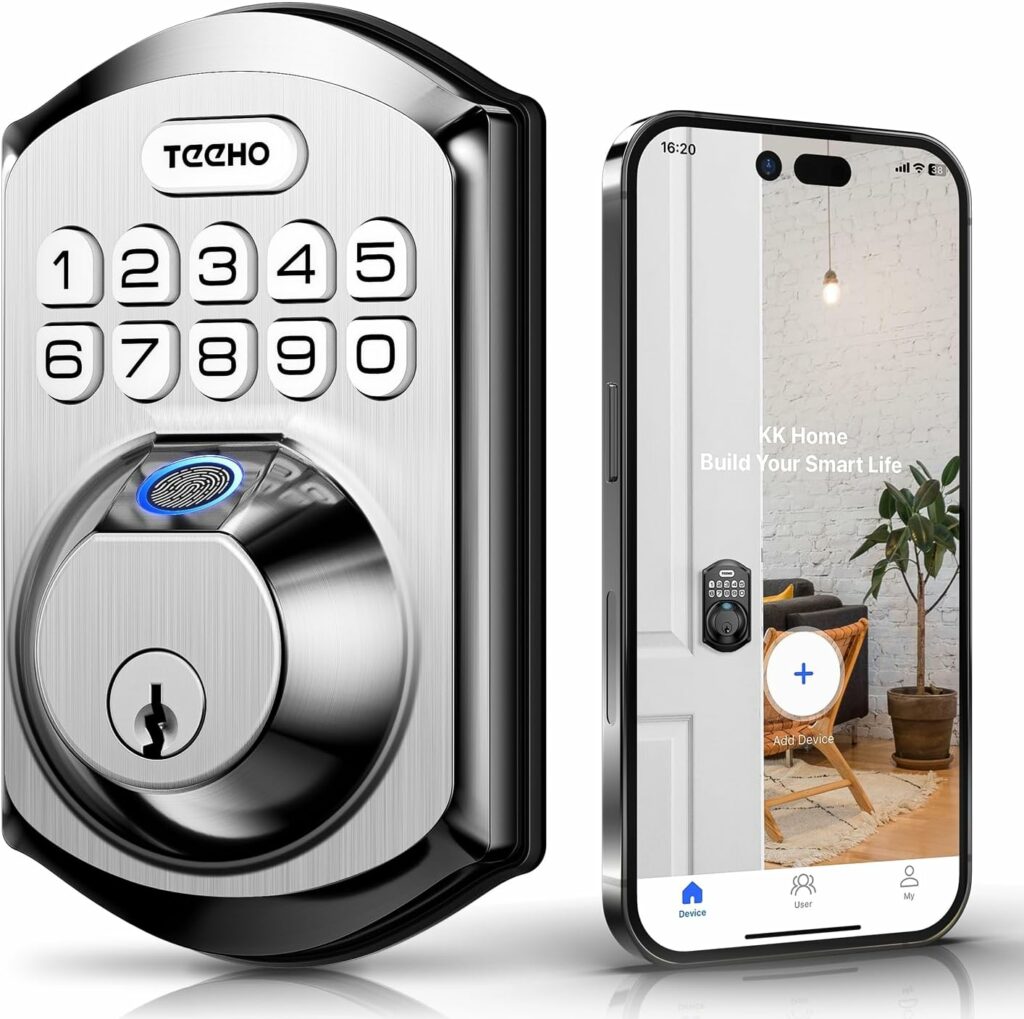 Equipped with AI-powered self-learning capabilities, this fingerprint door lock continuously improves its recognition accuracy and sensitivity with each use, boasting an impressive recognition rate of 99.99%. In just 0.3 seconds, you can effortlessly unlock your door, providing a seamless and swift access experience.
Gone are the worries of accidental touches or phone loss compromising your security. Our lock has intelligently eliminated the direct open/close function from the app, ensuring your peace of mind. Instead, it empowers you to remotely unlock the door by generating a secure unlocking code, even without an internet connection. This convenient feature allows you to create an unlocking PIN whenever and wherever you need it.
Furthermore, unlike typical Wi-Fi smart locks that demand constant network connectivity and high-energy consumption through lithium batteries, the TE002W sets a new standard with its self-developed low-power chip. During periods of non-use, it enters a power-saving "hibernation" state, requiring minimal energy. This innovative low-power design completely eliminates the need for lithium batteries, offering an impressive 6-9 months of usage with just 4 AA batteries, significantly reducing operational costs.
Buy TEEHO TE002W Fingerprint Door Lock for $99.99 here.
In Conclusion…

There you have it, folks! The 2023 iPhone controlled door locks, a lineup that revolutionized home security and convenience. From seamless app integration to cutting-edge features like facial recognition and voice commands, these smart locks have set the bar high for the future of door access technology.
Whether you're a tech enthusiast or just someone looking to simplify their life, these door locks with iPhone app offer the perfect blend of functionality and style.
So, go ahead, take your pick, and step into the future of home security with these incredible iPhone-controlled smart door locks! Happy locking!
Disclosure: iOSHacker may receive a commission if you purchase products through our affiliate links. For more visit our privacy policy page.