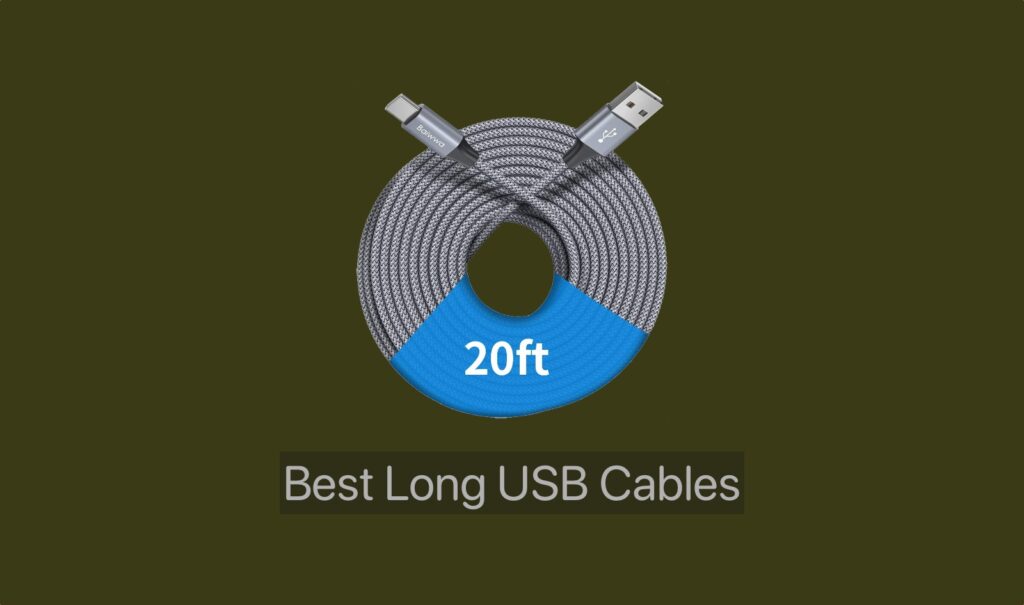 If you are looking to buy the best long USB cables to use with a Mac or PC, then the 8 best cables that we have listed here are all you need.
People think USB-C cables are all the same, and that any differences are just marketing gimmicks. After all, the cable is just a piece of wire, isn't it?
However, it's merely a wrong assumption.
In fact, there is a huge difference in performance between cables when it comes to charging devices and transferring data.
But when there are various USB-C cables available, how can you decide which is the best? To simplify your decision, we've highlighted the best long USB Type-
C cables below.
Best USB-C to USB-C Cables
Some of the best smart devices on the market support USB Type-C ports, making USB cables a valuable resource.
Unfortunately, not all devices feature a USB-C port, but on the plus side, the number of laptops with USB-C ports is growing rapidly.
The following is our list of the best long USB C cables if you are looking for one.
1. Anker New Nylon USB C to USB C Cable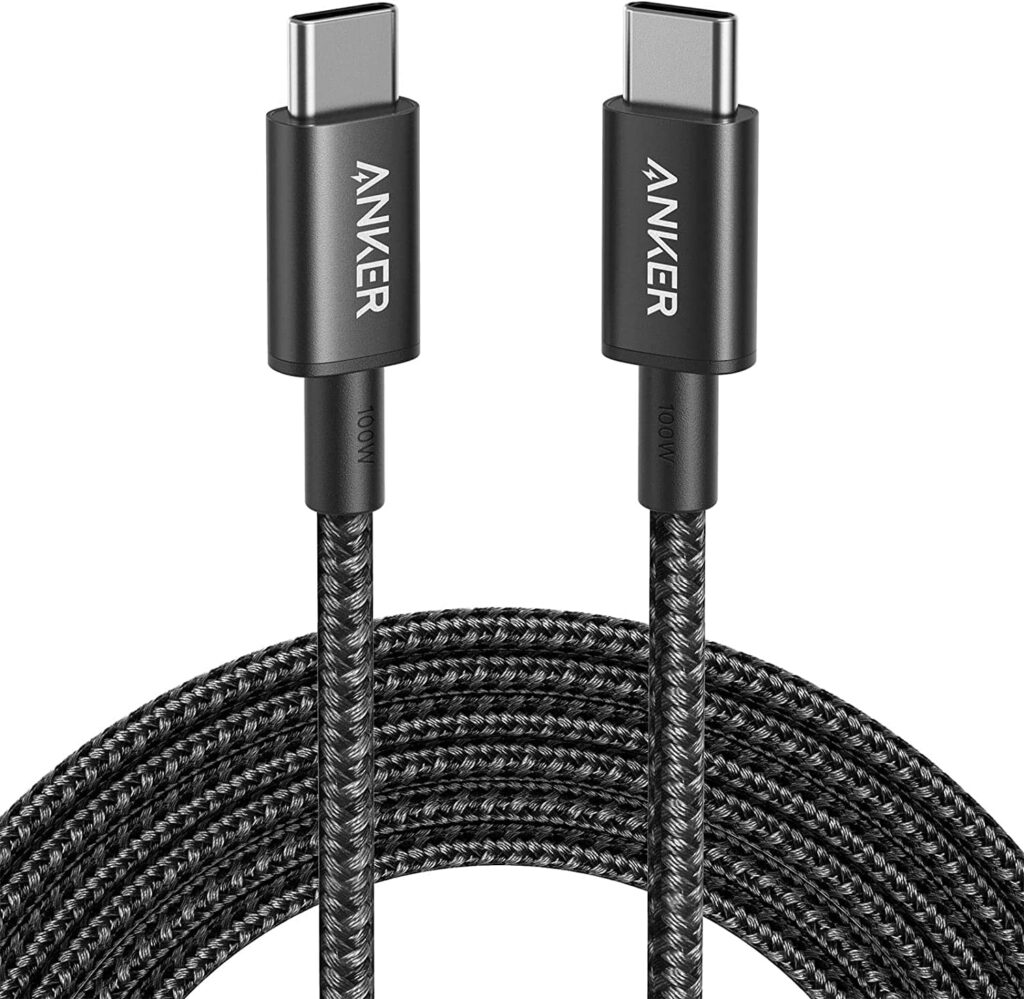 Aker sets you free from inconveniences and uncertainty when it comes to your next charge. You get more than a charging solution with their chargers and accessories; they offer a technology experience like no other.
And this Anker USB cable is no exception. It is made of tough, two-shade braided nylon, so you know it will last a long time. It also boasts a 12,000 bend lifespan that ensures it will stand up to everyday wear and tear.
Moreover, with a maximum output of 100W, this cable can charge a wide range of devices, including MacBook Pro 2020, iPad Pro 2020, and Galaxy S20.
Buy Anker New Nylon USB C to USB C Cable for $11 here
2. Syntech Link Cable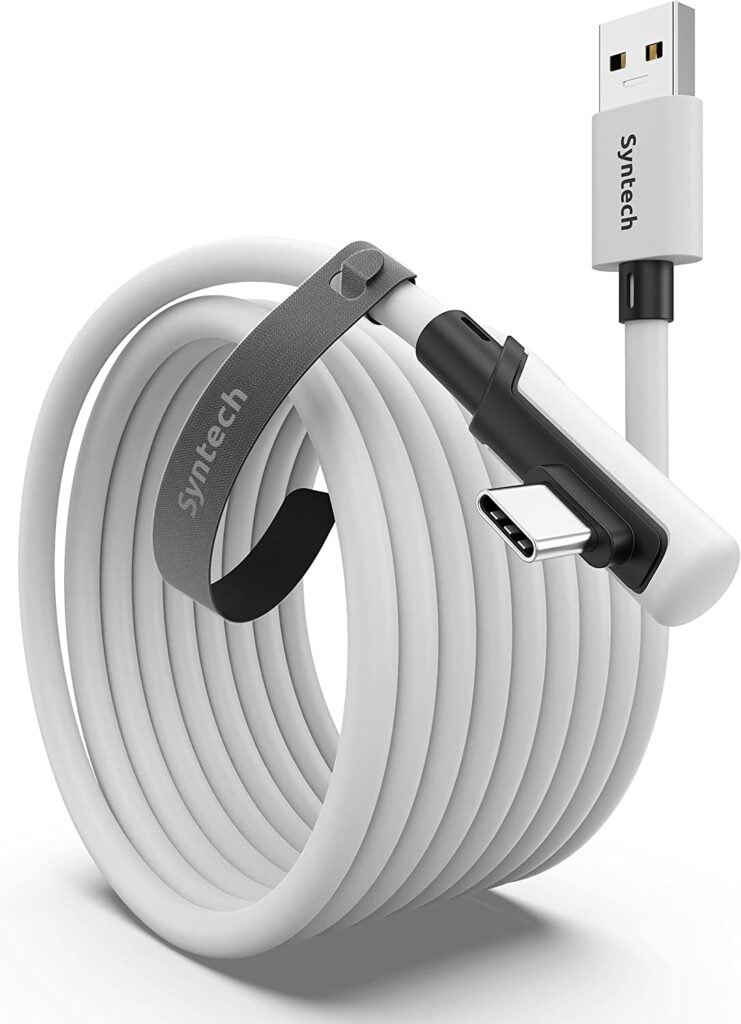 A Syntech Link Cable combining both length and excellent connection performance will give you excellent value for your money.
With this cable, you can transmit data at USB 3.0 speed. It combines stable and fast data synchronization with a sustained and reliable current to provide smooth VR gaming.
While immersed in the virtual world, this 16-foot cable enables you to move freely without being restricted. Additionally, the regular USB C port is specially designed in an L-shape to enhance customer comfort.
Buy Syntech Link Cable for $19.99 here
3. etguuds Extra Long USB C to USB C Cable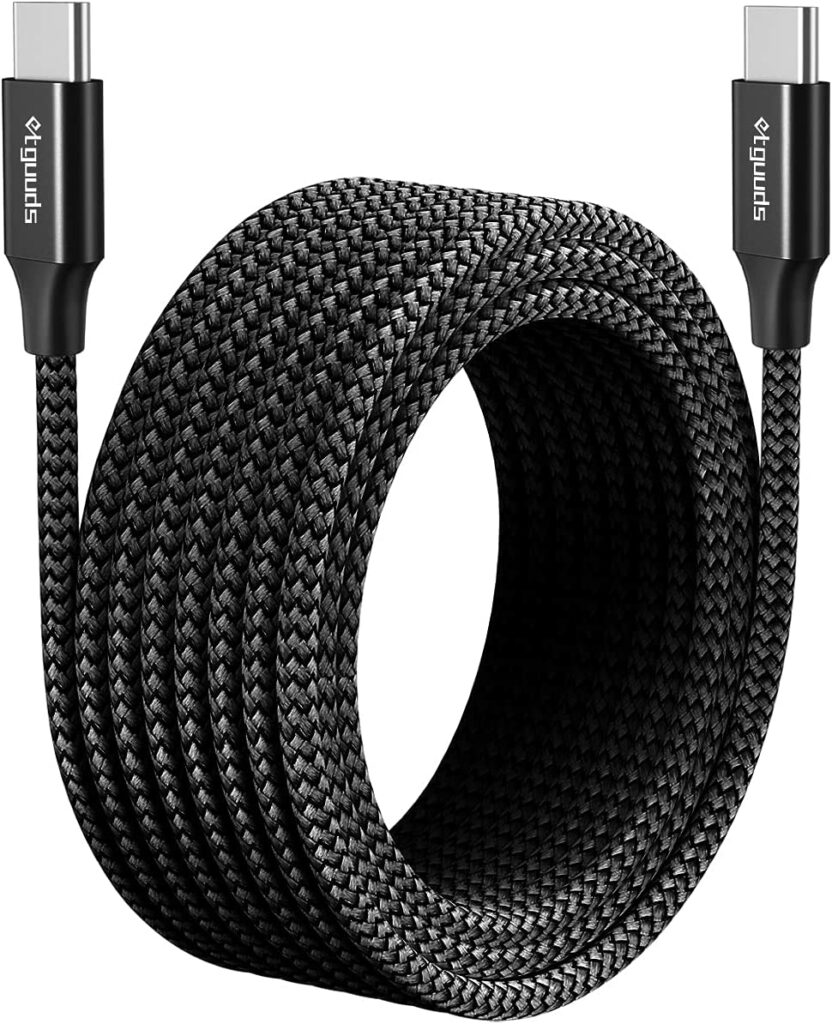 Using this 16ft/5m Etguuds USB C Cable to USB C 2.0 will allow you to use your smartphone or laptop in bed or on the sofa while it's charging. It is ideal for long-distance operation in the office, bedroom, or bed.
This cable supports QC3.0/QC2.0 or PD fast charging in addition to high-speed data syncing (480 Mb/s). With this cable, you can transfer 1G files within 30 seconds and charge up to 60% faster than with other standard USB Type-C to USB Type-C cables.
It has an integral seamed stretch process and is highly pressure resistant. As a result of oxidation, the aluminum alloy shell becomes harder and more wearable. All in all, the nylon braided cord has a tested 30000 bend lifespan, is more durable, and has the best price for long-term use.
Buy etguuds Extra Long USB C to USB C Cable for $15.99 here
4. Kuject Link Cable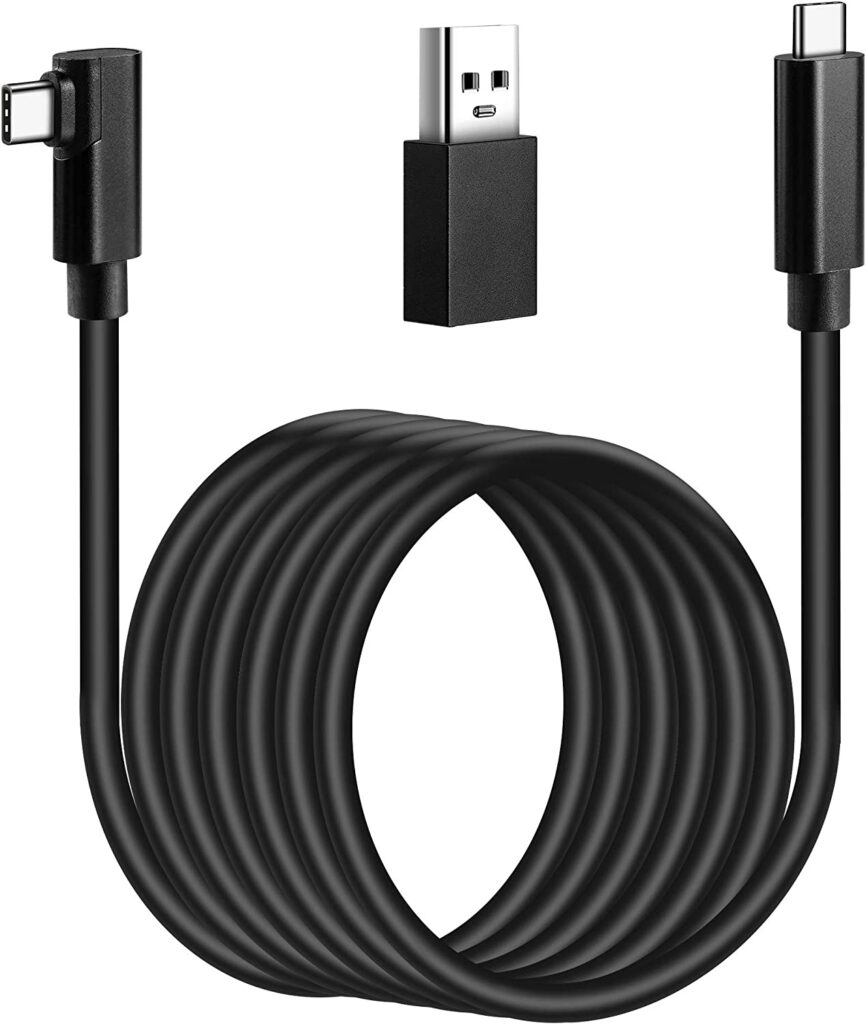 Using the Kuject link cable, you can connect various accessories to your Mac. This 16FT long cable is also great Quest 1/2 or Pico Neo 4 to a computer and play all Rift S and Steam VR games.
An additional USB-A adapter makes it compatible with a wide variety of computers and laptops. However, you shouldn't play while charging with this cable, as computer ports typically only support 2A current.
The cable also supports high data transfer rates of over 2000 Mbit/s with low latency and minimal signal loss, ensuring a smooth VR gaming experience for you.
Buy Kuject Link Cable for $19.99 here
5. Anker 543 USB C to USB C Cable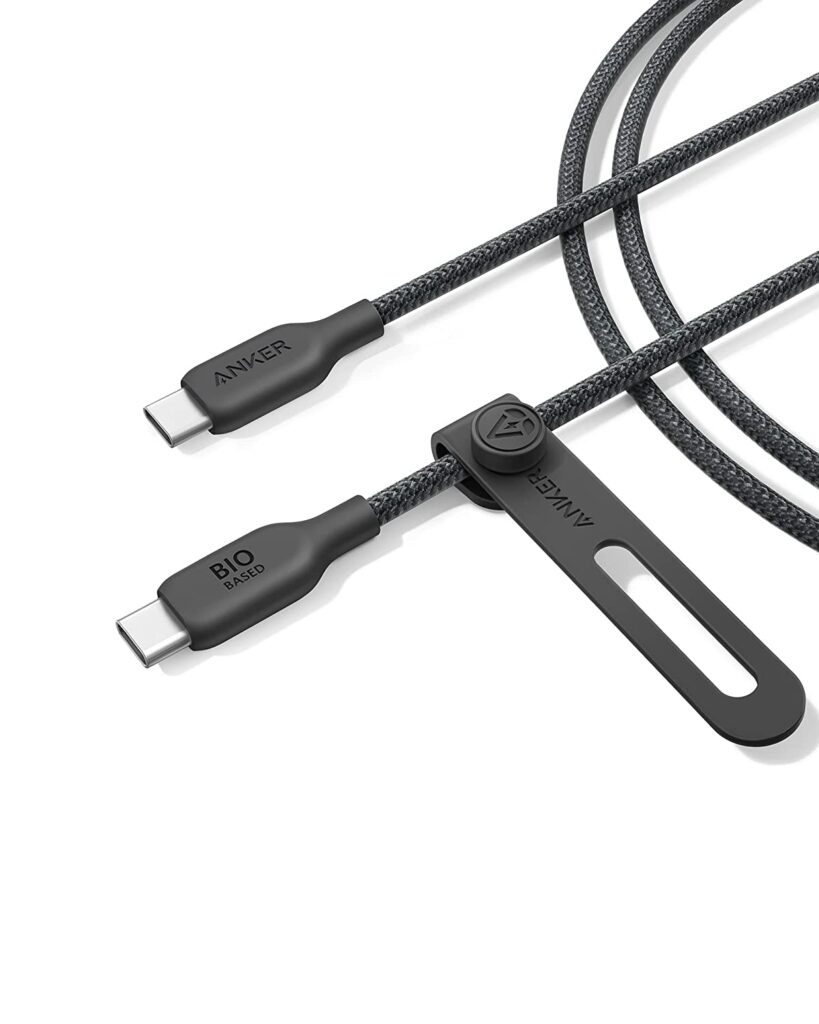 In this Anker 543 USB C to USB C cable and connector casing, 45 percent of the exterior is made from bio-based nylon. The use of bio-based nylon in cables allows for a reduction in petroleum-based plastics like TPE. The cable measures 6FT.
With just 30 minutes of charging, a smartphone can reach 65%.
It is designed to withstand up to 20,000 bends and has been proven to resist fraying and kinking after being tested 10,000 times.
Overall, this cable is USB-IF certified for perfect compatibility with virtually any USB-C device, such as phones, tablets, and laptops.
Buy Anker 543 USB C to USB C Cable for $22.99 here
6. Baiwwa [20ft/6m] Extra Long USB C Cable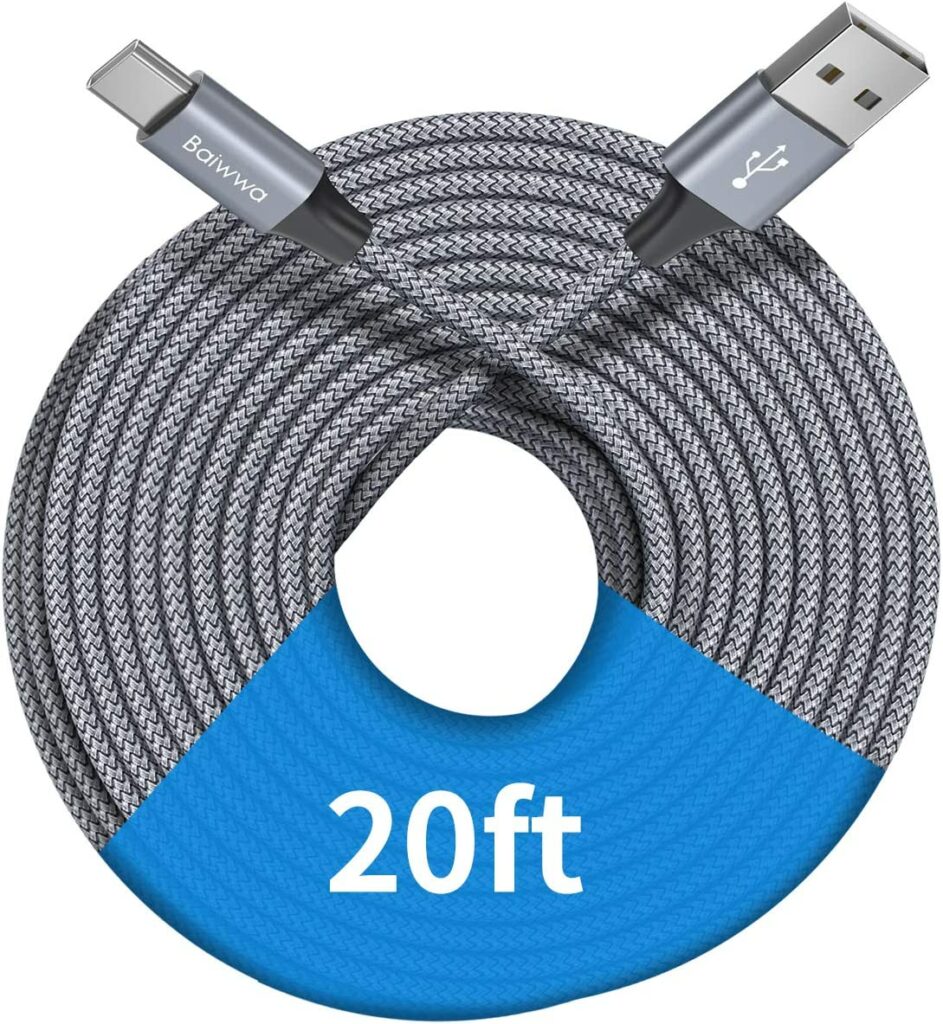 The Baiwwa USB-A to USB-C cable is designed with a superior nylon braided TPE jacket, a strong aluminum housing, and firm metal connectors to make it more flexible, durable, and wear-resistant.
It can withstand 35000+ bending tests and 30000+ plug tests with no twisting or abrasion. This cable is made from premium materials that last more than 15 times longer.
Furthermore, a standard resistor provides a safer maximum charging current of 2.9A with CE, FCC, PSE, and ROHS certifications which comply with Amazon's standards.
Buy Baiwwa [20ft/6m] Extra Long USB C Cable for $14.99 here
7. etguuds [30ft/9m] USB C to USB C Cable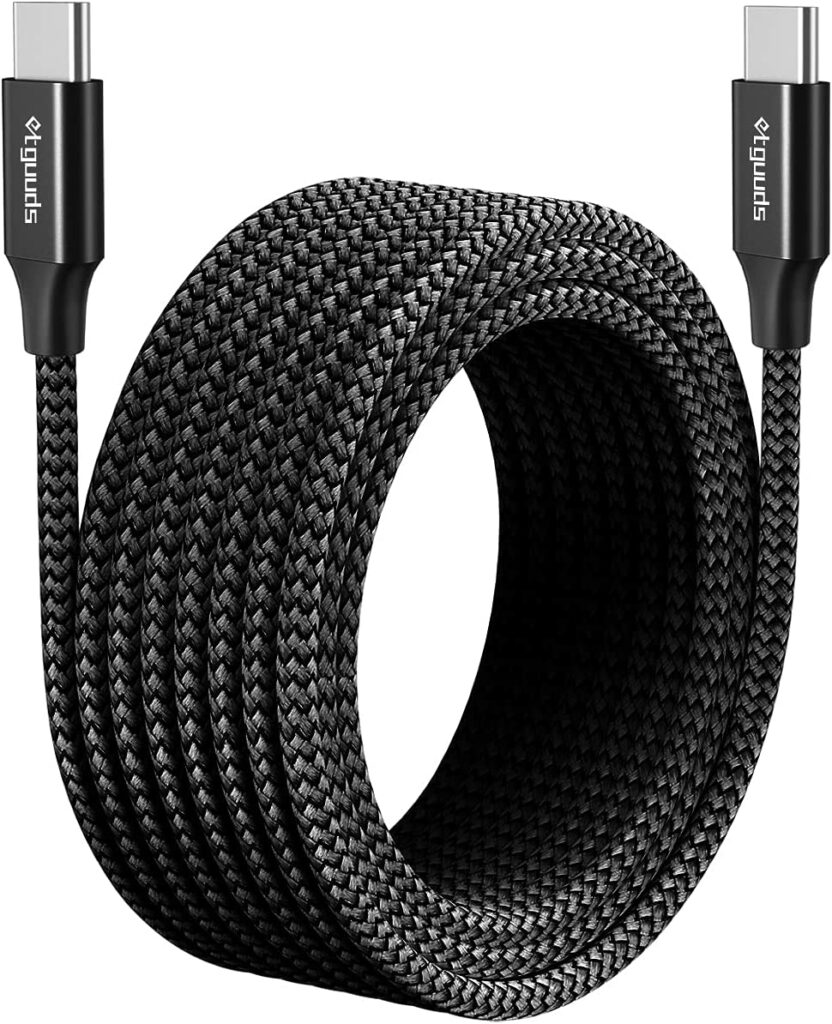 With the Etguuds USB C Cable to USB C 2.0 30ft/9m, you can use your smartphone or laptop in bed or on the sofa as it charges. If you're looking for a long USB-C to USB-C cable, this is the one you've been looking for.
The fast-charging output is up to 20V/3A, which is ensured by high-speed safe charging. All USB-C devices including phones, laptop cameras, and other USB-C devices are compatible with this USB-C to USB-C cable.
In addition, this durable nylon braided Type-C to C cable has excellent anti-break and tangle-free properties. Plus, the premium aluminum alloy shell and the gold-plated connector add even more durability and stability.
Buy etguuds [30ft/9m] USB C to USB C Cable for $29.99 here
8. JSAUX USB C to USB C Cable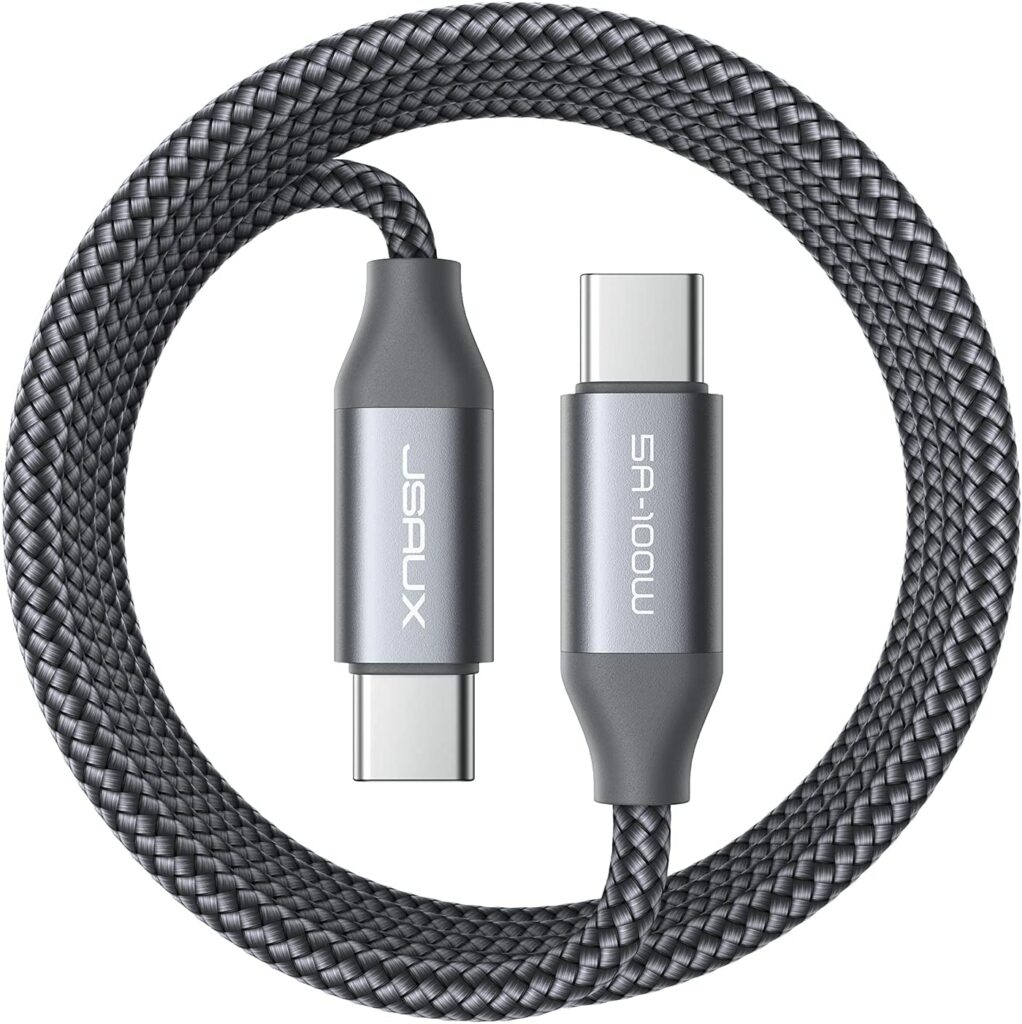 This cable is a USB-C to USB-C double-edged cable. You can use this USBC cord to charge your Android phone like the Samsung Galaxy S22 or your laptop like the MacBook Pro in fast charge mode.
An E-marker chip is built into this USB c male to USB c male fast charging cable, which supports 100W charging speeds.
This nylon braided fabric is extremely flexible, powerful, and durable, resulting in a 200% increase in tensile force. With a special strain relief design, this product has passed more than 10000 bending tests. The male connector is made with premium aluminum housing, so it won't break easily.
Buy JSAUX USB C to USB C Cable for $12.99 here
Final Note
Before buying a USB cable, you should keep a few things in mind. Firstly, you must check the charging speed of the USB cable if you're buying it primarily to fast charge your smartphone or laptop. However, it's crucial to check the generation of the USB cable if you are buying one for data transfer.
Obviously, the data transfer speeds will also be influenced by the connectors in your devices. In addition, cables with faster transfer rates are usually more expensive than those with slower speeds (but the higher price does not guarantee high-speed transfer).
Was this article helpful? Let us know in the comments section.