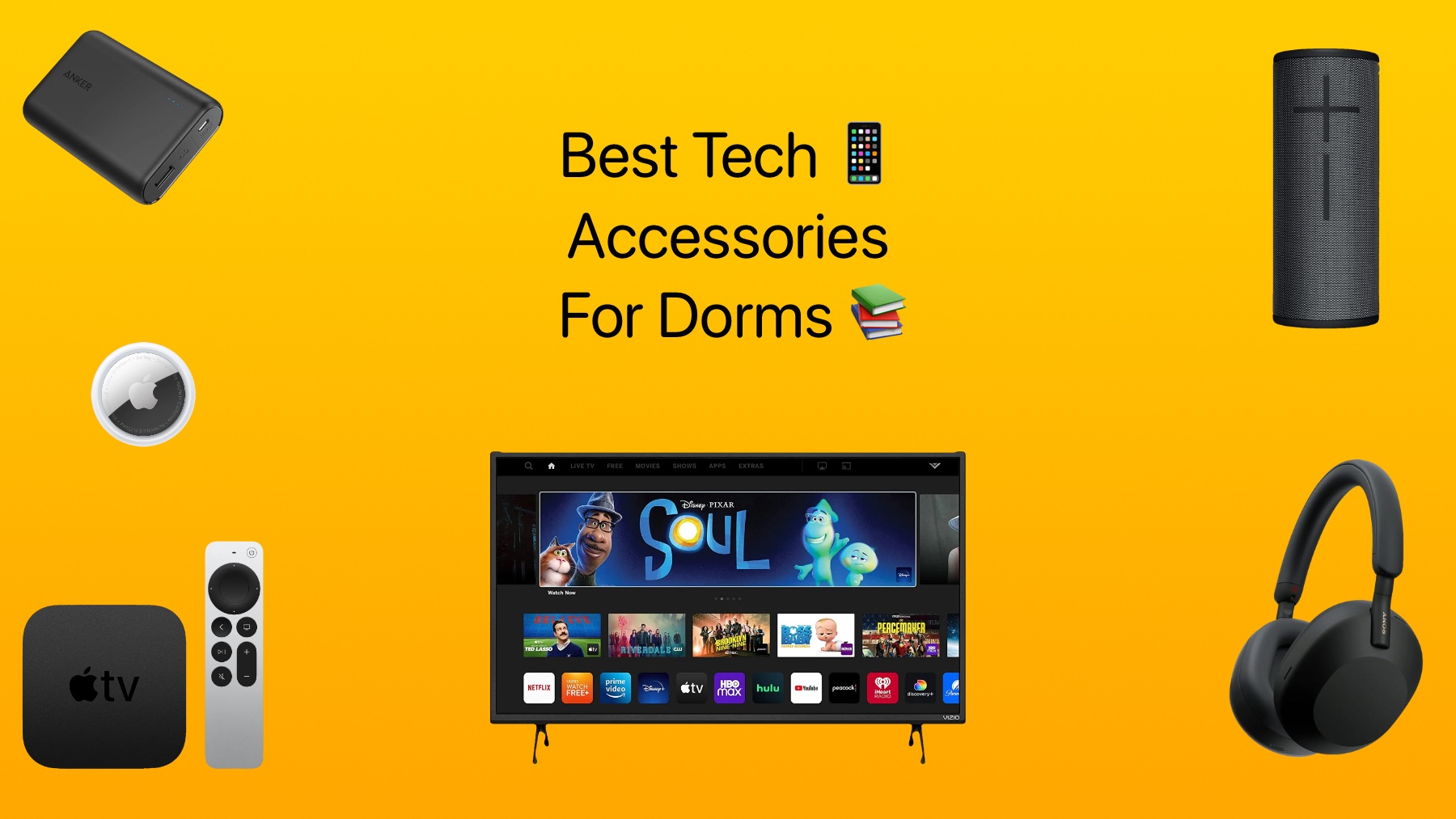 In this buying guide we have listed 9 of the most essential tech accessories that you need to buy for your dorm room in 2023. These tech accessories will make your life easy and make your college experience a little better.
We live in an era where tech isn't just a luxury but a lifeline. Whether you're meticulously organizing your class schedule or plotting your next streaming binge, having the right tech accessories can turn your dorm room into a digital den of efficiency and entertainment.
From nifty gadgets that'll make your pals green with envy to practical must-haves that'll keep you on top of your game, we've scoured the digital aisles to bring you the ultimate list of the best tech for dorms in 2023 to deck out your dorm in style.
Best Tech Accessories For Dorm Rooms
Here are some of the best tech accessories that you can buy for your dorm room in 2023.
1. Apple TV 4K with 64GB Storage (2nd Generation)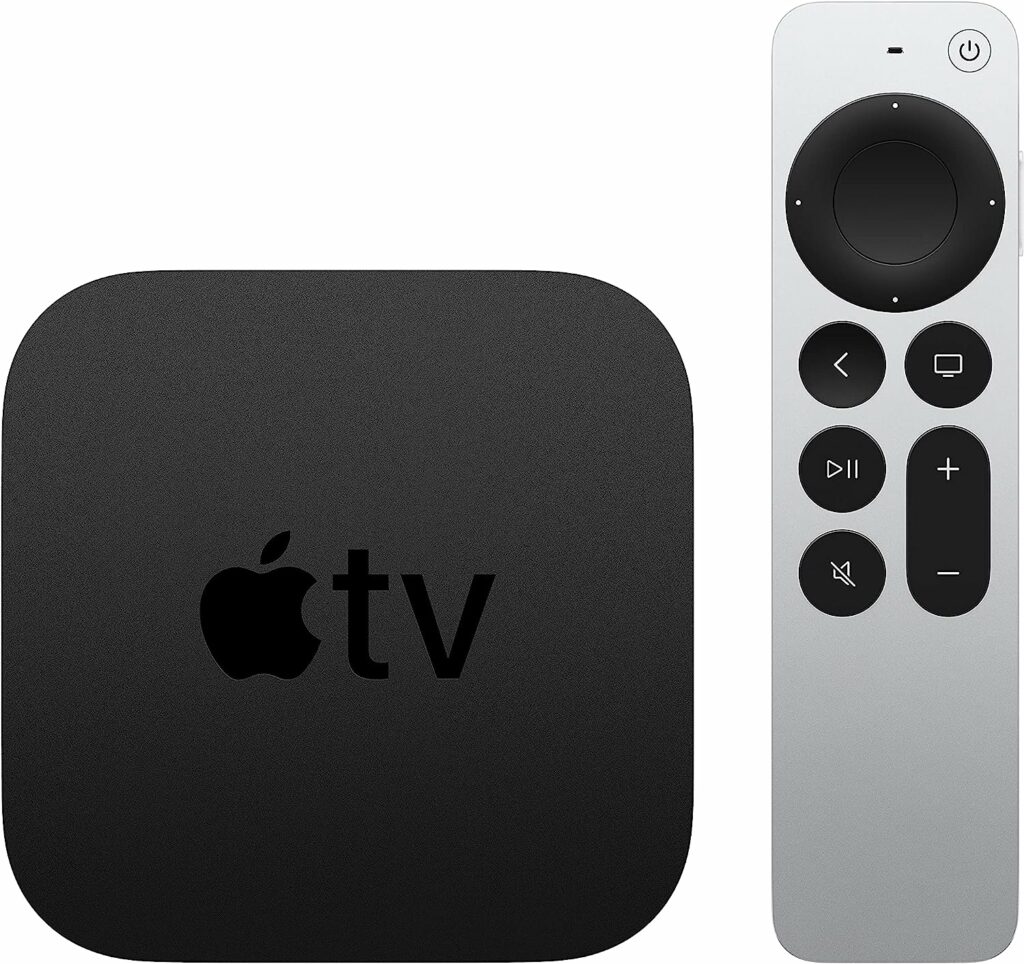 Apple TV 4K with 64GB Storage is a powerhouse for entertainment. Imagine watching your favorite shows and movies in stunning 4K High Frame Rate HDR with Dolby Vision. This isn't just any video quality – it's like having a mini-theater in your living room. And guess what? You're not just limited to regular content; you also dive into the world of Apple Original shows and movies from Apple TV+. It's like a treasure trove of entertainment.
But it doesn't stop at just visuals. With Dolby Atmos, the sound experience is off the charts. The audio wraps around you, making you feel right in the action. And that's not all – the A12 Bionic chip inside this thing seriously boosts everything – audio, video, graphics – so playing games and using apps is a whole new level of awesome.
Oh, and let's not forget about the new Siri Remote. This thing is not your typical remote – it's got a touch-enabled click pad that makes navigating through all this awesomeness a breeze. No more endless button pressing, just smooth, intuitive control.
Buy 2021 Apple TV 4K with 64GB Storage (2nd Generation) for $144.95 here.
2. VIZIO 40-inch D-Series Full HD 1080p Smart TV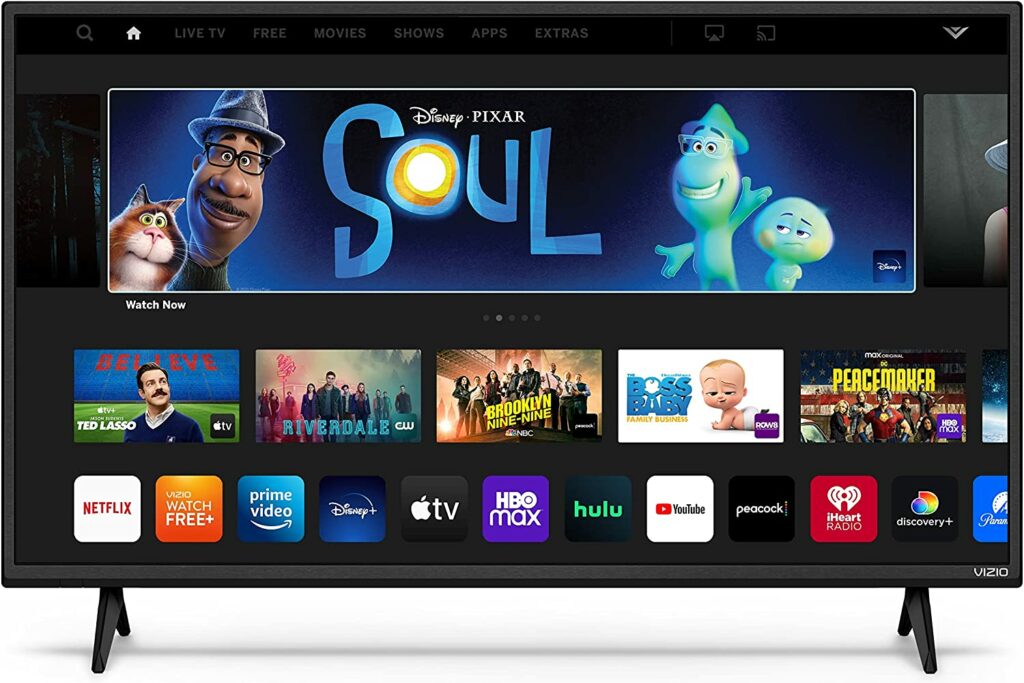 Yet another one of the best dorm room accessories on our list is the VIZIO 40-inch D-Series Full HD 1080p Smart TV. Get ready for a TV experience that's crystal clear and incredibly vibrant! Dive into your favorite shows and movies with the VIZIO D-Series, boasting stunning 1080p Full HD resolution that brings every detail to life. The screen measures a generous 39.5 inches, giving you a captivating viewing area that'll make your entertainment immersive.
Gamers, rejoice! The V-Gaming Engine takes your gaming experience to the next level. It's like having a personal picture mode optimized specifically for gaming. With Auto Game Mode, Variable Refresh Rate featuring AMD Freesync technology, the lowest input lag in the D-Series, and a dedicated gaming menu, this TV ensures your gameplay is more responsive and visually stunning.
Navigating your entertainment options is a breeze, thanks to the intuitive interface. As soon as you unpack your TV, you'll have instant access to a fantastic selection of apps from top-tier streaming services. Whether it's Netflix, Disney+, YouTube, HBO Max, or many more, your favorite content is at your fingertips.
Buy VIZIO 40-inch D-Series Full HD 1080p Smart TV for $168.00 here.
3. Ultimate Ears Boom 3 Portable Waterproof Bluetooth Speaker

Check out this best dorm room gear for 2023 – the Ultimate Ears BOOM 3! It's like your portable party buddy who's always ready to rock your world with its mind-blowing sound. Seriously, this thing pumps out 360° sound that's so crystal clear, you'll feel like you're right in the middle of your favorite jam.
And guess what? You won't be stuck next to a power outlet all day. The rechargeable battery keeps the music thumping for 15 hours on just one charge. That's a whole lot of dance-offs and sing-alongs!
But here's where things get really cool. You can take your BOOM 3 experience to the next level with the BOOM and MEGABOOM App. Use the PARTYUP feature to pair not just one, not two, but a whole bunch of speakers. Imagine creating the ultimate surround sound setup with over 150 speakers – that's a party that nobody will forget! You can mix and match BOOM 3 and MEGABOOM 3 speakers or even team them up with earlier BOOM models for an epic audio extravaganza.
Buy Ultimate Ears Boom 3 Portable Waterproof Bluetooth Speaker for $126.99 here.
4. Anker Foldable 3-in-1 Wireless Charging Station with Adapter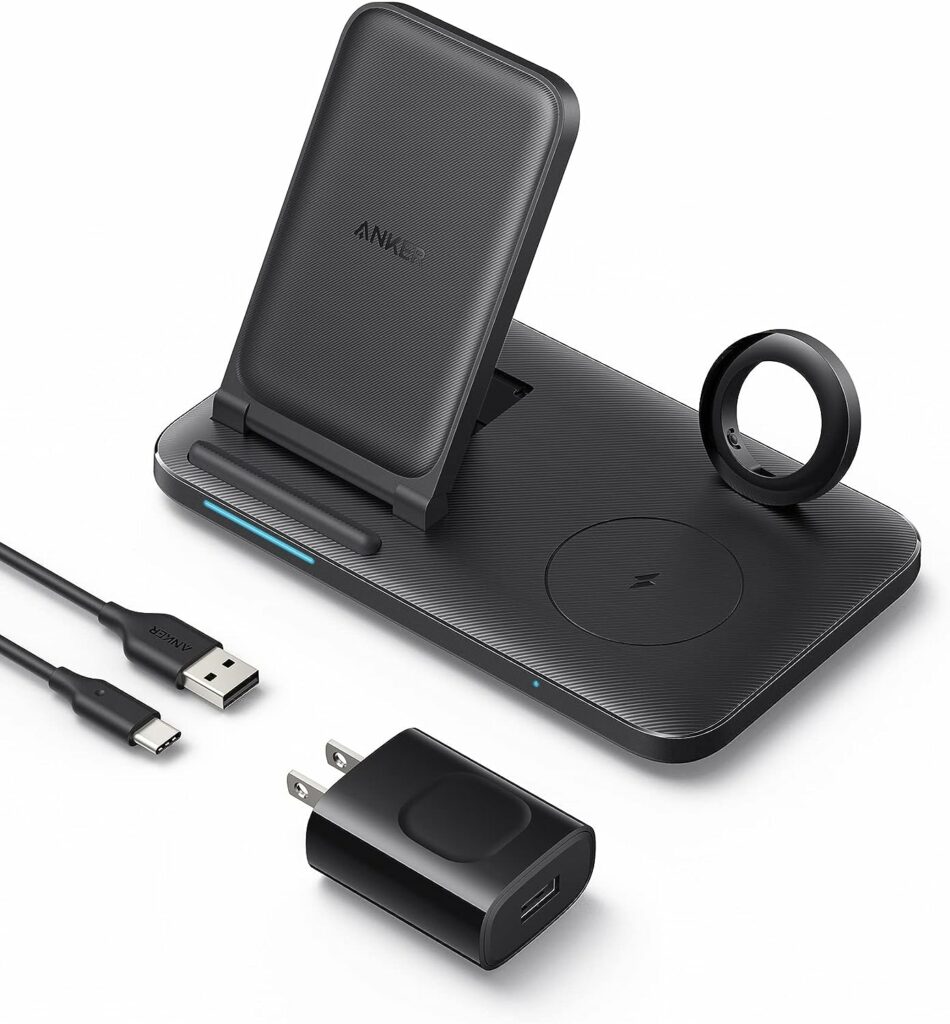 Get ready to bid farewell to those pesky individual chargers because we've got something better in store for you: a sleek charging station designed to power up multiple devices simultaneously. Imagine the convenience of juicing up your phone, your trusty true wireless earbuds, and even your Apple Watch – all in one go!
You can adjust your phone's charging surface to a comfortable 54° or a more upright 60° angle. This means you can catch up on your favorite videos or have a quality Facetime session, all while your devices get a steady stream of power.
This one of the best tech accessories for college works like a charm with iPhones, delivering a speedy 10W max charge. AirPods with a wireless charging case? Yup, they're good to go too. And if you're sporting an Apple Watch Series 1 through 6, this station will also handle that.
Buy Anker Foldable 3-in-1 Wireless Charging Station with Adapter for $19.59 here.
5. Anker PowerCore 10000 Portable Charger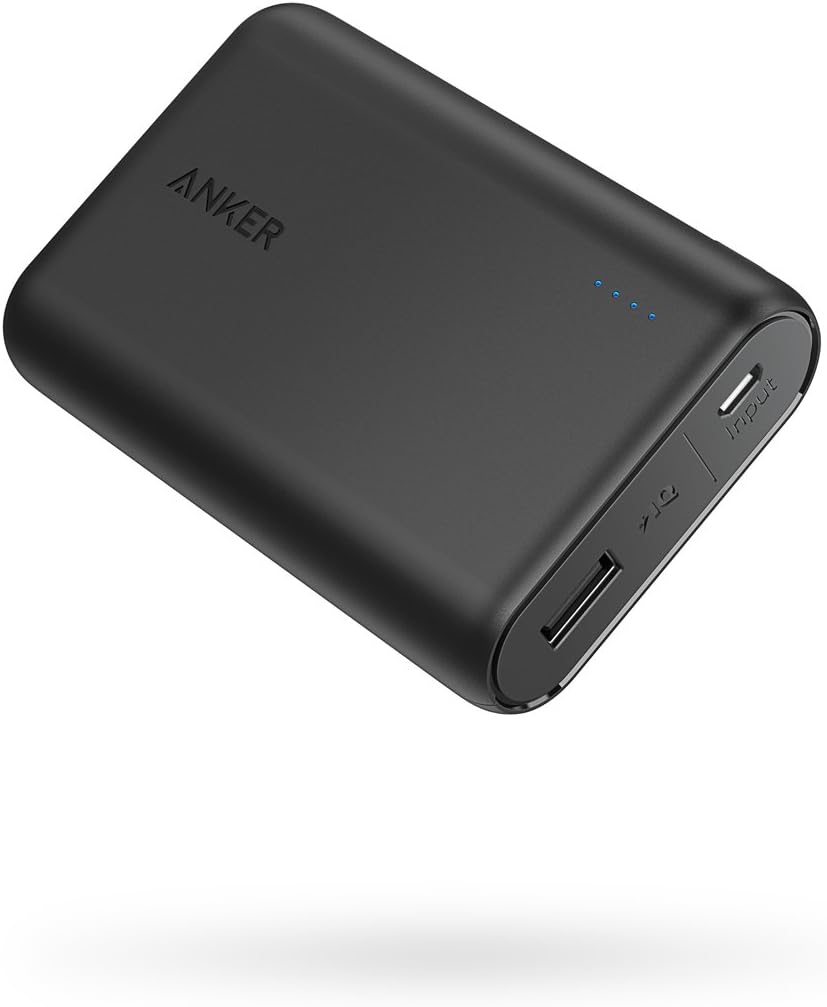 If you're hunting for a portable charger that's small yet mighty, charges at warp speed and has your safety in mind, this little Anker number might just be your new best buddy.
It's one of the tiniest and most lightweight portable chargers, boasting a whopping 10,000mAh battery. To give you an idea, that's enough juice to charge your iPhone 8 almost three and a half times or your Galaxy S8 about two and a half times. Talk about pocket-sized power!
Thanks to Anker's super cool tech combo of PowerIQ and VoltageBoost, it zaps out the fastest charge possible for any gadget you throw at it.
Anker's got your back with their MultiProtect safety system, which wraps your devices and you in a cozy blanket of protection—no need to fret about any power-related mishaps.
Buy Anker PowerCore 10000 Portable Charger for $25.99 here.
6. Apple AirTag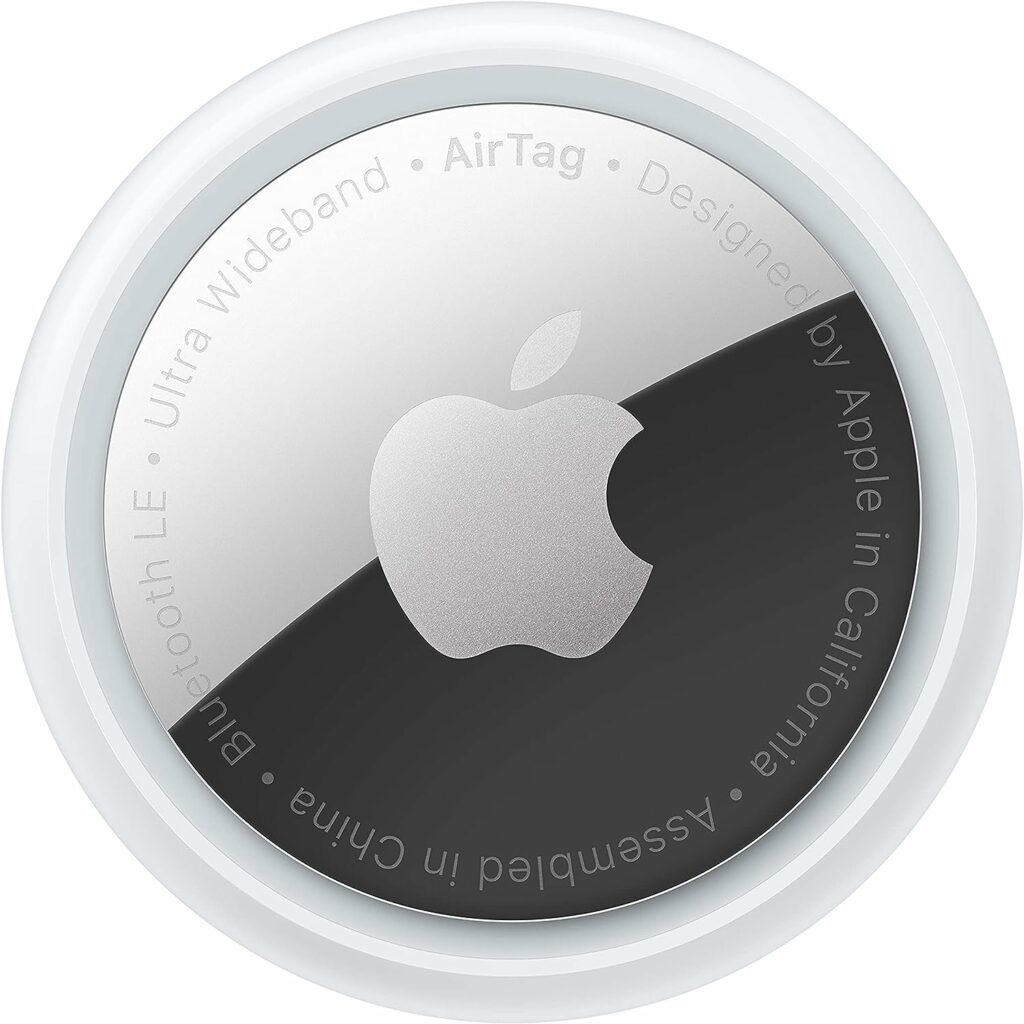 Have you ever had those moments of scrambling to find your stuff? Well, the Find My app saves the day and makes it a breeze.
Setting up an AirTag couldn't be simpler. It's a one-tap affair – just a single tap and your AirTag is cozying up with your iPhone or iPad like long-lost buddies. Now, when your stuff decides to play hide and seek, you can give them a nudge. Activate the built-in speaker to send a sound signal, guiding you to the treasure trove. Feeling extra fancy? Just beckon Siri and she's on the case, helping you locate your items like a pro.
Have you ever heard of Lost Mode? It's your secret weapon. Activate it, and you'll know when your AirTag sneaks into the Find My network. It's like getting a friendly heads-up from your digital pals. And speaking of pals, privacy is the name of the game. Your interactions with the Find My network? Completely anonymous and locked down with encryption.
Buy Apple AirTag for $28.99 here.
7. Sony WH-1000XM5 Wireless Industry Leading Headphones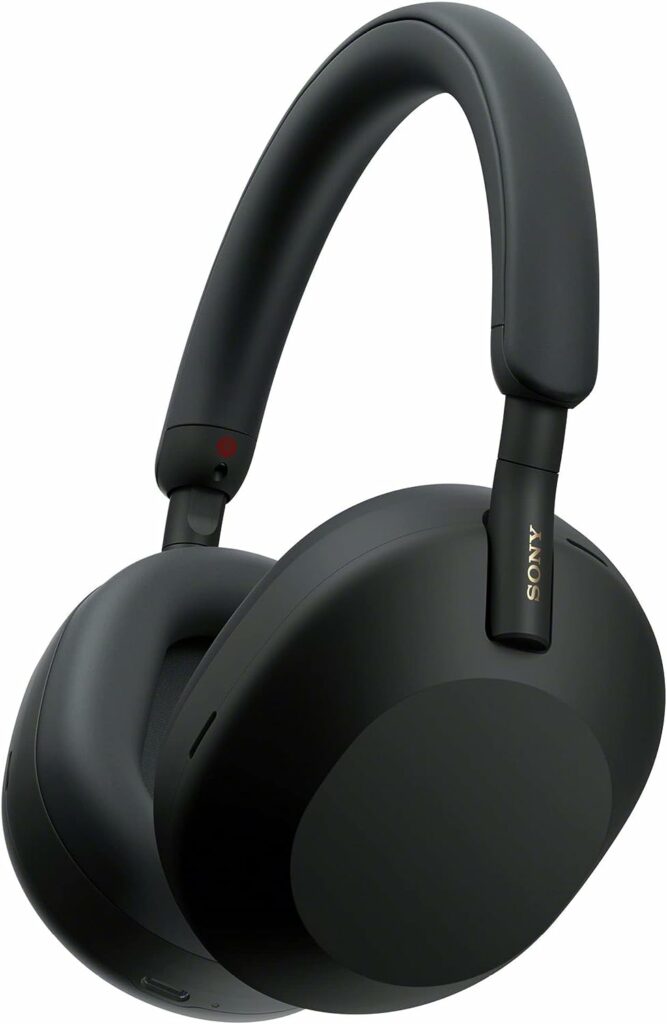 Feast your ears on magnificent sound meticulously crafted to reach its zenith with the all-new Integrated Processor V1. And say goodbye to those "Can you hear me?" moments during calls. The four beamforming microphones are like your voice-catching squad, teaming up with advanced audio magic to ensure your words are loud and clear.
These headphones are designed to be so cozy and light it's like a snug hug for your ears. Wrapped in soft-fit leather, you might forget you're wearing them. And if multitasking is your middle name, the multipoint connection lets you juggle devices like a pro.
And let's not forget style – the redesigned case is the perfect wingman for your headphones, making carrying them around a breeze. So embrace the symphony of sound, comfort, and convenience. Your ears will thank you, and your friends might ask where they can get a pair, too!
Buy Sony WH-1000XM5 Wireless Industry Leading Headphones for $398 here.
8. Herschel Heritage Backpack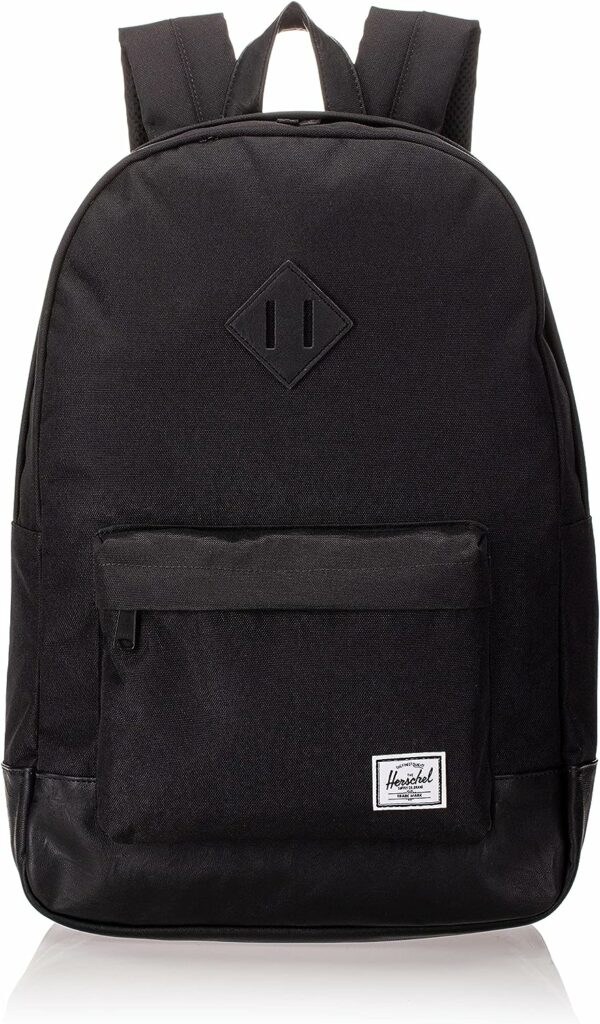 Step into the world of ultimate convenience with this one of the best back-to-school gadgets for dorm that boasts a fully lined interior crafted from Herschel Supply's signature coated polyester fabric. Slip your laptop snugly into the interior sleeve pocket, designed to cradle up to a 15″ laptop with care. Need more space? No problem! There's an additional front compartment equipped with a handy key clip, ensuring you'll never have to search for your keys again in the abyss of your bag.
Tucked inside is an internal media pocket featuring a headphone port, giving you a clever way to keep your tunes accessible on the go. Whether grooving to your favorite beats or tuning in to a podcast, your media essentials are just a pocket away.
With the Herschel Heritage Backpack, practicality meets style most delightfully. Carry your belongings confidently, and let this be your trusty companion on all your adventures!
Buy Herschel Heritage Backpack for $59.95 here.
9. Philips Hue Bloom White and Color Ambiance Smart Lamp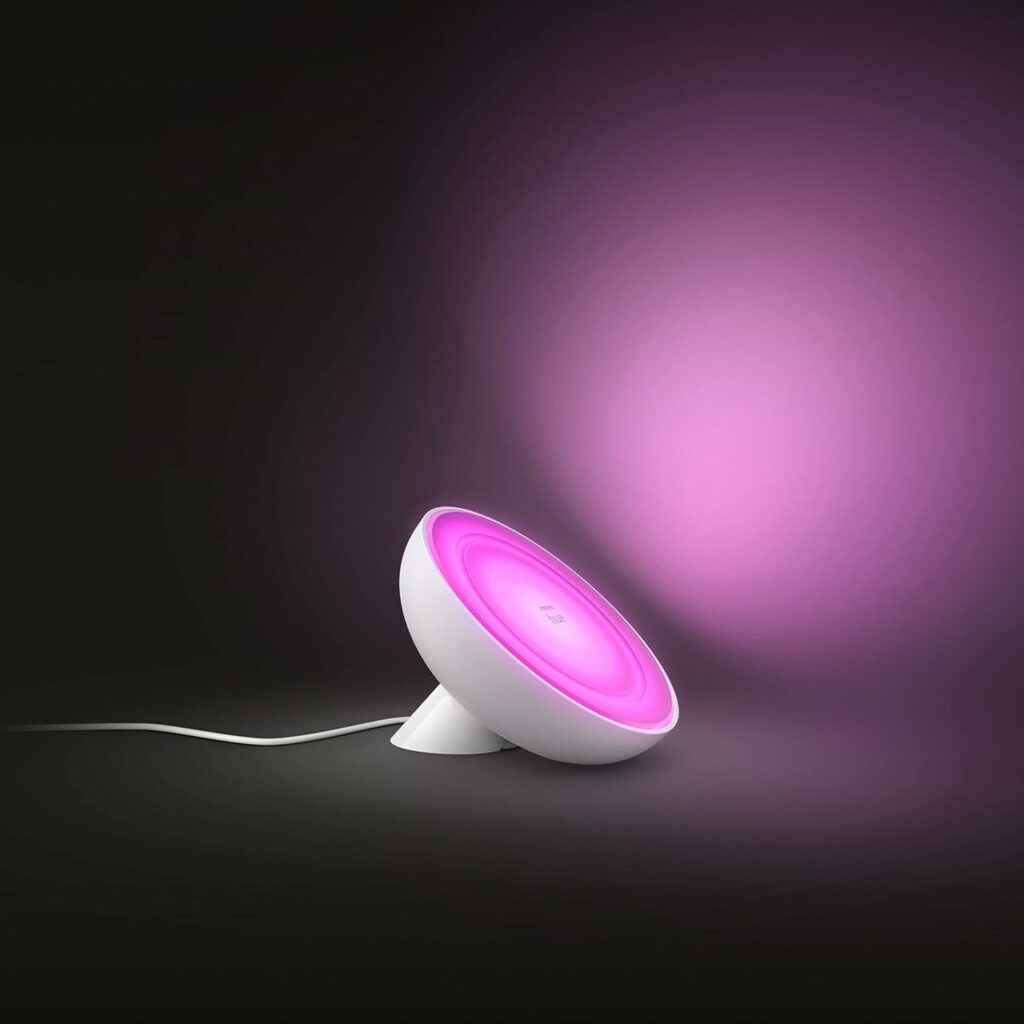 Small yet mighty, this lamp is a magician for adding splashes of color to your world. Be it a shelf, a table, or that cozy corner you adore, this lamp knows how to steal the show.
But hold your horses; there's a secret sauce – the Hue Bridge. Pop this baby into the equation, and welcome to Hue on steroids. Think automations that make you feel like a tech wizard and control even when galloping out and about.
So, there you have it! Your world will get a serious dose of color, light, music, and homey magic that'll have your friends and neighbors talking for days. Time to dive into the world of Hue!
Buy Philips Hue Bloom White and Color Ambiance Smart Lamp for $79.99 here.
To Conclude
In the rapidly evolving landscape of technology, outfitting your dorm room with the best 2023 dorm room tech is convenient and a reflection of the seamless integration of innovative tools into our daily lives. You can create a dynamic environment supporting your academic pursuits and personal interests by carefully selecting accessories that balance functionality, style, and adaptability.
From smart lighting that sets the mood to ergonomic chargers that keep you connected, the options are as diverse as they are promising. Embracing these accessories not only enhances your living space but also empowers you to stay at the forefront of the digital age, making your dorm room a testament to modern technology's incredible possibilities.
Disclosure: iOSHacker may receive a commission if you purchase products through our affiliate links. For more visit our privacy policy page.