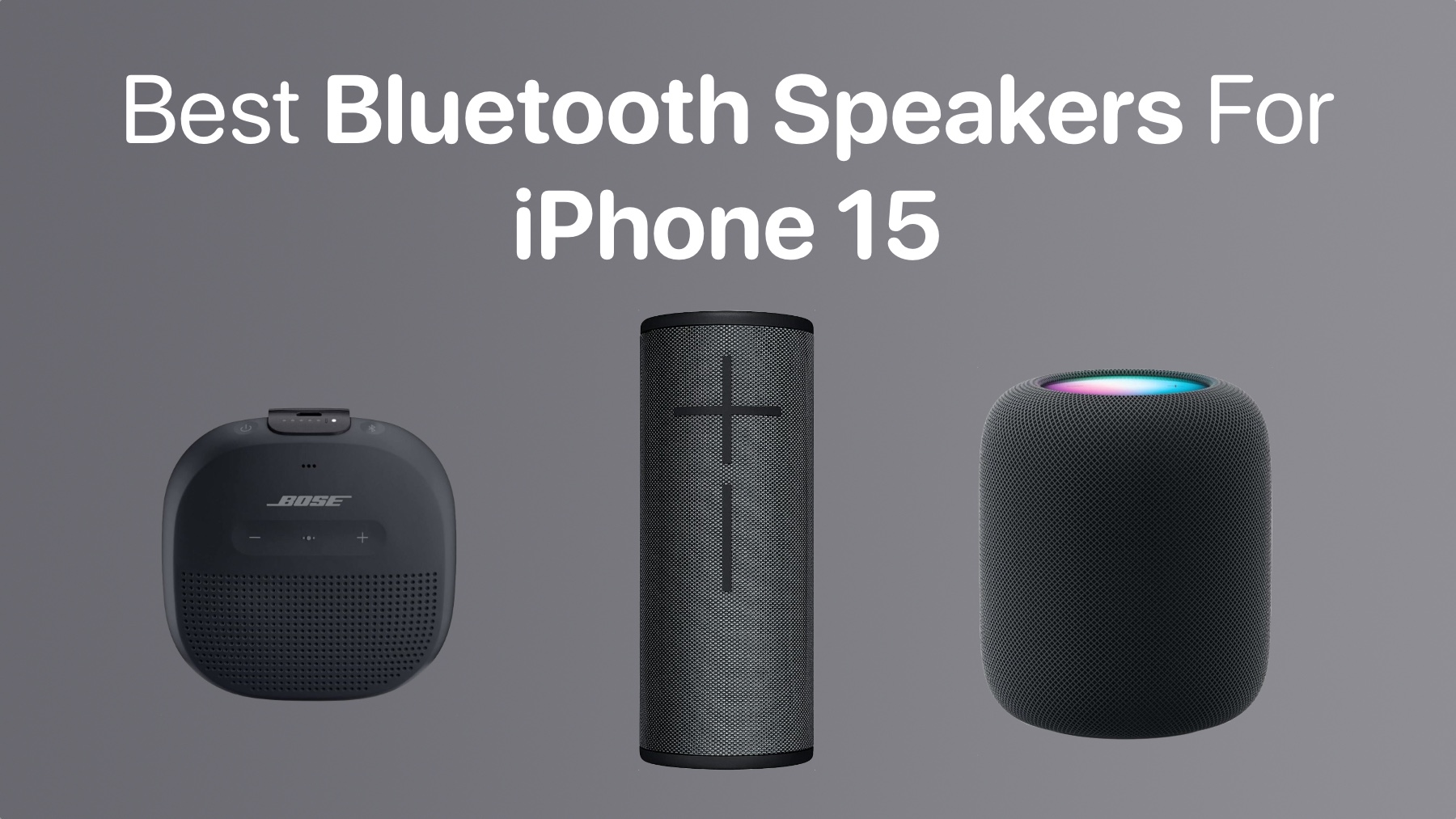 In the ever-evolving world of technology, one thing remains constant: our love for music. And when it comes to taking our favorite tunes on the go, there's no denying the convenience and quality that Bluetooth speakers bring to the table.
But with the release of the iPhone 15 and iPhone 15 Pro, you might be wondering, "Which Bluetooth speaker is the perfect companion for these cutting-edge devices?" Well, fear not, because we've got you covered.
In this article, we're diving into the world of sound and style to bring you the lowdown on the best Bluetooth speakers for iPhone 15 and iPhone 15 Pro that pair harmoniously with your device. So, let's crank up the volume and explore the top contenders that are ready to amplify your iPhone 15's sound like never before!
Best iPhone 15 Bluetooth Speakers
Here are some of the best iPhone 15 Bluetooth speakers that you can buy right now.
1. Apple HomePod 2nd Generation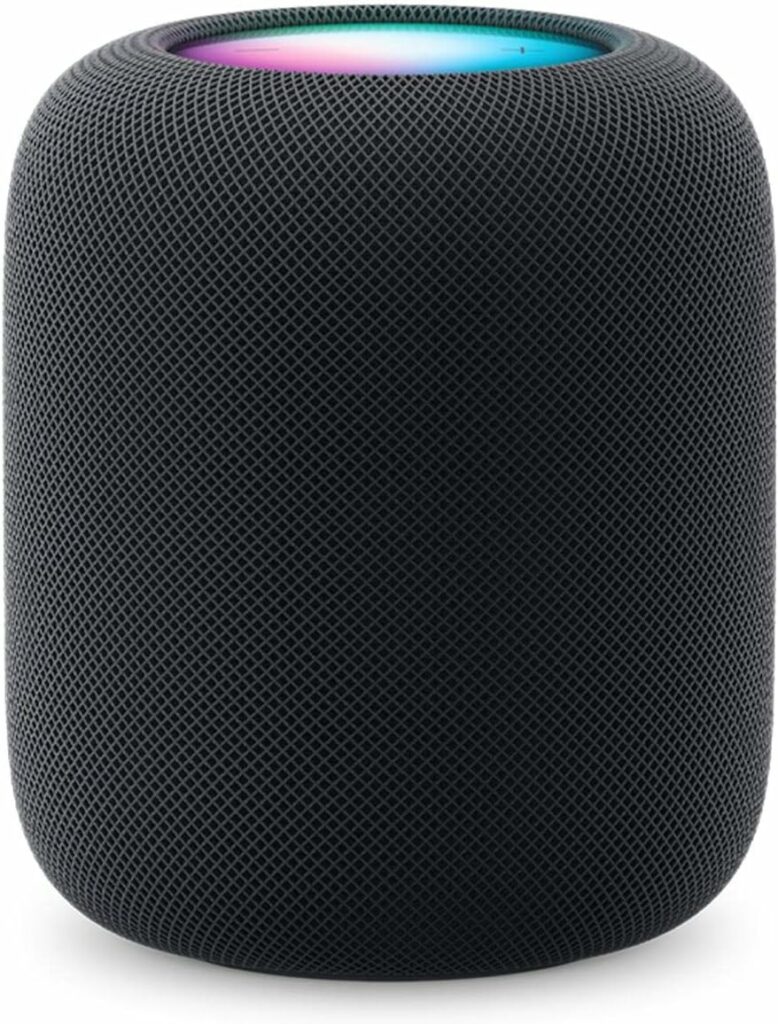 The Apple HomePod 2nd Generation is your ticket to a world of premium, immersive audio that doesn't just fill your space but elevates it! It is a powerhouse with a high-excursion woofer that dives into the depths of rich bass, while not one, not two, but five beamforming tweeters dance through the air, painting clear and detailed highs.
But hold on, there's more magic here. Enter the realm of advanced computational audio, a wizardry that turns your room into a haven of sound. It's not just music; it's an experience.
This is not your average speaker; this is your audio companion, ready to transform your space into a symphony of sensations. The Apple HomePod 2nd Generation – because your music deserves a stage, not just a speaker!
Buy the Apple HomePod 2nd Generation here.
2. Bose SoundLink Micro Bluetooth Speaker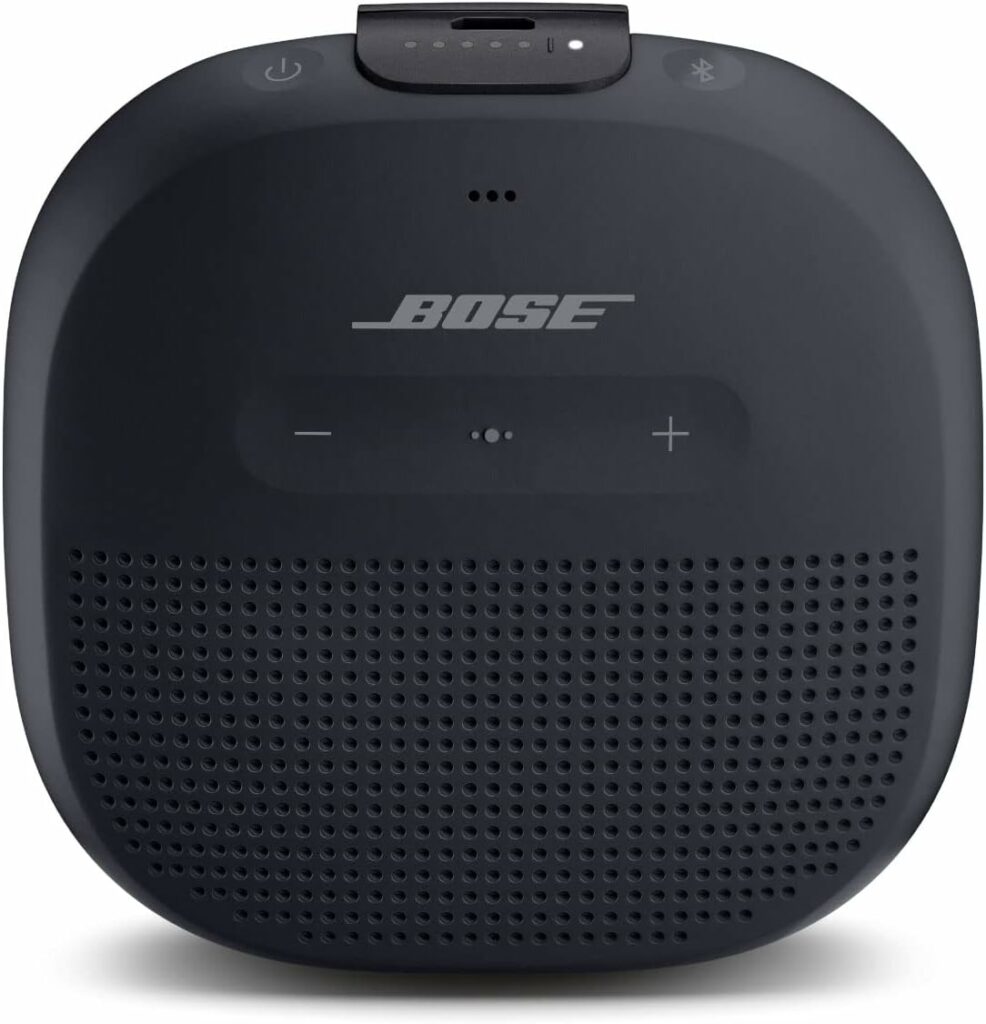 Next on our list of the best iPhone 15 Bluetooth Speakers is Bose SoundLink Micro Bluetooth Speaker. First off, don't be fooled by its compact size; this speaker packs a serious punch. It's equipped with a custom-designed transducer and passive radiators that deliver crystal-clear sound with bass that will pleasantly surprise you.
When it comes to performance, the SoundLink Micro doesn't disappoint. It houses a robust lithium-ion battery that gives you up to 6 hours of continuous music playback. And when it's time to recharge, just use the included Micro-USB cable – easy peasy.
And if you're looking to amplify your sound in multiple rooms, the SoundLink Micro has got your back with its SimpleSync feature. Pair it with compatible Bose products for seamless audio that follows you wherever you go. Don't have your phone handy? Just press and hold the Bluetooth button on each device to sync them up. Already grooving with a group? Use the Action button to connect them in an instant.
Buy Bose SoundLink Micro Bluetooth Speaker for $119.00 here.
3. Bose SoundLink Revolve+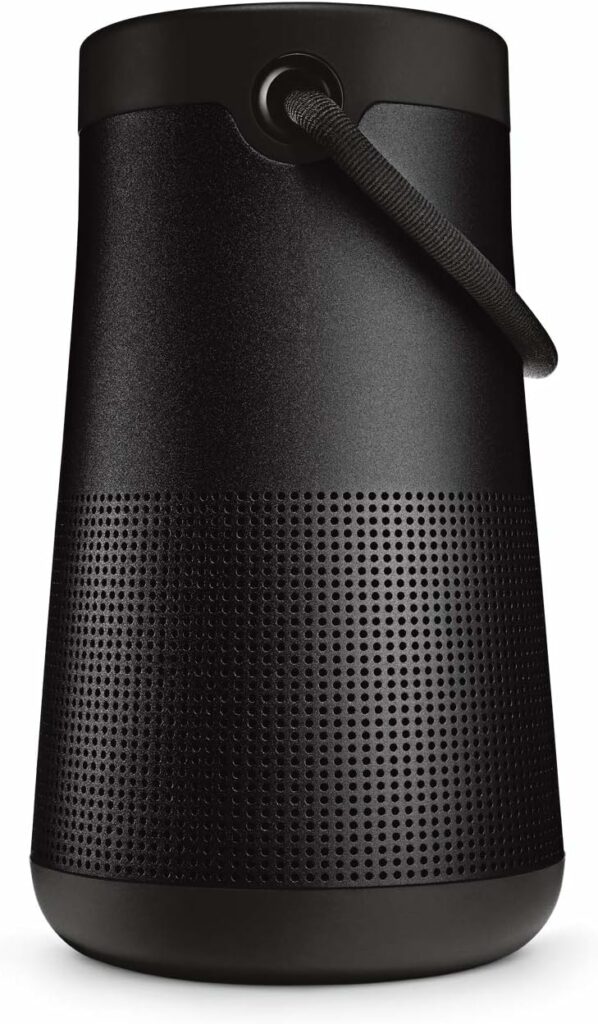 The SoundLink Revolve-plus II is your ticket to an immersive 360-degree sound experience that's truly next-level. This Bluetooth speaker isn't just a sound upgrade; it's a party on the move.
What does it offer? Well, Louder, deeper beats that keep the vibe alive for up to a whopping 17 hours. That's more playtime than its predecessor, the SoundLink Revolve II. Charging up is a breeze with the Micro-B USB port – no fuss, just music.
This portable powerhouse isn't afraid of a little adventure either. With an IP55 rating, it's dust and water-resistant, making it poolside-approved. Grab it on the fly with the handy fabric handle.
But it's not just about the beats; it's about convenience. Take calls, summon your device's voice assistant, or pair it with an Alexa-enabled device like the Echo Dot for hands-free music magic. The voice prompts walk you through the Bluetooth pairing process, ensuring you're always connected.
Buy Bose SoundLink Revolve+ for $329.00 here.
4. Ultimate Ears Boom 3

BOOM 3 isn't just about sound; it's ready to make a splash – literally. With a waterproof and floatable design boasting an IP67 rating, this speaker can take a dive up to 1m deep for 30 minutes. So, no matter where the party goes, your tunes stay on point.
But here's the real kicker: take your audio experience to the next level with PARTYUP on the BOOM and MEGABOOM App. Pair up to 150 speakers and create the ultimate surround sound extravaganza. Whether you're combining multiple BOOM 3s or mixing it up with previous generations, the party possibilities are endless.
And let's talk about style. The BOOM 3 is not just a pretty face; it's covered in a shimmering two-tone fabric built for the extreme. Think motorcycle jackets and fire equipment – this performance textile is ready for anything.
So, if you're ready to turn up the volume on your adventures, the Ultimate Ears BOOM 3 is your go-to companion.
Buy Ultimate Ears Boom 3  for $147.99 here.
5. JBL FLIP 5 Waterproof Portable Bluetooth Speaker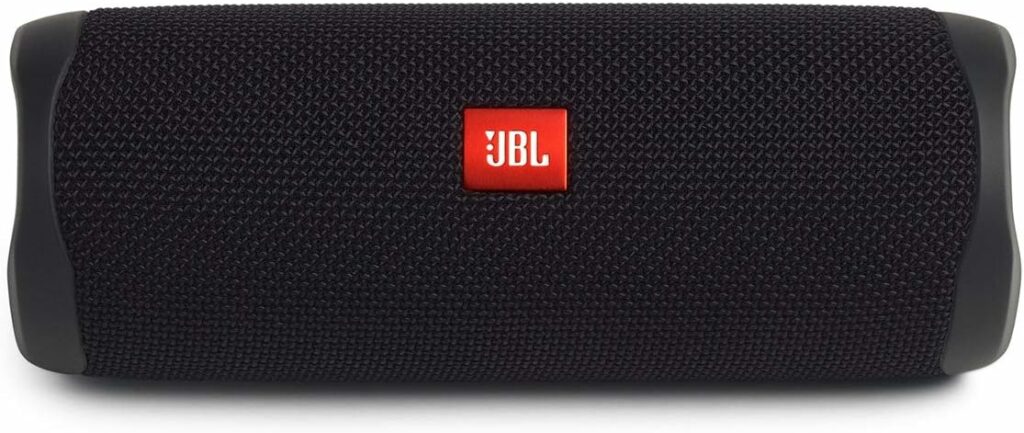 Elevate your music experience with the incredible JBL Flip 5, the ultimate portable Bluetooth speaker that's ready to rock wherever you go. Worried about unpredictable weather? Fear not! With its waterproof design, the Flip 5 ensures you can enjoy JBL's signature sound whether it's raining or shining.
But here's where it gets even better: you can take your music to the next level by pairing two JBL PartyBoost-compatible speakers for stereo sound, or go all out and link multiple speakers to create an epic party atmosphere. Plus, you won't have to cut the fun short, as the Flip 5 offers more than 12 hours of playtime for your favorite tunes.
Whether you want to stand it vertically or horizontally, the Flip 5 lets you make a bold statement with your choice of 11 vibrant colors. And when it comes to outdoor adventures, this speaker is a champ. It's IPX7 waterproof, meaning it can withstand being submerged in up to three feet of water, so your pool parties, sudden cloudbursts, or beach bashes are all covered.
Buy JBL FLIP 5 Waterproof Portable Bluetooth Speaker for $86.67 here.
6. W-KING Portable Loud Bluetooth Speakers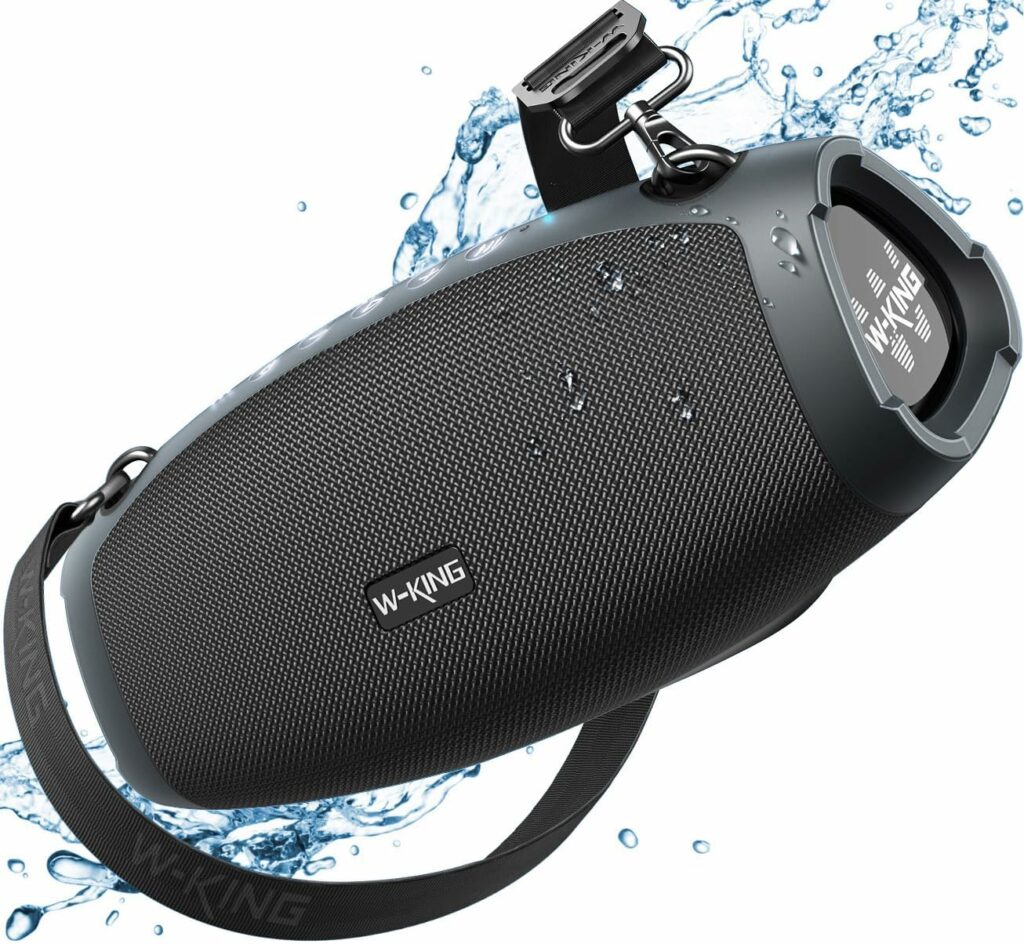 The BASS-W-KING X10 Loud Bluetooth Speaker is a game-changer in portable audio. What sets it apart? Well, for starters, it boasts not one, but triple passive radiators – two 3.5″ ones on the sides and a whopping 4.76″ radiator on the back. This unique setup delivers a deep bass experience that leaves other Bluetooth speakers in the dust. Say goodbye to muddled sound; the X10 is all about clarity and richness.
This outdoor portable Bluetooth speaker is packing 235W subwoofers and 210W tweeters, along with an advanced DSP chip. What does that mean for you? Crystal-clear mid-highs, a silky-smooth sound profile, and distortion-free audio. Plus, it can hit high-frequency notes up to a mind-blowing 40kHz – giving you an audio experience that's nothing short of breathtaking.
When it comes to connectivity, the X10 doesn't disappoint. Thanks to Bluetooth 5.0, you can enjoy an impressive 100ft wireless range, speedy pairing, and a rock-solid signal. You can connect two X10 speakers via Bluetooth to create a dynamic left and right channel setup. Double the bass, double the fun – perfect for cranking up the volume at your next rock party.
Buy W-KING Portable Loud Bluetooth Speakers for $115.99 here.
7. Sony SRS-XG300 X-Series Wireless Portable-Bluetooth Party-Speaker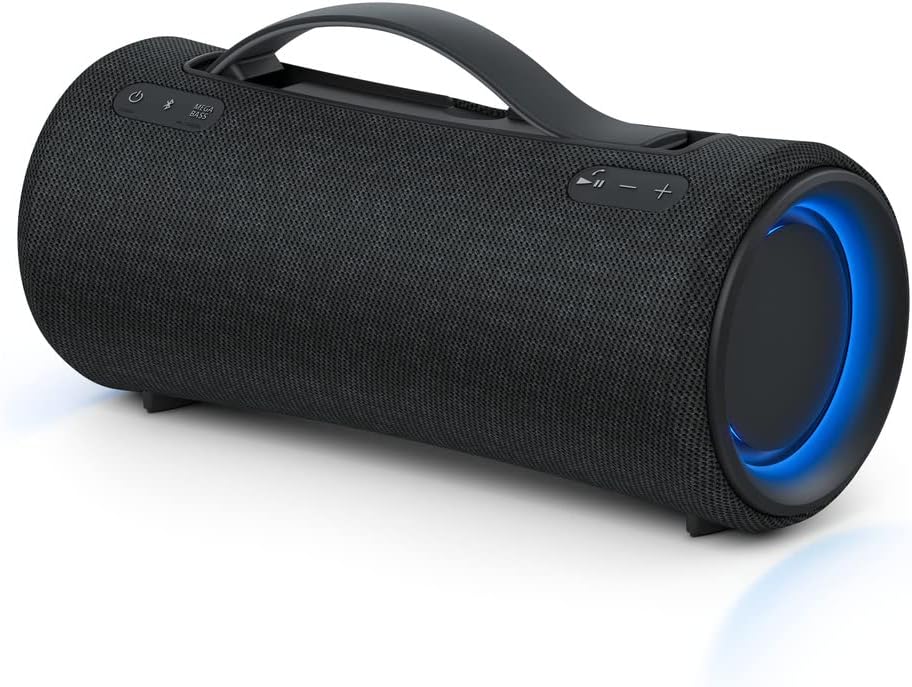 Sony SRS-XG300 X-Series speaker doesn't just play music; it brings the party to life with a built-in handle and a sound that's heavy-duty in the best way possible.
No need to worry about the elements spoiling your fun—the XG300 is built tough with an IP67 waterproof and dustproof design. Take it from the beach to the park to the pool without missing a beat.
Don't let a low battery kill the vibe. With up to 25 hours of playtime on a single charge, the XG300 keeps the party going strong.USB-C quick charging gives you a whopping 70 minutes of playback after just 10 minutes of charge time. And here's a pro tip: the Battery Care feature stops charging just before hitting 100%, ensuring a longer lifespan.
Get ready for a sound experience like no other, thanks to X-Balanced technology. Say goodbye to distortion and hello to powerful bass and crystal-clear audio. The unique diaphragm shape amps up the sound pressure for a truly immersive experience.
Buy Sony SRS-XG300 X-Series Wireless Portable Bluetooth Party Speaker for $348 here.
To Conclude
Finding the perfect for your iPhone 15, iPhone 15 Pro, and iPhone 15 Pro Max Bluetooth speakers is a journey worth embarking on. With the myriad of options available, it's crucial to consider your specific needs, whether it's powerful sound, portability, or smart features. The speakers we've explored in this article cater to a wide range of preferences, ensuring that you'll find the ideal companion to elevate your music, podcasts, and calls to new heights.
So, go ahead and let the music play, the conversations flow, and the memories be made with one of these fantastic Bluetooth speakers by your side. Your iPhone 15 deserves the best, and now, you have all the information you need to make that happen.
Disclosure: iOSHacker may receive a commission if you purchase products through our affiliate links. For more visit our privacy policy page.