Looking for the best desk lamp that doubles as a wireless charger for your iPhone? Then look no further then the amazing options that we have shortlisted for you in this article.
Here you will find the best LED desk lamps with built-in wireless charger that will not only illuminate your work desk but also enable you to recharge your iPhone or AirPods.
The best desk lamps that we have listed below include from reliable brands like MCHATTE, Acko, GSBLUNIE, JOSTIC and CFGROW. These desk lamps are not only great looking and bright but are also quite affordable, which makes the great gifts as well.
Looking to spice up your desk setup? Also read: Best LED Light Strips To Spice Up Your Desk Setup
MCHATTE LED Desk Lamp
If you are an avid reader, and looking for the best desk lamp with customized brightness levels, then MCHATTE LED Desk Lamp is the right fit for you. With its 5 lighting modes as well as 5 color temperature, you can adjust the brightness according to the environment.
This flicker-free light does not hurt your eyes making it ideal for reading. Moreover, with its simple USB charging port, you can charge your phone or Kindle reader. MCHATTE LED Desk Lamp comes with a wireless charging base and charges QI supported devices.
You can buy the MCHATTE LED Desk Lamp for $39.99 here.
Acko Desk Lamp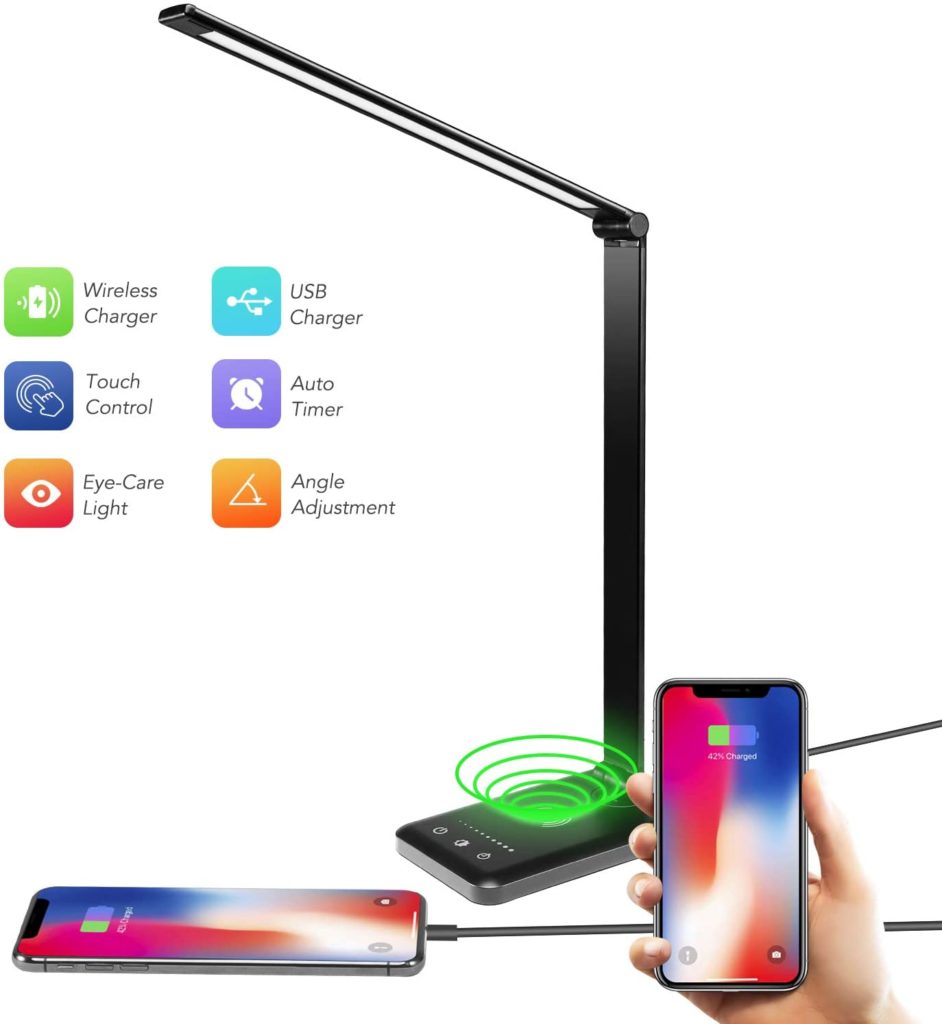 In case you are just tired of 5 brightness modes, Acko Desk Lamp is here to offer you with amazing 25 bright modes with 5 color options! Regardless of any time of the day, your eyes will stay comfortable while reading, working, studying, relaxing, or even sleeping. The touch panel with sliding touch dimming makes its handling hassle-free.
Its foldable design is perfect to take around, place on any shelf, or even travel with. Its sleek yet stable base does not occupy too much of place, making it suitable for office table, living room, bedroom or other places. One of the amazing features that I like the most is its USB charging AND wireless charging giving you the freedom to charge your mobile in a given situation.
You can buy the Acko Desk Lamp for $29.99 here.
Note: for wireless charging, you need 5v/1A adapter, which is sold separately.
GSBLUNIE LED Desk Lamp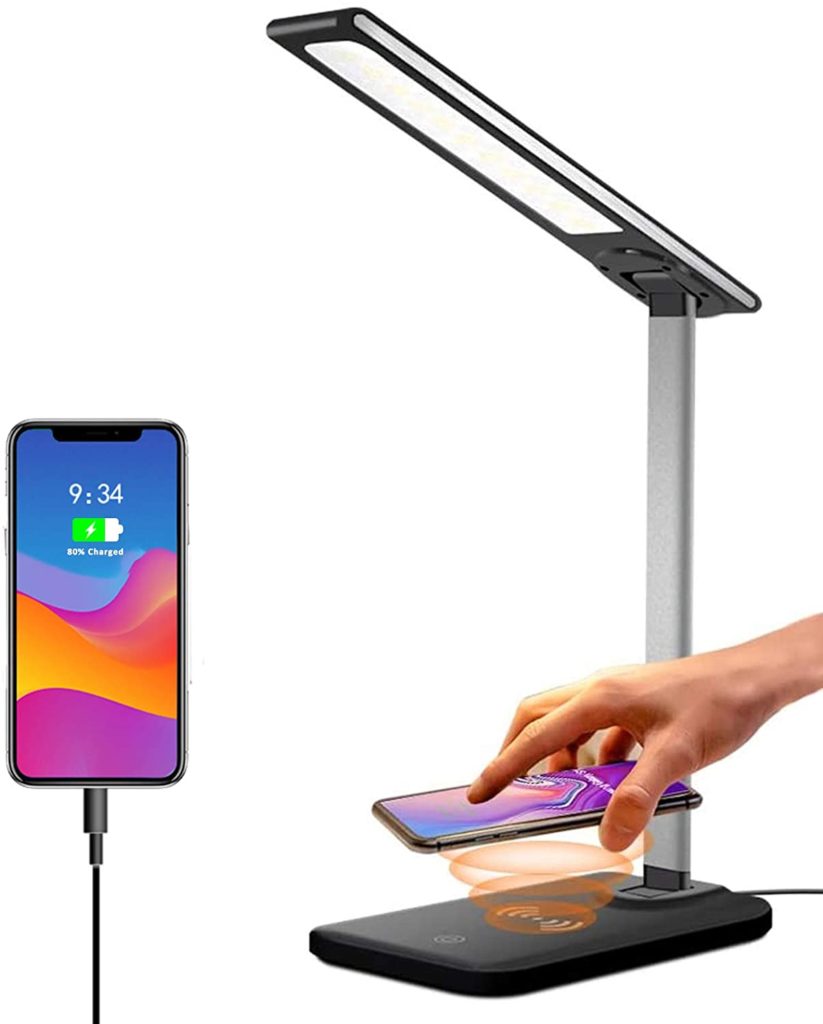 Looking for a LED desk lamp that can charge two devices at the same time? Look no further than GSBLUNIE LED Desk Lamp. Its 31 flicker-free lamp beads, give your eyes maximum protection. Unlike other lamps, it has 3 light modes i.e. white, mixed, and warm light to make your reading, working, or sleeping a comfortable one. In order to adjust the brightness, you simply need to long-press the brightness button and release it at a suitable brightness level. This is a great option for someone looking for the best LED desk lamp.
Its 120°rotating base with a 90° adjustable lamp body, gives more customized lighting. The flexible body saves space and is portable so that you can take and place it whenever and wherever you like to do so.
You can buy GSBLUNIE LED Desk Lamp is available for $25.99.
JOSTIC LED Desk Lamp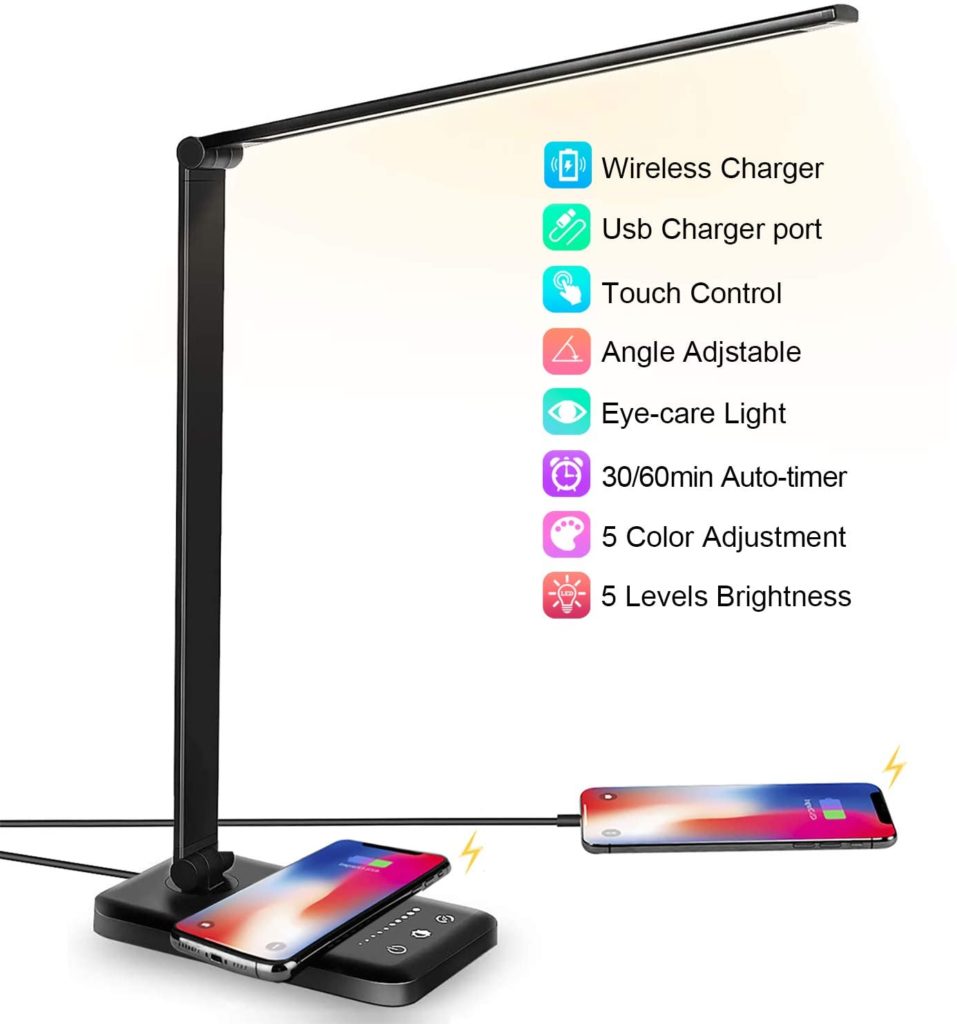 JOSTIC's sleek, portable, and dimmable LED desk lamp is ideal for reading and studying. Through its wireless and USB charging port, you can also charge your mobile. This LED lamp gives you an extensive choice of picking any light out of 25 lighting options.
The touch panel makes it quick to pick the light and adjust its brightness level. Speaking of its 30/60 minutes' auto-off time, you don't need to worry if you forget to turn off the lamp. Thanks to its foldable design, you can even carry it wherever you want.
You can buy JOSTIC LED Desk Lamp for $29.98.
CFGrow LED Lamp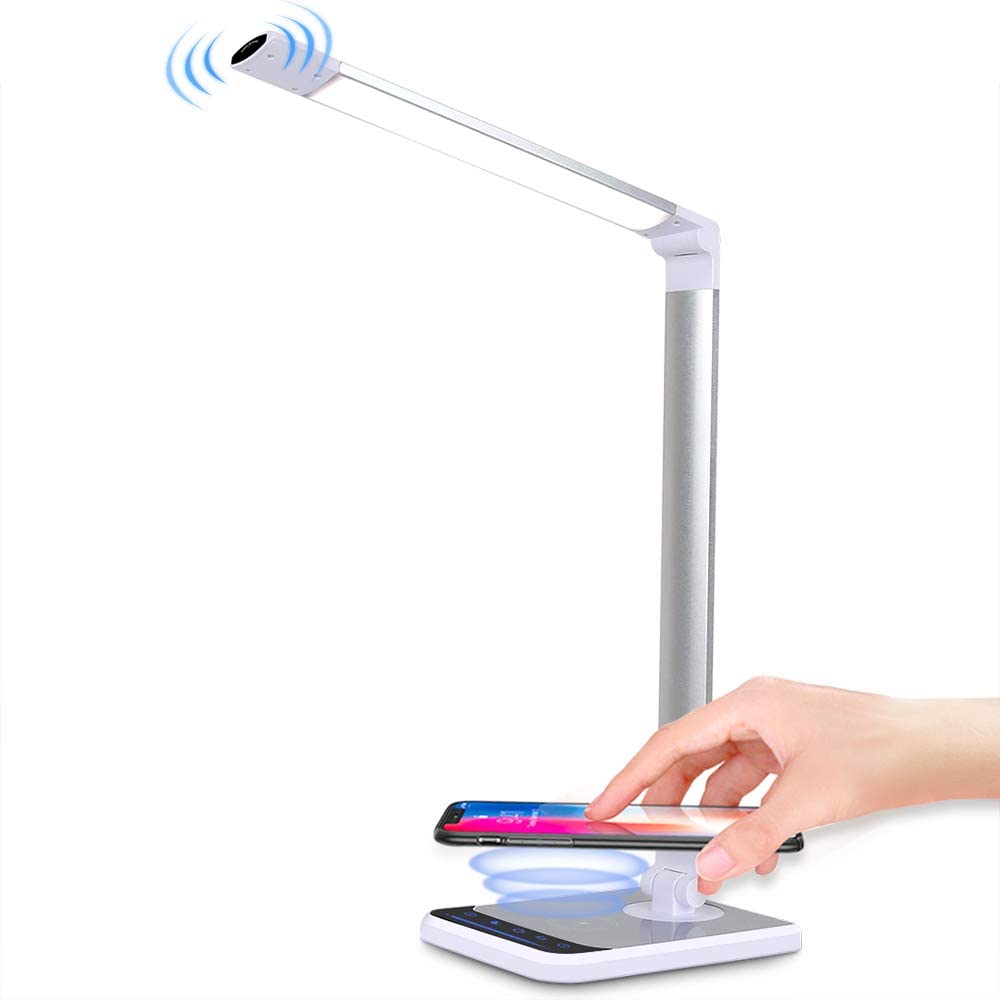 Last but certainly not the least on our list of best LED desk lamps is from CFGrow. With CFGrow's futuristic Hand-Sweep Sensor technology, you can turn on or off the lamp by simply sweeping your hand before the lamp. And if you want to adjust the brightness without touching it, simply hold your hand for over 1 second before the lamp, and there you have brightness adjusted. Like others, this lamp is also flicker-free and is non-blue light so that your eyes have maximum protection.
The lamp with gentle lights is ideal for studying at home or working in the office. Through wireless charging and a USB port, now you can keep your mobile and other devices charged. During wireless charging, the lamp has a lighting sign displayed on its base, and if your smartphone does not have wireless charging, the lighting sign will flicker.
Unlike other lamps, this LED lamp has 4 lighting options with 6 brightness levels. Its timer function has two modes. The first touch is for 10 minutes, and second for 30 minutes, and the third touch will turn off the timer function.
Now you can swivel the lamp 90 degrees and bend its head up to 135 degrees. Whereas its base bends down to 150 degrees and rotates 360 degrees, giving you maximum freedom to shed light. With its 30,000 hours' life, once bought, you will forget to buy any other lamp for 10 years!
You can buy the CFGrow LED Desk Lamp for $49.98.
Which of these best LED desk lamps above you liked the most? Share with us in the comments below.
For more interesting posts, stay tuned to iOSHacker.com.
Disclosure: iOSHacker may receive a commission if you purchase products through our affiliate links. For more visit our privacy policy page.