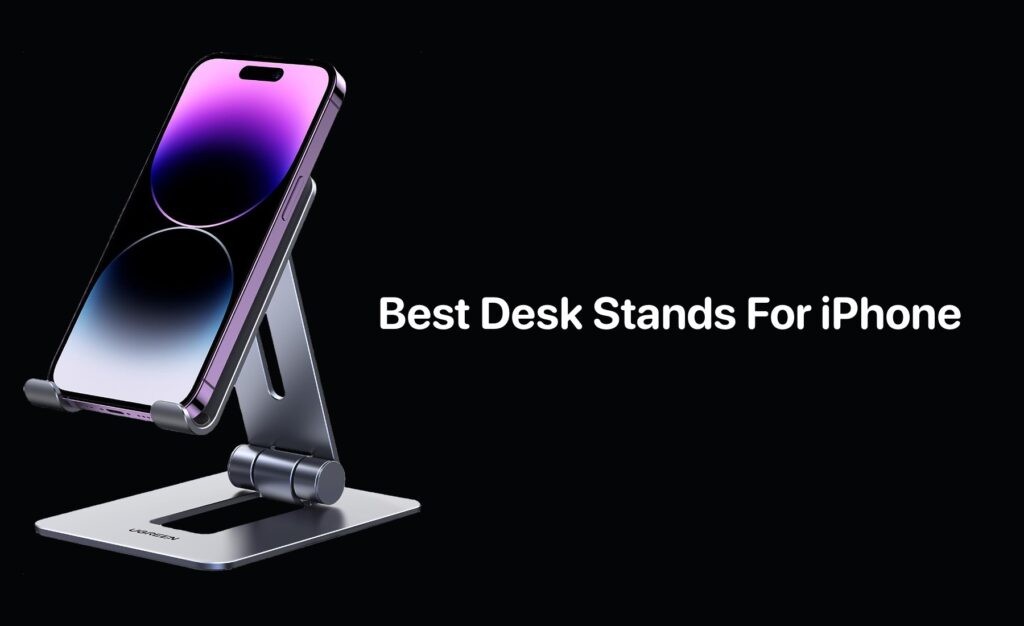 If you're tired of your iPhone constantly playing hide-and-seek in the clutter of your desk, or if your neck's been protesting from hours of hunching over to check notifications, then you've stumbled upon the right digital corner.
In the ever-evolving realm of gadget accessories, 2023 has bestowed upon us a plethora of iPhone desk stands that promise to not only keep your precious iPhone propped up and easily accessible but also save you from that dreaded tech-neck posture.
2023 iPhone desk stands
Get ready to say goodbye to precarious phone placements and hello to a world where your iPhone stands tall, proud, and oh-so-accessible. So, kick back, relax, and join us as we delve into the realm of the best desk stands for your beloved iPhone in 2023!
1. Peak Design Mobile Wireless Charging Stand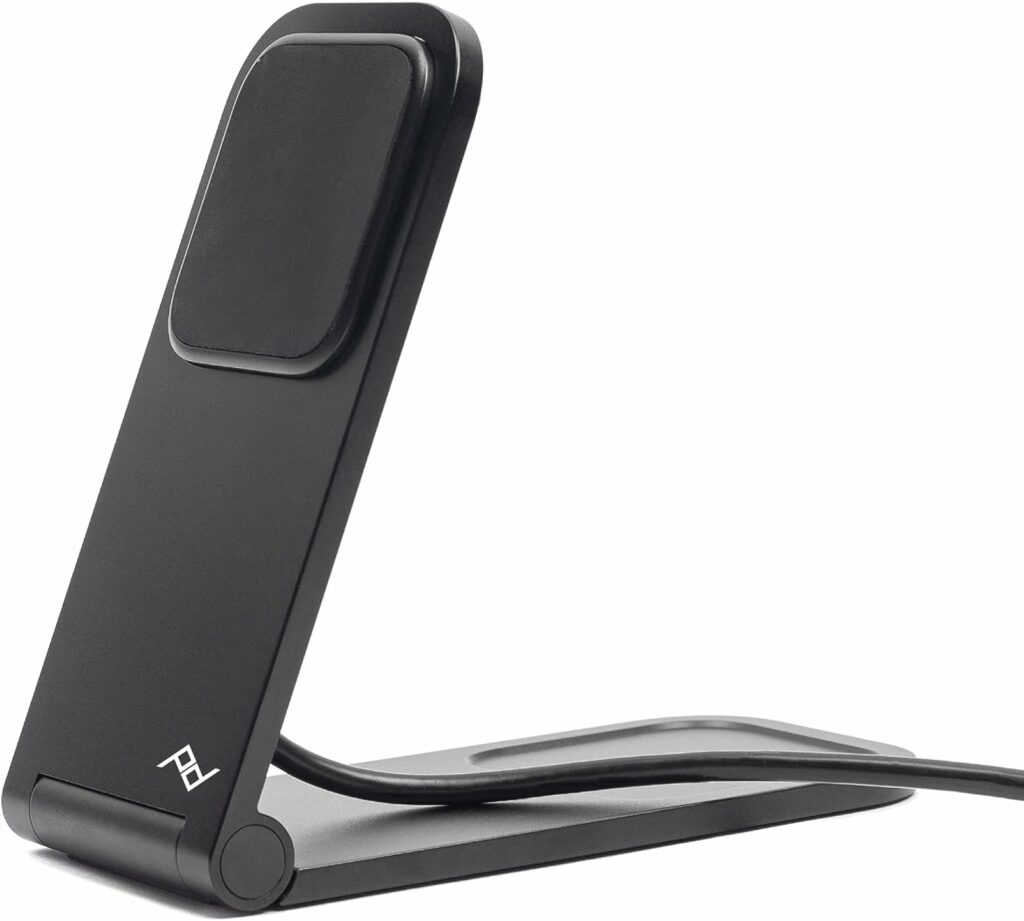 Incorporating advanced magnetic attachment technology (known as SlimLink), the design of this product ensures an unparalleled level of security while providing an almost magical experience. This technology not only guarantees a secure connection but also streamlines charging alignment and enhances heat dissipation, resulting in optimized charging speeds.
Crafted with the utmost precision, the construction boasts the use of premium anodized aluminum, which not only exudes a sense of luxury but also promises durability. Complementing this refined build is a friction hinge that operates with a silky-smooth feel, allowing for seamless and limitless adjustments to achieve the perfect viewing angle, whether in portrait or landscape mode.
To ensure stability, it has grippy silicone foot pads that firmly anchor the device, preventing any unwanted slips or wobbles. This attention to detail ensures a harmonious balance between aesthetics, functionality, and performance.
Buy Peak Design Mobile Wireless Charging Stand for $79.95 here.
2. LISEN Cell Phone Stand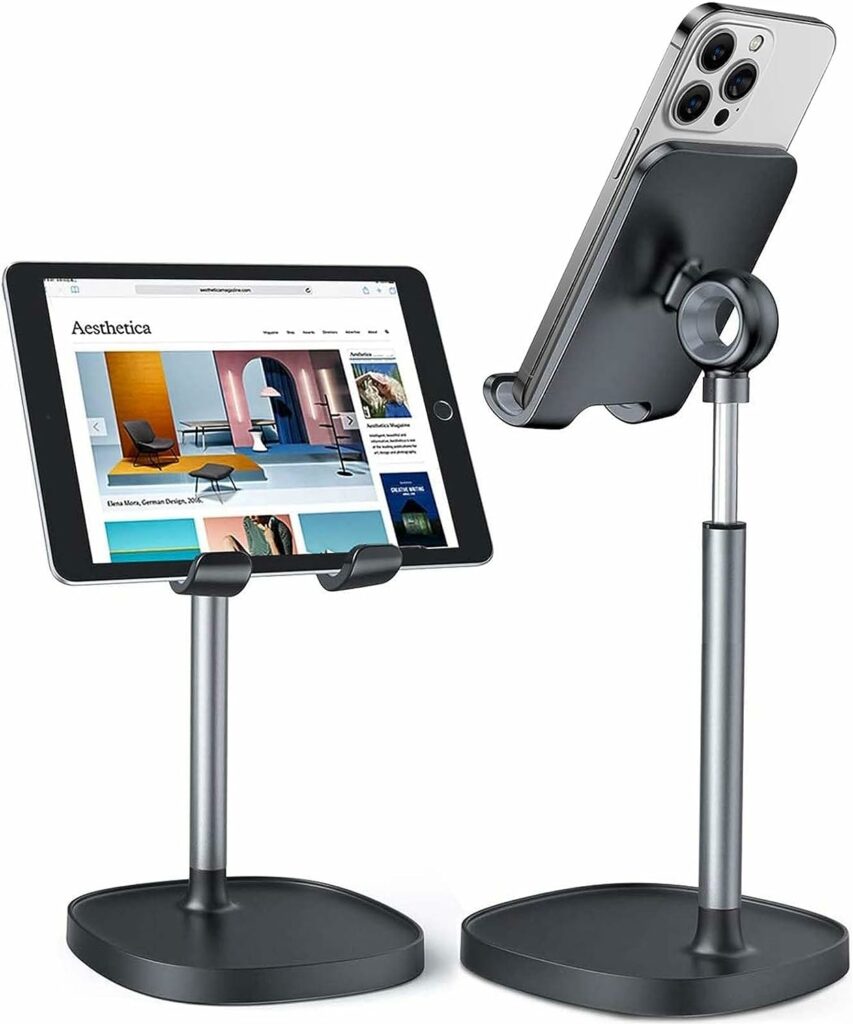 This ergonomic cell phone stand holder is thoughtfully designed to enhance your comfort and posture while viewing. It offers an adjustable viewing angle that reduces strain on your neck and back, promoting a healthier posture. You can effortlessly adjust its height between 7.1 inches to 8.5 inches (with a range of 1.4 inches), and the angle can be set anywhere between 5° to 85°.
Say goodbye to concerns about your phone falling due to a bent cable. The stylish LISEN adjustable phone holder for your desk features a smart reserved charging hole design, ensuring organized cable management and eliminating worries about bending, tangling, or tipping over. Additionally, this phone pad won't obstruct subtitles when you're watching videos.
Crafted with a weighted base and an aluminum alloy rod, this cell phone stand for desk ensures remarkable stability, capable of securely supporting various smartphones and small tablets.
Buy Lisen Cell Phone Stand for $11.99 here.
3. OMOTON Adjustable Cell Phone Stand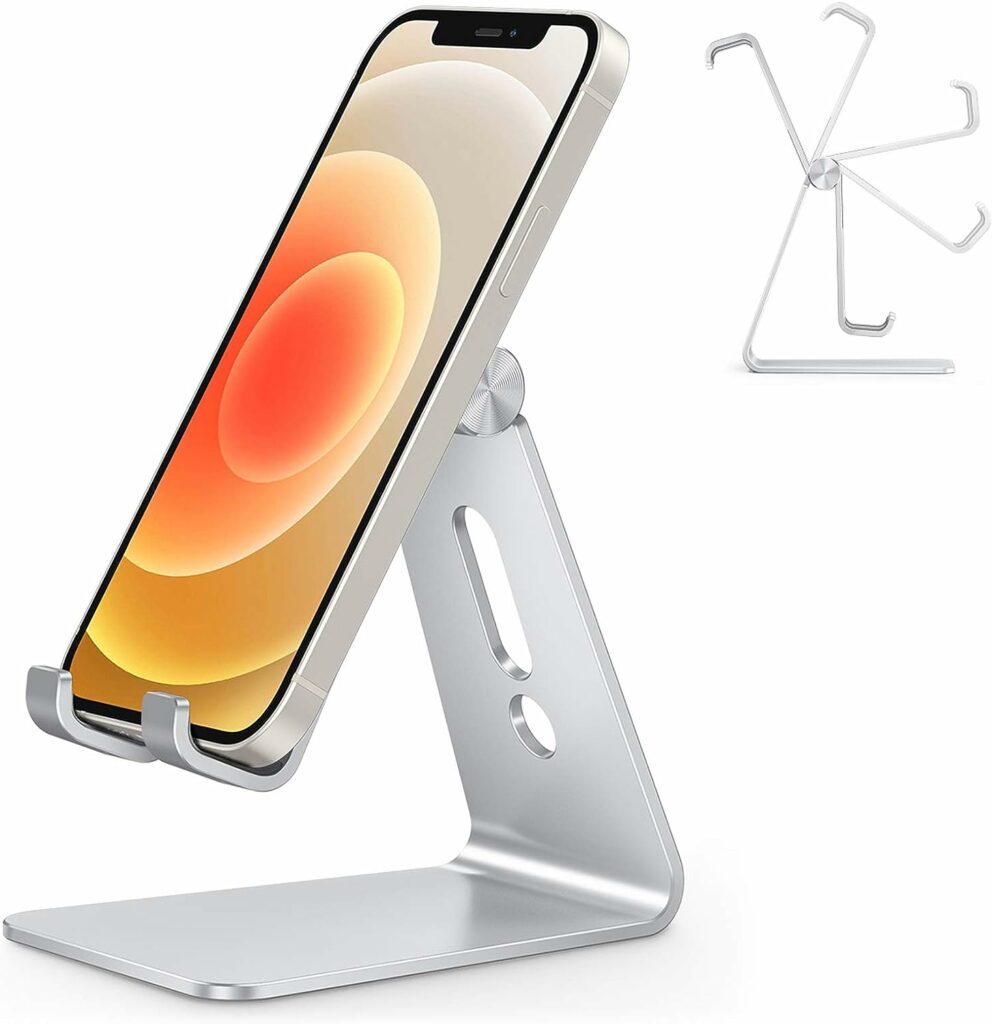 This adjustable iPhone stand offers a versatile 270-degree rotation, allowing you to effortlessly adjust it to suit your preferred viewing angle. This hands-free design enhances your gaming, video-watching, and Facetime experiences.
The extended hook accommodates devices of all sizes, including those with bulky protective cases. You can conveniently keep your case on, even while charging your device.
The stand is engineered with generously-sized silicone pads that prevent your device from slipping and shield it from unsightly scratches.
The company has employed CNC technology similar to that used in MacBooks, ensuring a smooth and luxurious tactile experience, even at the edges.
Buy OMOTON Adjustable Cell Phone Stand for $8.79 here.
4. Nulaxy Dual Folding Cell Phone Stand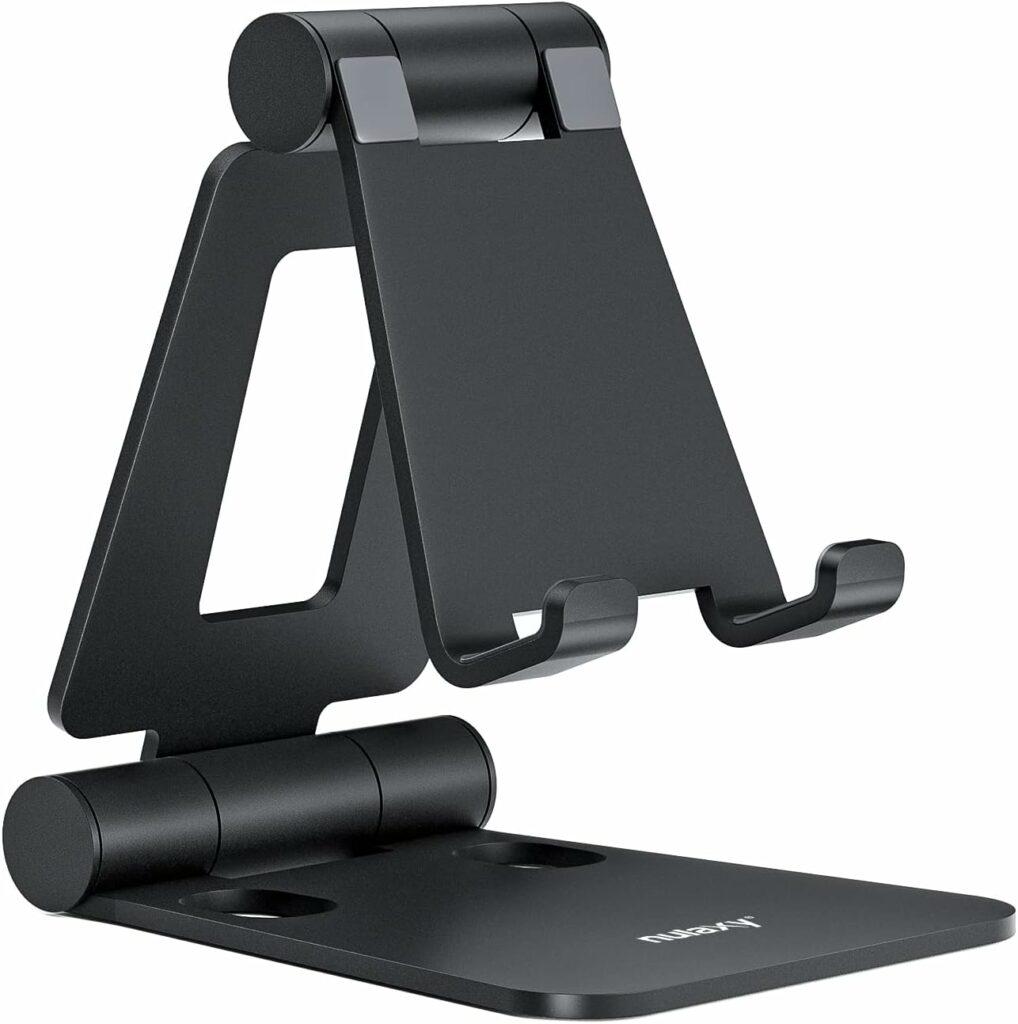 The phone cradle boasts full collapsibility, offering effortless adjustments to attain the optimal viewing angle. This ergonomic design liberates your hands, rendering it an excellent desk accessory for activities such as watching videos, playing games, making calls, consulting recipes, and engaging in Facetime conversations.
Robust and safeguarding, this one of the best iPhone stands for desk is meticulously crafted from premium-grade aluminum, ensuring unwavering stability while securely cradling your phone. Eliminating concerns of instability, the rubber pads provide effective shielding against scratches and prevent any unwanted sliding.
Designed to accommodate various cases, the stand features a hook width of 19mm, eliminating the need to remove your phone's protective casing. This ample width comfortably supports devices, even those encased in heavier protection, with a caveat that the device's thickness remains within 19mm (0.74″).
Buy Nulaxy Dual Folding Cell Phone Stand for $8.99 here.
5. SODI Magnetic Phone Stand for iPhone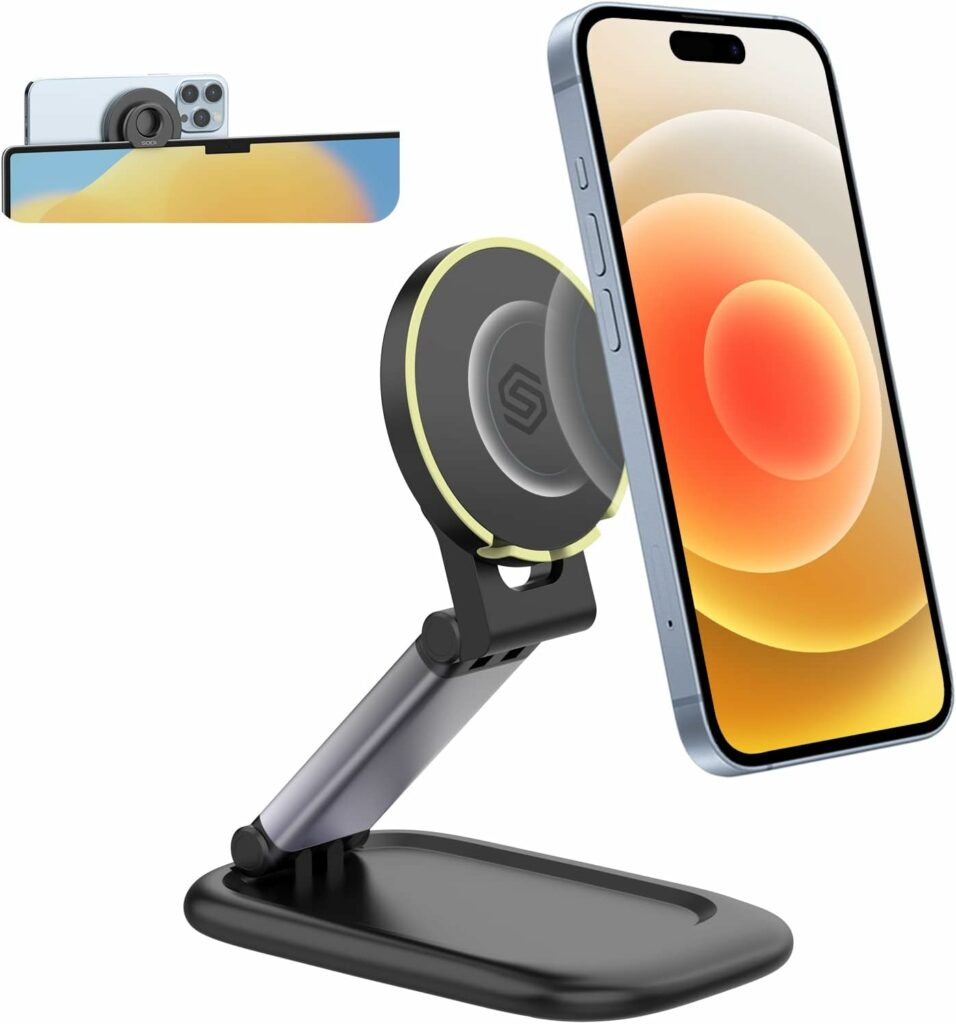 Experience the ultimate convenience with this versatile iPhone stand for FaceTime , designed for seamless compatibility with a wide range of iPhone models. This stand also doubles as a versatile camera mount, perfectly suited for MacBook Air, MacBook Pro, and the entire MacBook series.
Seamless functionality is at your fingertips – simply bring your phone near the holder dock, and the magnetic force will securely hold it in place. Crafted with a robust metal base, this stand guarantees unwavering stability, while the anti-slip silicone pads provide reassurance by safeguarding your desk from unsightly scratches.
Compact and pocket-sized, this magnetic phone mount is an ideal companion for travel or business trips, promising portability without compromise. Elevate your workspace with this indispensable accessory, a perfect addition to your office desk or any work environment.
Buy SODI Magnetic Phone Stand for iPhone for $19.99 here.
6. Lamicall Adjustable Cell Phone Stand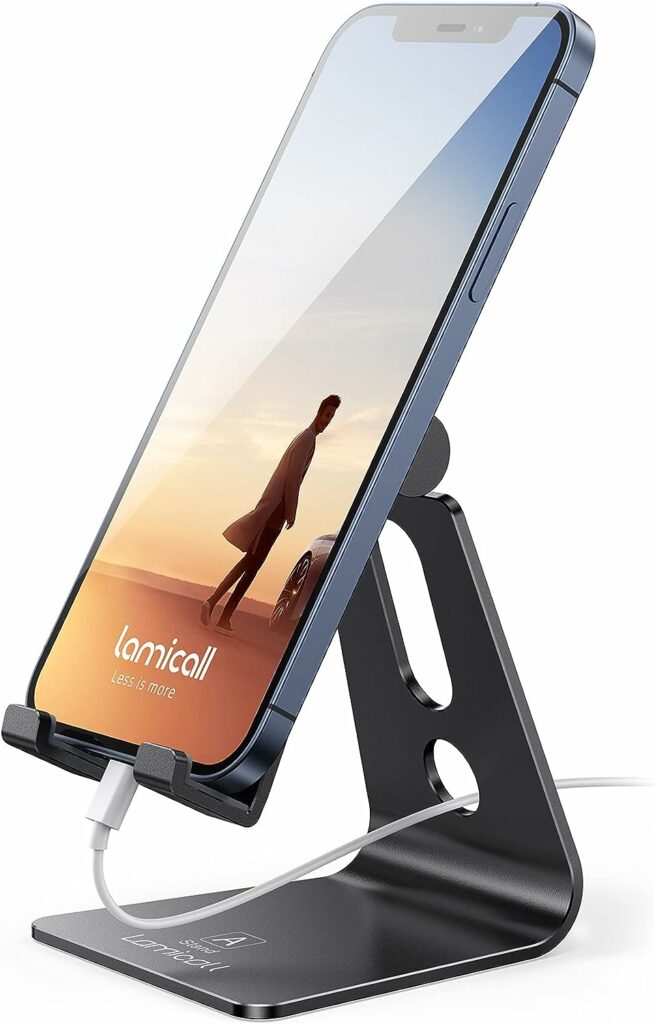 Crafted from premium aluminum alloy, yet another one of the best desk stands for iPhone 14 boasts a flawlessly smooth edge, an exquisite finish, and a captivating metallic sheen. Its sleek and sophisticated design seamlessly complements any desktop arrangement, adding an air of elegance to your surroundings.
Engineered with a low center of gravity, this MagSafe compatible iPhone dock excels in maintaining phone stability. The inclusion of rubber cushions further safeguards your device against unsightly scratches and unwanted sliding, ensuring a secure and pristine display.
With a generous hook width of 14mm, we recommend confirming that your device's thickness does not exceed this measurement (equivalent to 0.55 inches). For smartphones exceeding 6 inches in size, we suggest orienting them in landscape mode to enhance stability and support.
Buy Lamicall Adjustable Cell Phone Stand for $12.99 here.
7. UGREEN Cell Phone Stand Desk Phone Holder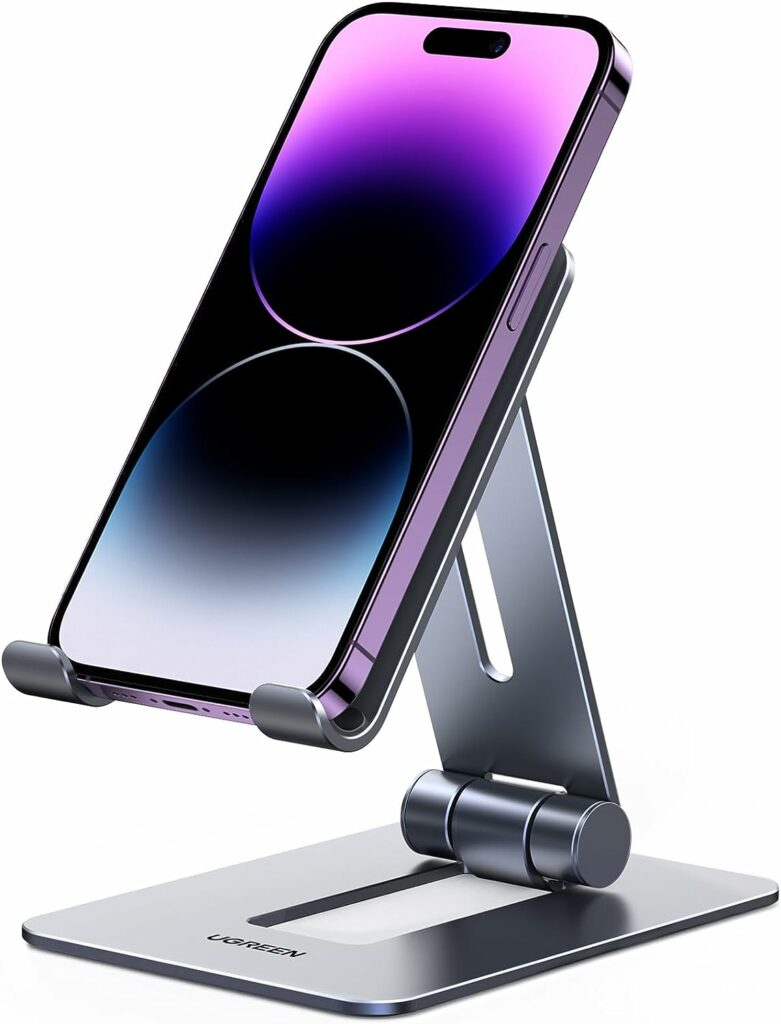 Crafted from aluminum alloy, the UGREEN desk phone stand boasts a robust triangular structure that ensures unparalleled stability while cradling your smartphone.
Featuring flexible yet resilient hinges, this stand effortlessly adapts to a variety of angles, granting you the ability to discover the ideal position and elevation for immersive gaming, cinematic indulgence, or engaging Skype and FaceTime conversations.
Designed with a convenient charging notch, this iPhone stand facilitates effortless connection to a charger, enabling seamless mobile phone charging during stand usage.
Furthermore, the phone stand's compact, fully foldable design optimizes space utilization, rendering it an exceptional travel companion. Its space-saving form factor fits snugly within your bag or carry-on, making it an ideal accessory for your journeys.
Buy UGREEN Cell Phone Stand Desk Phone Holder for $9.99 here.
To Conclude
As technology continues to evolve, these innovative desk stands exemplify the harmonious fusion of form and function, ensuring that your iPhone remains a vital tool in your daily endeavors while gracing your desk with style and practicality.
Embrace the future of workspace organization with these best desk stands for iPhone In 2023 and elevate both your iPhone and your work environment to new heights.
Disclosure: iOSHacker may receive a commission if you purchase products through our affiliate links. For more visit our privacy policy page.