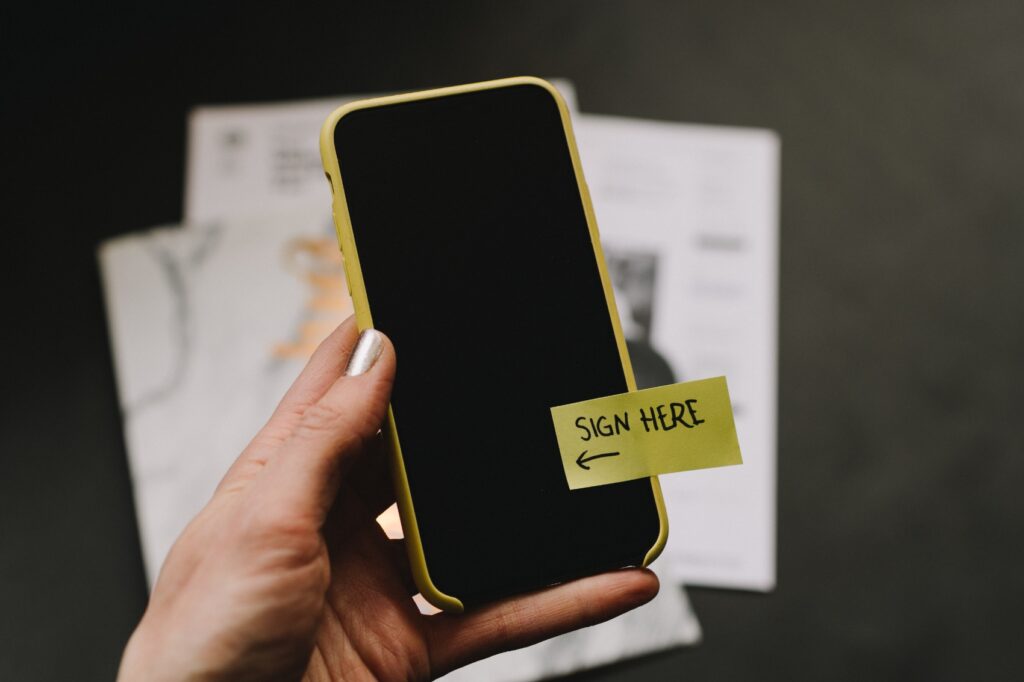 Mobile optimization is an important element of all online businesses. From ensuring your website is accessible to provide a streamlined experience when browsing through marketing materials, mobile optimization should always be a factor you consider. Especially when it comes to email, a leading method of communicating with customers, you'll rapidly discover that many customers will interact through their mobile.
Around 90% of email users will check their emails on their phones, finding it to be an instant way of moving through their inboxes. With that in mind, optimizing your emails so that they display correctly on your customers' emails should be a top priority. Yet, beyond just making sure your dimensions are correct, you should also strive to optimize your email signature.
As an important part of effective emails, your email signature needs to fit into mobile-friendly guidelines. In this article, we'll turn to email optimization, demonstrating why you should strive for a mobile-friendly approach across the text of your email and your signature. Let's dive right in.
Must read: How To Send and Schedule Emails In Mail App For Mac
What Are the Benefits of Optimizing Your Email Signature for Mobile Devices
Email signatures are extremely powerful tools, allowing your business to share information, provide additional context, and even create bonus touchpoints for your customers to interact with. When on mobile, your email signature can serve as a direct point of transition to your website or to further contact details, helping to push the customer further along their journey.
There are a number of benefits to optimizing your email signature for mobile devices:
Direct Access – You can include marketing materials and links to your website in your email signature. By optimizing these spaces to make them appealing to mobile users, you can boost engagement and inspire people to click on your desired resources.
Professionality – A poorly optimized email signature will throw off the proportions of your email. No matter how effective your content is, if it's followed by a misshapen email signature, you'll come across as unprofessional.
Information – You can include additional contact information in your email signature, helping to offer alternative methods of continuing conversation with a new customer.

Don't worry if you've never worked with an email signature before. How to add Outlook signature on Mac guide will point you in the right direction to get started.
Add Email Signature on iPhone or iPad
If you are on iPhone and want to add a unique email signature to your iPhone, then follow the steps below.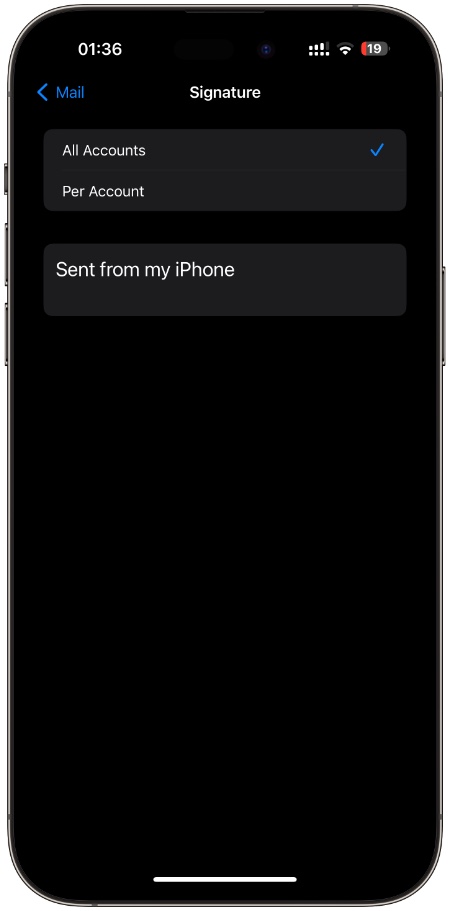 Step 1. On your iPhone or iPad open Settings and go to the Mail option.
Step 2. On Mail setting page scroll down and tap on Signature.
Step 3. Now on the Signature page select All Accounts or Per Account options.
Step 4. Finally, enter your email signature in the text field below.
Tips To Optimize Your Email Signature
Optimizing your email signature doesn't have to be a complicated process. On the contrary, there are a few core categories like design, spacing, graphic elements, and links that you can address in order to boost the mobile-friendly nature of your email.
Here are our leading tips to optimize your email signature.
Sizing Matters
An email signature, especially on a mobile device, should not exceed around 400 px wide. This space is the outer limit of the size of a mobile device, with most falling into the 375-400 px width range. By understanding this limit, you're able to optimize your email signature for email, making sure it shows up correctly on a mobile device.
Another tip when sizing your email signature is that you should make use of verticality. By focusing on having a smaller width but a larger length of your email signature, you'll be able to create a compact space that holds lots of information. While this won't work for all logos, businesses, and circumstances, this can be a wonderful way of making the most of all of your allotted space.
The font size you choose will also impact the overall size and style of your email signature. For mobile-friendly email signatures, you want all of your front to range from 11-18 px big, which will be large enough to be legible but not so large as to make your signature seem strange.
High-Resolution Matters
Any images that you include in your email signature need to be high resolution. When you change the size of an image, which will happen when opening an email on mobile, its dimensions will scale to fit the change. If you have a low-resolution image, any flaws in the picture will become much more apparent.
While the exact ratio of image size and resolution will vary, a typical rule that you can follow is that you should have around 3x higher resolution than the final image size. For example, if you have a final size of 150px x 150px, then your original image should be 450px x 450px. When you have a higher resolution, there are more individual pixels in an image, boosting its quality.
When you then scale this high-quality image, it is less likely to deform or look strange on your email signature. Especially with images that contain text or a detailed logo, high resolution is key.
Think About Your Attached Links
What each person decides to include in their email signature will vary. Some prefer to focus on information-heavy spaces while others use email signatures as an opportunity to add marketing materials to all of their outgoing emails. When you add optimizing for mobile into this mix, there is another set of useful possibilities.
When including contact information, most people tend to opt for alternative email addresses. While these work well with email, mobile devices respond favorably to including mobile numbers. With just a tap on an email signature that includes a mobile number, you can bring up the option for a user to directly call you or add your number to their contacts.
Especially if your work gives you a separate phone, including your number in your email signature is a fantastic option that will greatly benefit your mobile recipients. Customizing the links that you add will help you to vary the options that each recipient gets when interacting with your email signature.
Final Thoughts
Optimizing your email and your email signature will provide any customers that interact with your emails via their mobile device with a flawless experience. Considering the vast majority of email users regularly engage with email content via their mobiles, it's important to provide the best possible experience in this digital arena.
By using the tips that we've outlined in this article, you'll be able to create winning emails that look and perform well on mobile devices. If you're able to capture the mobile market through your emails, you'll open up a powerful form of connection with your audience. Failure to do so will leave your company looking behind the times.
Optimizing your mobile-friendly email strategy should always be a priority for businesses. Once perfected, your customers will thank you.
Disclosure: iOSHacker may receive a commission if you purchase products through our affiliate links. For more visit our privacy policy page.